Best Dog Food For Hypothyroidism
If you have a dog with hypothyroidism, figuring out what to feed them can be a challenge. From grain-free diets to high-protein formulas, there are a lot of dog foods that can be beneficial for dogs with thyroid issues. So, how do you know which one is right for your dog? First, let's take a look at what exactly this thyroid disease is, and how it might affect your pet.
According to the AKC, Hypothyroidism occurs when your dog is not secreting enough of the thyroid hormones, causing your dog's metabolism to slow. While hypothyroidism is rather common, it can be dangerous when it goes untreated because it impacts the entire body, from the thyroid gland to other major organ systems. Medium and large dog breeds are diagnosed with the disease more often than small dogs, but any breed can end up developing it.
The right food will not treat hypothyroidism alone. Most dogs who are diagnosed with the disease will be put on medication, in addition to a specialty food and other treatments. To help you choose which source of nutrition is the best for your dog, check out the options, as well as our buying guide below.
7 Best Dog Foods for Hypothyroidism in 2019
Dog Food for Hypothyroidism Reviews
So, how do you know which dog food is best for your pup with hypothyroidism? The reviews below will go in-depth about each option, its ingredients, and nutritional values.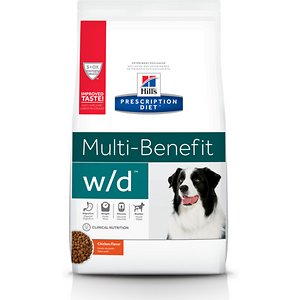 Hill's prescription diets come highly recommended by vets across the country. Each diet is to accommodate a certain deficiency, disorder, or digestive issue. The Hill's Prescription Diet W/D is catered to dogs who have experienced weight gain, as well as issues with their metabolism, glucose levels, and overall digestive health. It is one of the best dog foods for hypothyroidism because it promotes the metabolization of fat, and it contains vitamins and minerals, as well as antioxidants to maintain the immune system.
It also includes L-carnitine, a great source of energy for dogs. This Hill's formula also contains a higher percentage of fiber than the average dog food, which helps your pet to feel full so they are less likely to overeat.
Main Ingredients: Whole Grain Wheat, Powdered Cellulose, Chicken Meal, Whole Grain Corn, Corn Gluten Meal
Protein: 15%
Fat: 6%
Fiber: 20%
Calories: 255 kcal/cup
Earth Vet Superfood is not a dog food itself, it is a supplement you can add to your dog's diet. It is loaded with essential nutrients that your pup may not be getting from their regular dog food. With hypothyroidism, adult dogs may experience extreme fatigue, a lowered immune system, or depression. This superfood supplement is intended to improve those symptoms, as well as help with immune health, maintaining muscle strength, joint support, allergies, healthy skin and coat, digestive issues, stress and anxiety, ant-aging, and energy.
Added health benefits include:
Liver protection
Tumor reduction
improved memory and focus
Enhances energy
Helps with healthy skin and coat
Main Ingredients: Beef bone broth protein, Organic turmeric root, Organic spirulina, Organic Chlorella, DMG
Protein: 71%
Fat: 5%
Fiber: 2.5%
Calories: 10 kcal/cup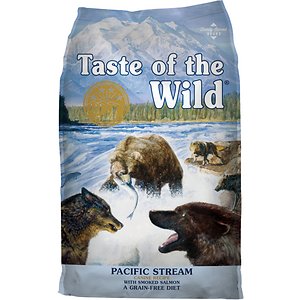 With hypothyroidism, the metabolism slows down, making it harder to digest and metabolize food. Taste of the Wild Pacific Stream Grain-Free Diet is made from highly-digestible energy, an essential quality for dogs with hypothyroidism because they are often fatigued and avoid activity. Natural, additive-free ingredients help with healthy digestion.
Chelated minerals and amino acids help to maximize nutrient absorption, which is especially important in dogs with thyroid issues because they tend to not have much of an appetite, causing them to miss out on essential nutrients. Taste of the Wild dog foods are made in the USA, and they are one of the best dog food manufacturers in the industry.
Main Ingredients: Salmon, Ocean Fish Meal, Sweet Potatoes, Potatoes, Peas, Canola Oil
Protein: 25%
Fat: 15%
Fiber: 3%
Calories: 360 kcal/cup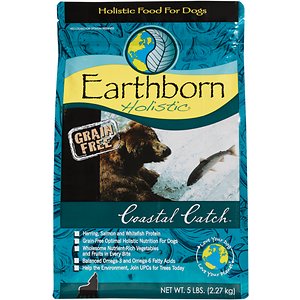 There's a lot to love about this Earthborn Holistic Coastal Catch formula. It is packed with protein to keep your dog's muscles healthy and strong. Plus, the high-quality protein serves as an excellent source of energy.
This dog food also contains fatty acids that promote healthy skin and coat, which can become dull after experiencing thyroid disease.
Many dogs with hypothyroidism struggle with weight gain; this formula comes highly recommended for that reason because it contains lean protein and L-Carnitine, which helps to burn fat. If your pup does not like fish, you may want to try another Earthborn recipe with an alternative protein source.
Main Ingredients: Herring Meal, Peas, Canola Oil (preserved with mixed Tocopherols), Pea Protein, Tapioca
Protein: 32%
Fat: 18%
Fiber: 4%
Calories: 400 kcal/cup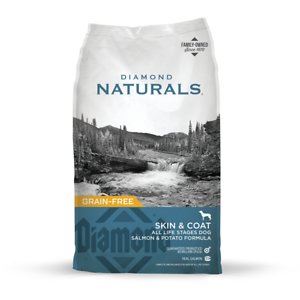 If you've noticed your dog's skin and coat look dull and unhealthy, this food's high-quality nutrition can help.
The top-notch protein comes from salmon, which helps to maintain muscle mass and health, even as your dog slows down due to the effects of hypothyroidism. Diamond Naturals Skin & Coat contains superfoods to help boost the immune system and digestive health. This is one of the best foods for digestion, too because it contains probiotics and clean ingredients. When your dog is suffering with hypothyroidism, feeding them a diet with optimal nutrition is a must.
It is free of artificial flavors, colors, preservatives, fillers, corn, and wheat, so even dogs with sensitive stomachs typically love this diet.
Main Ingredients: Salmon, Fish Meal, Potatoes, Lentils, Peas, Pea Flour, Dried Yeast, Canola Oil
Protein: 25%
Fat: 14%
Fiber: 5%
Calories: 337 kcal/cup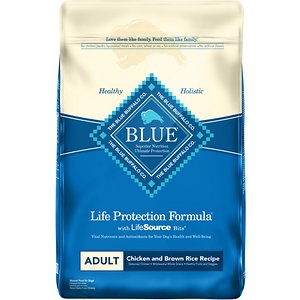 Some dogs develop thyroid disease as they age. Blue Buffalo Life Protection is one of the best foods for adult and senior dogs with thyroid issues because it helps with weight management and muscle preservation. The formulas' glucosamine will help maintain healthy joints, while added calcium and phosphorus work to maintain bone strength.
Blue Buffalo recipes include a patented nutrient blend called LifeSource Bits, with antioxidants, vitamins, and minerals.
Main Ingredients: Deboned Chicken, Chicken Meal, Brown Rice, Barley, Oatmeal
Protein: 24%
Fat: 14%
Fiber: 5%
Calories: 378 kcal/cup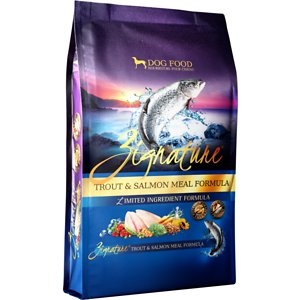 When a dog suffers from hypothyroidism, they may struggle with getting the proper nutrition if they are not eating as much as they used to. We love Zignature Trout & Salmon Meal formula because it contains high-quality nutrition and no artificial additives, so you can be certain your dog is eating the best and safest food available. Zignature is also a limited ingredient diet, meaning there are use a few ingredients in the dog food to ensure you are only feeding your dog the best – and cleanest – ingredients.
Additional health benefits include low-glycemic carbohydrates, lots of fiber, Omega-3 Fatty Acids, antioxidants from veggies. The main protein source is from fish, caught in the Northwestern US (Salmon and Trout). This dog food is void of artificial flavors, colors, and preservatives, as well.
Main Ingredients: Trout, Salmon Meal, Peas, Chickpeas, Pea Flour
Protein: 30%
Fat: 14%
Fiber: 6%
Calories: 418 kcal/cup
Best Dog Food for Hypothyroidism Buying Guide
If you have a dog with thyroid disease, finding the best food with a high-quality source of protein can be a challenge. In this guide, we will discuss what to look for in the best food for hypothyroidism, how hypothyroidism works, and what its effects are.
What To Look For in the Best Dog Food for Hypothyroidism
When you are looking into the best dog foods for hypothyroidism, make sure you only consider high-quality formulas. These formulas are generally more expensive, but it is worth the investment to ensure your pup is healthy and their symptoms are at bay. Feeding them a cheaper, lower-quality recipe with artificial ingredients may seem tempting to save some cash, but the consequences can be dangerous.
Protein – Finding a dog food with quality protein is absolutely essential to ensure they are meeting nutrition requirements. Dogs thrive off of animal protein, and it is the easiest thing for them to digest.
Healthy Fat – Dogs need high-quality nutrition and healthy fat in their diet to help them with brain function and energy, so look for a healthy fat source like canola oil.
Grain free – It is hard for dogs to digest grains, especially when they are battling hypothyroidism. Some cheaper formulas contain grain that may influence your pup's hormone levels, which can be dangerous if they have hypothyroidism. Instead, look for an alternate source of carbohydrates like sweet potato.
Society is on a plant-based kick lately, but animal-based ingredients are the best way to go for dogs with hypothyroidism. They can digest protein from animals more easily than they can from plants.
Natural ingredients – Avoid artificial additives, fillers, colors, and preservatives. This is a good rule of thumb when searching for food for all dogs, but it is essential to feel your dog natural, organic, and nutritious ingredients if they have hypothyroidism.
Dogs With Hypothyroidism – How It Works
Hypothyroidism is a disorder that impacts the thyroid gland. Essentially, it is when the gland is less active than it should be, causing the metabolism to slow down.
According to VCA Hospitals, symptoms of hypothyroidism can include:
increased body weight
fatigue/decreased activity
lowered immune system
excessive shedding
dry coat
thinning or balding coat
darkening skin pigment
frequent ear infections
inability to grow hair
high blood cholesterol
slow heart rate
Can dog food cause thyroid problems?
It's no secret that people are skeptical of the dog food industry – and rightfully so. Over the years, there have been a lot of studies done to expose the unhealthy, unnatural ingredients and manufacturing process behind dog food. At Dog Food Guru, we take your pet's health and wellbeing seriously – it's our livelihood, after all – so we will always do our best to provide you with honest, safe food recommendations for your pup. So, are there dog foods on the market that can cause thyroid problems in dogs? Hopefully not. Years ago, there were a handful of dog food recalls after the FDA found an active thyroid hormone in select dog foods and treats.
If a dog eats food containing thyroid hormones, they are at risk of developing thyroid-related diseases, and if they consume it over a long period of time, the effects can be fatal. Of course, the food was taken off the market immediately. The FDA works hard to keep these kinds of dog food formulas off the market, but it is extremely important to monitor recalls on a regular basis.
What dog breeds are prone to hypothyroidism?
Certain dog breeds are prone to hypothyroidism, including Airedale Terriers, Polish Lowland Sheepdog, Havanese, Old English Sheepdog, American Pit Bull Terrier, German Wire-haired Pointer, and Boxers, Cocker Spaniels, Dachshunds, Doberman Pinschers, Golden Retrievers, Irish Setters, and Miniature Schnauzers.
Any dog breed can develop the disorder, though, so do not rule it out if your dog is another breed.
What causes dog hypothyroidism?
In dogs, there can be a few different causes for hypothyroidism. Most often, idiopathic thyroid gland atrophy and lymphocytic thyroiditis can cause the disorder. In some cases, hypothyroidism is caused by cancer, but that is rarer.
If you are concerned that your dog has hypothyroidism, get them to the vet as soon as possible. They will want to run a blood test, and potentially further tests depending on the results. Note that hypothyroidism is commonly overdiagnosed because many other diseases show similar symptoms and signs. What makes it even more difficult to tell the difference between hypothyroidism and other diseases is that the medication prescribed for thyroid diseases can actually improve and/or treat the symptoms of other diseases. Thyroid levels can also be impacted by other diseases, too.
Can hypothyroidism cause anxiety in dogs?
Behavioral problems can be another sign of hypothyroidism in dogs. A dog may begin to feel more stressed, agitated, and anxious because of the imbalances going on. If your pup is experiencing anxious behavior all of the sudden, it could be a sign of the early stages of hypothyroidism, as well as other health problems. It is best to take the dog to a vet to be safe.
Below is a list of Products reviewed in this article
Updated December 24, 2019