What Is The Best Dry Dog Food – Real Food For Real Canines [Ranked]
Some vets say chicken is best. Others say beef is superior. So what is the best dry dog food? After analyzing hundreds of dry dog foods, we came up with the following list of both healthy and affordable dry food that your dog can rely on daily, multiple times per day.
Most Popular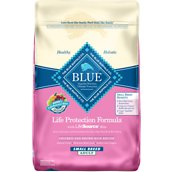 Blue Buffalo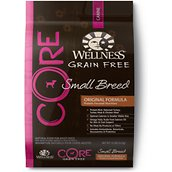 Wellness Grain-Free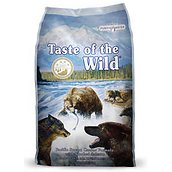 Taste of the Wild
All of these foods taste differently and you might have to rotate them based on their flavor rather than on their nutritional value. Since most of them are tried, tested, and properly researched, you can start with the following dog foods without confidently.
Blue Buffalo's dry food is based on chicken but it also comes with fortified vitamins and minerals for your pooch. It also comes with pea protein and chicken fat for a complete nutritional profile. You shouldn't fear natural fat in your dog's food as it's one of the healthiest ingredients for your dog's immune system.
With a minimum of 34% protein, the dry dog food can be a solution for both small breed and large breed dogs. Small dogs only need 1 meal per day while large breed dogs require 2 Wilderness Chicken Dry Dog food meals per day.
One of the healthiest sources of protein for your dog is salmon. It represents a top source of amino acids with unique fatty acids such as Omega 3 that benefit coat, claws, and skin health. Salmon has a distinct smell and your dog will either love it or have it.
Chicken and pumpkin have been added to the formula to enrich the food further. DogFoo.guru has shown the benefits of pumpkin as well as its versatility. We like that the first 5 ingredients on the label are instantly recognizable and judging by the user feedback, we can also see just how many dogs are relying on this dry food for years now.
We like the Life Protection Formula from Blue Buffalo as it's formulated in 3 main health improvement directions. It uses ingredients that support and build muscle from real meat. It improves the immune system's health as it comes with extra vitamins and minerals. Healthy fats in the form of Omega 3 and Omega 6 are also found in its formula.
If you take a closer look at its label, you'll notice its free from grains. Beneficial to the digestive system, this formula comes with chicken, blueberries (source of vitamins and antioxidants), peas (source of protein), carrots (Vitamin A and fiber source), flaxseed, cranberries, and sweet potatoes. All of these have already been proven to work for large and small breeds.
If you've been shopping around the dog food isle for some time, you certainly associated Hill's Science dog food with some of the most beneficial food out there for your dog's sensitive stomach. This is certainly the case with the dry dog food that is based on chicken.
We rate this dog food highly mainly for its prebiotic formula that makes it so much easier on the stomach. Maybe your adult dog is starting to show signs of digestive issues. You should look no further than this Hill's Science formula that comes in 4lbs, 15lbs, and 30lbs versions.
If your dog is getting tired of the same dry food, it's not necessarily an indication to turn towards wet food. Instead, you can consider changing the type of dry food your feed your canine. You can skip the same old chicken-based recipes for Taste of the Wild's High Protein bison foods. With added roasted venison, it's the type of food that works well for all types of dogs with a muscular physique.
With tomatoes and tomato pomace, this food tastes completely different from what many dogs are accustomed to if you've only been shopping for food in the local pet shop. Eggs are also added to its formula to diversify the protein content further. All of these sources of protein are then blended with peats and potatoes.
Chicken and vegetables make up the bulk of Rachel Ray's kitchen-based dry dog food recipe. Its ingredients are carefully selected and with added dry beet pulp with brown rice, it also offers quickly-digestible carbohydrates.
On the other hand, food comes with soy and corn gluten. If your dog is allergic to these ingredients, you can choose something simpler such as Taste of the Wild's High Protein dry dog food above.
Beef, salmon, turkey, and lamb are the key ingredients in this delicious meal. You can rely on all of these sources of protein to sustain high effort levels of your dog daily. The salmon used in its formula is quality checked as it comes from the US.
This Amazon-exclusive brand is also affordable if you consider its feeding portions. An adult dog with a weight between 20 and 30lbs only needs 1-2 cups of Wag's dry food to feel full. Since its quite a complex food, the manufacturer recommends a slightly longer transition plan from the old dry food. It takes around 10 days for your dog to fully transition to Wag eating.
We like the variety of ingredients in Orijen's dry dog food. Its first listed ingredients are deboned chicken, turkey, eggs, Atlantic mackerel, and chicken liver. This combination is quite unique in the dog world and it can be a welcomed taste change for many dogs.
The food is available with other ingredients as well such as the Six Fish, that only uses Atlantic fish as a source of protein. Together with its variations, the food is available in 4.5lbs, 10lbs, 12oz, 13lbs, and 25lbs versions.
Great for dogs with allergies, the dry food from Natural Balance is among the purest formulations you can count on. It's made using fish and sweet potatoes. Vitamins and minerals are also added to complete the micronutrient profile your dog needs.
We like this food as it doesn't come with filler ingredients. There is no artificial flavoring and no colors added to it either. If you like to purchase large amounts of food in advance to save money and shopping time, we recommend going for the largest 26lbs version.
Based on brown rice and lamb, Blue Buffalo's formula is among the best when you take into account both flavor and the healthiness of its ingredients. Lamb is a hit with dogs of all breeds and rice helps their digestive system as well as giving them extra energy.
The food is portioned according to your breed's size. If you have a smaller pooch, you can shop its smallest 6lbs version. Medium and large breed dogs can benefit from their value packs of 15lbs and 30lbs.
Chicken, corn, ground whole grain Sorghum, chicken by-products, and dried beet pulp are the main ingredient of IAMS' dry dog food. This would be the first option if your dog doesn't like corn, as Sorghum can be a good substitute.
With smaller kibble size, this dry dog is mainly made for dogs who are just a few months old as well as for old dogs losing chewing strength. With added prebiotics, it represents a composition that's also gut-friendly, as many other dog foods recommended by vets.
Chicken, rice flour, whole grain wheat, poultry, soybean, beef tallow, and corn gluten are the main ingredients in Purina's dry dog food. Its formula is so good that Purina also makes it in a dry + wet food version. Today, you can purchase it in various bag sizes ranging from 6lbs to 47lbs.
Final words
It's hard to find the best food to feed your dog without testing a few out. But what is the best dry dog food without a point of reference? Many pet owners know the difference in food quality when they see the dog's coat and teeth.
Dominated by ingredients with the highest meat quality, these dry foods listed above are all on the market for a few years. There are no recall issues with any of them at the moment and the feedback from the customers is fantastic.
Of course, there are other dry foods to test out from other brands as well. But as long as you find something your dog likes, it's hard to even look at anything else. All of these dry dog foods are available in different sizes and they can be ordered online. You can store them in any cool dry place or as indicated by the manufacturer.
Below is a list of products reviewed in this article