What is the Best Dog Food for Dogs with Allergies?
It seems like you can't open a web site these days without finding dog owners talking about the food allergies that their dogs are suffering from – and looking for new foods to try. How on earth did canines exist for thousands of years with such a sensitive digestive system? After all, vets tell us that the dog's digestive tract makes up about 70 percent of the dog's immune system.
Dog owners usually blame commercial dog foods and their ingredients for these allergies but foods don't cause allergies. Ingredients in foods can be allergens, but the allergy – the reaction – exists in the dog and his immune system.
So, we have to ask, what's really going on?
Food Allergies vs Allergens
Food allergies (and food intolerances) are caused by a reaction to a specific ingredient(s). It is an abnormal response to a food. When the immune system is involved the reaction is called a food allergy. When the immune system is not involved, it's food intolerance.
It can take months or years for a dog to develop a food allergy. Most puppies never show an allergy before they are six months old. Dogs have to be exposed to a food more than once before they can develop an allergy. Most allergies seem to appear when dogs are between 1 and 3 years old. But once a dog is allergic to a food, he will probably always have an allergic reaction to it. Allergic reactions are nearly always associated with proteins. While this usually means meat proteins, it can also include the proteins in grains and dairy products.
Allergies and intolerances affect males and females, all breeds and mixes, and dogs of any age. Even a dog that is elderly can develop an allergy for the first time.
The canine digestive tract
The canine digestive tract is really not that sensitive. Dogs eat all kinds of horrible things and survive just fine. Dogs are happy to catch and eat small animals when they can. They lick their butts. They eat odd things in the house. If you're a dog owner then, chances are, you have found your dog eating plenty of things he absolutely shouldn't be eating and he had no ill effects. Once in a while a dog does eat something that requires a visit to a vet or surgery (rocks, something poisonous, dozens of golf balls, a butcher knife – seriously, vets have removed large knives from a dog's stomach), but, for the most part, dogs have an amazing stomach and digestive system. It is much stronger than our human digestive tract.
Without going into too much detail, the dog's digestive tract is shorter than ours so food passes through it faster. It also contains stronger stomach acids so it can break down foods that we can't eat – at least not without cooking or other processing. Here's a good explanation of how your dog's system is supposed to work – and how it doesn't work with a food allergy.
This doesn't mean that you should feed your dog old shoe leather, but a dog's stomach is not nearly as sensitive as many owners seem to believe. However, it can be upset by sudden changes in diet and some food ingredients, especially if the immune system is not as strong as it should be. Chronic problems can develop if the digestive tract becomes inflamed and doesn't have a chance to heal.
Dog Food Allergies
Dogs can be allergic to some ingredients often found in dog foods. In order, dogs can be allergic to beef, dairy products, chicken, lamb, fish, chicken eggs, corn, wheat, and soy. Corn, wheat, and soy are often blamed for allergies in dogs but you can see that there are lots of other ingredients that dogs are more likely to be allergic to other than corn, wheat, or soy*. It's not surprising that these are some of the most common ingredients in dog foods. Dogs (or people, for that matter) are more likely to develop allergies to things they are most often exposed to. If dog foods begin to use kangaroo meat in foods in great quantities, it won't be long before lots of dogs develop allergies to it.
For the record, only about 10 percent of all dogs that have allergies have dog food allergies. By far most dogs with allergies have flea bite allergies or atopy/inhalant allergies.
*According to one pet food company, the most common causes of food allergies are beef, milk products, and wheat. WebMD gives a different order for the common allergens: beef, dairy, wheat, egg, chicken, lamb, soy, pork, rabbit, and fish.
Symptoms of Allergies
If you have ever had a dog with allergies then you probably already know the symptoms:
Itchy skin around the face, paws, stomach, armpits, chest, and tail (anywhere the dog can reach to scratch)
Recurring ear infections
Hair loss
Hot spots
Excessive scratching
Skin infections
The problem is year-round
Your dog will be miserable with these symptoms. They are similar to other kinds of allergy symptoms in dogs but the ear infections are more likely to be yeast infections. And the problem will not respond to steroid treatment.
If you suspect your dog has a food allergy, the best thing to do is to see your vet. You should conduct a food trial to try to identify exactly which ingredient or ingredients your dog is allergic to. A food trial and an elimination diet take several weeks or months to conduct them properly but they are the best way to really determine what is bothering your dog.
You can try to guess what your dog is allergic to yourself and start changing foods to avoid certain ingredients but, with quality dog foods being rather expensive, and being uncertain which ingredient(s) your dog might be allergic to, this approach tends to be expensive. You might have to buy lots of foods and discard them after feeding just one or two meals. It can also take time and there is no guarantee of success. In the meantime, your dog is still suffering from his allergy symptoms. We recommend you work with your vet to identify the cause of your dog's allergy symptoms.
Dog Food Intolerance

Many people think their dog has a food allergy when he actually has a food intolerance. The difference is that one is an allergy with itching and scratching and the other is a digestive problem. A food intolerance is similar to what someone might experience if they eat spicy food and then spend the rest of the night in the bathroom with diarrhea. There's nothing wrong with the food. There is no itching or scratching. No hair loss. No ear infections. But, your dog has an intolerance to something in the food and he can have diarrhea or some vomiting when he eats the food.
If your dog has digestive problems when he eats certain foods, he could have a food intolerance instead of a food allergy. You can work with your vet on an elimination diet to identify the problem, as with a food allergy. Or use the list of foods that frequently cause problems above and look for foods that don't use these ingredients.
Feeding a dog with food allergies or an intolerance
There are many good dog foods today for dogs with food allergies and intolerance's. If you can identify the specific allergen(s) involved, you may be able to feed your dog a commercial diet. However, many dogs with a food allergy will eventually develop allergies to other food ingredients, so be prepared to find another food at some point.
Maybe it's not really allergies or a food intolerance
Owners probably do more harm to their dogs' digestive tract by switching dog foods frequently, even if the foods are good quality, expensive foods, than if they fed them one good food all the time. Changing foods often and upsetting your dog's digestion is a sure way to keep his digestive tract inflamed which can lead to chronic problems. Even if you are always searching for better dog food, your dog might be better off if you stay with one food longer and give his digestive tract time to heal.
If you continue to change dog foods, your dog can present with the same kind of symptoms that you find with a food intolerance: diarrhea and vomiting.
If your dog doesn't have an allergy or a food intolerance, try not to change dog foods too often or you could cause some of the problems you are trying to avoid. It's fine to rotate dog foods. In some cases it's even recommended to give your dog a good variety of amino acids. But if you change foods too often, it can become a problem. If your dog has a good immune system, then feeding him a good quality food is usually all he needs. Making frequent changes to his diet can lead to problems.
Puppies that are treated with antibiotics early in life may be predisposed to develop allergies and certain environmental factors may play a role as well. It is also possible that some breeds are more prone to developing food allergies than others – some examples include German Shepherds, Cocker Spaniels, Dachshunds, and retrievers.
Choosing a Hypoallergenic Food for Sensitive Stomach
Though your veterinarian may be able to make a tentative diagnosis, the only way to truly confirm a food allergy is to try an elimination diet. To do this, you must switch your dog to entirely new dog food and then reintroduce certain ingredients to see which one causes the problem. Another option is to simply switch your dog to hypoallergenic dog food – if this solves the problem, there is no need to test for the particular allergen that gives your dog a reaction.
Hypoallergenic dog food is simply a food formulated from limited or novel ingredients. Many hypoallergenic formulas rely on natural foods that are unlikely to provoke an allergic reaction – foods that are likely to cause a reaction include beef, dairy, corn, wheat, soy, and yeast. To create a dog food free from these ingredients, manufacturers may turn to novel ingredients like buffalo, kangaroo or pheasant.
Sensitive Stomach Dog Food
In order to treat your dog's food allergies, you may need to try a few different formulas until you find the one that works best. Some recommended hypoallergenic dog foods include:
Remember, when switching your dog to a new food it is important to make the transition slowly. Start by mixing a 50/50 ratio of the new food with your dog's old food and slowly add more of the new food until the old food is replaced entirely.
Skin Allergies in Dogs
The condition of your dog's skin may be an indication of his overall health – if his skin isn't looking its best, it is probably a sign of a health problem. While some skin problems are the result of injury, infections or parasites, skin allergies are also a common culprit. Some of the most common symptoms of skin problems in dogs include excessive scratching or licking, redness or inflammation, scabs, flaky skin, rashes, swelling and hot spots.
Your dog's allergies could be caused by a variety of things – one of the most common causes is fleas. Not only do flea bites cause irritation to your dog's skin, but your dog could actually have an allergic reaction to the flea's saliva. Mange, a condition caused by an infection resulting from scabei mites, presents in ways very similar to an allergic reaction. Some dogs may develop seasonal allergies to substances like weeds, pollen and dust and others might develop reactions to certain food ingredients.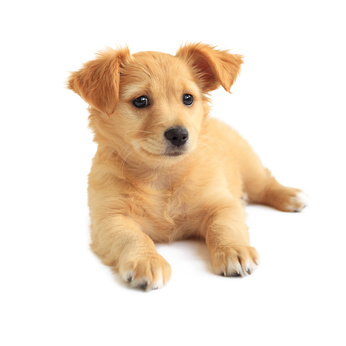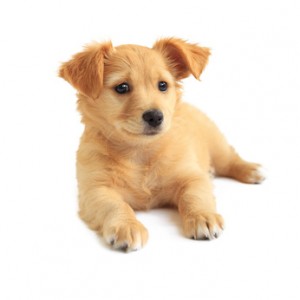 There is nothing quite as wonderful as running your hand through your dog's soft, shiny coat. But what if your dog's coat is matted and uneven or his skin dry and flaking? Skin problems are fairly common in dogs and, luckily, they are not impossible to resolve.
Choosing a Sensitive Skin Formula
The key to treating your dog's skin allergies is to identify the cause. Speak to your veterinarian about the potential causes for your dog's allergies or try to isolate it yourself by removing certain allergens from the environment to see if your dog improves. In addition to these measures, you might also want to consider switching your dog to a sensitive skin formula for dog food. These formulas are designed specifically for dogs with itchy skin – they often contain high-quality protein and plenty of essential fatty acids to support your dog's skin and coat health. These foods are also often made without common allergens like corn, wheat, and yeast in case your dog's skin problems are the result of a food allergy.
Sensitive Skin Dog Food
You need to address your dog's skin allergies directly if you want him to recover, but switching to a sensitive skin formula for his food might be all it takes. Some of the top-recommended brands for skin allergies in dogs include:
Your dog's coat should be shiny and healthy – a reflection of his inner health. If your dog is suffering from skin allergies, don't wait any longer to find him the relief he deserves.