What Is The Best Dry Dog Food?
The Ultimate Dry Dog Food Buyer's Guide
The vast majority of dog owners today buy kibble or dry dog food for their dogs. It typically costs less than canned/wet food. It is more convenient to buy and feed if you have bigger dogs. And it's easier to store than cans in many cases. Because of the drying process used in making kibble, it can be stored at room temperature and it doesn't spoil.
You can see the market share of the leading dry dog food brands sold in the U.S. in 2015 here.
There are pros and cons in feeding kibble, which we'll look at below. Keep reading and we'll suggest some of the best dry dog food we have found for dogs of every size.
Disclosure: Please note that this post contains affiliate links, which will direct you to our partner sites. If you purchase the pet foods we recommend through those links, we may earn a small commission – at no extra cost to you.
Pros and Cons of Dry Dog Food
We have already mentioned some of the pros that lead consumers to buy kibble for their dogs:
Cost
Convenience
Easy to store
Slow to spoil
However, there are some cons which people don't like about feeding a dry food:
Higher in carbohydrates
Use more preservatives than canned foods
Lower quality kibbles can use low quality proteins
Recommended Dry Dog Foods By Breed Size : Quick Look
Susan Thixton at Truthaboutpetfood.com also points out that kibbles can be subject to recall because of Salmonella and other germs. She feels that this is under-reported compared to stories about raw food recalls and other pet food recalls.
The market share for kibble has declined slightly in the last five years due to concerns about nutrition, health, and preservatives. More dog lovers today are feeding canned/wet foods, raw diets, or more natural dog foods. Dry dog food still dominates the dog food market, but other kinds of dog food are gaining in popularity.
As a result, dog food manufacturers are trying to make better quality kibbles to satisfy their customers. Some of these dry dog foods have higher and better quality protein, fewer carbohydrates, and use natural preservatives such as mixed tocopherols (a form of vitamin E). Many of these better quality foods are grain free, though they have other sources of carbs such as tapioca, potatoes, sweet potatoes, and other things. Many dog lovers like the idea of grain free dog foods because they can be helpful for dogs that have food allergies or food sensitivities, arthritis, as well as other health problems. Many dogs can benefit from good quality higher protein diets.
On the other hand, many of these better quality dog foods are also very high in fat which is not good for some dogs, especially if your dog is overweight or obese, if he has pancreatitis, or if he has problems digesting fat. So, along with the protein information for dry dog foods, it's also important to consider a food's fat information.
Some high quality kibbles with higher protein can also be high in calcium which make them problematic for large breed puppies. If you have a large or giant breed puppy it's important to be mindful of the calcium content and ratio in the food you feed, even if you are feeding a good quality food.
You will pay more (often a lot more) for some better quality dry dog foods that have more good quality protein, fewer carbs, and more natural ingredients. However, many of these foods are considered to be more nutritious for dogs and you will likely feed your dog less food per meal. You will probably buy dog food less often than if you are feeding a food from the grocery store. It's important to watch your dog's weight and condition when feeding some of these better quality foods – especially if they have higher fat content. Some dogs can gain a lot of weight when you switch to a super premium dog food. Measure your dog's portions and don't leave food sitting out all the time. Adjust the amount of food you are feeding based on your dog's condition. You can't always follow the recommendations on the bag of dog food.
Ingredients to Look for and Some to Avoid
Protein and fat are the main ingredients in a dog's diet. However, not all proteins and fats are the same. It's important that the protein and fat in the dog food comes from good sources if you want your dog to be healthy.
Ideally you will select a dry dog food that features two or three meat proteins in the first several ingredients listed. Both whole meats and meat meals are good sources of protein. Whole meats refer to foods such as whole chicken, beef, fish, and lamb. Some people don't like meat meals as much as whole meats but they are a concentrated form of the meat in which the moisture has been removed. They contain several times as much protein as a whole meat. Meat meals are usually quite acceptable as one of the first ingredients in a good quality dog food. They are used by many good dog food brands.
However, you should avoid meat by-products and digests. These ingredients are vague and they can include some less than desirable parts of animals.
Dogs also need good sources of fat. You should look for named fat sources such as chicken fat. Other named fats also provide needed nutrients such as fish oil which can provide omega-3 fatty acid to help keep the skin and coat healthy. Puppies can benefit from DHA which is Docosahexaenoic acid. This is a specific form of omega-3 fatty acid that helps with brain and eye development. Older dogs seem to benefit from medium chain triglycerides which feature medium chain fatty acids (MCFAs). These have been found to help older dogs feel and act younger. They are often made from a combination of coconut oil and other oils.
If you want to avoid corn, soy, and wheat in your dog food, your dog may still be able to eat rice, barley, oats, or some other grain or cereal. Oats and barley, for example, can be good sources of dietary fiber. Or you can feed a grain free dog food that uses an alternate source of carbs such as sweet potatoes. You don't have to feed a dog food with an excessively high percentage of protein but it's a good idea to keep the carb percentage low to moderate. Kibble will have some kind of carbohydrates even if it doesn't have grains. Carbs of some kind are needed for the dough/batter to hold its shape and go through the machinery that makes the kibble. You will find some dry dog foods that use tapioca or other carb sources and wonder why they are present since they provide hardly any nutrients. It can be simply because the recipe requires some kind of carbohydrate to hold the ingredients together. If you have ever tried to bake a cake or cookies that fall apart, you will understand.
Corn and wheat are not particularly bad for dogs. Contrary to what many people think, they are not the most common allergens for dogs. (Allergens for dogs, in order: beef, dairy products, chicken, lamb, fish, chicken eggs, corn, wheat, and soy.) However, corn and wheat are often the first things blamed for a food allergy or food sensitivity. And they are fairly easy to eliminate from a dog's diet. If your dog does not have a problem eating foods that contain grains, it's still a good idea to feed foods that are low to moderate in carbs. Small amounts of corn or wheat are no worse for most dogs than other grains or carbs. Most dogs can eat them without any problem. However, we do suggest that you avoid foods that contain corn gluten meal and wheat gluten meal. These are cheaper ingredients that are sometimes used to boost the protein percentage in lower quality dog foods. The same is true with soy protein and rice protein concentrate.
In better quality dry dog foods you should also avoid things like artificial preservatives (BHA, BHT, ethoxyquin), artificial colors, and sweeteners. It can be hard to know if a food contains ethoxyquin. Dog food companies are only required to list ingredients that they add to foods. Ethoxyquin is sometimes added to fish used for fish meal while the fish is still on the boat, before it ever arrives at a dog food company. That means that if it is used with the fish meal, they don't have to list it among the ingredients. Usually, the only way you can be sure that a food doesn't contain ethoxyquin is if the company states that it uses fish/fish meal that is free of it. Some companies will put this information on their web sites or you can call and ask them. There are safe alternatives to ethoxyquin, as dog food companies and fishing companies know.
As for other artificial preservatives, there are many natural preservatives used in dog foods today, such as rosemary extract and green tea extract; and your dog doesn't need added colors in his dog food. The coloring is added solely to appeal to humans. Sweeteners in dog food can include things like corn syrup or sucrose. Dogs do have a sweet tooth and they like the taste, but they don't need this stuff nutritionally.
We also recommend that you buy kibbles that are AAFCO-approved. While some people criticize AAFCO because their requirements are not as strict as they could be, we believe that they provide some assurance to consumers that pet foods meet a minimum standard.
Selecting the Perfect Dry Dog Food
Every dog is an individual. Even dogs in the same breed can have different food needs. Some dogs need more calories than others. Some dogs will do better with more protein or fat than other dogs. If you don't find a food here that you and your dog like, don't give up. If you keep looking, reading labels, and talking to other dog lovers to see what they are feeding, you will find a good food that your dog can eat.
There are lots of good quality kibbles available today and we can't cover them all here. We will suggest a food that we like – which may be more expensive. And we will also suggest a good quality food that might work for someone on a smaller budget. We all love our dogs but many of the super premium foods are very expensive and we know that cost can be an issue – especially if you have big dogs or more than one dog. Please note that more expensive foods are not always better.
Please be aware that there is often an overlap in dog foods and the size of dogs they are formulated for. For example, many "large breed" formulas are made for adult dogs over 50 pounds so they can be fed to giant breeds. There are relatively few dog foods made specifically for giant breed dogs. You will have to look and see if the foods have things like glucosamin, chondroitin, or other additives that can be helpful for giant breeds. Many dog food manufacturers also lump small and medium dogs together. If you have a very small dog you can probably feed a food for small dogs or you might be able to find foods made especially for Toy dogs which have more calories per ounce. You are more likely to find a good selection of foods for Toy dogs among the canned/wet foods.
Some of the foods we recommend have grains and some don't. We have selected foods without corn, wheat, and soy unless otherwise noted. You may have to try a couple of foods to find which one is best for your dog. You should also keep in mind that your dog's diet needs can change as he grows and ages so you may have to change foods to accommodate him.
The Best Dry Dog Food
It's no secret that we like Orijen over here. And we're not the only ones. Just hop over to Chewy.com to check out their reviews.
Orijen is the top dog when it comes to super-premium high quality ingredients. Their mix of named meats and grain-free fillers is the gold standard when it comes to kibble. The only problem for some dog owners is that you'll have to pay for all that gold. Coming in around $3/lb. Orijen can cost pet owners around $80/mo to feed larger breeds. If you're willing to anything for your fur baby, as many pet owners are, then don't look any further.
If you'd like to dive into other great options broken down by breed size then get to diving.
Recommended Dry Dog Food For Giant Breed Dogs
Less Expensive, Good Quality: Precise Holistic Large & Giant Breed Adult Dry Dog Food Formula
For mature dogs weighing 50 pounds or more. Features triple proteins, which help maintain solid muscle – whether working or playing. Calcium and phosphorus levels have been adjusted for dogs that have reached their full size. The first five ingredients are Chicken, Chicken Meal, Ground Brown Rice, Oatmeal, and Chicken Fat (preserved with Mixed Tocopherols and Ascorbyl Palmitate). Crude Protein – 25.00% (min); Crude Fat – 15.00% (min); Crude Fiber – 3.50% (max); Moisture – 10.00% (max); Calcium (Ca) – 1.30% (min); Phosphorus (P) – 0.90% (min). With omega 6 and omega 3 fatty acids and glucosamin and chondroitin (desirable for giant breeds). Approximately 419 kcal/cup.
More Expensive, Super Premium: Now Fresh Grain Free Large Breed Adult Recipe
100% fresh turkey, salmon, duck and 100% fresh omega 3 and 6 oils from coconuts and canola. NOW FRESH™ also features zero grains, gluten, wheat, beef, corn or soy. Zero rendered meats, by-products or artificial preservatives. This formula also contains New Zealand green mussels and glucosamine/chondroitin to support hip and joint health – good for giant breed dogs. Added L-Carnitine and Taurine for heart health. Pre and probiotics. The first five ingredients are de-boned turkey, whole dried egg, potatoes, peas, and potato flour. Crude protein (min) 27 percent, crude fat (min) 13 percent, crude fiber (max) 3 percent), moisture (max) 10 percent, calcium (min) 1.1 percent, phosphorus (min) 0.8 percent. Approximately 363 kcal/cup.
Recommended Dry Dog Food For Large Breed Dogs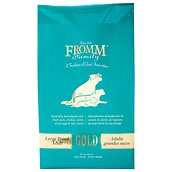 Less Expensive, Good Quality: Fromm Large Breed Adult Gold
Designed specifically for large dogs over 50 pounds, Fromm Large Breed Adult Gold is one of our favorite dog foods for large dogs. It contains duck, chicken meal, and chicken as the first three ingredients. Chicken cartilage is added for a natural form of glucosamine to keep joints supple which is important for large dogs. The food contains no wheat, corn, or soy that might irritate the digestive system. Fromm Large Breed Adult Gold features moderate protein and fat which is better for large dogs. The food is moderate in terms of calories (378 kcal/cup) which helps your big dog stay slim.
We also like the fact that Fromm is a family-owned company in Wisconsin and they make their food in small batches fresh every morning. These are good ingredients from a respected company in a formula that should be good for your big dog. Your large breed dog should stay healthy and fit with this large breed food.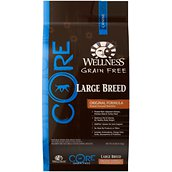 More Expensive, Super Premium: Wellness CORE Grain Free Large Breed Formula Dry Dog Food
High in protein, glucosamin and chondroitin for joint support, includes antioxidants, omega fatty acids, probiotics. Made with naturally gluten-free ingredients. The first five ingredients are Deboned Chicken, Chicken Meal, Turkey Meal, Potatoes, and Peas. Crude protein 34 percent, crude fat 12 percent, crude fiber 6 percent, moisture 10 percent, calcium not more than 2 percent, phosphorus not more than 1.15 percent. Approximately 346 kcal/cup.
Recommended Dry Dog Food For Medium Breed Dogs
Less Expensive, Good Quality: ACANA Wild Prairie Regional Formula Grain-Free Dry Dog Food
Acana is made by Champion Pet Foods, the same company that makes Orijen. Their Regional formulas, like Wild Prairie Regional, are 60 percent meat/fish from local sources. The first five ingredients are deboned chicken, chicken meal, green peas, turkey meal, and chicken liver oil. Acana is made in Champion's own facilities and the company has an excellent reputation. This particular food has 31 percent crude protein and 17 percent crude fat; with 5 percent crude fiber. Metabolic Energy for ACANA Wild Prairie Dog Food is 3615 kcal/kg (434 kcal per 250ml cup) with 30% of energy from protein, 40% from fat and 30% from fruits and vegetables. It is AAFCO-approved for all life stages. We think this food, or one of the other Acana Regional formulas, would be very good for an active medium-sized dog. Acana is a very expensive food so it might not be feasible if you have multiple dogs, but it is highly recommended by many dog lovers.
More Expensive, Super Premium: Solid Gold Sun Dancer
Solid Gold was one of the first well-known holistic dog foods. They make a variety of foods, with and without grains. The brand seems to be enjoying a resurgence in popularity at this time. Both Sun Dancer and Barking at the Moon are suitable for medium to large dogs. Sun Dancer features chicken and Barking at the Moon includes beef. Sun Dancer is grain and gluten free; it uses USA-sourced chicken for protein; and chia seeds for omega fatty acids. No meat by-product meal, corn, wheat, soy, sugar, artificial preservatives or flavors added. The first five ingredients in the food are Chicken, Chicken Meal, Tapioca, Peas, and Whitefish Meal. Crude protein 30 percent, crude fat 14 percent, crude fiber 4 percent, moisture 10 percent. Estimated 385 kcal/cup.
Recommended Dry Dog Food For Small Breed Dogs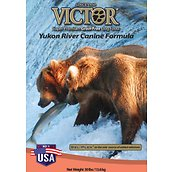 Less Expensive, Good Quality: Victor Yukon River Salmon & Sweet Potato Grain-Free Dry Dog Food
We have heard great things about Victor dog food from lots of people. Victor is made by Mid America Pet Food – a company that co-packs for some other well-known brands. Mid America is a family-owned and operated company located in east Texas. According to the company, more than 80 percent of the ingredients used in their foods come from a 200-mile radius of their facility. They currently have six highly active and sporting dog formulas; five formulas for normally active dogs; and five grain free formulas. All of their foods are free of corn, wheat, soy, gluten, and grain by-products. They use no artificial colors, flavors, or preservatives. The Yukon River Salmon formula has 32 percent crude protein, 15 percent crude fat, and 34 percent crude carbs. Seventy-six percent of the protein in the food comes from fish. We think this is a food you might consider for your small breed dog, or check out one of Victor's other formulas.
More Expensive, Super Premium: Merrick Classic Small Breed Recipe Adult Dry Dog Food
Merrick has some great foods for dogs. The first three ingredients in this food are deboned chicken, chicken meal, and turkey meal. The recipe is 50 percent meat and desirable fats, 25 percent vegetables, vitamins, and minerals, and 25 percent whole grains like brown rice, barley, and oats. This is all-natural pet food made from high quality ingredients. No by-products, no artificial preservatives. They also use local growers from Texas, where the food is made. Yes, we know that Purina recently purchased Merrick which makes some people nervous. But until we see any sign that the food has changed, we still think this is a great food for your dog.
Conclusion
There are pros and cons to feeding dry dog food but you can find good quality kibbles today. As always, you should read the label and understand the ingredients in the food. We have suggested some dry dog foods here that we think are appropriate for dogs of different sizes but there are many others. Let us know what you think of these recommendations and what dog foods are working for your dog.
Below is a list of Products reviewed in this article
Updated February 16, 2016