What Type of Dog Food Should I Feed my Puppy?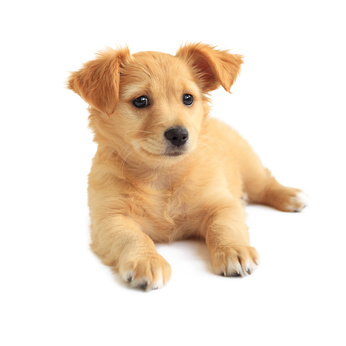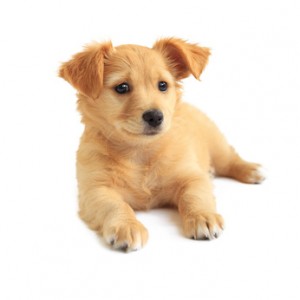 The first few months of life are when your puppy is going to grow the most quickly. This is the time when his bones and muscles will develop, so it is essential that he receives proper nutrition. In this article you will learn the basics about nutrition for
Nutrition for Puppies
When they are first born, puppies receive all of their nutrition from their mother's milk. After six weeks or so, a puppy should be fully weaned and eating a dry food diet. As your puppy grows, he needs a lot of protein support his growth so look for a food that is specially formulated for puppies. Ideally, the food should contain between 25% and 30% protein. Your puppy's food shouldn't contain high levels of salt or sugar and it shouldn't be made with artificial ingredients used as fillers. Keep in mind that the cheaper the food is, the lower its quality is likely to be.
In addition to protein, your puppy's food should also provide adequate levels of fat. Essential fatty acids help not only to maintain your puppy's skin and coat, but they also help to transport fat-soluble vitamins like vitamins A, E, D and K. Don't choose a food that is too high in fat, however, because the excess energy could result in growth spurts or weight gain that could be unhealthy for your puppy. Look for a food that provides a balance of protein, fats and carbohydrates without too many unnecessary ingredients.
Tips for Feeding Puppies
Because your puppy has a fairly small stomach and a need for continuous energy, you should plan to feed him three small meals per day rather than one large meal. Try to stick to a routine with feeding your puppy – offering one meal in the morning, one in the afternoon and one in the evening. Having a schedule for feeding your puppy will also make the task of housetraining easier because you will be able to predict when your puppy will have to go out. Try to avoid giving your puppy too much food – even if he begs for it, stick to the amount your puppy needs rather than the amount he wants. Some breeds have a higher risk for obesity than others and overfeeding is a contributing factor.
See how much you should feed your puppy: https://dogfood.guru/how-much-dog-food-should-i-feed-my-puppy/
Recommended Brands of Food
When you purchase a new puppy, you should speak to the breeder about what type of food the puppy is currently eating. If the food is of good quality, you can continue to offer it to your puppy. If it isn't, buy a small amount of the food and mix it with your puppy's new food to slowly transition him onto the new diet. Some of the best foods for puppies include:
Back to Basics Dog Food
Nature's Variety Instinct
Offering your puppy a food that provides for all of his basic nutritional needs is the key to giving him a healthy start to life. If you are shopping for a great puppy food, try one of the brands recommended above.