Bright Mind Dog Food
Brief Overview
ProPlan Bright Mind is made by Purina (Nestle Purina PetCare), a subsidiary of the food giant Nestle. Purina is headquartered in St. Louis, Missouri. The company was founded to feed farm animals in 1894 by William Danforth with the company name becoming Ralston Purina in 1902. The company established the first pet nutrition and care center at Purina Farms in Gray Summit, Missouri in 1926.
Dog Chow became the first pet food to use extrusion to produce kibble in 1956. Cat Chow was introduced in 1963. The company introduced Puppy Chow in 1963 – the first company to provide added protein and nutrients for puppies. In 1986 ProPlan was the first food to use real meat as the first ingredient in pet food. In 1986 the Purina Mills animal feeds were sold so Purina could focus solely on pet foods. In 2001 Nestle acquired the company to make the food available globally. As of 2012 the company was the 2nd largest pet food company in the world and the largest pet food company in the U.S. Purina makes a wide range of foods and treats for pets including Purina Pro Plan, Purina Dog Chow, Friskies, Beneful and Purina ONE. Bright Mind was introduced in January 2015 and is aimed at dogs 7+ years to help their alertness and mental sharpness.
Disclosure: Please note that this post contains affiliate links, which will direct you to our partner sites. If you purchase the pet foods we recommend through those links, we may earn a small commission – at no extra cost to you.
Who Manufactures Bright Mind?
Bright Mind is made by Purina. The company has over 6500 employees in the U.S. and more worldwide. As of 2014 the company had 19 pet food manufacturing plants. According to sources at Purina, "ingredients always meet or exceed every federal and state requirement. In a typical 24-hour production, Purina conducts 30,000 quality checks involving ingredient/packaging, receiving, processing and packing. We take these steps to ensure that our consumers and their pets have safe, quality products."
Bright Mind Recalls
We did not find any recalls for Bright Mind, which has only been on the market for a little over a year at the time of this review. ProPlan (which includes a number of Purina's best quality foods) had a voluntary recall of select lots of wet dog foods in March 2017 because they did not contain the recommended levels of vitamins and minerals.
Bright Mind Dog Food Coupons 2017
Purina ProPlan Dog Food Overview
The Purina site isn't the easiest site to navigate. If you click for ProPlan products you get 83 results. And this is just one of Purina's product lines. It can take a lot of clicking to find what you're looking for. But we'll muddle through.
Purina's ProPlan product line features some of the company's higher quality pet foods. ProPlan includes both dog and cat foods. Along with veterinary diets (a prescription is required from your veterinarian), ProPlan includes Bright Mind for improved cognitive function in older dogs; Savor for everyday nutritional needs; Focus for specialized nutritional needs such as sensitive skin and stomach issues, healthy weight, etc.; Sport which is preferred for very active dogs and performance dogs; and Natural which is made without corn, wheat, or soy. Packaging and names of the ProPlan formulas were re-done in the last couple of years but, per the company (and as far as we can tell), the formulas remain the same – though some of the lines have been expanded. For example, ProPlan Sport was formerly ProPlan Performance and had 30 percent crude protein and 20 percent crude fat. The first ingredient was/is chicken. ProPlan Sport is still available in that formulation but it is now also available in a 28/18 formula, a 26/16 formula, and a salmon & rice formula. ProPlan has also expanded the offerings with their other formulas.
ProPlan Natural is new and probably a response to the increased demand for foods that do not contain corn, wheat or soy. This line also contains no added artificial colors, flavors, or preservatives. Some of the ProPlan Natural formulas are grain free. They include both kibble and canned foods. Animal proteins include lamb, tuna, chicken, eggs, turkey, beef, and duck. If we use the ProPlan Turkey & Barley formula as an example, the food has 27 percent crude protein, 17 percent crude fat, 4 percent crude fiber, and 12 percent moisture, with 436 kcal/cup. The first five ingredients in the food are: Turkey, brewers rice, barley, chicken meal (natural source of glucosamine), and dried egg product. This is an all life stage food.
Most people probably don't remember, but years ago ProPlan used to offer a Turkey & Barley formula (my dogs liked it). They also had a beef formula. There might have been others. This was at least 15 years ago. Those formulas went away. Perhaps they didn't sell well at the time. But people may like them better now in these natural formulations.
Along with canned/wet food and kibble, the ProPlan products also include treats and sport bars for dogs that complement the dog foods and use similar ingredients.
ProPlan Bright Mind, of course, is another one of ProPlan's special foods. We'll look at it more closely below.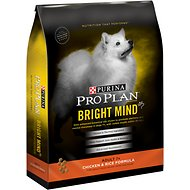 Full disclosure here: I have tried this food with my two older dogs and I love it. My two older dogs are both eight years old. They do not have canine cognitive dysfunction but I thought they were slowing down and they were not as playful as they once were. I had heard a lot of great things about ProPlan Bright Mind from different people so I decided to try it. I could honestly see a difference in my dogs. As a pet owner, I don't care what's in the food or why it works. I love my dogs and I will feed them whatever helps them enjoy life the most. Now, that said, it's my job to look at the food and tell you the pros and cons, so here goes. You can make your own decision about it.
Bright Mind was introduced in early 2015. While there are dog foods that focus on the weight and physical fitness of older dogs, this is one of the few foods that is formulated to help an older dog's mental alertness. It's not uncommon for older dogs to begin to have less energy, play less, and interact less with their families. Some older dogs start to withdraw and spend more time alone, sleeping or resting, even if they don't have any particular health problems. In some cases older dogs will begin to develop canine cognitive dysfunction (CCD), a syndrome which has been compared to Alzheimer's in humans. The older dog can become confused at times, walk into things, and even seem to be lost in the house.
If you see signs that your dog is developing CCD, you should talk to your veterinarian. There are medications that can slow down this condition (though not reverse it).
ProPlan Bright Mind is formulated with medium chain triglycerides (coconut oil, palm oil), DHA (added to puppy foods for brain development), omega-3, and some other things that seem to help older dogs become more alert. This is not a prescription food and I haven't seen any claims that it will cure a dog that has cognitive dysfunction. However, I have seen countless reports from owners who say that it has helped their older dogs become more alert and playful – more like their younger selves. These are anecdotal reports so you have to take them for what they are worth, but there is an overwhelmingly positive response to Bright Mind and what it seems to do for older dogs.
Most of the ingredients in the food are similar to other ProPlan ingredients. The first five ingredients in this food are: Chicken, brewers rice, poultry by-product meal (source of glucosamine), whole grain corn, and corn gluten meal. If you hate grains, you may have to wait until ProPlan makes a grain free version of this food – which they could do at some point.
Chicken, of course, is a good source of protein. It's about 60 percent protein and 40 percent fat, but it also has a lot of moisture. When the water is removed, this ingredient might fall lower in the list. Chicken is a good source of vitamin B6 and phosphorus and a very good source of niacin and selenium.
Brewers rice is, per AAFCO, the small milled fragments of rice kernals that have been separted from larger kernels of milled rice. It is missing some of the nutrients contained in whole ground rice so it's considered to be a lesser quality ingredient.
Many people will shudder at "poultry by-product meal (source of glucosamine)." The source of the poultry is unnamed. It's a by-product of the poultry. It doesn't include muscle meat. It can include: lungs, spleen, kidneys, brain, liver, blood, bone, partially defatted low-temperature fatty tissue, and stomach and intestines freed of their contents. And, as a meal, most of the moisture has been removed. Poultry by-product meal is high in protein but its actual composition can vary from batch to batch.
The food also contains whole grain corn and corn gluten meal. In these days of grain free foods, many people will dislike these ingredients, though whether they are actually worse than the peas, pea protein, lentils and the like that now seem to pack grain free dog foods is debatable. Corn and corn gluten meal are plant sources of protein. Corn has 7 percent protein, 11 percent fat, and 82 percent carbs. It's a good source of B vitamins and lots of minerals. Corn gluten meal is a source of protein used in many animal and pet foods. It has a protein percentage around 60-65 percent. The food also contains corn germ meal later in the list. Other grains in the food include whole grain wheat, barley and wheat bran.
Other ingredients of interest in the food include fish meal (source of glucosamine) and fish oil; dried egg product; and animal digest.
You may not like the ingredients in this food but if you have an older dog that seems to be aging and losing interest, you might consider giving Bright Mind a try.
Bright Mind now comes in two different versions, both with their own recipes. There is Bright Mind for adult dogs; and the Bright Mind formulas for dogs 7+ years. The adult 7+ line includes wet entrees, large breed 7+, and small breed 7+. The adult formula is made for adults and small breed adults only at this time.
Nutrition Statement
Animal feeding tests using AAFCO procedures substantiate that Pro Plan Bright Mind Adult 7+ Chicken & Rice Formula provides complete and balanced nutrition for maintenance of adult dogs.
GUARANTEED ANALYSIS
| | |
| --- | --- |
| Crude Protein (Min) | 28% |
| Crude Fat (Min) | 12% |
| Crude Fiber (Max) | 3% |
| Moisture (Max) | 12% |
The dry matter basis (DMB) figures for this food are: 31.8 percent protein; 13.6 percent fat; 3.4 percent fiber; and 43 percent carbohydrates.
This food has above average protein and below average fat compared to many super premium dog foods. The fiber content is average (or slightly less) than normal for a kibble; and the carb percentage is typical for many dog foods that contain grains.
Where can you buy Bright Mind dog food?
You can buy Bright Mind on Chewy.com and other online retailers. You can also buy it at many local pet food specialty retailers where Purina products are sold.
You can find Bright Mind coupons on the Purina web site. You should also check the Purina Facebook page. Chewy.com often has discounts and free shipping offers. You can also check local retailers for sales on ProPlan foods, including Bright Mind.
Final Thoughts
You may not like some of the ingredients in ProPlan Bright Mind but you should not discount the results that are reported by people who have fed this food to their older dogs. We don't know how the food works when feeding it to adult dogs that are not seniors but we can recommend it the 7+ formulas. We're giving it high marks because it really seems to work. If you have an older dog, you know how important it is to see them light up again.
Below is a list of Products reviewed in this article