Best Orthopedic Dog Beds
If your pup's bed is years old, or worse – the floor – it's time to consider looking into something that will provide a bit more support for your four-legged friend. An orthopedic dog bed can be a worthy investment for many reasons. Maybe you are tired of your pup taking up too much room on your memory foam mattress, or maybe they've been experiencing the effects of old age and have chronic pain. Whatever the reason, purchasing an orthopedic dog bed for your pup can provide immense healing and pain relief from things like arthritis, hip dysplasia, and spinal issues.
But how do you know what to look for in an orthopedic dog bed? Maybe you're looking for one that will match the color-scheme in your living room. Or maybe, you need one that has a removable cover so you can throw it in the wash. There are plenty of options with features that will suit your needs. We've outlined the best options that vary in size, price, and color to help you narrow down your options. Here's a look at the top 10 best orthopedic dog beds on the market:
Top 10 Best Orthopedic Dog Beds for 2019
7-inch Thick High Grade Orthopedic Memory Foam Dog Bed With Pillow and Easy to Wash Removable Cover with Anti-Slip Bottom
Orthopedic Dog Bed Reviews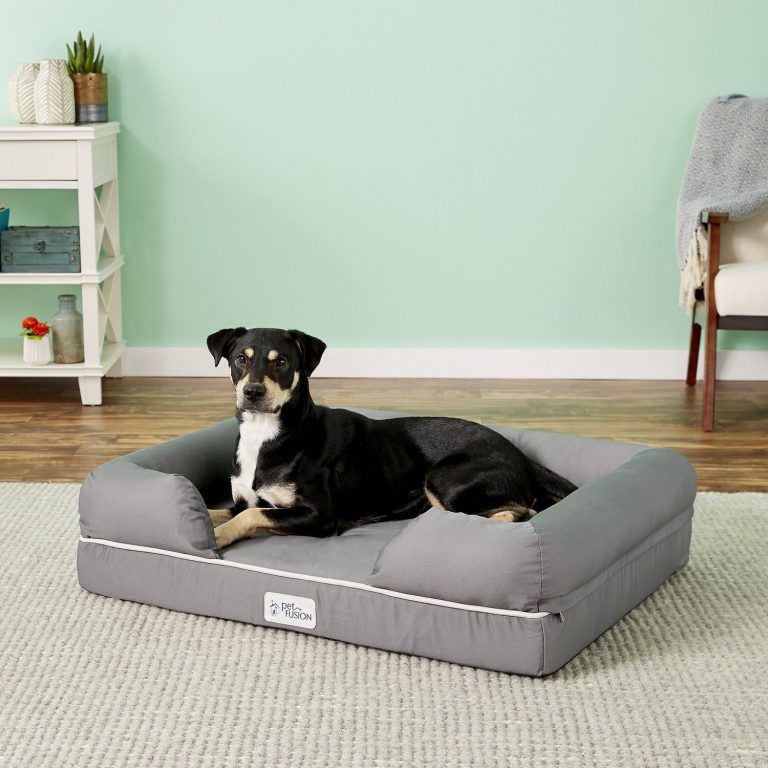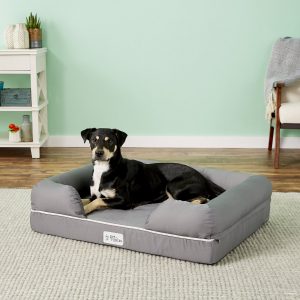 PetFusion makes one of the highest quality orthopedic dog beds on the market. It's an Amazon Choice and has nearly 3,000 positive reviews. You can trust this bed will provide your dog with comfort, no matter what their current health situation is. The bed was designed to benefit dogs with arthritis, mobility, energy, and anxiety.
It's water- and tear-resistant, and has a bottom that grips the floor so it will not slide everywhere. Its durable materials are long-lasting and can support 100 pounds or more. It's created for large breeds, but dogs of nearly any size will reap the benefits of this bed. This orthopedic dog bed comes in colors slate gray, sandstone, and chocolate brown. PetFusion's bed also comes with a removable cover that you can machine wash and dry, as well as spot clean when necessary.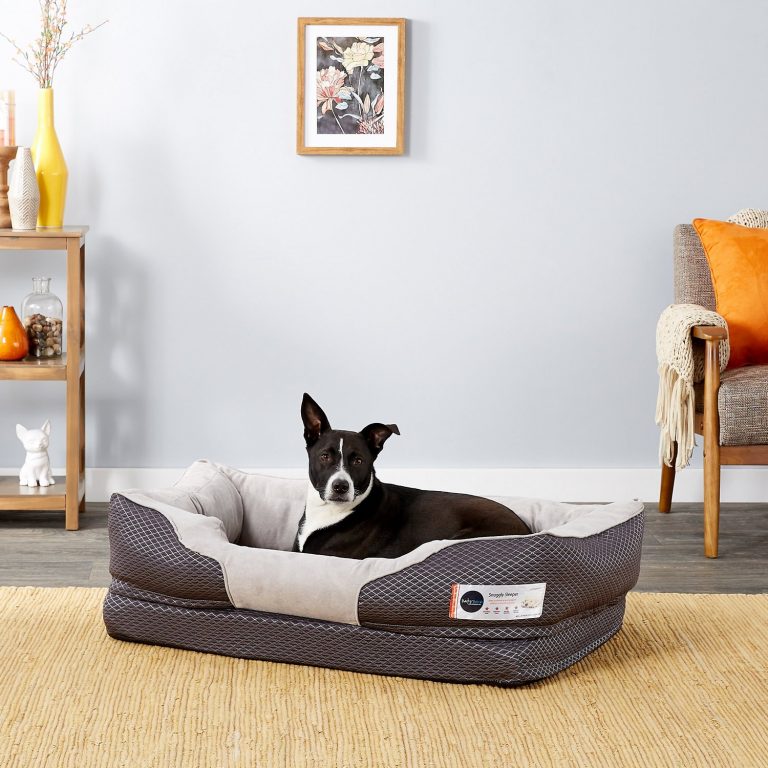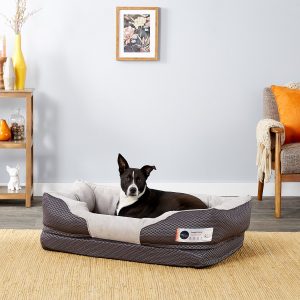 One of the best features on the BarksBar orthopedic bed is the cotton-padded rim, allowing your pup to have added support no matter which position they sleep in, as well as added comfort. Dogs of all ages and sizes can benefit from the comfort and support of the bed, but it is especially beneficial for dogs with arthritis and bone problems.
There is a no-slip bottom, and this bed is available in a medium and large size to accommodate your pup's weight and size. While it is only available in one color, it's a neutral gray that matches with any home's color scheme. The BarksBar orthopedic bed has a machine-washable removable cover that can also be tumble dried.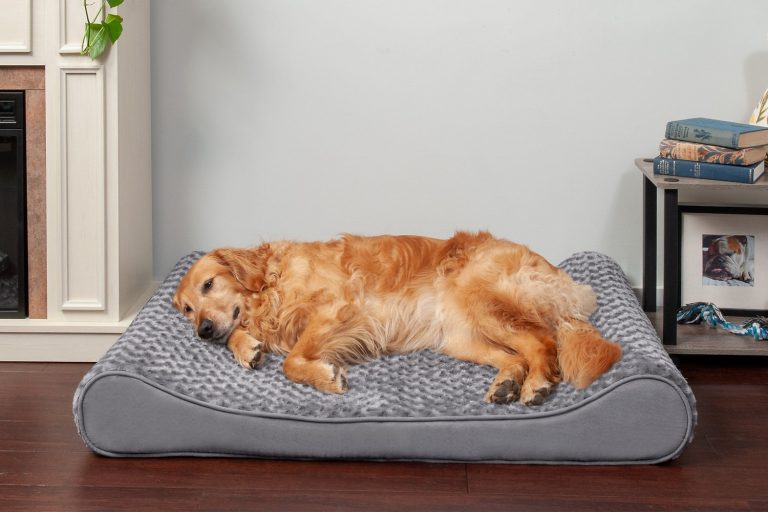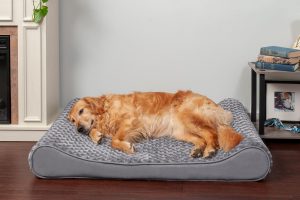 The orthopedic dog bed from FurHaven provides pet owners with tons of options, whether you have a Chihuahua or a Great Dane. It is available in sizes small, medium, large, jumbo, 3X jumbo, and 4X-Large. You also have the option of choosing orthopedic foam, memory foam, and gel foam, as well as a variety of different colors. The bed's structure is made from medical grade foam.
The core is made out of a solid slab of foam to provide optimal support, and the shape is in a cradle to provide comfort for dogs of all sizes. The cover on the bed is removable and machine washable, but Furhaven warns consumers that this is not a good product for dogs who tend to chew on everything or are experiencing excessive teething. Overall, this bed is a consumer favorite, especially for the low price compared to others on this list. This orthopedic dog bed is Amazon's Choice with nearly 2,000 positive reviews.
The orthopedic dog bed from Friends Forever includes a four-inch mattress, poly-filled cushions, and a removable, machine-washable cover. The bottom of the bed grips to the floor so it will not slide around.
Pet owners with dogs who shed will love this option. It is fur and hair resistant, so you won't end up with clumps of fur all over the bed. The memory foam in this bed works to relieve pressure from the body and provide support to weak or sore joints, bones, and muscles. Available in sizes small, large, XL, and Jumbo, this option is great for all breeds. Choose from neutral colors Cocoa, Khaki Beige, Pewter, and Vanilla to match your home's interior.
Friends Forever gives all customers a 1-Year Warranty on this bed, but with more than 2,000 positive reviews on Amazon, we doubt you'll ever need it.
If you've got a pup that loves to lounge all over your furniture, this bed is a great choice. The sofa bed is extremely comfortable and fits dogs of all sizes. You can order a medium, large, or extra large to accommodate your pet, and the bed comes in colors Denim Blue and Gray. The orthopedic dog bed is easy to transport from room to room, and it's also a great option to stick in the back seat of your car for long car rides. The structure is made with a base of memory foam, and the arm cushions are stuffed with microfiber material. Your pup will love the cozy sherpa lining – and so will you because it is absorbent and fur-resistant. It is great for dogs with joint problems because of its supportive, long-lasting memory foam.
The bed is chic-looking and affordable, ringing in at a much lower price than many of its competitors.
If your dog has trouble getting comfortable and sleeping through the night, give the JOYELF Orthopedic Dog Bed a try. It has a thick, memory foam base to support symptoms of aging, arthritis, and hip and elbow dysplasia. The comfortable bolster is covered in soft, breathable material. This bed's base is a single layer of solid memory foam, so it can support dogs up to 100 pounds without caving in. The material on the bottom of the bed is non-slip, as well as water-proof. The outside cover is removable and machine washable, too.
The JOYELF Orthopedic Dog Bed comes in small, medium, and large.
Ever heard of BarkBox? You may have seen advertisements for the monthly subscription boxes stuffed with dog toys, treats, and accessories, but this product is a one-time buy. BarkBox's Memory Foam Dog Bed is available in sizes small, medium, large, and extra-large. You can also buy fitted sheets to go over the bed that are easy to remove and machine-washable.
Not a fan of the flat mattress? You have the option of buying the BarkBox Memory Foam Pillow Bed; it's the same supportive mattress but surrounded by soft bolsters your pup can rest on. Some customers have recommended that you buy a size up so your pup has room to spread out.
Consumer Doxie Lover stated "This bed is the perfect size for my miniature dachshund (12lbs). She is sixteen years old so the extra support is great for her back and joints. She usually prefers beds with a bumper or side to rest her chin on but if I put a blanket on this one she seems to enjoy it. The cover is easy to take off and clean and the design is sleek."
This orthopedic dog bed is an excellent choice for aging pets or dogs in need of muscle and joint support. The mattress has nearly twice the thickness of its competitors and offers pets plenty of space to spread out and get comfortable. One of the best features of this bed is that it lays completely flat and has a pillow on one side. Bolsters are great for smaller dogs, but with bigger ones, they often take up too much space.
You can purchase this high-end orthopedic dog bed in brown or gray, as well as with a plush top for added comfort. The outside cover is removable and machine-washable, so you don't have to worry about having to buy a new one if it gets stained.
The Orthopedic Dog Bed from The Dog's Bed company is a high-quality option for any dog breed. The price varies depending on the size, and you can order one in a small, medium, large, XL, XXL, or XXL. You also have the option of getting the bed with or without the headrest. All beds are a neutral color of gray or brown, but you have the choice of selecting a colored trim in either blue, orange, black, green, or pink if you do not want the entire thing a solid color.
The four-inch height makes it accessible to dogs of all sizes and ages, even if the dog is injured or has limited mobility. Consumers should consider this bed if your dog has arthritis or is having trouble getting around in their old age. The company mentions that the orthopedic dog bed also helps with conditions like hip and elbow dysplasia, patellar luxation, and osteochondritis by providing the proper support and relieving pressure from the joints as your dog rests.
The Dogbed4less orthopedic dog bed is advertised as an affordable, durable product that helps relieve pressure off of your dog's joints and promotes better alignment. Additional benefits of the bed include its cooling surface, fewer allergens, and gel-infused memory foam. The denim blue bed is available in sizes from medium to jumbo and comes with a waterproof internal cover as well as a removable outer cover that is machine-washable.
With 2,000 reviews and an Amazon Choice rating, this is an excellent option for an orthopedic dog bed that will last years (so long as your dog doesn't eat it first). A recent consumer stated, "This is as good as it gets and I'll never buy or recommend any other bed but this one…This is as good as it gets and I'll never buy or recommend any other bed but this one."
Best Orthopedic Dog Beds Buying Guide
Buying an orthopedic dog bed will be one of the priciest items you ever buy for your pup, but don't let the cost of one steer you in the opposite direction. Just like orthopedic beds do wonders for humans, they provide several health benefits for dogs, from joint support to healing post-surgery. They provide benefits for arthritis, spine support, muscles, joints, hip and elbow dysplasia, lameness, and anxiety as well.
The best orthopedic dog beds can also help relieve pain caused by obesity because it helps distribute weight evenly so there isn't added pressure on your pup's joints, bones, and muscles.
What To Look For in an Orthopedic Dog Bed
There is no one-size fits all orthopedic dog bed. There are ones with removable covers, cooling features, and extra layers of memory foam. There are beds catered to older dogs and ones that are specifically for small, medium, or large breeds. Look for one that suits the needs of your pup – one with the proper weight limit, size, and structure. If your pet has slept in a dog bed before, try to remember what they seemed to like about it and vice versa. Did they always rest their head on the bolster? Or did they tear it apart and pull out all the stuffing as soon as you brought it home? If you are unsure what to get, go with something basic and practical – and most importantly, one that suits their health needs.
Do not buy a used bed. We know these beds can be expensive, but your dog will not adapt to it if they smell another animal's scent on it.
How To Use It
Keep your dog's orthopedic bed in a cool, comfortable area that is easily accessible for them. If they had another bed prior to you purchasing the orthopedic one, put it in the same spot so they are used to it. If your dog has not slept in a bed consistently, it may take some training. Use positive reinforcement to get your pup to climb onto the bed at night time. Do not train them at random times that they would not be sleeping, or this will confuse them. When it is ready to go to sleep, place a treat on the bed and give them positive attention when they approach the bed to retrieve it.
Below is a list of Products reviewed in this article
7-inch Thick High Grade Orthopedic Memory Foam Dog Bed With Pillow and Easy to Wash Removable Cover with Anti-Slip Bottom
Updated December 12, 2019