Best Dog Nail Grinder
Dog owners know when it's time to trim their pup's nails. Whether you've noticed – or they've left one too many scratches all over you, long dog nails aren't fun for anybody. For one, it can be painful for a pup if their nails are overgrown. Plus, dog's nails that are long and sharp can wreak havoc on your flooring, furniture, and skin. So, what's the best way to trim your dog's nails? Fortunately, you do not need to schedule an appointment with your pup's groomer to keep their nails under control. If you have ever tried nail clippers for dogs before, you know how challenging they can be to handle. In this guide, we will review another option that many dog owners prefer over clippers – grinders, also known as dremels. Grinders are rotary tools that users can purchase to file down a dog's nails in a way that is safe, easy, and painless for the dog.
To help you decide which one to buy, here's an in-depth look at the best dog nail grinder on the market.
Disclosure: Please note that this post contains affiliate links, which will direct you to our partner sites. If you purchase the dog foods we recommend through those links, we may earn a small commission – at no extra cost to you.
7 Best Dog Nail Grinders in 2019
Best Dog Nail Grinder Reviews
Now that you've gotten a chance to browse the products above online, let's take a deeper look at what each nail grinder has to offer, from features to attachments, speeds, charging options, pros, and cons.
We like this nail grinding tool for several reasons. Dremel focused on the safety of your dog, as well as the experience they will have with the product. The company advertises this nail grinder as the best way to "humanely trim pet and dog nails," and we could not agree more. This Dremel model is made of high density plastic, so while it is lightweight, it is still durable. The rotary tool is battery operated and cordless, so you do not have to worry about working around an outlet and getting entangled in a cord.
The 60-grit sanding drum rotates at two different speeds (6,500 and 13,000 RPM), so you can start off at the lower, more gentle speed while your dog is still getting adjusted to the sensation. Dremel boasts that the battery life is three hours before you need to replace it, and the company also offers consumers a two year warranty on the product.
With nearly 6,500 reviews on Amazon, consumers are open about how much they love Dremel 7300. One consumer stated, "Once my dog got used to it (it took a few tries and lots of treats for him to get comfortable letting me use it on him for all his feet) it is SO EASY to use and works amazingly well and FAST! I use it on the high setting and it really isn't very loud at all. It only takes 5-10 seconds per nail on that setting."
The dog grinder comes with a starter pack of grit sanding bands, but you can purchase more at a low cost on Amazon.
The Casfuy Dog Nail Grinder has one goal: to help give your pup a precise and painless trim. This product is one of the best grinders on the market, and it even comes vet recommended. You'll notice that the Casfuy nail grinder looks a bit different than the Dremel we just discussed. That is because this product comes with three "ports," which are essentially protective sleeves that go on the head of the sanding band so you have a secure place to set the dog's nail while you are trimming it. It comes with three ports for small, medium, and large dogs, as well as two speed options. Set the grinder on a normal speed to start off, and switch to the high speed setting if your dog's nails are thick.
Another reason Casfuy is one of the best grinders? It is quieter than most grinders, so it should not alarm your dog while you are working trimming their nails. The exterior is made of plastic so it is lightweight and easy to handle with either hand. The grinder also comes with a three-foot charging cord that you can plug into a power bank, USB outlet, power adapter, or computer. After three hours of charging, you can expect the Casfuy grinders to last up to two hours in operation.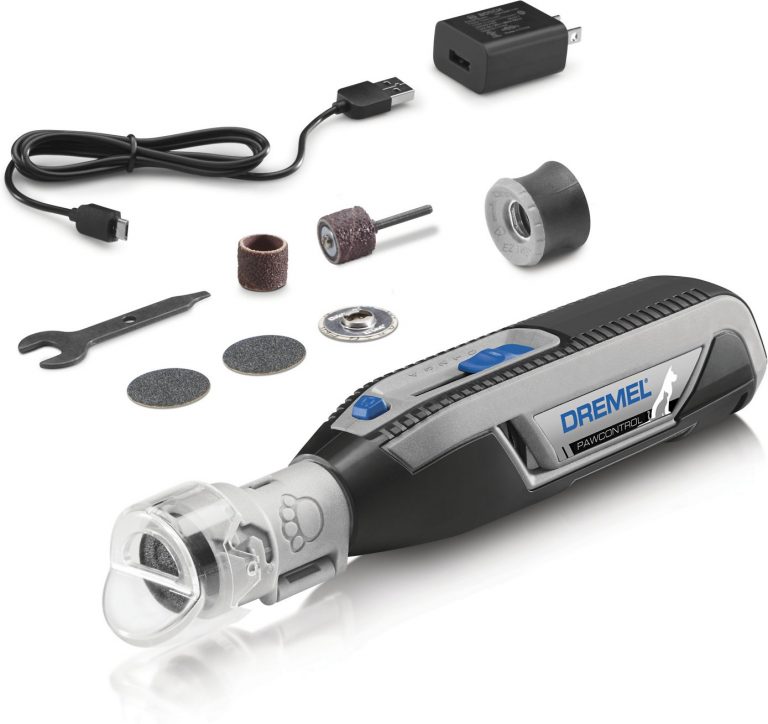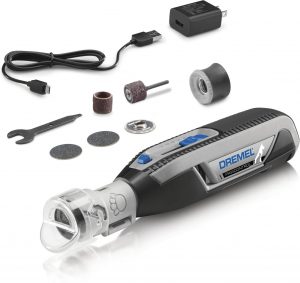 Here is another one of the best Dremel products to check out. This comprehensive option comes with nine pieces in its set, including the EZ lock mandrel, dog nail grooming attachment, grit sanding band and mandrel, grit sanding disc, USB cord and power adapter, quicks start guide, and manual.
LED battery life indicator so you know if you are running low on battery and need to charge it. USB charging port and dust cap, so you can use any source of power that allows you to plug in a USB. The Dremel PawControl Dog grinder is also lightweight, making it simple to handle and transport if necessary. The product's EZ Twist Nose Cap allows you to easily switch from one grooming accessory to the next.
And lastly, the clear nail guard attachment goes on the head of the grinder to "ensure the correct angle for nail trimming." This guide is also designed to be a 45-degree angle, which helps to gather dust and allows users to have better visibility over the nail so you do not accidentally cut the quick of your dog's nail.
The Dremel PawControl grinder offers variable speed, so you can set the tool to an appropriate speed for your pup's size and nail thickness.
This company's tagline is "Love Pet, Love Life," so we had high hopes from the beginning that it would be a great option. But in all seriousness, oneisall offers consumers one of the most user-friendly options on the market. It comes equipped with an ultra quiet motor, a rechargeable battery, and a USB charging port. Both speeds are gentle and effective and can be used on a variety of different pets, not just dogs (cats, bunnies, and birds, too!).
Their Amazon page even provides you with a quick, four step guide so you will be fully prepared to trim your dog's nails when the product arrives in the mail (yes, it's eligible for Prime!). To make the process even simpler, this grinder has three different nail ports, one for small, medium, and large dogs.
This option from Peroom is one of the most affordable grinders on our list, but it still comes equipped with all of the necessities:
A USB charging port
Multiple nail grinding ports to help you trim at a safe 45 degree angle
Quiet motor and slow vibration
Two speeds
Two grinding bands
Peroom offers excellent customer support, as well if you ever run into any problems with your product. However, based on our expertise and the customer reviews, we think this is a safe, affordable, and high-quality option. Previous Amazon customer, W. Kwok, stated " For the price of this product it has saved me so much money in taking my little Chihuahua fur baby to the pet groomer. I no longer have to shell out money to have her nails clipped. I can do it myself in the comfort of my own home and can control how close to the quick I want her nails to be."
Peteast's nail grinder is another affordable option, offering you all the essentials you need, as well as a few other perks like LED lighting. The model that is sold on Amazon is the latest one you can find and it was just upgraded in 2019 with a new, high-power motor and guide light to help you see your dog's nail as clearly as possible. It also comes with two speed settings, three size grinding ports, and a quiet motor. The base is made from rubber, so it is easy for the owner to grip and maneuver. One of the best things about this product is that you won't need to apply much pressure to the nail.
Though this is a newer product than some of the earlier ones on this list, ratings are nearly impeccable, and customers seem to have had a lot of success with this one. They even have a five step user's manual in the product description on Amazon if you want to see how it works before using it on your pet's nails.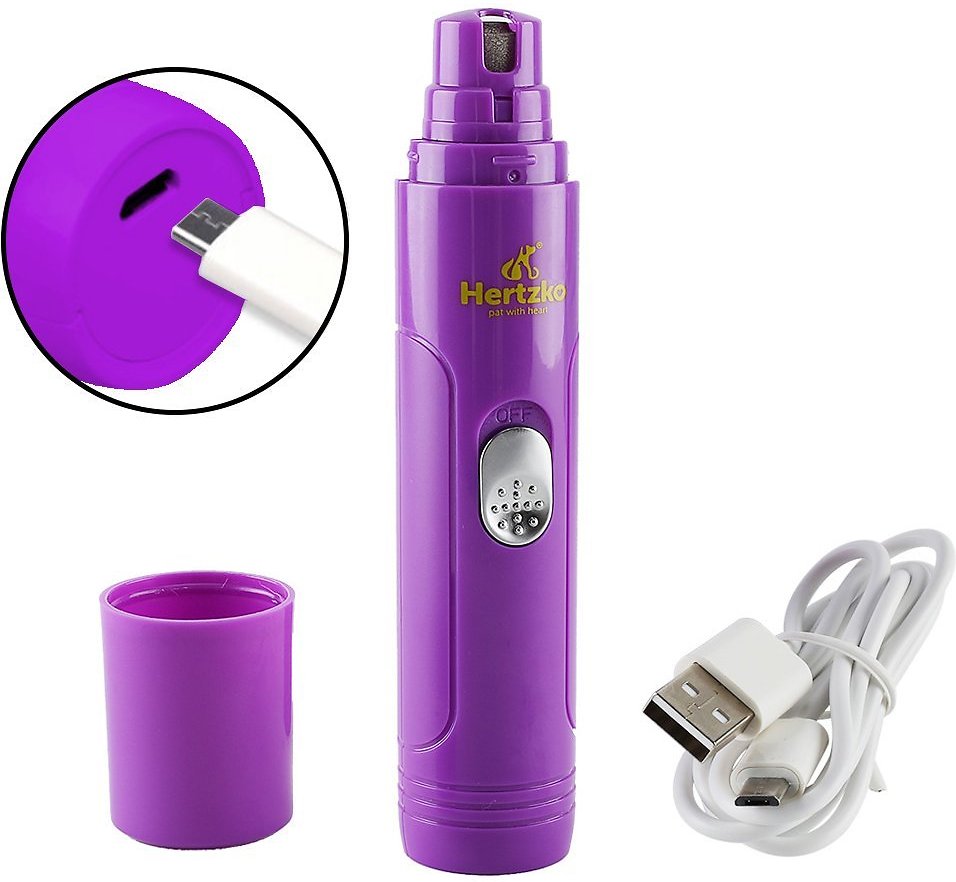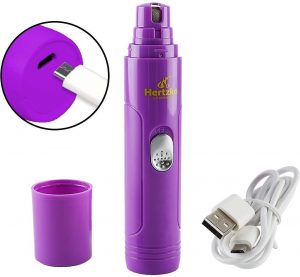 Hertzko's nail grinder is one of the best and most frequently purchased grinders on the internet. It's quick, quiet, and powerful grinder bands get the job done safely and effectively. It comes with a diamond bit grinder, which is one of the safest ways to gently trim the nail. The motor is virtually "mute" to avoid giving your dog anxiety during the process of using the grinder. There are three size ports to help you can get the closest, cleanest trim for your dog's nail size. You can even remove the port cover for a quick trim if your pup is well-adjusted to the grinder.
Best Dog Nail Grinder Buying Guide
If you are unsure where to begin when it comes to choosing a grinder for your dog's nails, you are not alone. Many of the terms used in product descriptions can feel like foreign territory, especially if you are new to grooming your pup at home. In this buying guide, we'll answer everything you need to know about how dog nail grinders work, what to look for when choosing a product, and how to grind your dog's nails.
How Dog Nail Grinders Work
A dog nail grinder is an electric tool used to file down a pup's nails. Essentially, the head of the grinder is made from a material that is a lot like sandpaper, which is why they are often referred to as sanding bands. The sanding bands rotate quickly in order to trim down the nail as the band meets the tip of the nail. Users can adjust the speed settings of the grinder as needed.
If you have ever been to a nail salon, you've likely seen a tool that looks just like a nail grinder.
How to Grind Dog Nails
Before using a grinder on your dog's nails, you'll need to follow a few steps to prepare. First, trim the hair around your dog's nails to expose the entire nail. It can be a dangerous (and painful!) situation if hair gets caught in the grinder. Make sure the grinders are completely charged or have new batteries in them. There is nothing worse than getting your pup all calmed down, just to have your grinders die on you in the middle.
To grind dog nails, simply hold your dog's paw firmly in one hand and the grinder in the other. Use your fingers to brush back any remaining fur and hold it away from the nail. If the grinder has a nail port, slide the nail into the appropriate guide and turn the grinder on to the lowest power setting. Do not apply much pressure at first while your dog gets adjusted to the noise and feeling. Start to add gentle pressure and slight movements to file the nail down. If you and your dog are comfortable, you can increase the setting to the next highest level. Only trim off the very tip of the nail to avoid cutting the quick. Round out the edges if possible, and move on to the next nail.
What To Look For In a Dog Nail Grinder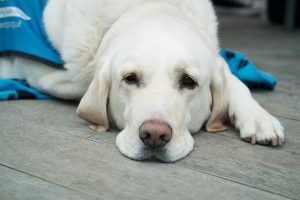 From grinding speeds to grinding bands, how do you know what to look for in a grinder?
Look for a grinder that is lightweight. Because you will be holding it for a while and need to keep a steady hand while using it, it is important that your wrist/hand does not get tired. You also want to find a grinder that is high power. If you have to exert too much pressure on the nail, it will be harder to use and may cause some discomfort for your dog.
Unlike clippers, grinders can be loud, which may intimidate your pup. Look for one that is quiet, which is typically advertised in the title. Customer reviews can confirm how much noise you should expect from each product, as well.
Speaking of customer reviews, you will want to make sure the product you choose has excellent testimonials. Consumers do not hold back these days, so you can learn a lot about a grinder by skimming through Amazon's review section and taking recommendations from others. Of course, each recommendation we provided above is for a high-quality, reputable grinder, with hundreds or thousands of positive comments. But it never hurts to have a second opinion!
Are nail grinders good for dogs?
The best part about a grinder is that it are painless for your dog…in most cases, that is. When used properly, filing the nails down with a grinder will not hurt your pup, but the vibration caused by the different rotation speeds may spook them at first. Some dogs will grow out of the fear of grinders, while others may never grow comfortable with it.
Another danger involved with the use of a grinder is the risk of cutting your dog's quick (the cuticle of the nail). Although, it is much more common to get too close to the quick and accidentally nick it while using clippers. To avoid doing so, gradually file the nails and constantly check to be sure you are not getting too close to the quick. It is much more visible in young dogs with white nails, so if you can't see it, just file down the tips.
Another benefit of nail grinders for dogs is that they allow you to file the pet's nails into a smooth, round shape, which is much more comfortable for them and for dog owners (no one likes being accidentally clawed by their furry friend).
Can I use a regular Dremel for dog nails?
If you have a collection of power tools at home, you probably have a Dremel somewhere in the mix. So can you use it the same way you use a pet nail grinder? The answer is yes, as long as you have the right sanding band. The best size to use is 1/4 inch. Just make sure the band is unused, and dispose of it after working of your dog's nails. The downside to using a regular Dremel for dog nails is that it may be noisy and heavier than one you purchase specifically for trimming their nails.
What Dremel is best for dog nails?
You should have an idea of what the best dog nail grinder is. After you try yours out for the first time, the next step is to leave a reply below to let others know what you think. And remember – patience is key!
Below is a list of Products reviewed in this article
Updated December 24, 2019