What Is The Best Dog Food for Hunting Dogs?
The Ultimate Hunting Dog Food Buyer's Guide
If you are familiar with hunting dogs then you probably know that they run the gamut from small dogs like the little Boykin Spaniel to larger dogs like some of the big retrievers. Even some of the all-purpose continental breeds can be quite large, though they are very athletic dogs. And that's just the Sporting dogs.
Many of the Hound breeds are actively hunting today, too. They also range in size from the small Beagle through the various Coonhound breeds to the Bloodhound. "Hunting dog" covers a lot of different dogs and there are a lot of things to consider when you are choosing the best food for your dog. We'll look at what you need to know to choose the best food for your dog so he can do his job in the field.
Please note that for the purposes of this article we are assuming that your hunting dog is actively working. We know that lots of people love hunting breeds. Many of them love to be with pebople, they are friendly, biddable, and often easy to train. They often make wonderful pets and family dogs. Labs, Goldens, and other sporting breeds are some of the most popular dogs in the United States. However, there are big differences in the way you would feed your pet Labrador Retriever and the way you would feed a working Lab. Here we are looking at how to feed working field dogs. If you feed your pet Lab the same diet that you feed a working Labrador Retriever, you can expect your dog to quickly become obese.
Disclosure: Please note that this post contains affiliate links, which will direct you to our partner sites. If you purchase the pet foods we recommend through those links, we may earn a small commission – at no extra cost to you.
Quick Look : Top 6 Recommendations for Hunting Dog Food

---
30% Off + Free Shipping
on dog food for active dogs
Hunting Dog Diet & Nutrition
Since "hunting dogs" covers a variety of breeds, each with their own ideal weights, it's important for you to be familiar with the proper weight and condition for your dog. You can find this information and photos on AKC.org, UKCdogs.com, rare breed sites (if that applies), NAVHDA.org (The North American Versatile Hunting Dog Association), as well as various sporting magazines that follow hunting with bird dogs and hounds. Hunting dogs are athletes so you should look for photos of dogs in the field and at work. Many hunting dogs are much leaner than pet dogs of the same breeds. They usually have muscles instead of much fat. If you are familiar with some human athletes then you know that some of them have a very low body mass index and the same is true for many hunting dogs when they are in the middle of hunting season. This doesn't mean that you should try to starve your dog. You should always make sure he has plenty of healthy food so he can do his work. But dogs that are doing a lot of field work and getting good nutrition will often convert their food to lean muscle.
The National Research Council of the National Academies does provide recommendations for active working dogs. A 30-lb dog doing light work will need around 1030 calories per day. The same dog doing moderate work will need about 1311 calories per day. And the same dog doing heavy duty work can require between 1873 and 3747 calories per day! A 50-lb dog doing light, moderate, and heavy work would need 1511, 1924, and 2748 to over 5000 calories per day.
You can normally use the guidelines provided on the dog food label as a good starting point for feeding your hunting dog. Those suggestions are based on the same calorie formulas that you find online. After your dog has started eating a new food, watch his weight, activity level, skin and coat condition to see how he's adjusting to the food. If he's gaining too much weight (or losing weight), you can make adjustments to the amount you are feeding. Your dog's individual metabolism and how much exercise he's getting will determine how much to feed.
Dogs that have been spayed/neutered or that are older might need slightly fewer calories. Young adult dogs usually require slightly more calories.
We always suggest that you look for a dog food that is AAFCO-approved. Some people criticize AAFCO because their feeding trials and requirements are not as stringent as they could be, but they provide a minimum standard that any good dog food should be able to meet.
Feeding Your Hunting Dog
There are a wide range of good dog foods available today but not all of them are a good choice for active hunting dogs. It's not enough to feed a dog food that is "complete and balanced." Even very expensive foods with top quality ingredients may not be appropriate if they are not made with an active working dog in mind. This is because they may have too many carbohydrates or a less than optimum balance of protein and fat.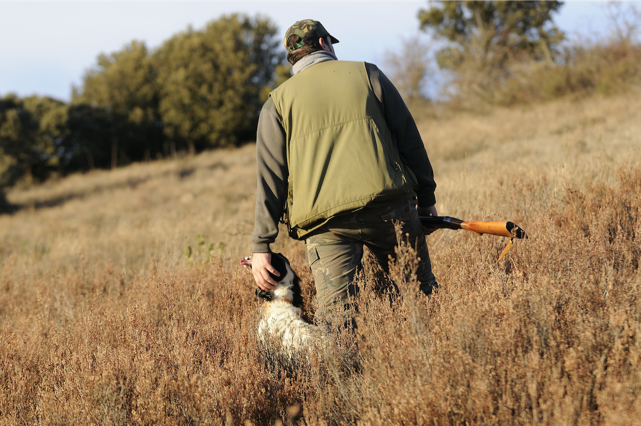 Most experts in hunting dog nutrition recommend feeding dogs a diet that has about 30 percent crude protein and 20 percent crude fat during hunting season. This diet usually begins a couple of months prior to the start of the season when you and your dog begin training. Maintenance diets are usually avoided because they tend to be higher in carbohydrates. Hunting dogs can make better use of calories that come from fat in their diets than from carbohydrates. Opinions differ about whether to keep your dog on a performance food after hunting season is over. If you continue to feed a performance diet, you will need to reduce the amount of calories fed. Your dog is no longer getting as much exercise and he will probably gain too much weight if you go on feeding him the same amount of food. So, plan on reducing the amount of food you feed or changing to an all life stage food with slightly less protein and fat (around 27 percent protein and 15 percent fat) until you're ready to start training again.
Opinions also differ on how often to feed hunting dogs. Some experts say you should feed your dog two meals per day but others recommend one meal per day. According to research done by Purina (which makes an excellent performance dog food), it takes nearly 24 hours for food to travel through a dog's gastrointestinal system. Dogs with an empty colon have twice the endurance in the field as dogs that have been fed four hours before they exercise. They recommend feeding hardworking field dogs at least 12 to 24 hours before they go to work in the field. And then feed your dog 30 to 60 minutes after he is done exercising. (Be sure to check the link to read the full blog post about feeding a hunting dog once daily and how it impacts a dog. The post goes into more information than we can discuss here, including when your dog might need to see a vet.)
Hunting Dog Health Problems
Since hunting dogs include such a variety of breeds we can only speak in general terms about some of the health problems that can occur in these breeds.
Some of the larger hunting breeds can have problems with hip dysplasia. The hip joint is where the ball of the thigh bone fits into the socket of the pelvis. When there is a bad fit, it can cause your dog pain and it often leads to arthritis.  Current thinking is that a tendency toward hip dysplasia is largely inherited but things like injury and obesity can worsen the condition. There are all different degrees of hip dysplasia. Some dogs can be dysplastic and never show any sign of it. Other dogs can have great hips and still develop arthritis. The parent clubs for many breeds recommend that breeders have their dogs x-rayed and rated by the Orthopedic Foundation for Animals or Penn-Hip if they are considering breeding them.
Another health issue that affects some hunting breeds is bloat, torsion, or gastric dilatation and volvulus (GDV). Bloat typically affects deep, narrow-chested dogs such as Irish Setters, German Shorthaired Pointers, Weimaraners, and others. With bloat the stomach fills with air or gas, making the dog uncomfortable. The torsion or volvulus involves the stomach twisting, cutting off the blood supply. At this point the dog's entire blood supply is disrupted and the stomach begins to die. This is a life-threatening condition. The dog must see a veterinarian immediately.
Other health issues affecting hunting dogs are same health problems found in the general dog population. Many sporting and hound breeds are very healthy, though all breeds can have a few issues. Before getting any dog we encourage you to research the breed and talk to several breeders so you are aware of possible health problems in the breed. Make sure you know what kind of health testing is recommended in the breed so you can ask a breeder questions about their puppies or dogs.
Depending on the breed and the health issue, diet can sometimes help. For example, breeds that are prone to bloating may benefit from a food for sensitive stomachs. Many dog lovers also try to protect their dogs by feeding a dog food with more natural ingredients to try to keep their dog's immune system as strong as possible. Many people recommend feeding a food that is free of some of the most common food irritants such as corn, soy, and wheat. These are not the most common dog food allergens – beef, dairy products, and chicken, for example, lead to more food allergies for dogs than corn, soy, and wheat. But many people like to avoid soy and grains in dog foods. There are many good grain free dog foods today if you want to feed one to your dog.
Avoiding artificial colors, flavors, sweeteners, and preservatives is also suggested as a way to help keep the immune system stronger.
Dogs that might be prone to hip and elbow dysplasia, or other skeletal problems, usually benefit by avoiding obesity. Putting too much weight on the dog's body puts strain on the bones and joints which can lead to some of these problems, as well as arthritis. Obesity isn't usually a problem for active hunting dogs, but you might notice your dog developing some problems with arthritis as he ages. Try to keep him slim when he's not actively working. Even after he gets to the point when he doesn't hunt much anymore, regular exercise is good for him and helps to keep his muscles toned. You can ask your vet about some mild ways to treat arthrtis.
Ingredients to Look for and Some to Avoid
Protein and fat are the main ingredients in the diet for dogs. However, not all proteins and fats are the same. It's important that the protein and fat in the dog food comes from good sources if you want your dog to be healthy.
Ideally you will select a dog food that features two or three meat proteins in the first several ingredients listed. Both whole meats and meat meals are good sources of protein. Whole meats refer to foods such as whole chicken, beef, fish, and lamb. Some people don't like meat meals as much as whole meats but they are a concentrated form of the meat in which the moisture has been removed. They contain several times as much protein as a whole meat. Meat meals are usually quite acceptable as one of the first ingredients in a good quality dog food. They are used by many good dog food brands.
Dogs also need good sources of fat. You should look for named fat sources such as chicken fat. Other named fats also provide needed nutrients such as fish oil which can provide omega-3 fatty acid to help keep the skin and coat healthy.
If you want to avoid corn, soy, and wheat in your dog food, your hunting dog can still eat rice, barley, oats, or some other grain or cereal. Oats and barley, for example, can be good sources of dietary fiber. Or you can feed a grain free dog food that uses an alternate source of carbs such as sweet potatoes. You don't have to feed a dog food with an excessively high percentage of protein but it's a good idea to keep the carb percentage low to moderate.
Recommended Dog Food For Hunting Dogs
We are recommending some foods for hunting dogs that we don't always recommend. These are performance dog foods and the focus is on the protein/fat content. We are looking at the balance of nutrients for your dog as an athlete. Some pet owners might object to some of the ingredients in these foods but we think these foods are a good choice for active working dogs. They might not be appropriate for a couch potato dog but we think they are a good choice for a dog in the field.
You may have to try a couple of foods to find which one is best for your dog. You should also keep in mind that your dog's diet needs can change as he grows and ages so you may have to change foods to accommodate him.
Best Dog Foods for Hunting Dogs
Annamaet Ultra is an All Life Stage formula that is suitable for puppies as well as performance dogs. It has 32 percent crude protein and 20 percent crude fat. The calcium to phosphorus ratio makes it a good fit for growing puppies. It comes in at 480 kcal/cup. The first ingredient is chicken meal, followed by brown rice, and chicken fat preserved with mixed tocopherols in the form of Vitamin E. Annamaet uses algae as a source of omega-3 fatty acid for good skin and coat, and healthy heart development. The food also contains DHA for good brain development. It also features chelated minerals so they are more easily digested. The chicken is raised free of antibiotics. Annamaet isn't the first food you think of when you choose a food for a hunting dog, but if you are looking for good quality ingredients with suitable protein and fat, this would be a good choice.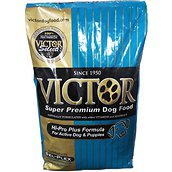 According to Victor, more than 80 percent of the ingredients used in their foods come from a 200-mile radius of their facility. They currently have six highly active and sporting dog formulas; five formulas for normally active dogs; and five grain free formulas. All of their foods are free of corn, wheat, soy, gluten, and grain by-products. They use no artificial colors, flavors, or preservatives. Victor Select Hi-Pro has 30 percent crude protein; 20 percent crude fat; 3.8 percent crude fiber; and 9 percent moisture. We think it has the protein and fat that a working dog needs and the carbs are low. You can also check out some of Victor's other formulas. Some of them have fat percentages that aren't quite as high as a very active dog might need, but you might like one of the formulas for an off-season diet.
Purina Pro Plan Sport All Life Stages Performance 30/20 Formula Dry Dog Food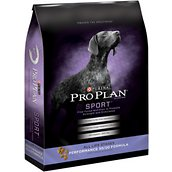 Purina Pro Plan Sport 30/20 has been one of Purina's top dog foods for years. It is popular with hunters and field enthusiasts, dog show people, dog breeders, and pet people. It is specifically designed for canine athletes and dogs under stress (traveling, pregnancy and whelping, working). The food features antioxidants, omega-3, glucosamine, and amino acids. First five ingredients: Chicken, corn gluten meal, brewers rice, animal fat preserved with mixed-tocopherols (form of Vitamin E), poultry by-product meal (source of glucosamine). No, dog food purists will not like some of the ingredients but people who judge by results will love this food. Crude protein 30 percent; crude fat 20 percent; crude fiber 3 percent; moisture 12 percent. Any dog doing active work in the field can benefit from Purina Pro Plan.
Purina Pro Plan Sport All Life Stages Performance 30/20 Salmon & Rice Formula Dry Dog Food
This Purina Pro Plan Sport 30/20 Salmon & Rice formula is similar to the original Pro Plan formula but we think it's different enough to deserve it's own entry. Many people feed this formula as a sensitive stomach food and for dogs with skin and coat problems. First five ingredients: Salmon, corn gluten meal, brewers rice, poultry by-product meal (source of glucosamine), whole grain corn. Again, some of our regular site visitors won't like the ingredients, but the food is recommended for hunting dog owners. If you have any doubts, check the reviews on the Purina and Chewy.com sites. Crude protein 30 percent; crude fat 20 percent; crude fiber 3 percent; moisture 12 percent.
Black Gold Ultimate Performance 28/20 Dog Food
Black Gold is probably not well-known to everyone, but many hunting dog people are familiar with the brand. It's been sold in feed stores in some areas for years and has a great reputation. Black Gold Ultimate Performance 28/20 has no corn, wheat, or soy and no by-products. This is an all life stage food. The first five ingredients are: Chicken Meal, Brewers Rice, Chicken Fat (Preserved With Mixed Tocopherols and Citric Acid), Ground Whole Barley, Dried Beet Pulp. Crude protein 28 percent; crude fat 20 percent; crude fiber 3 percent; moisture 12 percent. They also have a super blend with higher protein and fat (and some corn); and some grain free blends and other foods.
Eukanuba Premium Performance 30/20 Dog Food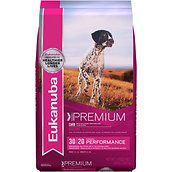 Eukanuba Premium Performance 30/20 dog food is another food that is especially formulated for performance dogs. The food features animal-based protein, calcium for good bones, and Eukanuba's special dental formula to reduce your dog's tartar build-up. This is an all life stages food. First five ingredients: Chicken, Chicken By-Product Meal (Natural source of Chondroitin Sulfate and Glucosamine), Corn Meal, Brewers Rice, Ground Whole Grain Sorghum. Crude protein 30 percent; crude fat 20 percent; crude fiber 4 percent; moisture 10 percent. Eukanuba also has a couple of other related Performance formulas.
Conclusion
Hunting dogs work hard and it's important to provide your dog with the best nutrition. We hope the information here has been helpful. You can use the foods discussed here as a starting point. Look for foods with lots of good quality animal protein and a higher percentage of animal fat than you would usually feed. Choose foods that are low to moderate in carbohydrates. Your dog will be burning energy from fat while he's working. Remember to cut back on the amount you feed during the off-season or change foods to one that has slightly less protein and fat. Good luck.
Below is a list of Products reviewed in this article