A Complete Guide to Traveling With Your Dog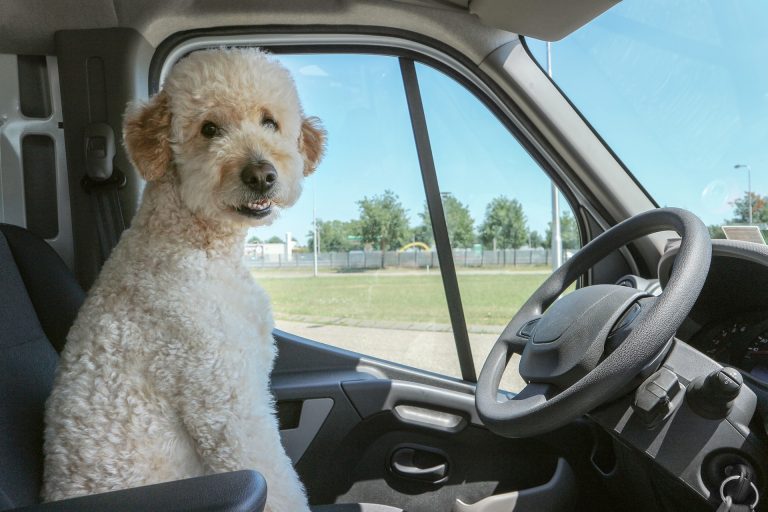 Being a dog owner has many advantages, but it also requires you to accept responsibilities that you cannot ignore. As a result, it is critical to consider the various stages of owning a puppy long before you begin looking for puppies for sale. Traveling with your four-legged companion is one of these stages.
Even though the summer season is coming to an end, you may still have travel plans. As a result, it is essential to research the subject and ensure that both you and your dog will have a stress-free travel experience.
Below is a comprehensive guide to traveling with your dog, including suggestions on what essentials to pack, how to use a crate, keeping vaccinations up to date, preparing identification tags, and dealing with anxiety caused by new environments or the travel itself, and more. Continue reading and get ready for your next adventure together.
Travel Prep
Before you start packing, consult with your veterinarian to ensure that your dog is in good health. Have him perform a check-up and obtain the necessary vaccinations for your trip, including rabies.
Be sure to include all of the following items in your travel bag:
Pet carrier (with a good amount of airflow and easy to clean)
Food and water bowls
Dog collar, leash, and harness with ID tags
Dog bed
Warm blanket
Toys and treats
Medical records, medications, and any special dietary items
First Aid kit for dogs (in case of emergency)
It is also important to acclimate your dog to traveling in the car. Start this process by taking short trips around town and gradually increase the distance you travel until you can make a full trip without causing any stress or anxiety for your dog – or without him getting sick. As always, be sure to provide plenty of treats and praise for good behavior on these trips.
Also, make sure that your pet is comfortable in his crate and has successfully used it in the past. If not, it is best to train him to do so before you leave home. This will reduce any stress and anxiety associated with his stay in the crate during your trip.
Accommodations when Traveling With Dogs
When it comes to accommodation, make reservations early. Many hotels do not allow pets unless prior arrangements have been made with management. If this is true in the place you plan on staying, make reservations ahead of time – or book a hotel that has no restrictions regarding pets.
Also, keep in mind that many areas do not allow pets (such as resorts or campgrounds) regardless of whether or not they have been vaccinated against rabies or other diseases carried by animals. Always check ahead of time.
Traveling by Car
If you are traveling by car with a pet, be certain that the back seat of your car is large enough for your pet to fit comfortably, whether within the crate or without it. If there is no room for him in the back seat, you may want to consider renting a van or SUV instead. You will also need to purchase an additional seat belt harness for your dog.
It is best to stop frequently on long road trips so that your dog can stretch his legs and go outside if needed. You may also want to invest in a doggie seat cover – or place pee pads all over the seats so that if something goes wrong, you won't have to clean the car later.
Taking Your Dog on an Airplane
If you are traveling with your dog by airplane, be sure to check all of the regulations specified by the airline when considering whether or not you will need to purchase an additional ticket for your pet. You must also take into consideration that some dogs are larger than others and may need more room to move around and stretch out comfortably.
Air travel with a pet is often stressful for both the owner and the animal. While it is not strictly necessary to use a crate when flying, it is highly recommended for safety and comfort reasons. If you plan on flying with your dog, consider buying one at an airport pet store or online before leaving home. However, be aware that big dogs are often not allowed in the cabin – they may need to fly in the cargo hold.
Final Note
Whatever type of trip you are planning, you and your dog can make it a great experience if you take the time to plan ahead and prepare yourself. It is also helpful to understand that your pet may be experiencing some stress as well. Try to reduce this by treating your pet with kindness and making him feel safe and secure.
We are sure that if you follow these steps, you will have a stress-free and enjoyable trip for the entire family. We hope everything goes well – and have fun.