Probiotics, Prebiotics, What?
There are lots of popular nutritional terms tossed around online today. You can find them on dog food web sites, in pet food forums, and in articles. Sometimes terms are used without ever being really discussed or explained. You're just supposed to understand them based on the context.
Two terms that we see a lot are "probiotics" and "prebiotics." But not everyone knows what they are, what role they play in dog food, or how they can help your dog.
Disclosure: Please note that this post contains affiliate links, which will direct you to our partner sites. If you purchase the pet foods we recommend through those links, we may earn a small commission – at no extra cost to you.
Prebiotics
Starting with first things first, you should know that it's estimated that about 70 percent of your dog's immune system is found in his gut. Keeping his gastrointestinal system healthy is a first line of defense for keeping his entire body healthy. Your dog's gastrointestinal system uses acids, enzymes, and other secretions to break down food as it passes along. It takes about 7-10 hours for food to pass through your dog's digestive system, which is much shorter than our human digestive system.
Prebiotics are "a nondigestible food ingredient that beneficially affects the host by selectively stimulating the growth and/or activity of one or a limited number of bacteria in the colon and thus improves host health." You might think that bacteria in the colon sounds like a bad thing, but prebiotics encourage the growth of good bacteria – otherwise known as "probiotics." Your dog needs good bacteria in his gut for a variety of reasons such as improving digestion, keeping his body healthy, and preventing bad bacteria from getting out of control. (Yes, there is bad bacteria in the gut, too, but a healthy digestive tract is able to keep it in check.) The presence of good bacteria in the gut also encourages better nutrient absorption.
There are many different kinds of prebiotics and you have, no doubt, seen them listed among the ingredients in good quality dog foods. They include things like fructooligosaccharides (FOS) (a kind of sugar), inulin (a kind of FOS that comes from chicory), beet pulp, gums such as guar gum, and others with scientific-sounding names such as oligosaccharides, arabinogalactans, and lactulose. These prebiotics are fermentable fibers and sugars. They are a kind of nondigestible carbohydrate known as a resistant starch. Resistant starches are dietary fibers naturally found in many carb-rich foods like potatoes, grains, and legumes such as beans, lentils, and peas.
Dogs that have been taking antibiotics, in particular, can benefit from prebiotics. Antibiotics are known for killing off the bacteria in a dog's gastrointestinal system – both the good and the bad. It's usually advisable to help your dog develop some healthy bacteria in his gut following a course of antibiotics. You can do this by talking to your vet and asking about a prebiotic supplement. Or you can check online and buy a good prebiotic supplement to give your dog. There are a number of these supplements that you can give your dog. Some products combine prebiotics and probiotics. These products are called synbiotics.
Dogs with irritable bowel disorders may also benefit from prebiotics in their diet. Please talk to your veterinarian.
Overall, adding prebiotics to dog food can mean that a dog will have fewer problems due to harmful bacteria in their gastrointestinal tract. This usually means fewer problems with diarrhea, flatulence, and other gut problems.
Probiotics
With prebiotics preparing the way by encouraging the growth of healthy bacteria in the gut, you may wonder why dog foods would bother adding probiotics to their formulas. Aside from the fact that adding probiotics lets them advertise another benefit to their food, they may help some dogs build healthy bacteria in their gut. Farmers have been using probiotics in animal feed for decades to help animals stay healthy, absorb more nutrients, and grow better (just because healthy animals grow better, not because there are any weird chemicals in the probiotics). When pet food manufacturers first began adding probiotics to pet food, there was little research on how probiotics would affect dogs. The probiotic strains used in pet foods were largely the same ones being used for farm animals and humans. Today the probiotics used in dog foods are much more tailored for a dog's gastrointestinal system and there is more research on how dogs respond to probiotics.
Some of the common probiotics you may see in dog foods today include:
dried Lactobacillus acidophilus fermentation product
dried Bifidobacterium animalis fermentation product
dried Lactobacillus reuteri fermentation product
dried Enterococcus faecium fermentation product
Issues with probiotics
One of the issues sometimes cited with probiotics is that they are in a dry form in dog food. It takes live cultures in your dog's gut to be beneficial. Dog food manufacturers often maintain that enough of the microorganisms in the dry probiotics survive to flourish once they are introduced to the dog's gastrointestinal tract. They claim that they add an excess of microorganisms in order to make sure enough will survive. However, there seems to be some question about whether this is true. The Truth About Pet Food quotes a government study that tested probiotics in 19 pet foods:
Nineteen diets were tested. Thirteen were for dogs and 6 were for cats. All claimed to contain specific organisms or probiotics. Two products listed 1 or more bacterial species as ingredients, while 12 listed fermentation products of probiotic species, and 5 listed both organisms and fermentation products. One product claimed to contain Streptococcus faecium, which was reclassified as Enterococcus faecium in 1984 (7). Five products misspelled 1 of the listed species. Bacterial growth was present in all products; however, as the purpose of this study was to evaluate the contents of the diets compared with those claimed on the label, no attempt was made to identify organisms that were not included on the list of ingredients.No products contained all of the claimed organisms, while 1 or more of the listed contents were isolated from 10 out of 19 (53%) products (Table 1). Eleven products contained additional, related organisms, including Pediococcus spp, which were isolated from 4 products. Five (26%) products did not contain any relevant growth. Interpretation of these results is confounded somewhat by the questionable labelling of some products. Twelve diets listed only specific bacterial fermentation products (L. acidophilus fermentation product) as ingredients, while 5 diets claimed to contain both specific organisms and fermentation products. Fermentation products of lactic acid bacteria or bacilli are typically included as a source of enzymes. This does not necessarily indicate that live organisms are present and, based on the definition provided above, these would not be considered to be probiotics.
So it seems that the probiotics listed in the ingredient list in some dog foods may not be what they claim to be and they may or may not be alive.
One dog food, VeRUS, uses freeze-dried probiotics in their pet foods which may be a more viable way of ensuring that the microorganisms will be alive once they reach the dog's gastrointestinal tract.
Another issue with probiotics is more of an observation. Coincidentally or not, the increased use of probiotics in dog food occurred at the same time that dog food manufacturers began making more grain free dog food, and began using peas, chickpeas, and lentils, as well as cellulase in their foods. Some of these ingredients can be very difficult for dogs to digest and can lead to increased flatulence and diarrhea. So, maybe it's not a coincidence that dog food manufacturers found it necessary to try to find ways to improve the digestibility of their foods with probiotics.
Probiotic supplements
If you want to be certain that your dog is getting probiotics in his diet, you probably have to use a probiotic supplement. There are a number of them on the market, such as Purina FortiFlora. They tend to be expensive, especially if they are of good quality and made following good manufacturing procedures.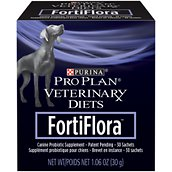 Purina FortiFlora Canine Nutritional Supplement (a probiotic supplement, not a dog food), has the following ingredients:
Animal digest, Enterococcus faecium, L-ascorbyl-2-polyphosphate (source of Vitamin C), brewers dried yeast, Vitamin E supplement, zinc proteinate, beta-Carotene, salt, manganese proteinate, ferrous sulfate, copper proteinate, calcium iodate, sodium selenite. D-4582
FortiFlora has guaranteed amounts of live active cultures. It is often highly recommended for dogs with diarrhea due to diet problems and is said to help reduce gas in flatulent dogs. (Yes, we see the "animal digest" in the list. Nevertheless, this is a veterinary product that is considered one of the very best probiotic supplements.)
Or, you can give your dog some yogurt with live cultures daily. You don't have to give him a lot. Just add a little as a topping to his food. Some dog owners have been doing this for ages. It's a great way to make sure your dog has some good probiotics in his diet.
People who travel a lot with their dogs, such as people who show dogs, have long given their dogs the same acidophilus tablets that people take to try to help keep tummy troubles and diarrhea to a minimum. Many people swear by it, though whether this can really take the place of a good range of probiotics in the gut is another question. (Taking your own distilled water with you when you travel also helps.)
Conclusion
We hope this information about prebiotics and probiotics has answered some questions. Overall they seem to be helpful for dogs when added to dry dog food, especially prebiotics. There are still some doubts about probiotics and whether or not dog food companies are really delivering live microorganisms in dog food, but probiotics can certainly be beneficial for your dog.
Below is a list of Products reviewed in this article