What is Semi-Moist Dog Food?
If you take a stroll down the dog food aisle at your local pet store, you are likely to find that there are many options to choose from. In addition to choosing from dozens of brands of pet food, you also have to choose what type of dog food you want: dry, wet or semi-moist. Before you can choose, you must learn the basics about each option.
About Semi-Moist Dog Food
Surely you are already familiar with dry dog food – also referred to as kibble – since it is one of the most popular types of dog food available. Wet food, also referred to as canned food, has a very high water content and is often the food of choice for owners of very picky eaters. Yet a third option exists, however – semi-moist dog food. This type of dog food typically has a water content between 60% and 65% (compared to the 10% in dry food) and it can be a little pricier than other types of food. You should also be aware that semi-moist dog food tends to be higher in sugar and salt than other types of dog food (especially dry food), so it may not be the right choice for all dogs.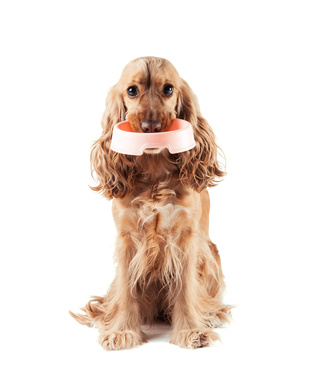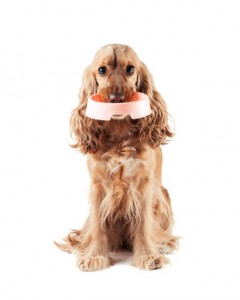 One of the benefits of semi-moist dog food is that it is soft, making it easier to eat and to digest for small dogs. A semi-moist dog food is also very convenient to use because you can just open the packet and pour it into your dog's bowl rather than having to scoop from a large bag of dry food. If you do plan to go with semi-moist dog food, be sure to select one made with natural ingredients – many low-quality semi-moist dog foods are made with artificial colors and preservatives to make them more palatable to dogs. If your dog's food is made from wholesome, natural ingredients, you shouldn't need to rely on chemicals to make him want to eat it!
NOTE: One of the most frequently cited disadvantages of moist and semi-moist dog food is the fact that it doesn't keep your dog's teeth as clean as dry food. In fact, some research suggests that if the food is too soft, it could contribute to your dog's development of cavities.
Recommended Semi-Moist Foods
If you choose to feed your dog semi-moist food, you should do some comparison shopping to make sure you get quality food. Below you will find a list of the top-rated semi-moist dog foods:
Here are our top Recommended foods
Natural Balance Limited Ingredient Diets Belly Bites Duck & Legume Formula Dog Treats
Chewy sells a few interesting semi-moist dog foods from Natural Balance. Its limited ingredients bites are among the best when it comes to pure ingredients. This easy-to-digest formula comes with 14% crude protein and 7% crude fat.
The delicious formula is based on duck, peas, Garbanzo beans, chicken fat, and dried skim milk to retain moisture. Made from premium ingredients, this is the type of food you feed picky dogs. Free from soy and wheat, it's a solution you can rely on for the long term.
Most importantly, this product retains more moisture in high-quality duck protein. It can be one of the very few semi-most duck dog treats without corn, wheat, or soy.
Conclusion
As is true of any product you use on or feed your dog, you should think carefully when choosing a semi-moist food for your pet. After reading this article you should know enough about this type of food to decide whether it is right for your dog and you should have some clues for picking the right brand if you do.