Redford Dog Food Reviews
Redford dog food is a private label brand made for Pet Supplies Plus. The brand currently offers both grain-free and grain-inclusive dog and cat foods in several recipes. Pet Supplies Plus opened their first store in Redford, Michigan, in 1988 and has 315 franchise and corporate stores in the midwest and eastern U.S.
Redford Dog Food Recalls 2019
Looking good so far, Redford! Based on our research, no Redford Naturals products have been recalled, you can find more info on the latest recalls here.
Redford Dog Food Reviews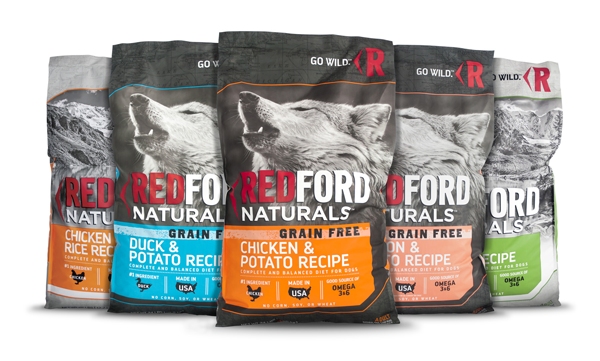 Redford currently has three grain-free formulas and two natural formulas. The grain-free formulas are Redford Naturals Grain Free Chicken & Potato Dog Food, Redford Naturals Grain Free Duck & Potato Dog Food, and Redford Naturals Grain Free Salmon & Potato Dog Food. The natural foods are Redford Naturals Chicken & Brown Rice Dog Food; and Redford Naturals Lamb & Potato Dog Food. None of the Redford foods contain any corn, wheat, or soy.
We like what we see of the Redford grain-free and natural dog foods. The foods appear to have good quality meat protein, and the guaranteed analyses are appropriate. It's hard to find perfect dog foods, and there are a few ingredients that we don't especially like, but that's true of lots of good dog foods. If your dog can't eat potatoes then you won't be able to feed your pup most of these recipes.
It would be nice to know who is making the formulas for Pet Supplies Plus so we knew a bit more about the more background. We also hope that the company puts the AAFCO statements on the website.
We're not sure if the foods are all life stage or maintenance – though the calcium to phosphorus ratio looks good, and it looks like the food could be fed as an all life stage food. Overall, these foods deserve a good try from dog lovers. Let's check out one of them in more detail.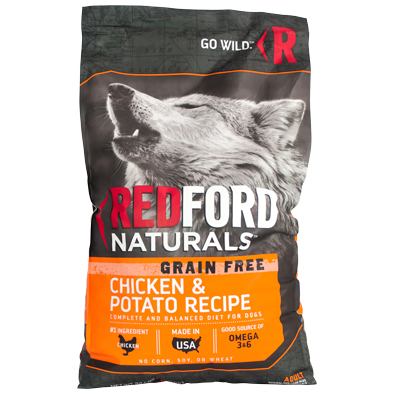 Redford Naturals Grain-Free Chicken & Potato Dog Food is one of the best-sellers. The first five ingredients in Redford Naturals Grain Free Chicken & Potato Dog Food are chicken, turkey meal, chicken meal, peas, and potato. As you can see, the first three ingredients are named meat proteins – something that is always desirable in good dog food. Let's take a deeper look at these ingredients, below:
Chicken and Chicken Meal
The first and third ingredients in the food are both good sources of protein. Most people agree that chicken meal is as good as whole chicken as a dog food ingredient. While chicken probably sounds better than a chicken meal, a chicken meal has already had most of the moisture removed so it's a more concentrated form of protein. Chicken and chicken meals are also both good sources of vitamin B6 and phosphorus and very good sources of niacin and selenium.
Turkey Meal
The second ingredient in the food is similar to chicken meal. It has had most of the moisture and fat already removed, so it is a concentrated source of turkey protein. Turkey protein meal ranges from 62 to 65 percent protein. It's a good source of Riboflavin and Phosphorus and Selenium.
Peas
Peas are becoming more and more popular in dog foods, and they're jam-packed with nutrients. They have about 22 percent protein, 76 percent carbohydrates, and 2 percent fat. Peas are a good source of lots of vitamins and minerals, including Vitamin A, Riboflavin, Niacin, Vitamin B6, Folate, Magnesium, Phosphorus and Copper, Vitamin C, Vitamin K, Thiamin and Manganese. They are also a good source of dietary fiber – sometimes too good. Some dogs can have problems digesting peas in large amounts which can result in diarrhea, soft stools, and/or flatulence.
Potatoes
Most dogs can eat potatoes without any problems, but they can be an issue for some dogs.  Nutritionally, potatoes have about 92 percent carbohydrates, 7 percent protein, and 1 percent fat. They are a good source of Vitamin C, Vitamin B6, Potassium, and Manganese.
Additional Ingredients
Other ingredients of interest in this food include chicken fat (preserved with citric acid and mixed tocopherols) – a good named fat. Tapioca is a carbohydrate with few nutrients, but it's often added to pet foods to improve texture. Menhaden Fish Meal is a fish source of omega-3 fatty acids and an additional protein source. Tomato Pomace is recognized as a good source of fiber and vitamins. We do not consider it to be a filler ingredient. Brewers Dried Yeast is a by-product from brewing beer but it's also a source of protein and provides lots of B vitamins. Blueberries are a natural antioxidant. Fish oil is a good source of omega-3 fatty acids. Dried kelp is considered to be a good source of trace minerals. This food has 361 kcal/cup, which is moderate in terms of calories.
Overall, we think Redford Naturals Grain-Free Chicken & Potato Dog Food looks very good, and we would recommend it!
Where Can You Buy Redford Dog Food?
You can buy Redford's on Petsuppliesplus.com and at their brick-and-mortar stores. According to the website, local stores may have sale pricing.
If you like how Redford looks for your pup, you'll love Blue Buffalo as well as wellness grain-free! Be sure to check out some of our most favorite brands.
Most Popular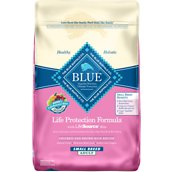 Blue Buffalo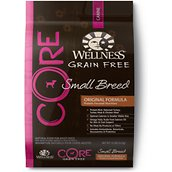 Wellness Grain-Free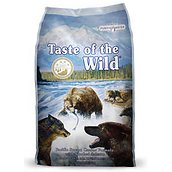 Taste of the Wild
Below is a list of Products reviewed in this article