Kibbles N Bits Dog Food Review
Kibbles N Bits Dog Food Overview
Marketed as "joy in every bite", Kibbles N Bits is one of the most popular dog food brands on the market. In fact, it's the fifth largest dog food brand in the United States. Pet food giant Del Monte Foods came up with Kibbles N Bits in 1981. Today, they offer many dry and wet product lines, including Original, Homestyle, Tender Cuts, Hearty Cuts, Burger Dinner, Bistro Meals, and Meatballs & Pasta Dinner. Are their formulas as appetizing as they sound? Let's see!
Disclosure: Please note that this post contains affiliate links, which will direct you to our partner sites. If you purchase the pet foods we recommend through those links, we may earn a small commission – at no extra cost to you.
Who manufactures Kibbles N Bits?
Del Monte Foods manufactures and markets Kibbles N Bits dog food. The food is manufactured in a plant in Lawrence, Kansas.
Kibbles N Bits Recalls 2017
Please Read First: If this statement is still here we are actively watching for new recalls. Below you will find a history of recalls. If you would like to know as SOON as we find out about a recalls visit:https://dogfood.guru/dog-food-recalls/ and fill out our Recall Alert form. We will ONLY email this list in the event of an actual recall. Once we stop watching for Recalls I will remove this statement.
We also encourage everyone to bookmark the site for future reference.
Latest Recalls List (From newest to oldest):
Surprisingly, Kibbles N Bits dog food has never been recalled.
Learn how we Monitor for Recalls: https://dogfood.guru/dog-food-recalls/
Kibbles N Bits Dog Food Coupons
---

Free Shipping on Orders over $35
Kibbles N Bits Reviews
Quite frankly, Kibbles N Bits is as innutritious as the brand name suggests. It's basically, well, kibbles and bits. By that, we mean a whole lot of cheap filler, artificial flavoring, chemical preservatives, and by-products. Okay, they won't admit straight up that they put by-products into their dog food, but there are two gigantic red flags:
Meat and bone meal is in their ingredient list. If it were just pure meat, then it would've been listed as "chicken (or beef, or turkey, or whatever else kind of meat they use) meal". The word "bone" is worrisome. It suggests that this is a by-product meal, also known as the leftovers of an animal carcass dried and ground up.
They won't specify which kind of meat they put in their formulas. Organic meat? Factory farmed meat? Chicken? Beef? Turkey? Fish? They won't tell us anything. Just "meat and bone meal". For all we know, it could be horse or rat by-product meal. The fact that Del Monte Foods is so secretive when it comes to this worries us a lot. We don't know about you, but we're not comfortable feeding our dog mystery meat combined with a bunch of harmful and unhealthy ingredients.
Not only that, but Kibbles N Bits is also chock full of corn, soybean meal, and corn syrup, none of which are good for your dog at all.
If your dog has food sensitivities, you might want to feed him something else. Kibbles N Bits is a corn-based product with wheat and soy. Some dogs even have allergic reactions to sugar, salt, by-products, or artificial coloring, all of which Kibbles N Bits contains. Actually, if your dog is healthy as a horse, you still don't want to risk jeopardizing his health by feeding him Kibbles N Bits.
How would you rate Kibbles N' Bits?:
[gdrts_multi_stars_rating_auto series="gdsr-dog-food-reviews" style_size=40 style_type="font" style_font_name="star"]
Our Kibbles N Bits American Grill Grilled USA Beef Steak Flavor Review: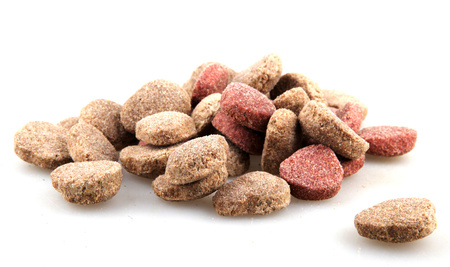 Del Monte Foods has a knack of making Kibbles N Bits dog food look appetizing. For example, the Kibbles N Bits American Grill Grilled USA Beef Steak Flavor dog food formula sounds delicious, doesn't it? There's even a big slab of juicy steak featured on the bag. If you read our review of the brand, you've probably figured by now that this dog food formula does not contain as much steak as it does cheap filler, artificial flavoring, and preservatives.
Ground yellow corn, soybean meal, beef & bone meal, ground whole wheat, and animal fat are the first five ingredients in this formula. You don't even want to know what the sixth ingredient is. Okay, we'll tell you: corn syrup. Farther down the list, you'll see a whole slew of artificial colors (yellow 5, red 40, blue 2 lake, etc.).
Even though this is a "steak" formula, the only source of steak is beef & bone meal (the third ingredient). It implies that it's a by-product rather than real beef. If you ask us, the only redeeming quality of this formula is that it contains potatoes and cheddar cheese, but those ingredients are smack dab in the middle of the ingredient list.
If you want to give your dog a nice steak dinner, give him real steak. This Kibbles N Bits dog food formula does not resemble steak, let alone nutritious dog food, whatsoever.
Where can you buy Kibbles N Bits?
This brand is available in many big-box stores, like Target and Walmart. You can also find it at some grocery stores like Safeway. However, you need to check first with your local independent pet store before going there because Kibbles N Bits is such a poor brand that some esteemed pet stores refuse to carry it.