Innova Dog Food
Brief Overview
Innova is a brand of dog food that markets their products as natural, wholesome, and holistic. Founded by Natura Pet Products, Innova offers various dry and canned dog food formulas for dogs of all ages, breeds, weights, and special needs.
Who manufactures Innova?
Natura owns and manufactures Innova dog food. However, Natura was bought out by Procter & Gamble in 2010, so Innova dog food is technically manufactured by Procter & Gamble now. A lot of dog owners are disappointed, because they feel that Natura sold out to a giant corporation that does not have a good track record when it comes to the quality of the ingredients they use.
Disclosure: Please note that this post contains affiliate links, which will direct you to our partner sites. If you purchase the pet foods we recommend through those links, we may earn a small commission – at no extra cost to you.
Innova Recalls 2017
Please Read First: If this statement is still here we are actively watching for new recalls. Below you will find a history of recalls. If you would like to know as SOON as we find out about a recalls visit:https://dogfood.guru/dog-food-recalls/ and fill out our Recall Alert form. We will ONLY email this list in the event of an actual recall. Once we stop watching for Recalls I will remove this statement.
We also encourage everyone to bookmark the site for future reference.
Latest Recalls List (From newest to oldest):
In March 2013, the Michigan Department of Agriculture performed routine testing on a batch of Natura dog food and found Salmonella. They notified Natura, and as a precautionary measure, Natura issued a voluntary recall for all the dog food produced in the production facility where the Salmonella contamination was known to have originated. All of Innova's dry dog foods and treat varieties with the best-by dates of between 12/12/13 and 03/24/14 were involved.
Learn how we Monitor for Recalls: https://dogfood.guru/dog-food-recalls/
Innova Dog Food Coupons 2017

---
30% Off First Order + Free Shipping
on Innova Dog Food
Innova Reviews
Innova dog food does not contain any by-products, fillers, or artificial flavorings. It contains fiber, protein, omega-3 fatty acids, and other necessary nutrients. However, some dog owners take issue with the fact that most of Innova's formulas are grain-based.
As we mentioned before, Procter & Gamble acquired Innova dog food in 2010. The pet food giant is notorious for switching formulas without letting anyone know. They even did it with Eukanuba after buying the brand. They replaced quality ingredients with inferior ingredients, added unnecessary chemicals, reduced the size of the bags, and hiked the prices. A lot of dog food owners were afraid that they'd do the same thing with Innova dog food, so they either stopped buying Innova dog food or avoided it for at least six months (the amount of time a pet food manufacturer is allowed to have before updating their labels).
Fortunately, there's a clause in the contract between Natura and Procter & Gamble that does not allow Procter & Gamble to alter the formula. However, the pet food giant was allowed to change how the ingredients were sourced, manufactured, and distributed.
According to Natura's website, they will continue to produce all of their dry kibble formulas at their manufacturing plant in Fremont, Nebraska. There's no mention of where their wet food is manufactured, though. They're also adamant on the fact that Procter & Gamble won't downgrade the ingredients, test on animals, and continue their policy on green and environmentally-friendly efforts.
As for where they source their ingredients, Natura has a website, See Beyond The Bag, where you can select Innova dog food formulas and specific ingredients to see where they come from. We don't know if Procter & Gamble has acquired that website, or if they made any changes to it.
Given Procter & Gamble's bad reputation, excessive cruelty to animals, and habit of switching quality ingredients to subpar ingredients, we're pretty certain that this company won't keep their promise of upholding Natura's original beliefs and standards. Quite honestly, we won't be the least bit surprised if Procter & Gamble ends up making some changes to Innova dog food in the near future.
As of now, given that the top five ingredients of Innova dog food are turkey, chicken, chicken meal, barley, and brown rice, we would rate Innova as an above-average brand of dog food. However, we strongly suggest you to keep an eye on the brand in case Procter & Gamble decides to switch the formulas, change their practices, or downgrade the ingredients.
How would you rate Innova?:
[gdrts_multi_stars_rating_auto series="gdsr-dog-food-reviews" style_size=40 style_type="font" style_font_name="star"]
Our Innova Large Breed Adult Review: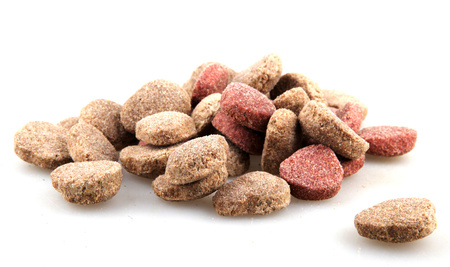 One of Innova's popular formulas is the Large Breed Adult Dry Dog Food. Let's take a look at what's in it:
Turkey, chicken, chicken meal, whole grain barley, whole grain brown rice, whole grain oats, peas, chicken fat, pea fiber, flaxseed, and some more wholesome ingredients. We like that the ingredient list is short and sweet (not literally, though!)
This formula contains a good amount of protein, fiber, and nutrients (and absolutely no unnecessary fillers). The first five ingredients are chock full of protein (turkey, chicken, and chicken meal), fiber (whole grain barley), and carbohydrates (rice and oats). We're confident that this formula has all of the nutrients your dog needs, and then some more. However, we can't really comment on the quality of the ingredients.
According to SeeBeyondTheBag.com, all of the ingredients are sourced from local farmers and producers in the United States and Canada. However, like we mentioned before, we don't know if Procter & Gamble switched to outsourcing to cheap countries overseas without mentioning it on SeeBeyondTheBag.com. They have done this with all of the other brands they've acquired in the past (especially Iams).
While the ingredient list looks good, we wouldn't readily trust the quality of the ingredients Procter & Gamble puts in this formula. You can try feeding this to your dog and observe him closely to see if he reacts positively to this formula.
Where can you buy Innova?
---

30% Off First Order + Free Shipping

---

Free Shipping on Orders over $35
As far as we know, Innova dog food is not available in most big-box stores like Walmart, Petco, Target or PetSmart. However, it can be found in a lot of independent pet stores across the nation. If you want to find the nearest retailer, you can use the retailer locator on their website. They strongly suggest to "call a location first to be certain they stock the product you're searching for."
Updated December 27, 2014