Fromm Family Pet Foods Recalls Gold Canned Dog Food
March 2016 Fromm Dog Food Recall
Fromm Family Pet Foods is voluntarily recalling their 12 oz. cans of the new Gold canned dog food pates because they do not contain recommended levels of vitamins and minerals.
According to Fromm, the dog food may contain elevated levels of vitamin D. The problem with the food was discovered through the company's own analysis. The company is recalling these products out of an abundance of caution.
"The impact of the excess Vitamin D should be seen only when dogs have eaten these products as their exclusive meals for an extended period of time. We would expect to see a reduction in appetite," Fromm Family Pet Foods said in a statement.
According to the company, they have not received any reports of dogs getting sick.
The company recommends that pet owners not feed their dogs any of the following canned foods:
12 oz. Gold Chicken Pate Dog can case code#11893, individual can upc : 72705 11892

12 oz. Gold Chicken & Duck can case code #11895, individual can upc: 72705 11894

12 oz. Gold Salmon & Chicken Pate can case code #11891, individual can upc: 72705 11890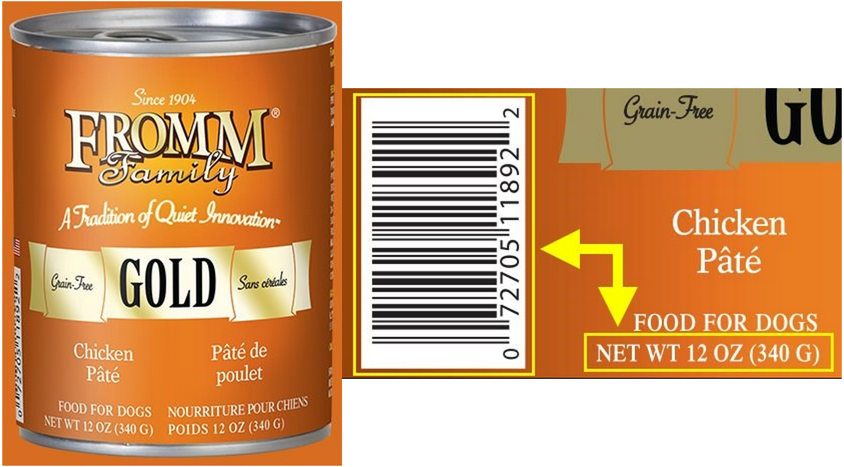 These cans were shipped to distributors during the limited time frame from December 2015 through February 2016. If you have any of the above cans, please return them to the place of purchase or any Authorized Fromm Retailer for return to Fromm Family Foods. To find an Authorized Fromm Retailer near you, please visit or call (800) 325-6331.
There are no other Fromm products affected by this recall, and this effort is being undertaken in coordination with the FDA.
If you have any questions, please contact Fromm Family Pet Foods at (800) 325-6331.
Fromm Family Pet Foods is a family-owned company in Wisconsin that manufacturers its own foods. They have been making pet food since 1925. As far as we can determine, this is their first recall.
You can see pictures of the recalled canned foods on this page, along with where to find the codes.