Can I Really Make My Own Dog Food?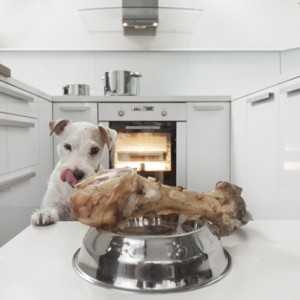 Homemade dog food is a rising trend in the pet industry – more and more dog owners have forsaken commercial dog foods in favor of making their own food at home. There are many benefits associated with homemade dog food, but there are some risks as well. Before you try it yourself, learn everything you can about homemade dog food to ensure that your dog's nutritional needs are met.
Advantages of Homemade Dog Food
The trend toward homemade dog food has been rising in popularity over the past ten years as horror stories of commercial dog foods spread. Pet food recalls always seem to spur a renewed interest in homemade dog food, but these are not the only reasons to make the switch – there are many advantages associated with making your own dog food. Some of these advantages include:
Gives you control over your dog's diet
Allows you to customize the ingredients to your dog's preference/needs
Food is free from artificial ingredient and preservatives
Made with fresh, wholesome ingredients of the highest quality
Relatively quick and easy to prepare at home
Reduces the risk of food allergies and intolerance
Challenges of Homemade Dog Food
The most important thing you need to realize in making your own dog food is that you must provide a balance of certain nutrients – this task may be more difficult than you realize. A study of 200 homemade dog food recipes that nearly 95% were lacking in at least one essential nutrient while over 80% had multiple nutritional deficiencies. One 9 out of 200 recipes provides complete and balanced nutrition. Other challenges associated with making homemade dog food may include:
Increased cost of commercial formulas
Reduced shelf-life – must make the food often
Risk of food-borne illness if raw foods aren't handled properly
Dietary supplementation may be required
May take a significant amount of time to make the food
Important Tips to Follow
If you have your heart set on making your own homemade dog food, follow some of these simple tips:
Use only recipes approved by a veterinary nutritionist – don't trust the internet
Have your dog checked by a vet at least twice a year
Keep a close eye on your dog's weight to make sure he's getting adequate nutrition
Talk to your veterinarian about the supplements your dog may need
Follow all food safety protocols in handling and preparing your dog's food
Ultimately, it is your choice what type of food you give to your dog. Keep in mind, however, that the quality of the food will have a significant impact on your dog's health. If you are interested in making your own dog food, just be sure to use high-quality ingredients in a combination that will meet your dog's nutritional needs.