Best High Fiber Dog Food For Anal Gland Problems
If your dog has been experiencing anal gland problems (or you have the suspicion they might be), you've come to the right place. A dog's anal glands are located near the rectum, one on each side. Essentially, these glands are sacs that fill with secretion from the sebaceous gland – the same gland that fills your hair follicles up. When the secretion is released from your hair follicles, your hair looks greasy, so what happens when it is released from a dog's anal glands? The secretion from the anal glands has one purpose: to release a scent that marks a dog's territory. But, just like clogged hair follicles can cause a lot of pain, impacted or inflamed anal glands can be quite painful for your pup.
Most pet owners realize their dog is having anal gland problems when they start "scooting" frequently. Other common signs include pain while going number two, swelling by rectum, bloody stool, and excessive licking near the rectum. Regardless of what the symptoms are, it's never pretty. In addition to veterinary treatment, one way to improve anal gland problems is with a high fiber diet. This is because fiber helps to make the stool firmer by absorbing water, so when the poop is on its way out, it will push up against the glands and get them to drain. In this guide, we will outline the best high fiber dog food for anal gland problems below.
Best High Fiber Dog Food-Anal Gland Problems in 2019
Best High Fiber Dog Food for Anal Gland Problems Reviews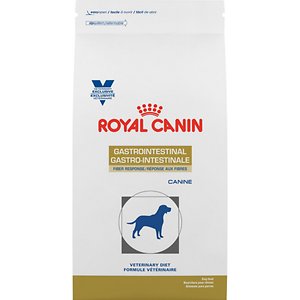 Royal Canin's Gastrointestinal Fiber Response is a specially-made formula for dogs with digestive problems. The formula promotes healthy and frequent bowel movements with high amounts of both insoluble and soluble fiber, as well as probiotics. Additional benefits that promote intestinal health include omega-3 fatty acids, DHA, and EPA.
With 12.5% fiber, this diet is a bit higher in fiber than most, so it is a good idea to speak with your vet before switching from regular food. Keep in mind, this is a prescribed dog food, so you will have to have your vet's permission to purchase it. We've included a link to buy the Gastrointestinal formula through Chewy, so all you have to do is provide your vet's information at checkout. If you already have a prescription for the food, you can send it to email address [email protected] or 1-800-619-7973 (fax).
Main Ingredients: Chicken By-Product Meal, Brewers Rice, Chicken Fat, Powdered Cellulose, Rice Hulls
Protein: 21%
Fat: 14%
Fiber: 12.5%
Calories: 287 kcal/cup
Fromm is one of the best dog food manufacturers in the industry. The family-owned company produces healthy, safe, and high-quality recipes, from regular dog food to specialty diets. And while this food is made for weight loss, it's one of the best dog foods for anal gland problems, as well. In fact, obesity is one of the leading causes for anal gland issues, so this is a great option to support your dog in weight loss.
It has high-quality animal protein, including turkey liver and chicken meal (a concentrated form of meat), as well as moderately high amounts of both soluble and insoluble fiber.
Main Ingredients: Turkey Liver, Chicken Meal, Turkey Broth, Oat Groats, Pearled Barley
Protein: 25%
Fat: 10%
Fiber: 10%
Calories: 334 kcal/cup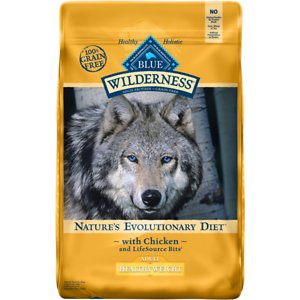 With loads of top-notch animal protein, this high-fiber dog food is another great option to help with a dog's anal gland problems. Blue Buffalo takes pride in knowing that their foods are made from "natural ingredients enhanced with vitamins and minerals," not artificial flavors or preservatives. It is also entirely free of corn, wheat, and soy, which are common dog food fillers that are not great for digestion.
Dogs tend to love the taste of this Blue Buffalo recipe. It is also free of grain and contains LifeSource Bits, a patented formula of nutrients that helps to boost the immune system. While it is a weight control diet, the Blue Buffalo Wilderness dog food has the appropriate amount of complex carbohydrates to help with anal gland issues.
Main Ingredients: Deboned Chicken, Chicken Meal, Pea Protein, Peas, Tapioca Starch
Protein: 30%
Fat: 10%
Fiber: 10%
Calories: 353 kcal/cup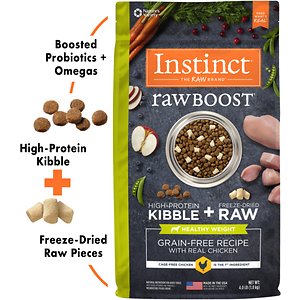 Nature's Variety Instinct Raw Boost is a recipe based on healthy, high-quality animal protein. The meat in the food is freeze-dried and contains less fat and calories than the traditional Instinct Raw Boost diet. There are loads of healthy ingredients in this food, like L-Carnitine for metabolism support, freeze-dried raw protein, probiotics, and antioxidants. The dog food is free of grain, corn, wheat, soy, by-product meal, potato, and artificial colors and preservatives.
The fiber percentage in this dog food is not as high as many of the other dog foods for anal gland problems, so it is a good option for dogs who are currently on a diet that is lower in fiber. This is because switching from a low-fiber food to a high-fiber food can be a shock to your pet and result in constipation.
Main Ingredients: Chicken, Chicken Meal, Peas, Tapioca, Menhaden Fish Meal
Protein: 32%
Fat: 15%
Fiber: 7.5%
Calories: 368 kcal/cup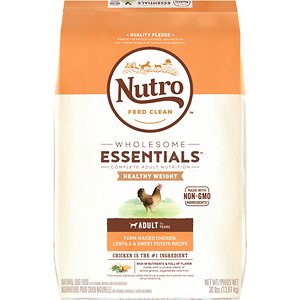 Nutro puts an emphasis on fiber with this healthy weight dog food. Containing a natural source of carbohydrates from sweet potatoes, this recipe is easy to digest and loaded with healthy ingredients. The food is made with the best quality meat from US-farm-raised chicken and also includes sunflower oil for fatty acids, sweet potatoes for vitamins and minerals, and brown rice for a healthy grain source.
The high amount of fiber in this food will result in your pet feeling full and satisfied. The fiber will also help with improving stool texture to aid in helping with anal gland issues.
Main Ingredients: Chicken, Lentils, Rice Bran, Chicken Meal, Powdered Cellulose
Protein: 23%
Fat: 7%
Fiber: 11.5%
Calories: 228 kcal/cup
Just like the aforementioned Blue Buffalo Wilderness recipe, this dog food contains Lifesource Bits with vitamins, antioxidants, and minerals. Healthy fiber comes from peas, potatoes, and carrots, which is great for dogs with anal gland problems. The high-quality protein is from salmon, chicken meal, and fish meal. With this formula, Blue Buffalo Wilderness focuses on muscle development, energy maintenance, and bone and teeth support.
Main Ingredients: Deboned Salmon, Chicken Meal, Peas, Pea Protein, Menhaden Fish Meal
Protein: 34%
Fat: 15%
Fiber: 6%
Calories: 415 kcal/cup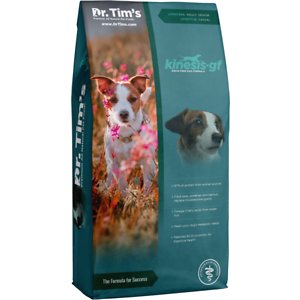 Dr. Tim's Grain-Free Kinesis Formula works wonders, according to pet owners. While this formula does not contain a high amount of fiber, we had to include it because it is one of the best dog foods for anal gland issues. It has probiotics to help with digestion, which is a huge factor in helping with anal gland problems. The food also contains fatty acids for healthy skin and coat, as well as DHA for brain development and health. Made from high-quality meat, the formula is loaded with essential protein.
A loyal Dr. Tim's customer stated "[This is the] only thing that helped stinky anal glands! Our 4 year old German Shorthaired Pointer has suffered (and made us suffer) with HORRIBLE anal gland problems since she was a puppy. I had to take her to the vet at least once a month to have them expressed, and eventually the vet taught me to do it on my own because it was getting so costly and time-consuming!"
Main Ingredients: Chicken Meal, Dried White Potatoes, Dried Field Peas, Chicken Fat, Tapioca
Protein: 32%
Fat: 18%
Fiber: 4.5%
Calories:  415 kcal/cup
Best High Fiber Dog Food For Anal Gland Problems Buying Guide
Dietary fiber is essential to promote a healthy bowel movement. However, there are so many different sources of fiber that it can be difficult to determine how much your pet needs – and where it should come from. To maintain your dog's digestive health and learn about the best high fiber dog food for anal gland problems, check out these frequently asked questions.
How Does High Fiber Dog Food Help With Anal Gland Problems?
There are two different types of fiber that belong in your pet's diet, both of which contribute to a healthy bowel movement. First, there's insoluble fiber. Your dog will not be able to digest this, but don't worry – it serves an important purpose. Insoluble fiber absorbs water to firm up the bowel movement. Soluble fiber, on the other hand, is a laxative, which helps promote digestion.
Dogs (and people!) need both insoluble and soluble fiber to digest food properly. dogs with anal gland problems can benefit from having a higher fiber diet because they will pass more bowel movements, which can help the anal sacs release the secretion that may be stuck inside of them. So, how much more fiber do dogs with anal gland problems need? Generally, regular dog food can contain anywhere from 2.5% to 6% fiber, but high fiber diets can contain 7% to 12% fiber. If you plan to switch your dog from a regular food to one that has a much higher fiber percentage, be sure to check with your vet for recommendations on how to proceed.
How can I add more fiber to my dog's diet?
The best way to add more fiber to your dog's diet is through a high fiber dog food. You can also add fiber powder to the dog's food, but be sure to get your vet's recommendation on how much to add to the food. Too much fiber can cause constipation or diarrhea. If you are feeding your dog a high fiber diet, they can become easily dehydrated, so it is essential to make sure they are drinking enough water.
What is a good source of fiber for dogs?
There are many healthy ways to add fiber to your dog's diet. Some foods that are a good source of fiber are leafy greens, coconut fiber, acacia fiber, canned pumpkin, and psyllium husk powder. Fibrous veggies are one of the best sources of fiber for dogs because they contain other health benefits like antioxidants, vitamins, and minerals.
If you plan to feed your dog fiber in addition to what is in their food already, it is a good idea to consult your vet to avoid overdoing it. Excessive fiber in the diet can cause even more issues for your pup.
What causes anal gland problems in dogs?
Anal sacs are the glands located on both sides of the rectum. They fill with fluid that is supposed to secreted when dogs go number two, but if the secretion is not released when a dog defecates, they can become impacted. Reasons why dogs develop anal gland problems include: bacterial skin infections, skin mites, food sensitivities/allergies, atopic dermatitis, obesity, and hypothyroidism.
Do dogs need fiber in their diet?
The best diet for dogs is something that has been up for debate. Before dogs were domesticated, they ate a raw diet of meat, but now that that most canines are pets, their diet has evolved. As a general rule of thumb, dogs need protein, healthy fats, and some carbohydrates. Fiber is complex carbohydrate that does not offer much nutritional value, but it helps keep the digestive system on track. This is why too much fiber in a dog's diet can cause constipation, but not enough fiber can lead to diarrhea.
Below is a list of Products reviewed in this article
Updated December 24, 2019