Best Dog Food For Saint Bernards

The Ultimate Saint Bernard Food Buyer's Guide
Saint Bernards (the word "Saint" is spelled out and not abbreviated for the breed) are believed to have originated at a monastery founded by Bernard de Menthon, an Augustine monk, in the Alps between Italy and Switzerland. This was a treacherous area, snow-covered for most of the year and heroic rescues were not uncommon. The monks and their dogs were often called upon to save travelers. Although dogs may have assisted in rescues for several hundred years, there is no evidence that the dogs at the monastery at this time were Saint Bernards as we would recognize them today. The breed was not depicted in art until the 17th century, when dogs that strongly resembled today's Saint Bernard were seen in paintings. It's estimated that dogs of the Saint Bernard breed were probably bred starting in the 1660s. The dogs that formed the basis for the Saint Bernard probably came from the Swiss valleys near the monastery. They were likely descended from the mastiff-type dogs brought to the Alps by Roman armies many centuries earlier. These mastiff-type dogs were the ancestors of many later breeds such as the Swiss Mountain Dog and the Bernese Mountain Dog. Despite their history and success as rescue dogs, the breed did not have a formal name until 1880 when they were finally called Saint Bernards. The Saint Bernard was recognized by the AKC in 1885. The Saint Bernard Club of America was established in 1888 and uses a breed standard that is close to the original Swiss standard for the breed. Today the Saint Bernard is the 50th most popular breed in the United States.
As a breed, Saints are considered gentle giants. They are big. REALLY big. In fact, the size of the dog is the most common reason why people decide they don't want to keep their Saint Bernard. People often don't realize just how large a Saint Bernard will be when he's an adult, especially if they are looking at a cute puppy. But that 25-pound puppy will grow to be over 100 pounds later. He will eat a lot, poop a lot, drool a lot, shed a lot, and take up a lot of room in your house and car. If you are looking at a Saint puppy, make sure you take a good look at the parents because that's what he will look like later. In temperament, Saints are placid, eager to please, and very good with children. Their size and bark discourages most intruders but they are actually quite friendly – unless you are being threatened. Then they can take action. Saints are not extremely active dogs but they do require regular exercise. If you enjoy a very big dog and you are fully prepared for the Saint Bernard's size, this is a wonderful breed. Just be aware of how large an adult Saint Bernard will be and some of the extras that go along with caring for a giant breed.
Disclosure: Please note that this post contains affiliate links, which will direct you to our partner sites. If you purchase the pet foods we recommend through those links, we may earn a small commission – at no extra cost to you.
Quick Look : Top 4 Best Dog Foods for Saint Bernards
Food
Price
Nutrition
Rating

Now Fresh Grain Free Large Breed Adult Recipe
Read Reviews Where To Buy

$2.24/lb
*New Formula* ACANA Grasslands Regional Formula Grain Free Dry Dog Food
$3.08/lb

Victor Yukon River Salmon & Sweet Potato Grain-Free Dry Dog Food
Read Reviews Where To Buy
$2.03/lb

$1.41/lb

---
30% Off + Free Shipping
on dog food for Saint Bernards
Nutritional Needs
Male Saint Bernards typically stand 28-30 inches tall. Females are usually 26-28 inches tall. Females do have a more delicate build than males. Some individuals (both male and female) can be larger. Males may weigh between 140-180 pounds; females usually weigh 120-140 pounds. Again, some individuals may weigh more. They are not the tallest dogs but they are one of the heaviest breeds.
While Saints are very large, they are not the most active dogs. Pound for pound, small and medium-sized dogs will have a faster metabolism and burn up more calories than a giant breed such as the Saint Bernard. Saints do eat a lot of food, but probably less than you might expect.
According to the National Research Council of the National Academies, an adult Saint Bernard weighing 140 pounds requires an average daily caloric intake of 2839 kcal. Dogs that have been spayed/neutered, or that are older, may need slightly fewer calories. Some dogs may need more calories depending on their level of activity and their individual metabolism. For example, if you train with your Saint Bernard (weighing 140 pounds) and do tracking, you might need to feed him somewhere around 3154 kcal. Growing puppies consume more calories than adult dogs and so do young adult dogs. A young Saint Bernard puppy (4-12 months) weighing 70 pounds needs an estimated 1876 kcal per day. You always need to adjust your dog's food intake based on his activity level and other factors.
Saint Bernard puppies are usually born weighing about 1 ½ pounds. They will grow fast during their first year but it often takes as long as three years before they are fully mature.
Since this is a large/giant breed and it takes a long time for them to mature, we recommend feeding a good food formulated for large breed puppies. These foods typically have fewer calories and calcium levels that are appropriate for large breed growth. The National Research Council recommends a safe upper level of 4.5 grams/1000 kcals for calcium but pet nutritionists usually recommend no more than 3.5 grams of calcium per 1000 kcals (or less) for growth or all life stage foods formulated for large breed puppies. The calcium amount in the food should be between 1-1.3 percent for large breed puppies. A puppy's skeleton is growing and developing during these months and too much calcium for a large breed puppy often leads to skeletal problems such as hip and elbow dysplasia.
If you feed a puppy food, most breeders recommend feeding this food until your puppy reaches about 90 percent of his adult size. With a large breed puppy such as the Saint Bernard, you should not switch to an adult food while the puppy is still growing. Continue to feed a large breed puppy food or an all life stages food until your dog reaches maturity. A giant breed such as the Saint Bernard needs precise calcium and other mineral content that is not found in maintenance dog foods. You should talk to your breeder about the food they recommend for their puppies since they usually have experience with how their puppies grow and develop.

Feeding Your Saint Bernard
As with some other large and giant breeds, Saint Bernards are prone to bloat/torsion or GDV (gastric dilatation volvulus). Concern about bloat affects many feeding decisions for Saint Bernards. For example, it's wise to feed young puppies (8-12/16 weeks) three to four small meals through the day. When your Saint Bernard puppy is 12/16 weeks to 6 months, you can move to three feedings per day. From age 6 months onward, you can feed your Saint Bernard two meals per day. However, some owners prefer to go on feeding three meals per day, even for adult dogs, with snacks and treats between meals since this is thought, in some quarters, to reduce the risk of bloat. You do need to avoid feeding one large meal per day. An empty stomach can lead to more air/gas which can result in bloat/torsion.
There has been research and there are various studies online about bloat. We recommend that you look at them if you are considering a Saint Bernard or other deep-chested breed prone to bloat. There is currently no specific way to determine which dogs are likely to bloat but there are some factors which may be involved:
Feeding once per day

Eating too fast

Having a close relative such as a parent, sibling, or offspring that have bloated

Feeding from a raised bowl (though raised bowls were recommended in the past)

Restricting water intake

Dogs that have nervous or fearful temperaments

Males are more likely to bloat than females

Older dogs are more likely to bloat than younger dogs

Dry food diets with oil or fat as one of the first 4 ingredients*
*The ingredients of a dog's diet also appear to factor into susceptibility to bloat. A Purdue study examined the diets of over 300 dogs, 106 of whom had bloated. This study found that dogs fed a dry food that included a fat source in the first four ingredients were 170 percent more likely to bloat than dogs who were fed food without fat in the first four ingredients. In addition, the risk of GDV increased 320 percent in dogs fed dry foods that contained citric acid and were moistened before feeding. On the other hand, a rendered meat meal that included bone among the first four ingredients lowered risk by 53 percent.
It should be noted that some vets, owners, and breeders have criticized the Purdue study because the foods seemingly praised for not causing bloat would be very low in quality, containing lower quality ingredients. Dog foods that contain rendered meat meal and bone among the first four ingredients are not usually considered very nutritious. It could be a case where correlation does not imply causation and more research is needed.
Things that are believed to help prevent bloat include splitting meals up into several smaller meals spread throughout the day; encouraging your dog to eat more slowly (for instance, you can buy "slow" bowls for your dog); and monitoring your Saint's exercise before and after meals. Other things that may help include feeding dog foods that contain pre- and probiotics to help with digestion, or adding other supplements. At one time people also recommended moistening dry dog food before feeding so it would expand before it reached your dog's stomach but this is another practice that is now debated. The fact is that most things related to bloat – its causes and prevention – are only theories at this point.
Most people with Saint Bernards recommend feeding good quality dog foods with a protein percentage from the upper 20 percent level to the lower 30 percent mark. Fat percentage is suggested to be around 12 to 18 percent. Foods that are extremely high in protein (over 35 percent) may cause stomach irritation for these dogs.
Whether you feed your dog a food with or without grains is a personal choice. Many people choose grain free dog foods because their dogs have digestive problems, food allergies or sensitivities, or skin problems. You may want to avoid the most common grains, such as corn and wheat which are often over-used in dog foods, but there are many good dog foods that use alternative grains/cereals such as oats and barley. If you still prefer to feed a grain free dog food, that should also work for your Saint Bernard. Try a couple of foods, with and without grains, and see how your dog does on the foods so you can make your decision.
Saint Bernard Health Problems
Because of their large/giant size and fast growth rate when they are young, Saint Bernards can have serious bone problems if they don't have proper food and exercise while they are growing. Hip dysplasia and elbow dysplasia both occur in the breed. Osteosarcoma (bone cancer) is also a problem in Saint Bernards.
Saint Bernards can also have problems with entropion and ectropion which affect the eyelids. Epilepsy and other kinds of seizures are also known to occur in Saint Bernards. Dilated cardiomyopathy, a heart disease, can occur. Saints can also have eczema, a skin irritation or inflammation that results in itching and other symptoms. Unfortunately, there can be lots of different causes of eczema depending on the individual dog. It can be caused by allergies (flea allergies, food allergies, inhalant allergies, or things your dog touches), parasites, weather conditions, poor nutrition, infections; and the list goes on. If your Saint Bernard does have symptoms of eczema, it's best to see your veterinarian and get a diagnosis so you can get the correct treatment. Just because your dog is itching doesn't mean you should assume he has a food allergy.
Saint Bernards can also be subject to heatstroke – not because the breed originated in the Alps but because they are a large, hairy breed and they may not be able to cool themselves quickly if they become overheated. Heatstroke is an emergency so take your dog to a veterinarian as soon as possible.
As with many giant breeds, the Saint Bernard has a shorter lifespan than most smaller breeds. Their average lifespan is usually 8-10 years.
Ingredients to Avoid and Some to Look For
As with most dogs, when choosing a food for your Saint Bernard you should look for a food that has good sources of protein and fat.
Ideally you will select a dog food that features two or three meat proteins in the first several ingredients listed. Both whole meats and meat meals are good sources of protein. Whole meats refer to foods such as whole chicken, beef, fish, and lamb. Some people don't like meat meals as much as whole meats but they are a concentrated form of the meat in which the moisture has been removed. They contain several times as much protein as a whole meat. Meat meals are usually quite acceptable as one of the first ingredients in a good quality dog food. They are used by many good dog food brands.
Many dog foods today, even some of the most expensive and highly touted, use lots of plant proteins such as lentils and peas. These foods often have high protein percentages on the label. When you read the guaranteed analysis it's important to consider how much of the protein in the food comes from meat and how much comes from plants. Your dog is able to digest meat protein more easily than plant protein. Meat protein is a much more natural source of protein for your dog than plant protein.
Dogs also need good sources of fat. You should look for named fat sources such as chicken fat. Other named fats also provide needed nutrients such as fish oil which can provide omega-3 fatty acid to help keep the skin and coat healthy. Puppies can benefit from DHA which is Docosahexaenoic acid. This is a specific form of omega-3 fatty acid that helps with brain and eye development. Older dogs seem to benefit from medium chain triglycerides which feature medium chain fatty acids (MCFAs). These have been found to help older dogs feel and act younger. They are often made from a combination of coconut oil and other oils.
If you want to avoid corn, soy, and wheat in your dog food, your Saint Bernard may still be able to eat an alternative grain such as barley or oats. Or you can feed a grain free dog food that uses an alternate source of carbs that is low glycemic such as sweet potatoes. You don't have to feed a dog food with an excessively high percentage of protein but it's a good idea to keep the carb percentage low to moderate.
If your Saint Bernard has a food allergy or food sensitivity, you may need to work with your veterinarian to identify the food triggers unless they are very obvious. There are lots of good foods with alternative meat proteins today as well as limited ingredient diets which we will discuss below.
Recommended Dog Food For An Adult Saint Bernard
Unless your Saint Bernard has a food allergy or sensitivity or some other health problem, he should be able to eat most good quality dog foods, especially those made for large/giant breeds. If your dog has a food allergy or food sensitivity you will need to try to avoid foods with ingredients that are triggers for your dog. For Saint Bernard puppies, we do recommend puppy foods formulated for large/giant breed puppies, although you can feed all life stages foods if they meet the requirements for large breed puppies.

We have suggested a variety of foods here for Saint Bernards. Most of the foods we have selected do not contain corn, wheat, or soy, unless noted. The puppy foods should meet the calcium requirements for Saint Bernard puppies. You may have to try a couple of foods to find which one is best for your dog. You should also keep in mind that your dog's dietary needs can change as he grows and ages so you may have to change foods to suit him.
Food
Price
Nutrition
Rating

Now Fresh Grain Free Large Breed Adult Recipe
Read Reviews Where To Buy

$2.24/lb
*New Formula* ACANA Grasslands Regional Formula Grain Free Dry Dog Food
$3.08/lb

Victor Yukon River Salmon & Sweet Potato Grain-Free Dry Dog Food
Read Reviews Where To Buy
$2.03/lb

$1.41/lb


Best Dog Foods for Saint Bernard Adults
Now Fresh Grain Free Large Breed Adult Recipe is made by Petcurean. You may be more familiar with some of the other product lines from this Canadian company, such as Go!, Spike, or Summit. This food for large dogs is made from 100 percent fresh turkey, salmon, duck and 100 percent fresh omega 3 & 6 oils from coconuts and canola. It has no corn, wheat, or soy, and no other grains, gluten, or beef. It uses no rendered meats, no by-products, and no artificial preservatives.
This formula features New Zealand green mussels and glucosamine and chondroitin for healthy joints which should be beneficial for Saint Bernards. It has added L-Carnitine for a healthy heart and to help turn fat into lean muscle. It has taurine for good vision and heart function. And it has added pre- and probiotics for better digestion. The first ingredient is deboned turkey. It contains 363 kcal/cup and has 27 percent crude protein and 13 percent crude fat. These levels should help your Saint Bernard stay at a good weight. We think this food has some good features for a large breed in terms of bone and joint health and heart health, as well as quality ingredients.
Champion Pet Foods has completed their new kitchen in Kentucky and they have reformulated some of their dog and cat foods to reflect what is "regional" to the Kentucky area. So, it's still the same award-winning company, but some Acana foods will be made in Kentucky. We've had a chance to review the Acana dog and cat foods and there are some changes in the meat proteins but the foods still look good. If you visit the Acana web site you can view the old and new formulas to see the changes (we really like being able to compare the formulas). The old Grasslands formula, for example, was heavy on lamb, duck, whitefish, and lentils. The new formula features goat meal and catfish meal, in addition to the lamb and duck. The old formula has 31 percent crude protein, 17 percent crude fat, 5 percent crude fiber, and 10 percent moisture. The new formula has 33 percent crude protein, 17 percent crude fat, 6 percent crude fiber, and 12 percent moisture. The food has 70 percent animal protein ingredients and 30 percent vegetables, fruits, and botanicals. No grains, potatoes, or tapioca. If you're looking for a good grain free dog food for your Saint Bernard that is low in carbohydrates, we think that the Acana foods are a good choice. Acana foods typically have slightly less meat protein than Orijen (made by the same company), but we think they're a good choice for many dogs.
Victor dog food has something of a cult following. People who feed it really seem to love it. It's made by Mid America Pet Food – a company that co-packs for some other well-known brands. Mid America is a family-owned and operated company located in east Texas. According to the company, more than 80 percent of the ingredients used in their foods come from a 200-mile radius of their facility. They currently have seventeen formulas available. They have foods that are free of corn, wheat, soy, gluten, and grain by-products. They use no artificial colors, flavors, or preservatives. The Yukon River Salmon formula has 32 percent crude protein, 15 percent crude fat, and 34 percent crude carbs. Seventy-six percent of the protein in the food comes from fish. We think that many Saint Bernards would do well on this food. Or you could check out one of Victor's other foods. People who feed Victor are devoted to this brand. Considering the ingredients, their foods are very reasonably priced.
Designed specifically for large dogs over 50 pounds, Fromm Large Breed Adult Gold is one of our favorite dog foods for large dogs. It contains duck, chicken meal, and chicken as the first three ingredients. Chicken cartilage is added for a natural form of glucosamine to keep joints supple which is important for big dogs. The food contains no wheat, corn, or soy that might irritate the digestive system. Fromm Large Breed Adult Gold features moderate protein and fat which may be better for large dogs like Saint Bernards which are prone to bloat. The food is moderate in terms of calories (378 kcal/cup) which helps your large dog stay slim.
We also like the fact that Fromm is a family-owned company in Wisconsin and they make their food in small batches fresh every morning. These are good ingredients from a respected company in a formula that should be good for your large dog.
Best Dog Foods for Saint Bernard Puppies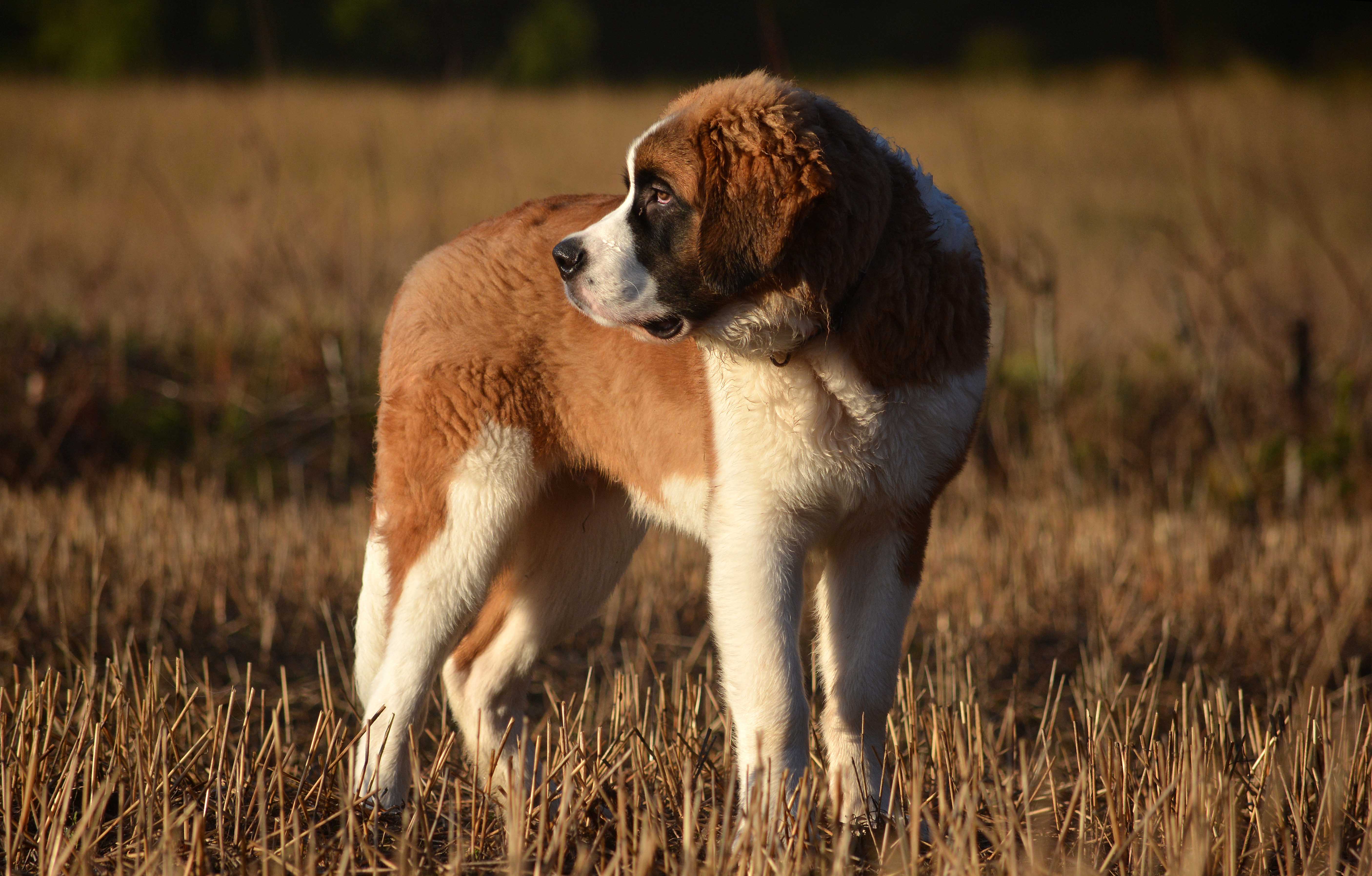 Saint Bernard puppies can usually begin eating a puppy food right after they are weaned or they can eat a good all life stage food. If you have questions about how to feed your puppy, we recommend talking to your puppy's breeder. They usually have the most experience with raising Saint Bernard puppies and can guide you.
Puppy foods should have a calcium to phosphorus ratio of about 1.2 parts calcium to 1 part phosphorus. It's also important that dog and puppy foods do not have an excess of calcium since this can affect bone growth. This is especially true for large breed puppies like Saint Bernards. If you are feeding your puppy a food that is properly formulated, you should not add any extra calcium, such as milk, cottage cheese, or other calcium supplements. Doing so can lead to serious health problems such as OCD (osteochondritis dessecans) – painful bone spurs that may require surgery – and other orthopedic problems.
Here are some of the puppy foods we like for Saint Bernard puppies. Remember that an all life stage food can also be fed, as long as the nutrients are appropriate for your puppy.
No question about it: this is an expensive food. However, it has a lot desirable points. No corn, no wheat, no soy. It's grain free, gluten-free, GMO-free, and it's considered a limited ingredient diet. It contains no by-products, tapioca, or potatoes. It has a single protein (dehydrated chicken) and carbohydrate source (split peas – though we aren't sure if sun-cured alfalfa counts as a carbohydrate or not) and the meat is hormone-free, pesticide-free, and antibiotic-free. It also has the proper calcium level for large breed puppies (though it says it's formulated for small puppies). There's more, but you get the idea. If you are trying to be very careful with your Saint Bernard puppy, then this LID holistic puppy food from Canine Caviar is definitely a food you may want to consider. Canine Caviar also has several other formulas so you can rotate the proteins.
This grain free, high protein food can be a good choice for Saint Bernard puppies. No grain, corn, soy, wheat-gluten or artificial preservatives, colors or flavors. No meat by-products or fillers. It has DHA for brain and eye development, antioxidants, and probiotics. And it has the proper calcium level for large breed puppies. The first three ingredients are Deboned Chicken, Chicken Meal, and Turkey Meal. It has 417 kcal/cup. Recommended for giant breed puppies.
Best Dog Foods for the Senior Saint Bernard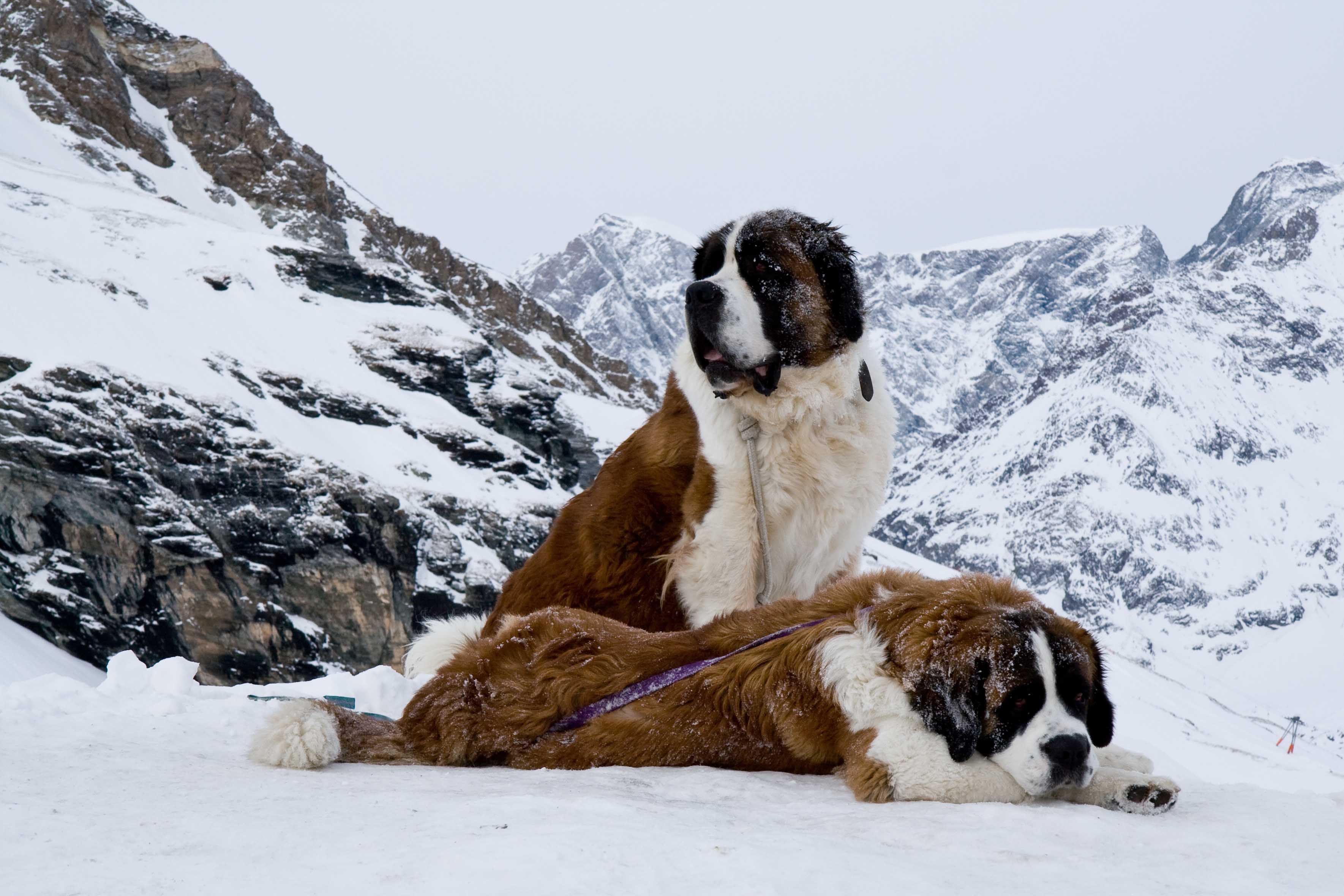 Many senior dog foods are formulated with the belief that older dogs are overweight and need to lose pounds so they often have less fat and fewer calories than regular dog food. If you have an older Saint Bernard, be sure to carefully read dog food labels so you don't accidentally buy a food that has too few calories for your older dog.
Senior Saint Bernards, like many older dogs, can start to have problems metabolizing nutrients, including protein. They may start to lose muscle tone and weight as they get older. Look for a senior dog food that has plenty of protein that is easy to digest. As long as your older dog doesn't have any problems with his kidneys or with phosphorus, there is no reason to avoid higher protein levels. Remember that with many large/giant breeds, your older dog may start to need a senior diet as early as 6-7 years old.
Orijen Senior provides plenty of excellent quality protein for your older Saint Bernard . This food features deboned chicken, deboned turkey, yellowtail flounder, whole eggs, and whole Atlantic mackerel. It helps keep older dogs in good muscle even as they become less active. Made of 85 percent meats and fish, the food is low-glycemic and has low carbs to help keep your older dog's blood sugar steady. The food also contains natural sources of glucosamine and chondroitin to keep your Saint Bernard 's joints healthy. The food is 38 percent crude protein and 15 percent crude fat. It checks in at 414 kcal per 8 ounce cup. We think this is a very good food for senior dogs who often need extra protein as they get older. (We know Orijen is expensive but this food really stands out for senior dogs.)
We also like Nature's Variety Instinct Limited Ingredient Diets Kibble for older dogs. These foods have one animal protein source and no grains or glutens. The ingredients are easy to digest. They have added omega 3 and omega 5 for healthy skin and coat. And, since they are formulated for dogs with food sensitivities, it's easy on an older dog's digestive system. The foods are high in protein. Instinct also has several other canned LID diets available. You can choose from duck meal, lamb meal & peas, and turkey meal. Instinct also has canned recipes for these LID foods if you would like to add some tasty toppers to your Saint Bernard's meals.
Another senior food we like a lot is Bright Mind 7+ from Purina. Whether you normally like Purina foods or not, we have heard nothing but positive comments about this food, especially for elderly dogs that might be slowing down and starting to withdraw. The food addresses some of the cognitive issues that older dogs can have.
Best Dog Foods for Saint Bernards with Skin Problems/Allergies
As mentioned earlier, Saint Bernards can have some problems with eczema. These problems may or may not be food-related, but if your dog needs to avoid common proteins, you can try this food.
Any dog suffering from skin problems or food allergies may benefit from Wild Calling!'s Xotic Essentials recipes. Formulas like their rabbit meal recipe use exotic meats that are rare in today's pet food market so your dog hasn't eaten them before – less chance of having an allergic reaction. The foods are also highly digestible. Wild Calling! also uses what they call LITe (limited ingredient technology). They don't use any of the ingredients commonly found in most dog foods such as chicken, grain, gluten, egg, yeast, corn, wheat or soy. If your Saint Bernard has a food allergy, he may benefit from Wild Calling! The foods are formulated for rotational feeding and they offer several Xotic Essentials recipes, such as kangaroo and bison, so your dog doesn't get over-exposed to one kind of meat protein. This is an All Life Stage food. We think that dogs with skin problems and food allergies can definitely benefit from these recipes.
Another food that is often recommended for dogs with food allergies and skin problems is Zignature. It comes in proteins such as trout & salmon, kangaroo, turkey, duck, venison, and others. It's available in dry and canned versions. Foods are potato- and grain-free, and chicken-free. They do not use common bonding agents (thickeners and ingredients to hold the food together) in their foods which are high in simple carbs and starches. They only use low glycemic carbs such as chickpeas that add extra protein and fiber to the food. They work with Tuffy's in Minnesota and Performance Pet in South Dakota to make their foods. Many people like Zignature very much. If you have a dog with food allergies, this is a brand that you might consider. This duck formula is a good example with hypo-allergenic meat first, no corn, wheat, soy, dairy or chicken, chicken eggs or chicken by-products.
Best Dog Foods for Saint Bernards with Sensitive Stomachs
If your dog has a sensitive stomach it can be an indication of a food sensitivity, which is different from a food allergy. A dog with a food sensitivity will have gastrointestinal issues such as vomiting or diarrhea. Or it could be something more serious.
A dog with a sensitive stomach can often be helped by feeding the right dog food. Sticking to a limited ingredient diet food with as few ingredients as possible can reduce the chance of your dog having a bad reaction to something in the food.
We recommend Natural Balance L.I.D. Limited Ingredient Diets Sweet Potato & Fish Formula Small Breed Bites Dry Dog Food. This food is grain free with limited ingredients. It has good quality, alternative ingredients that are easily digestible for a dog with a sensitive stomach. And it contains no artificial flavors, colors, or preservatives. The first five ingredients are: Sweet Potatoes, Salmon, Salmon Meal, Canola Oil, and Potato Fiber. It has 21 percent crude protein, 10 percent crude fat, 4.5 percent crude fiber, and 10 percent moisture. It has 380 kcal/cup and it's an all life stage formula. If your dog can't eat some of the ingredients in this food, Natural Balance has lots of other LID recipes that you might check.
If your dog can't eat these ingredients, you might try one of the Weruva foods or Acana Singles. Weruva also has lots of foods with pumpkin which can sometimes help a dog with stomach issues.
Best Dog Foods for Overweight Saint Bernards
Middle-aged dogs often start to put on some extra pounds, especially if they are not getting enough exercise. You can help your dog lose weight by cutting back on his portions and encouraging him to get more exercise. Try reducing snacks or giving your Saint Bernard low-calorie snacks such as apple pieces instead of treats with more calories.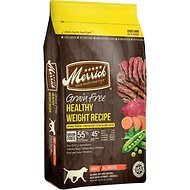 If you have a Saint Bernard that needs to lose weight we recommend Merrick Grain Free Healthy Weight Recipe. We like the fact that this food has 32 percent crude protein. The crude fat percentage is between 8 and 11 percent with 5 percent crude fiber so your dog should not feel like he's starving. It is AAFCO-approved for a maintenance diet. The food has 3,210 kcal per kilogram or 360 kcal per cup ME (metabolizable energy) on an as fed basis (calculated). It is grain free and made from 55 percent beef and poultry. And it contains no corn, wheat, or soy and no ingredients from China. The first five ingredients in this food are: Deboned Beef, Chicken Meal, Potatoes, Peas, and Sweet Potatoes.
If your dog needs to lose weight, you should proceed slowly. No crash dieting. You should aim for your dog to lose no more than 3 to 5 percent of his body weight per month or about one percent each week.
We do not recommend a weight control dog food for a puppy or a very old dog. These foods generally have fewer calories and may have some other differences in nutrients that make them inappropriate for growing puppies or older dogs who need special nutrition.
Conclusion
Saint Bernards are friendly, gentle dogs that make very good family pets provided you are really prepared for a giant breed. Any dog this large does require basic obedience training. Even though they are not extremely athletic dogs, they need space and regular exercise. It will cost more to feed a dog this big. Toys, vet bills, dog beds – everything for a giant breed costs more. Saint Bernards are wonderful dogs but be sure to talk to breeders and meet adult Saints in person before you decide to get one of these dogs. No one wants to have a Saint Bernard end up in rescue or turned in to animal control because the dog turned out to be much bigger than expected.
Below is a list of Products reviewed in this article
Updated December 08, 2016