Best Dog Clippers
Getting your dog groomed can be one of the biggest expenses, especially if you've got a doodle or other breed that has coarse, curly hair. Fortunately, if you have the time (and patience), you can cut the cost of grooming entirely from your budget by investing in a pair of the best dog clippers. Plus, it may be a more pleasant experience for your dog to be groomed from the comfort of their own home. It is common for a trip to the vet or groomer to stir up a lot of anxiety and stress for dogs, so you can avoid that by learning to use a professional clipper set at home.
And if you aren't looking for the best dog clippers for your own pup, maybe you are interested in going into the dog grooming business. We've included some dog clippers that are suited for professional groomers, too.
And while some of the best dog clippers cost upwards of $200, the investment can definitely pay off if you plan to use them long-term. You'll get your money's worth after a handful of times visiting your local groomer! However, you do not need to spend an arm and a leg on dog clippers if you don't want to. We have found some of the best dog clippers for all price ranges, starting as low as $17 and up to $175.
Whether you are looking to start up a side business grooming dogs or you simply want to take on a new DIY project and trim your pup's hair at home, we've got everything you need to know about the best dog clippers on the market.
9 Best Dog Clippers in 2019
Best Dog Clippers Reviews
The following best dog clippers have different features, attachments, speeds, and power settings, so you can choose one that is suited to your needs, whether you are a professional groomer or wanting to take on a new DIY project at home with your pup. You'll notice some are cordless clippers, others come with a brush, and some are quieter than others. But one thing remains true for each product – they are some of the best dog clippers on the market.
The oneisall Dog Shaver Clippers are the best option for anyone who is new to the world of grooming. They are extremely simple to use, and the package comes with everything you need to get started – clippers, a blade, a blade brush for cleaning, guards, scissors, a comb, and a charger.
The charging indicator light turns from red to green to let you know that the device has a full charge. Consumers rave about how these clippers are extremely quiet, which is essential when grooming easily-spooked dogs.
A verified customer of oneisall Dog Shaver Slippers left a glowing reviewing, stating: "These grooming clippers are amazing! I have a small yorkie who use to be a pound puppy, who was always scared when she got groomed because of the sound. But after purchasing these clippers my dog is extremely calm. They are indeed quiet, not extremely loud like most pet clippers. (It) makes giving her a haircut very easy. Beautiful set and comes with everything included. When I ordered it , it was really fast delivery and I am extremely happy with this order. If ever we need this product in the future I would buy it again."
With thousands of positive reviews on Amazon, it is no wonder the best dog grooming clippers are "Amazon's Choice." To see before and after photos of the dogs that have been groomed with these trimmers, check out the customer images in Amazon's reviews.
OMORC Dog Clippers are the best option for grooming dogs with thick coats. These cordless dog clippers include all the necessities: the clippers, blade, eight comb guides, scissors, a comb, and a blade cleaning brush.
One of the best features of the professional dog clippers is the steel blade. Many dog hair clippers are manufactured with a ceramic blade, which is not nearly as heavy duty and durable as stainless steel. No matter how thick and coarse your dog's coat, these clippers will be able to power through. Another great feature is that the blade is sharp, but has rounded edges to protect your pup from getting cut. Users love that these cordless clippers will not overheat, even though there the motor has a lot of power. They are very quiet, too.
They are also advertised as the "Best Christmas Gift for Pet Lovers," which is great timing for the upcoming holiday.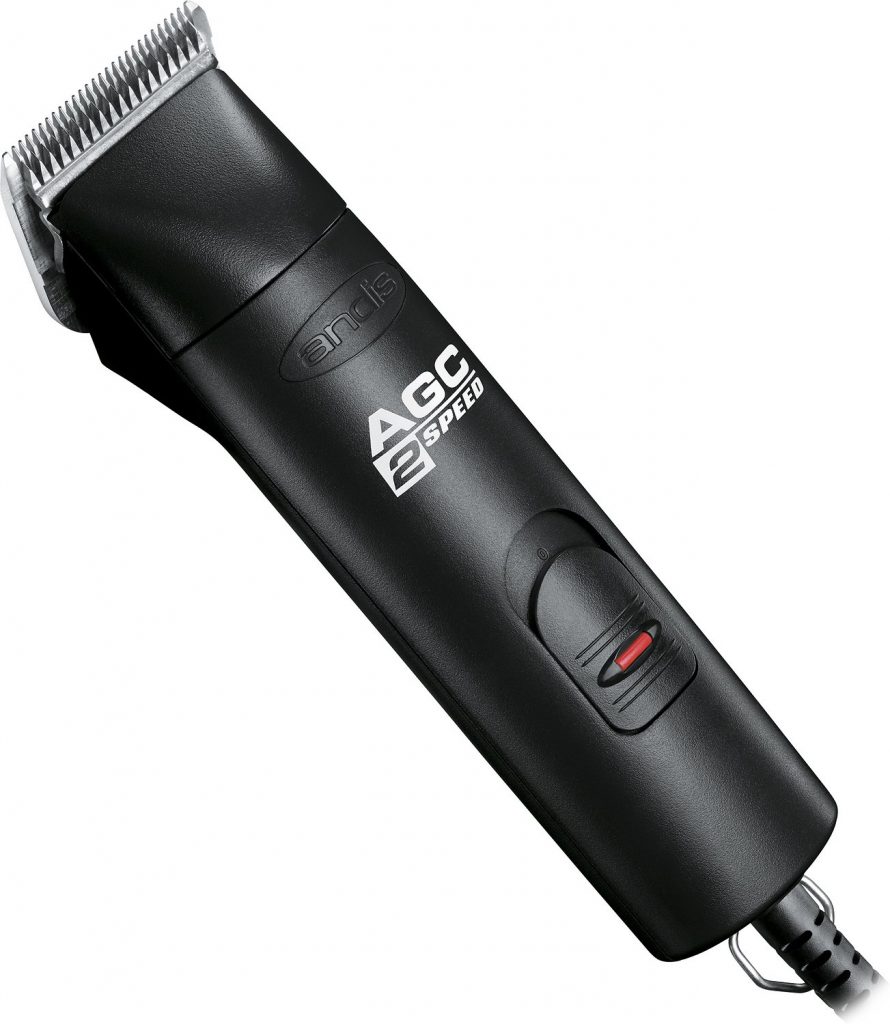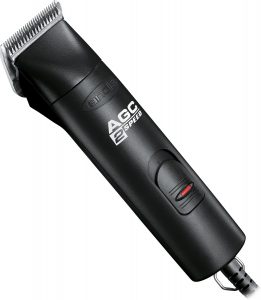 Andi's ProClip 2 is the best option for professional groomers. It does not come with any of the "frills" – just the clippers themselves. They have been called the "Best Clippers on the Market" and "Robust clippers that plow through anything" by consumers. Andis clippers can be used on breeds of all sizes and works on all hair types.
Andi's clippers are a bit more expensive than most others on this list, but there are several reasons for that. They are professional-grade, so they are intended for professional groomers, not necessarily for someone looking to groom their dog at home once in blue moon. They are light enough to hold all day long if you are grooming multiple dogs per day, and the cord is long enough for you to move around your workspace as needed.
Many people in professional grooming use these clippers at their place of business because they are long-lasting, powerful, and easy-to-use. You can certainly use them at home, but they are most popular in a business setting. If you use Andi's clippers, it is recommended that you also purchase the Andi's Cool Care Plus and Oil to help maintain and clean your blades. You can also buy additional steel or ceramic blades as needed.
You'll notice that the Peroom Dog Clippers look a bit different than the other ones on this list. That is because they are not for trimming a dog's coat, not entirely that is! This device was created to trim the hard-to-reach or sensitive areas, like the face, ears, paws, and bottom of a dog. The small, narrow blade allows you to cut hair in those places without risking injury or discomfort for your pup.
The set comes with all of the accessories you will need to finish off your pup's haircut, like a comb, blade cleaner and charger. A tool like this is especially useful for the colder months when you want to keep your dog's coat longer but still want them to stay trimmed around the face and paws.
On a less glamorous note, some dogs suffer from chronic stomach issues or parasites that cause them to go to bathroom frequently. Having a tool like this allows pet owners to maintain a clean, trimmed area around the dog's behind – which can make the world of a difference.
You have probably heard of the Wahl brand when it comes to clippers for people, but this product is exclusively for animal grooming. So, do their dog grooming clippers measure up to their barbershop ones? This product is one of the best on the market and is sold as "Amazon's Choice" at an affordable price. It is a classic, corded dog grooming set that comes with 16 pieces: scissors, multiple guards, trimmer, coat, apron, cleaning brush, blade oil, and an instruction book.
They are advertised as a "medium-duty" dog grooming clippers, so if you have a large breed or pup with a lot of coarse hair (like a Doodle), this Wahl trimmer may not be the best option. The Wahl dog grooming clippers can run through silky, smooth, wiry, medium, and curly dog hair on breeds like Yorkies, Cocker Spaniels, Dalmations, Great Danes, French Bull Dogs, and Poodles.
This product has a two-year warranty and 30-day satisfaction guarantee, though we think you will have an excellent experience if you choose to purchase it.
Oneisall sells another one of the best dog grooming clippers on the market! And while the two products we've mentioned on this list are from the same manufacturer, they are actually quite different. The exterior is a slick, matte black with gold trim. The blade is a combination of stainless steel and ceramic.
Just like the first oneisall product we mentioned, this one has two speed options, but this set goes the extra length by adding five speed tuning options. Instead of a USB port to charge these clippers, it comes with a standing base. The dog grooming clippers are lightweight (a must) and quiet (another must). It even has a battery power indicator on the front so you know how much battery life is left. Additional key features include: high power, low vibration motor, a stainless steel comb, stainless steel scissors, six different guards, and a four hour operating time.
Oneisall recommends giving the dog a bath first. Then, use the comb to get any knots out and the scissors to trim around the face and other small areas. Once the dog is dry again, then use the pet clippers to trim all over.
Gimars is another option that can cut through even the thickest of coats. Sold at an affordable price, these trimmers are newer to the market, but they are some of the best. The trimmers can cut through mats easily and will not pull at your pup's hair in the process. This pair also has a long battery life and charge station.
To make the grooming experience the best it can be for your pet, this set features two speed levels, four size guide combs (3,6,9,12 mm), and five adjustable cutting lengths.
A consumer that bought these trimmers on Amazon stated, "I used to take my dog for grooming every month for $50 – $60. After buying (these trimmers), I could do it at home, it was so easy to use and my dog looked like he enjoyed it more than a stranger did it to him. It went smoothly and clog no hair on the trimmer. It is one of the biggest investment I have made to my dog. Everyone should get one for your pet."
The Crenova professional dog clippers come with all of the key features you need to groom your pet at a super affordable price. It is the best option for consumers on a limited budget, giving you a total of 12 pieces in this kit, including two pairs scissors – one for thinning and one for hair cutting, a comb, nail clippers, nail file, four guards, a grooming glove, cleaning brush, and grooming oil.
These professional dog clippers are great for beginners. Other key features include three cutting speeds, lifetime replacement warranty, non-slip handle, long battery life, high power, quiet motor, and LED battery life indictor. The sharp, high-quality blade is made from ceramic titanium alloy, so it is hypoallergenic, a key feature no other option on our list has.
A pro tip from Crenova: apply the grooming oil to the blade before and after using it on your dog's coat to keep the blade sharp. Plus, if you ever have questions or concerns about your professional dog clippers, Crenova offers 24/7 support via email or phone.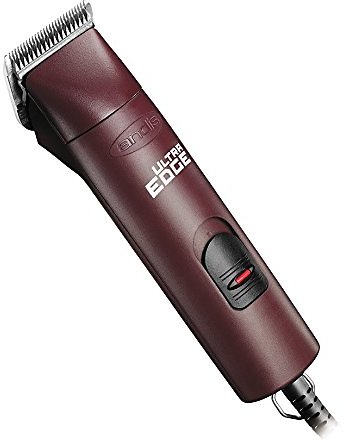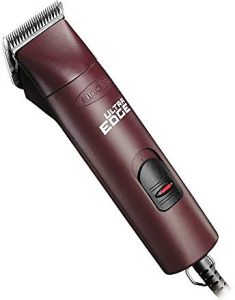 These dog grooming clippers from Andis are one of the best options for professional groomers. The dog grooming clippers come with a size 10 UltraEdge blade that is sharp, yet safe for animals.
Andis key features include:
Availability in five colors
Quiet motor
Can power through all kinds of pet hair and coats
Detachable blade
14′ cord
Shatter-proof exterior
Andis UltraEdge clippers are sold at an expensive price compared to the at-home pet clipper options we have on our list, but they are top-of-the-line, professional dog clippers, so you are getting your money's worth. The corded dog clippers come with a sharp stainless steel/ceramic blade, but there are more than 20 different sized blades on the market. Advertised as "super speed," you can expect Andis professional grooming product to help you get the job done quickly and provide a comfortable experience for the dog.
Best Dog Clippers Buying Guide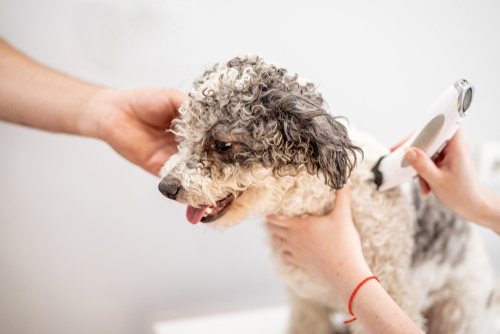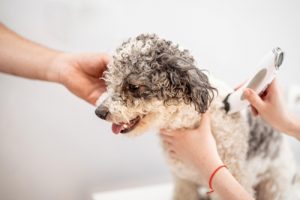 Now that you have gotten a chance to check out the best dog clippers on the market, let's take a look at the trimming process in detail. In this buyer's guide, we will answer frequently asked questions about how to use dog clippers, what to look for when you are buying them, how to choose the right ones for at-home use, and so much more.
How Do Dog Clippers Work?
The best dog grooming clippers will be made out of steel, while others are made of ceramic. But regardless of the material, all dog clippers serve the same purpose – to trim a dog's coat. Just like clippers for humans, dog clippers come with various guards and settings that allow you to choose how much hair you want to take off.
What To Look For in the Best Dog Clippers
There are tons of options out there when it comes to finding the right dog clippers. You will see options that come with blades that are fine- or skip-toothed, as well as some that are made from ceramic or steel. Choosing the right key features really just depends on what you are looking for and what kind of dog you are grooming.
Fine toothed blades are best for dogs with – you guessed it – fine hair. They also work great for dog hair that is softer in texture. Skip toothed blades, on the other hand, are best for thick, coarse fur on larger dogs. Skip toothed blades give the dog a natural-looking cut. Most clippers include steel blades because they are better quality, but ceramic blades can work for beginners looking to get their footing.
How To Use Dog Clippers
Dog clippers are used to trim a pet's hair to the desired length, based on with blade and guard you use. To get started with trimming the hair, you will first want to have the right clipper blades, as well as a dog comb and brush. Comb through their hair to get out any tangles, matting, and debris. If the clippers are cordless, be sure they are fully charged or have new batteries in them.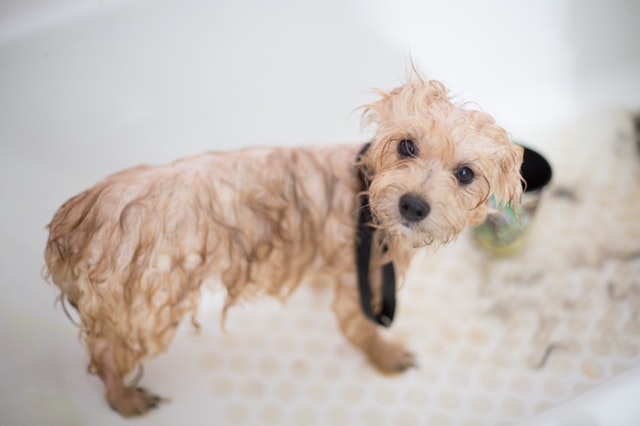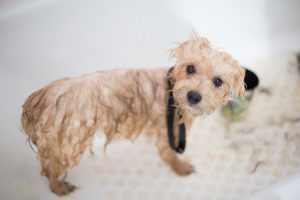 Read the directions that came with the clippers before you dive in. You will also want to ensure the dog is in a calm state. If this is the first time you are grooming your pet at home, you can turn the clippers on for a minute or two before you start clipping to see how the dog will react to the noise. Comfort them if the sound intimidates them, and only begin once they are ready.
You can begin on the dog's back, trimming the hair in the same direction the hair grows. The direction of the hair growth may alternate on different areas of the body, so keep this in mind as you move from the back to the legs, neck, and stomach. You may have to do some manual trimming with scissors around the mouth, nose, and eyes. It can be extremely difficult to use clippers that close to their face, and you want to avoid any slipups near sensitive areas if they suddenly move.
Talk to A Professional Groomer
If you are still unsure about how to use dog clippers, you can discuss farther with a professional groomer. Take your dog in for an appointment and ask plenty of questions. You can even ask to stay and watch how they use the clippers to get a better understanding before you start to do it yourself. It takes some practice, so go into the experience ready to learn and be patient.
What are the best dog clippers for home use?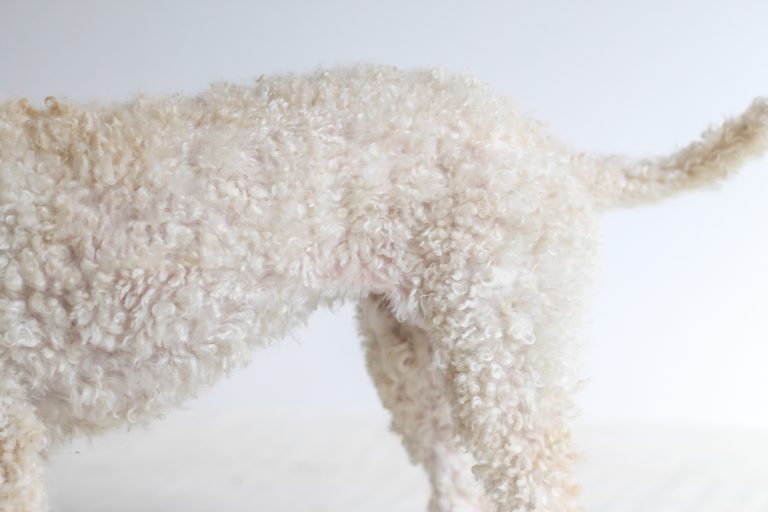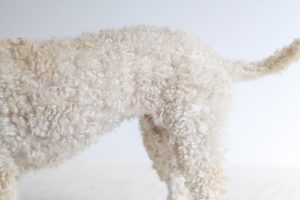 All of the dog clippers on our list above are suitable for at-home use. Our top choice for home use is the Oneisall Dog Shaver Clippers. They set you up for success by including accessories like scissors, a comb, and multiple guards in the package so you do not need to purchase any additional items along with this kit. It's user-friendly and provides a great experience for the dog with its quiet motor and smooth, comforting guards.
The price is also very reasonable, so we would recommend these dog clippers for home use to anyone who is just getting started with grooming.
Are dog clippers different from human hair clippers?
Yes, dog clippers are different from human clippers. They both serve the same purpose and have similar functions, but each device is made to deal with two completely different types of hair. Human hair clippers contain blades that are nowhere near as durable as dog clippers – because they do not need to be. Human hair is much finer than a dog's hair. The blades on human hair clippers are often closer together too, so if you tried to run them through a dog's hair, the hair would get stuck or the blades would break.
Dog grooming clippers are made from stronger materials that can run through even the coarsest, curliest dog hair.
Can you use human hair clippers on a dog?
There are a lot of similarities between human clippers and dog clippers, but this does not mean they are intended to be interchangeable. Human hair and dog hair is much different, especially with dogs who have coarse, curly hair. It is best to purchase a clipper set specially made for canines if you plan to groom your dog at home. If you use a set of human clippers, the hair will get stuck in it.
But what about using dog clippers for human hair? Maybe you do not own a pair of human hair clippers and are curious about the compatibility with your hair. However, it is never a good idea to use dog hair clippers on human hair. They are manufactured to give fur a choppy look, which can sometimes turn out to be uneven. It does not look uneven on dogs, though, because of how their hair lays. But if you used a pair of dog hair clippers on yourself, your hair would look ridiculous.
Which dog clippers are the quietest?
In our list of the best dog clippers, we wanted to include several options that are pretty quiet, but there is one option that stands out. Andis Two Speed Professional trimmers are nearly silent and will provide a stress-free experience for the groomer and dog. They offer high power, as well as high speed, plus dozens of other features. It is a hefty price, but if you are a professional, or you are serious about grooming your dog's hair at home long term, it is worth the investment.
Below is a list of Products reviewed in this article
Updated December 24, 2019