Best Dog Bones For Aggressive Chewers
One of the hardest parts of being a dog owner is teaching your pup to stop chewing on things they shouldn't be chewing on. You know the drill: you come home to witness your ornery dog looking guilty. They've torn up your favorite pair of shoes, a couch cushion…virtually anything other than their toys. So, why do dogs feel the need to destroy your belongings? There are multiple reasons why your furry friend might get their hands (and mouth) on household items. One reason is simply boredom. If a pup is alone all day while its owners are away, they can get stir crazy and start to chew on things in your home. Another (slightly more concerning) reason that dogs might chew on your items is because their stomach hurts. Dogs will chew on and swallow things they know are not their food in order to get themselves to throw up. And lastly, your pup may just be going through a bout of painful teething.
New and old dogs alike can fall into this habit, but fortunately for dog owners, there are products on the market to help with this destructive behavior. We've compiled a list of the safest, most-effective dog bones that can help with excessive chewing. If your pup is an aggressive chewer, check out these durable dog bones and toys.
7 Best Dog Bones for Aggressive Chewers for 2019
Dog Bones for Aggressive Chewers Reviews

This bacon-infused dog toy is perfect for dogs who are in the habit of destroying household belongings. Not only is it flavored with real bacon, but it is FDA approved so you can can be certain your puppy is safe. The bone comes in multiple sizes to accommodate different breeds. Order a large bone for dogs up to 25 pounds, a XL bone for dogs up to 40 pounds, a XXL bone for dogs up to 80 pounds, and XXXL bone for dogs up to 120 pounds.
With a 4.3 rating on Amazon, this toy is a consumer favorite. Customer Janece Pool stated in a review of the Pet Qwerks bone, "This bone is amazing! This is one of my Great Dane's favorites. He is a very picky dog and doesn't chew on bones very often, but this one was an exception! It is a durable bone and keeps him busy for quite a while. All of the large dogs in our household enjoy chewing on this bone. It is extremely durable and they've barely been able to put a dent in it!"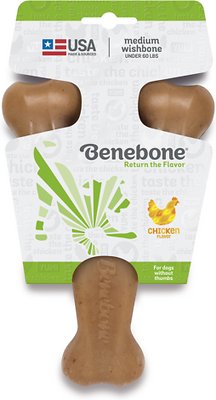 The Benebone Wishbone is also bacon-infused (major plus) and offers a lot of benefits. The shape of this bone is intended to give dogs the ability to hold it however they want because, well, they don't have thumbs. The toy is made in the United States, and Benebone is extremely transparent about how they source their materials, as well as what this bone's intended use is.
The company states, "Benebones are relatively hard and not edible. Ensure your dog has strong teeth and replace after reasonable wear." They say this because the bone is made out of nylon, which will indeed last a long time; however, it will not last forever, so the company wants to ensure your puppy does not swallow any pieces of it that break off after a while,

Dog owners are leery of bully sticks – and we certainly don't blame them. Studies have found that many companies producing bully sticks have added artificial preservatives – and even glue – to their products in order to make them last longer. But not all manufacturers play that game.
These dog treats from The Best Bully Sticks company are completely safe for your dog to go to town on. They are all natural and sourced from free-range, grass-fed cattle. The bully sticks are completely free of hormones, additives, and chemicals, too. They are inspected by the USDA and FDA-approved – so if all of that doesn't ease your mind, we don't know what will. Buy a pack of these and reap the benefits of a distracted pup.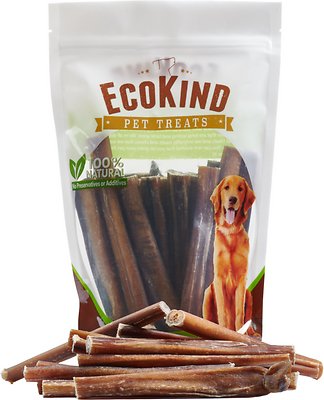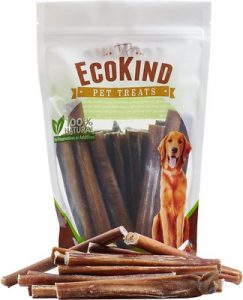 These dog treats are a hidden gem. Himalayan Gold Yak Dog Chews are made from Yak milk – that's it. They are free from chemicals, additives, and artificial ingredients. They are also gluten- and lactose-free. These treats are for indoor and outdoor use and will keep your pup distracted for hours.
Because the chews are natural and void of unhealthy ingredients, they are easy to digest and chew on. They soften as your dog works on them, so their teeth will sink right into them; this is especially perfect for dogs with sensitive teeth! On Amazon, you can order a one to five pound bag.
K9 Connoisseur sells one of the most durable dog bones on the market. The bones are made from free-range, grass-fed cattle and are naturally filled with marrow. These bones are hand-inspected so you do not have to worry about any dangerous breakage coming off of the bone. Indestructible dog toys like these are great for cleaning off your pup's teeth and gums. One of the best parts about this option is that once the inside of the bone is cleared out, you can fill it with peanut butter!
Bonus: K9 Connoisseur is currently offering customers 20% of their Amazon orders with the coupon code "K9BUNDLE" when you order three items or more.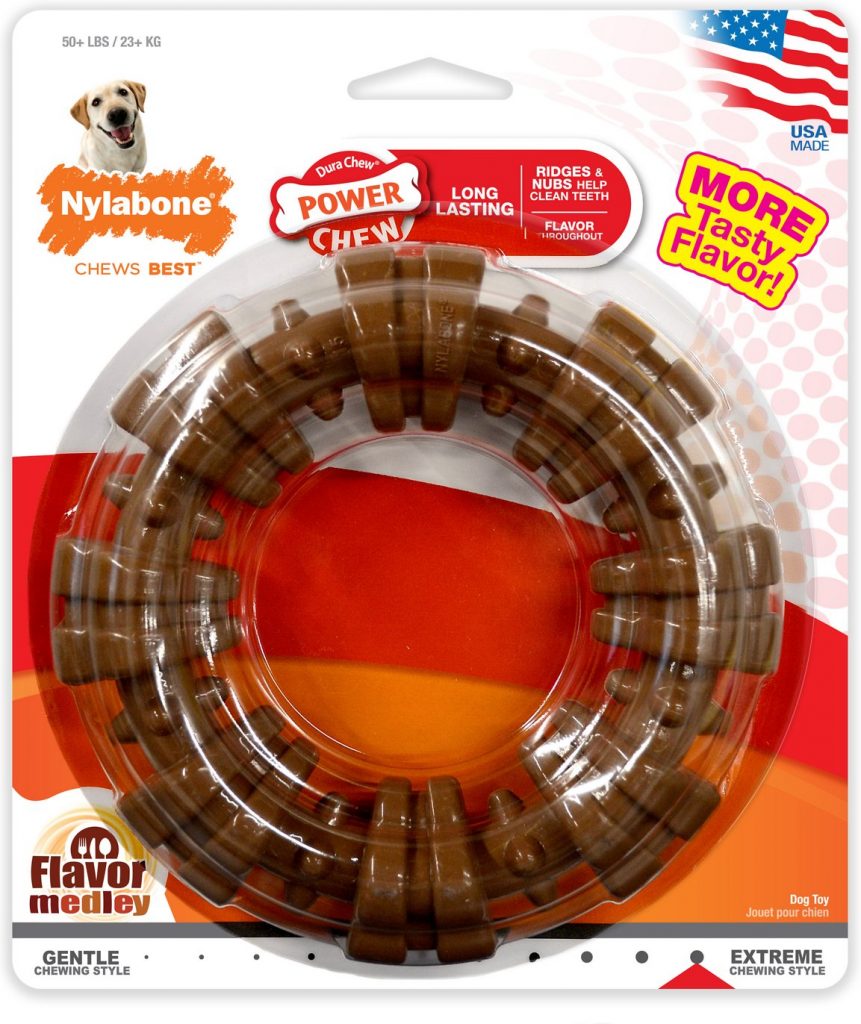 The Nylabone is a powerful chew toy for large dogs. These durable chews for dogs are available in multiple shapes and sizes, including an axis bone, textured ring, textured bone, and S-shaped bone. They come in bacon and bison flavors, as well. If you want to try more than one of these dog treats, Nylabone sells a variety pack with three different toys.
The ridges and edges on the chew toys help to clean a dog's teeth as they are chewing on it. The bones are made with an ergonomic design so dogs are able to hold the bones with their paws while they chew on them. They are a bit more expensive than the other products on this list, but they are long-lasting.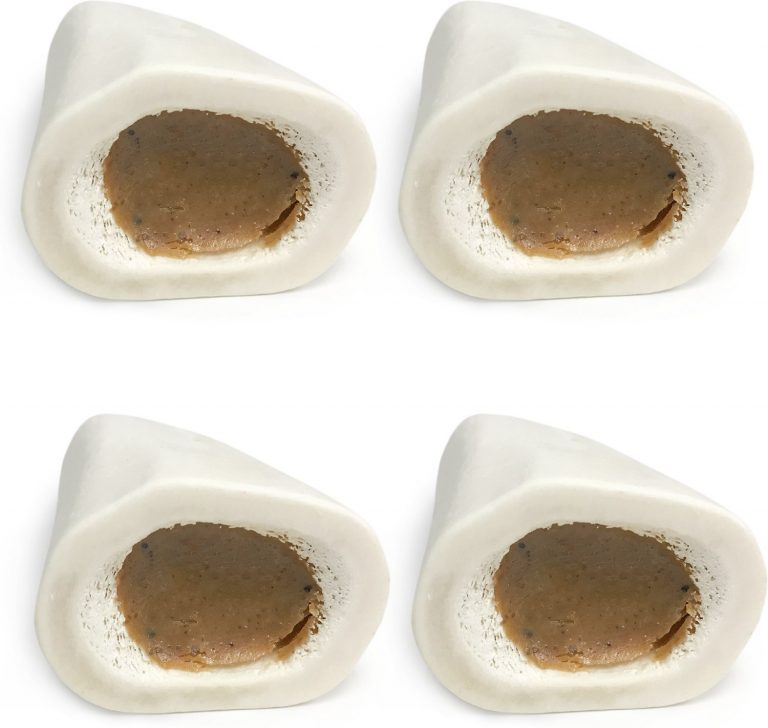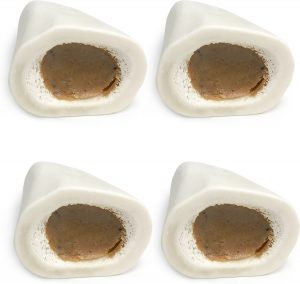 Jack & Pup sells bones, treats, and bully sticks for dogs that are natural, safe, and healthy. These filled dog bones are excellent for excessive chewing because they are durable. The filling is delicious and serves as a great distraction for dogs. Choose from Bacon & Cheese, Bully Stick, and Peanut Butter flavors. You can also choose a variety pack with all three. These bones are high in protein and made from grass fed, free range cattle.
While Jack & Pup calls this product the "busy bone," a previous customer says, "Finally a bone my dog couldn't chew up in minutes. This bone has lasted several weeks so far and (the) dog hasn't gotten tired of chewing it…must be that he likes to keep trying to conquer this bone."
Best Dog Bones for Aggressive Chewers Buying Guide
If you have a pet that wreaks havoc on your home with their teeth, take comfort in knowing that there are plenty of options on the market to help. From rubber toys to treats and bones, the pet care industry has developed incredibly durable products to stop the destruction once and for all. In this guide, we will take a look at what to look for in the best dog bones, what is safe, and what is not.
What to Look For in the Best Dog Bones for Aggressive Chewers
There has been extensive research done on dog food and chew toys in the past decade, and unfortunately, many products on the market are not as safe for your dog as they claim to be. You may recall the studies about rawhides coming out that exposed how dangerous they can be for your dog's digestive system. But before those studies, Americans all over the country were purchasing them at their local stores, convinced they were the next best thing.
You might have also heard about certain animal bones that can have troubling side effects. Some horns and antler treats that are sold as chew toys can end up breaking at very sharp angles. It has been reported that dogs have broken teeth and have swallowed those sharp pieces broken from a bone or antler, causing serious digestive issues.
Look for bones and toys that are FDA Compliant, as well as indestructible. If you give your pup a bone or antler to chew on and it starts to break, take it away from them and replace it with something else to prevent an unnecessary injury.
What are the safest chew bones for dogs?
If you are looking for a bone for your pup that is safe for them to consume, consider Jack & Pup's Bully Sticks. We know not all bully sticks are healthy and safe (some contain chemicals and dangerous additives), but this brand sources theirs from grass-fed, free range cattle. They are free from additives and chemicals and are low in protein and high in fat. Plus, they won't stink up your whole house after your dog starts chewing on them because of the company's manufacturing process. It naturally eliminates the odor.
What is the longest lasting dog bone?
While bully sticks are some of the longest lasting dog bones, we would also recommend a lamb horn chew. Lam horns have not been on the market for long, but they have seen tons of success when it comes to keeping dogs preoccupied and improving their dental health – not worsening it.
What is best for dog to chew?
The best product you can buy for a dog to chew on is the Benebone Real Flavor Wishbone Dog Chew Toy. It may not be an indestructible dog toy, but it is certainly a long-lasting, durable option that is safe for your dog to gnaw on. Plus, it is naturally flavored with bacon, so they are bound to love the taste. The shape of the wishbone is also great for teething.
Is chewing on bones bad for dogs teeth?
Dogs were created to chew and gnaw on things. It is their primal instinct and what helped them hunt and gather food before they were domesticated. Chewing on bones is not inherently bad for dogs teeth, as long as they are chewing on the right ones. As stated above, there are plenty of bones on the market that are bad for a dog's teeth. It is just a matter of providing them with the right ones that are soft enough and will not crack or chip their teeth.
Below is a list of Products reviewed in this article
Updated December 24, 2019