Authority Dog Food
Brief overview
Authority is an all-natural premium dog food brand created and offered by PetSmart. It's high in protein and fat, as high-quality meat is the first ingredient in each formula. Authority dog food is ideal for high-energy dogs, as well as other dogs with health-conscious owners.
Who manufactures Authority dog food?
PetSmart owns Authority, Inc., the company that manufactures Authority dog food. Founded in 1995, Authority, Inc. outsources some of their food production overseas, a fact we learned during the infamous 2007 melamine recall that involved a lot of other dog food brands. Authority, Inc. is not really clear on where they get their ingredients, but they're pretty adamant on the fact that they use all-natural, high-quality ingredients in their dog food.
Disclosure: Please note that this post contains affiliate links, which will direct you to our partner sites. If you purchase the pet foods we recommend through those links, we may earn a small commission – at no extra cost to you.
Authority Dog Food Recalls 2017
Please Read First: If this statement is still here we are actively watching for new recalls. Below you will find a history of recalls. If you would like to know as SOON as we find out about a recalls visit:https://dogfood.guru/dog-food-recalls/ and fill out our Recall Alert form. We will ONLY email this list in the event of an actual recall. Once we stop watching for Recalls I will remove this statement.
Latest Recalls List (From newest to oldest):
Even though PetSmart takes pride in the fact that they put high-quality ingredients in Authority dog food, they still used vegetable proteins from a company in China. We learned the sad truth in 2007 when those vegetable proteins were found to be contaminated with melamine. PetSmart had to recall the beef, chicken, lamb, rice, and gravy Authority dry dog food recipes.
Learn how we Monitor for Recalls: https://dogfood.guru/dog-food-recalls/
Authority Coupons 2017
No current coupons.
Despite the fact that dried and canned Authority dog food contains top-notch ingredients, it's still loaded with filler. Rice or rice gluten is usually in the top 5 ingredients. This fact alone puts Authority short of being a truly premium dog food brand. Not only that, but some dogs with allergies may react badly to Authority dog food, which contains corn, corn gluten meal, and eggs. If your dog has a protein-based allergy, it'd be a good idea to read the ingredients before putting your dog on the Authority diet.
However, Authority dog food contains absolutely no by-products. Pair that with the fact that meat is the first ingredient in each formula, and you've got a dog food brand that could be worth feeding your dog on a budget.
This reasonably-priced dog food brand is definitely one of the leading brands in its price range. According to Authority's website, this dog food brand promotes overall health in dogs, focusing on the skin & coat, teeth & gums, muscles, weight, heart, digestive health, and immune system. They claim that if you have your dog on the Authority diet for two weeks, you'll start to notice smaller and firmer stools. By the third week, your dog will have extra energy. The fourth week will bring a more radiant skin and coat.
How would you rate Authority?:
[gdrts_multi_stars_rating_auto series="gdsr-dog-food-reviews" style_size=40 style_type="font" style_font_name="star"]
Our review on the Authority's Senior with Real Chicken formula

: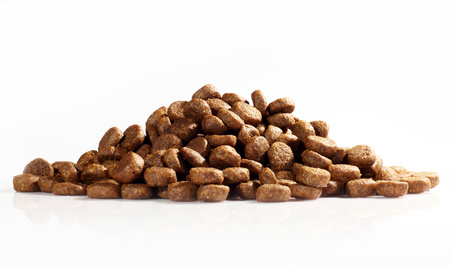 When it comes to senior dogs, a healthy diet is very important. Senior dogs require the right amount of crude protein, fat, fiber, and vitamins in order to stay in tip-top shape. Does Authority dog food have what it takes to keep your senior dog in great shape? Let's find out!
Authority's Senior with Real Chicken formula looks okay, but it's not the best thing you could feed your senior dog. Here's why:
Chicken is the first ingredient, but some dog owners may take issue with that because it contains mostly water and doesn't add much nutrient content once cooked.
However, the second ingredient is chicken meal, which is a significant source of glucosamine and chondroitin, two natural substances that will help maintain healthy joints in your old buddy. Also, the chicken meal contains higher levels of protein than fresh chicken and brings the crude protein level up to 23%.
The next six ingredients are just filler. Brown rice, corn, oat groats, dried beet pulp, corn gluten meal, and brewers rice don't offer much value to your dog's diet, so it's not an ideal formula to feed your dog if you want him/her to live out his/her golden days in good health.
Where can you buy Authority?
You'd think that Authority dog food is available exclusively at PetSmart, but that's not the case. It's actually available at PetCo and some independent pet stores. There isn't a store locator on Authority's website, so you will need to call your closest pet store to see if they carry Authority dog food.