Alpo Dog Food
Brief overview
When the word steak comes to mind, we humans think of Lawry's. When dogs hear "steak", they think of Alpo. A Purina dog food brand, Alpo is all about steak. This brand mostly offers canned dog food, but there are still two types of Alpo dry dog food.
Who manufactures Alpo dog food?
Nestle owns Purina, which manufactures Alpo dog food. The great pet food recall of 2007 revealed that Alpo dog food production was outsourced to Menu Foods, a contracted manufacturer that did limited business with Purina. Today, Purina is unclear on where or by whom Alpo dog food is manufactured.
Disclosure: Please note that this post contains affiliate links, which will direct you to our partner sites. If you purchase the pet foods we recommend through those links, we may earn a small commission – at no extra cost to you.
Alpo Dog Food Recalls 2017
Latest Recalls List (From newest to oldest):
2007 was a bad year for Alpo dog food. In this year alone, Alpo had to issue 18 different recalls on various types of canned dog food because an unnamed Chinese company shipped wheat gluten containing a toxic agent called melamine to Menu Foods, which then put that wheat gluten into Alpo dog food (as well as other Purina, Hill's, and Del Monte pet food brands).
Sign up for our Alpo Recall alerts here: https://dogfood.guru/dog-food-recalls/
Learn how we Monitor for Recalls: https://dogfood.guru/dog-food-recalls/
Alpo Dog Food Coupons 2017
---

Free Shipping on Orders over $35
Alpo Reviews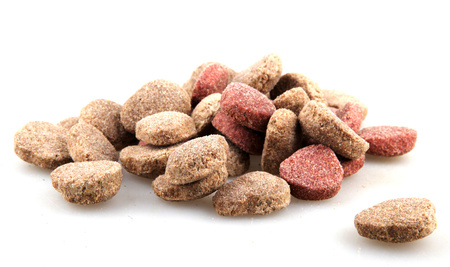 Steak is good, but by-products aren't good. Alpo dog food contains both. The top 5 ingredients are ground yellow corn, meat and bone meal, soybean meal, beaf tallow preserved with mixed-tocopherois, and corn gluten meal. As unhealthy as that sounds, Purina still makes sure Alpo dog food meets all of the AAFCO nutrient profiles. Still, some dog owners can't look past the fact that Alpo dog food is loaded with meat by-products, animal fat, dyes, filler grains, and preservatives that are extremely unhealthy for dogs.
Want to know something gross? When you see meat and bone meal in a food product, that means the food product contains dried animal tissues, including bone, hair, hoof, horn, hide trimmings, manure, stomach, and rumen contents. Guess what? Meat and bone meal is one of the top five ingredients in some Alpo dog food formulas.
Alpo dog food might be good for an occasional treat, but it shouldn't be part of a dog's daily diet. It's a below-average dog food product that doesn't contain much protein but is laden with carbohydrates and unhealthy grain fillers. Basically, Alpo is the McDonald's of dog food.
How would you rate Alpo:
[gdrts_multi_stars_rating_auto series="gdsr-dog-food-reviews" style_size=40 style_type="font" style_font_name="star"]
Our Alpo Gravy Cravers Review:
Alpo's Gravy Cravers product line looks simple and delicious. It's basically steak slathered in gravy. You can't go wrong with that, right?
Not quite. Despite the fact that the Prime Slices Gravy Cravers Homestyle Roast Beef Flavor in Gravy simply contains roast beef and gravy, it's still loaded with scary-sounding hard-to-pronounce ingredients. A few examples include ferrous sulfate, thiamine mononitrate, and pyridoxine hydrochloride. If that's not bad enough, beef is the 6th ingredient in the ingredients list, after soy flour and before meat by-products. The number one ingredient? "Water sufficient for processing". The next three ingredients? Poultry, liver, and wheat gluten.
The moisture level in this recipe is 82%, while only 8% of this formula consists of crude protein, and only 3% consists of crude fat. As for fiber? Only 1.5%.
Basically, Alpo's Prime Slices Gravy Cravers Homestyle Roast Beef Flavor in Gravy is a watered-down dog food product loaded with preservatives, meat by-products, and meat that is not beef. However, they kind of gave that away in the name: Roast Beef Flavor.
Where can you buy Alpo dog food?
Alpo dog food is available at nationwide department stores like Walmart, Safeway, and Target. It's also available at PetSmart, Petco, and other big-box pet stores. Use Alpo's product finder to see which stores around you carry Alpo dog food.
Updated February 26, 2014