Abady Dog Food
Brief Overview
Abady dog food is one of the truly polarizing pet foods on the market. A quick look at the ingredient labels for the foods causes many dog owners to scoff. But the food, which is very high in meat protein and fat and avoids vegetable matter, has numerous advocates who strongly defend it.
Who manufactures Abady?
Abady dog foods are manufactured by the The Robert Abady Dog Food Co., Ltd., in Poughkeepsie, New York. They have been manufacturing fresh frozen complete and balanced raw diets for dogs and cats for over 30 years. Abady says they were the first company in the U.S. to manufacture fresh frozen complete raw diets for pets.
Abady Recalls 2017
Please Read First: If this statement is still here we are actively watching for new recalls. Below you will find a history of recalls. If you would like to know as SOON as we find out about a recalls visit:https://dogfood.guru/dog-food-recalls/ and fill out our Recall Alert form. We will ONLY email this list in the event of an actual recall. Once we stop watching for Recalls I will remove this statement.
We also encourage everyone to bookmark the site for future reference.
Latest Recalls List: (From newest to oldest)
Abady wasn't affected by the 2007 pet food recalls. This is not surprising since they don't use many of the ingredients that are commonly used by other commercial pet foods. However, they did have a voluntary recall in:
June 2013 of two limited specialty products – Abady Frozen High Stress/High Performance Dog Food 3 lbs. And Abady Frozen Growth Formula for Puppies of the Large and Giant Breeds 3 lbs. The recall was due to a positive test for Salmonella by the FDA. The products were distributed through retails stores and kennels in Connecticut, New York, New Jersey, and Massachusetts. There were no reports of pet or human illness associated with these products.
Learn how we Monitor for Recalls: https://dogfood.guru/dog-food-recalls/
Abady Coupons 2017
No current coupons. Check back soon.
Abady Reviews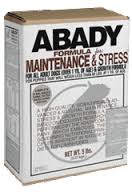 We that said Abady dog food is polarizing and it is. If you read comments about the food online, you'll notice lots of negative reactions from people who haven't fed the food based on the ingredients. On the other hand, people who feed Abady give it great reviews.
When looking at Abady's foods you need to keep in mind that not only are the foods fresh frozen, complete raw diets – and they meet AAFCO approval – but they are also "species appropriate" foods. You could probably compare Abady to Orijen in many ways, though most people would say that Abady's ingredients are not as exotic. Abady has an extremely high meat protein content – over 30 percent in every food and in some cases over 40 percent. All of the protein comes from meat and not from protein boosters like pea protein, eggs, or soybean meal. The foods also have a high fat content which partly comes from lard. People often look down on lard these days because of our own, human concerns about gaining weight, but real lard, from hogs, is an excellent source of fat for dogs. A cup of lard contains 2050 mg of omega-3 fatty acids and 20,908 mg of omega-6 fatty acids.
Abady's philosophy about making their food also includes avoiding vegetable matter in their foods and using very little fiber. They claim that vegetables and fiber essentially rush the food through the dog's digestive tract and prevent the dog from getting all the nutrients from the food that they should. The company doesn't seem to put much stock in the value of small stools. Eh, this approach sounds a little doubtful and there are some good reasons why dogs need some fiber and vegetable matter in their diet (we believe), but this is the thinking at Abady. It's true that most raw and fresh frozen food companies add very little vegetable matter to their foods in general. As you might imagine, their foods contain very low amounts of carbohydrates with 20 percent being typical. Their foods are also very calorie-dense. Most of their foods have around 750 calories per 8 ounce cup. This is about twice as many calories as a dry kibble usually contains per cup of food. You would only have to feed your dog very small amounts of this food to meet his caloric needs.
According to Abady, they use no artificial preservatives, no artificial colors or flavors, no soybeans, no beet pulp, no charcoal, and no downed animals in their foods. All of their meats are from USDA-inspected meat sources.
We won't get into their feud with the Whole Dog Journal. The company goes into great detail on their web site about why they avoid soybeans and some other ingredients that contain saponins. This is interesting information, especially if you breed dogs.  At least some of it is, indeed, backed up by other sources.
We will point out that some dog owners will object to Abady's use of chicken by-products and beef meat & bone meal. We don't know if the menhaden fish meal used in their foods contain ethoxyquin or not. Some people might also object to torula yeast because it's a flavor enhancer and closely related to MSG (monosodium glutamate). On the whole, however, most of the ingredients in Abady foods look good and the company has a definite philosophy about fresh frozen raw diets. If you like this species-appropriate food philosophy, there are plenty of people who like this food and you might consider trying it for your dog. Just be careful to observe the feeding guidelines and don't overfeed your dog since the foods are very high in calories.
How would you rate Abady?:
[gdrts_multi_stars_rating_auto series="gdsr-dog-food-reviews" style_size=40 style_type="font" style_font_name="star"]
Our Abady Maintenance/Stress & Growth Formula for Toys Review: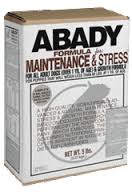 If you're looking at an Abady food for the first time you'll probably be a little shocked when you check the ingredients and nutritional information for Abady Maintenance/Stress & Growth Formula for Toys.
First, this food is formulated for all life stages, so it is intended for growing puppies as well as adult Toy dogs. Second, you'll notice that the ingredient list includes lots of meat proteins and fat, only rice as a grain, and no vegetable matter. Even for a fresh frozen raw food, this ingredient list is unusual.
As for the guaranteed analysis, on a dry matter basis the food contains 49.7 percent protein, and 12.8 percent fat, and 22 percent carbohydrates. That's an exceptionally high amount of protein but most experts say that there's no such thing as too much protein unless your dog has a specific kidney problem that makes it inadvisable for him to eat high amounts of protein. The fat and carb percentages, by contrast, as quite low. Abady has used animal feeding tests to gain AAFCO approval. Feeding trials are supposed to be a better measure of how animals react to and digest food than nutrient profiles. This food has 735 calories per 8 ounce cup.
The first five ingredients in this food are chicken meal, white rice, Menhaden fish meal, chicken by-products meal, and lard. Chicken meal and Menhaden fish meal are good sources of animal protein, though we don't know if the fish meal is preserved with ethoxyquin (an artificial preservative) or not. Chicken by-products meal is considered by most people to be less desirable than chicken or chicken meal. This is because of its AAFCO definition: "the ground, rendered, clean parts of the carcass of slaughtered chicken, such as necks, feet, undeveloped eggs and intestines, exclusive of feathers, except in such amounts as might occur unavoidable in good processing practice." Dog owners should keep in mind that AAFCO (and government manuals in general) can make anything sound terrible. Lots of people who feed raw diets give their dogs raw chicken necks and other parts that would be included in chicken by-products meal so it's probably a little questionable to criticize the use of chicken by-products meal in a fresh frozen raw dog food. Nevertheless, many people will consider chicken by-products meal a less desirable ingredient here.
Abady generally avoids the use of most grains but they do use white rice here. White rice doesn't contain a lot of nutrients and it's mostly made up of carbohydrates. Even the densest meat diets need something to break up the protein.
Should you feed this food to your Toy dog? It's very calorie-dense so you could feed your dog several very small meals per day. The food could fill up a Toy dog without the dog having to eat very much, which is a benefit for a very small dog. Some tiny dogs might enjoy eating a fresh frozen raw diet that relies on meat – more so than a kibble diet, for example. As for feeding this dog to Toy puppies, Abady warns that you shouldn't feed it to puppies before they are six weeks old. They also state several times that it's important to keep water available at all times when feeding this food. The food is low in moisture and and fiber so water in the diet is particularly important.
Not everyone is going to like this food but if you like the idea of a fresh frozen complete raw food diet for your Toy dog, then you might like this food.
Where can you buy Abady?
Abady dog food appears to be a brand that is most often found in New England but you can buy it online at Amazon.com, DoggieFood.com, and from individual distributors in different parts of the country.