What Is The Best Dog Food for a Pitbull?
The Ultimate Pitbull Food Buyer's Guide
Pitbulls, or Bully breeds, as they are known to those who love them, often have an undeserved bad reputation.
The term "pitbulls" can be confusing. It's often a generic term for one of several kinds of dog that were once used in England and elsewhere for bear and bull baiting. This kind of dog fighting was outlawed in England in 1835. This left dogs with some admirable qualities without a job. By breeding the dogs to have a gentler temperament, these Bully breeds can be very good companion dogs today.
Breeds sometimes referred to as "pitbulls" include the Staffordshire Bull Terrier, the American Staffordshire Terrier, and the American Pit Bull Terrier. Some of the Bull Terrier breeds and the Bulldog are also included at times. Even mixed breed dogs are referred to as pitbulls. All of this means identifying a pitbull or making food recommendations can be a bit convoluted, but we're up for the challenge.
Quick Look : Top 3 Best Dog Foods for Pitbulls

---
20% Off + Free Shipping
on dog food for Pitbulls
Pitbull Diet & Nutrition
Skip to Full Brand Reviews 
Most of the dogs identified as pitbulls weigh between 30 pounds (small female) and 70 pounds (large male). They are strong, muscular, agile dogs. They tend to be naturally stocky but they are only a medium-sized breed in terms of weight. According to breeders and owners, it's not uncommon for dogs of this type to have some problems with allergies, especially dogs with white coats and pink skin. Food allergies can be an issue for some dogs. Most pitbulls enjoy their food, sometimes too much, so it's important to measure how much you are feeding instead of leaving food sitting down all the time. Otherwise your dog can become overweight or obese as he gets older which can lead to health problems.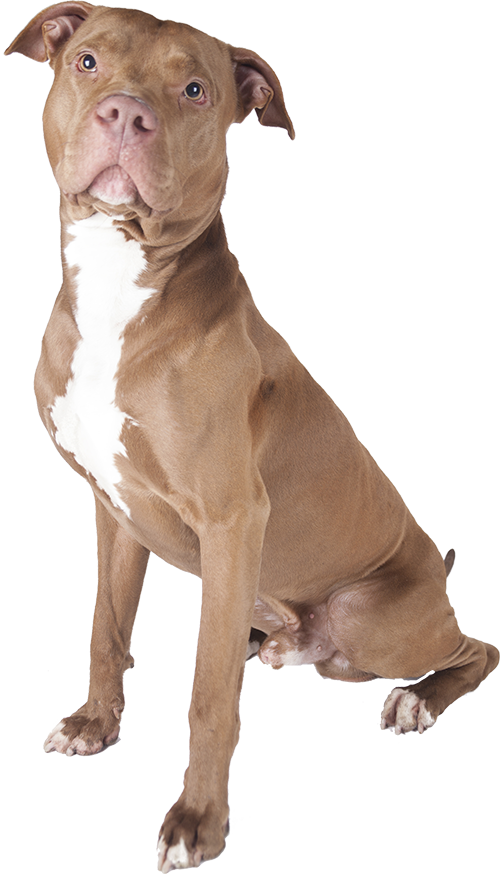 While many people associate pitbulls with dog fighting or aggression, the truth is that these dogs are usually very gentle, affectionate, enthusiastic, and playful. They can be great clowns. But they do expend a great deal of energy, especially as growing puppies and as young adults. They require a diet that features good quality protein. According to the National Research Council of the National Academies, an active adult pitbull-type dog weighing between 30 and 70 pounds requires an average daily caloric intake between 922 and 1740 calories. Dogs that have been spayed/neutered, or that are older, may need fewer calories. Some dogs may need more calories depending on their level of activity and their individual metabolism. Growing puppies, for example, consume more calories than adult dogs and so do young adult dogs. A young adult pitbull-type dog weighing between 30 and 50 pounds needs between 993 and 1451 calories per day.
Protein is very important for your pitbull's diet. The Association of American Feed Control Officials (AAFCO) recommends a minimum of 22 percent protein for growth (puppies) and 18 percent protein for maintenance in adult dogs. Most good quality dog foods will exceed these percentages. Fat is an important source of energy for dogs and should comprise at least 8 percent of the diet for pitbull puppies and 5 percent of the diet for adults.
Some of the pitbull breeds can have a tendency toward arthritis, hip and elbow dysplasia. Even though pitbulls are usually considered a medium-sized dog, it can be a good idea to feed a pitbull puppy a puppy food designed for large breed growth. These puppy foods pay special attention to the calcium to phosphorus ratio in the food and keep the protein and calories slightly lower to encourage slow grow. Research has shown that this is better for breeds that are inclined toward arthritis and joint problems later in life. You can start making the switch to feeding your puppy an adult dog food once he has reached about 90 percent of his adult size.
Feeding Your Pitbull
The Bully breeds usually enjoy their food so you won't have to work too hard to get your dog to eat. You might have to try to keep your dog from overeating at times. We suggest that you measure the amount of food you feed and only leave the food sitting out for about half an hour. Then put it away. This should give your dog time to eat. If you free feed and leave the food sitting out all the time dogs usually nibble which puts on pounds. Most adult dogs do well eating two meals per day. Puppies can usually eat three meals per day until they are old enough to start eating on an adult schedule.
Pitbull Health Problems
Because some of the pitbull breeds can have allergies (usually skin allergies), some owners and breeders recommend feeding a food that is free of some of the most common food irritants such as corn, soy, and wheat. These are not the most common dog food allergens – beef, dairy products, and chicken, for example, lead to more food allergies for dogs than corn, soy, and wheat. But many people like to avoid soy and grains in dog foods. There are many good grain free dog foods today if you want to feed one to your dog.
You've been reading a lot. Take a break and enjoy this funny Pitbull video!

Ingredients to Look for and Some to Avoid
Protein and fat are the main ingredients in the diet for a pitbull, as they are for most dogs. However, not all protein and fat are the same. It's important that the protein and fat in the dog food comes from good sources if you want your dog to be healthy. For example, both shoe leather and steak contain protein but there's a big difference in the nutrition they provide.
Ideally you will select a dog food that features two or three meat proteins in the first several ingredients listed. Both whole meats and meat meals are good sources of protein. Whole meats refer to foods such as whole chicken, beef, fish, and lamb. However, whole meats contain normal water moisture. Animals are about 70 percent water, just as humans are. If the water from these meats were removed, they would normally be placed lower on the ingredient list since the dog food label is required to list food by weight before cooking. Some people don't like meat meals as much as whole meats but they are a concentrated form of the meat in which the moisture has been removed. They contain several times as much protein as a whole meat. Meat meals are usually quite acceptable as one of the first ingredients in a good quality dog food. They are used by many good dog food brands.
Dogs also need good sources of fat. Some vitamins are only fat-soluble and your dog needs them in his diet. But fat, like protein, varies in quality depending on the source. You should look for named fat sources such as chicken fat. Other named fats also provide needed nutrients such as fish oil which can provide omega-3 fatty acid to help keep the skin and coat healthy.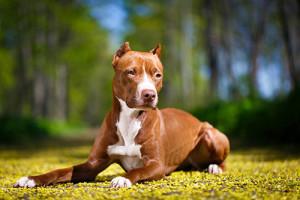 If you want to avoid corn, soy, and wheat in your dog food, your pitbull may still be able to eat rice, barley, oats, or some other grain or cereal. Or you can choose a dog food that uses an alternate source of carbs such as sweet potatoes. You don't have to feed a dog food with an excessive percentage of protein but it's a good idea to keep the carb percentage low to moderate. An active, muscular dog like the pitbull breeds do well with moderate levels of protein, and moderate fat.
Recommended Dog Food For Adult Pitbulls
Keep in mind that every dog is an individual so he may or may not like some of these foods. Just as with humans it takes some trial and error before you find a good option that your dog actually likes to eat. If your Pitbull doesn't like one of these foods, he might like another food in the same product line, made with a different kind of meat or other ingredients. Just make sure that the guaranteed analysis and nutrient percentages are similar.
1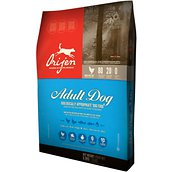 Orijen is hands down the most respected and high quality dog food on the market.
Sure there are a lot of other good dog foods on the market, but you'll be hard-pressed to find another that contains the amount of care and preparation that goes into every bag.
We recommend Adult Dog for a lot of breeds, but it checks a lot of the specific boxes for Pitbulls. High protein content from quality sources, grain-free for allergy prevention, and lots of essential vitamins and minerals for optimum health are a few of the pros you get with Orijen.
The only real reason you shouldn't buy this food is price. Unfortunately it's one of the more expensive dog foods on the market and comes close to matching the cost per pound ratio of most wet foods. We found it for $78.99 for a 28.6lb bag at Chewy.com which comes out to $2.76/lb. Pitbulls eat about 2 cups of food per day (depending on weight) which equates to about a pound of food. That means that one bag of Orijen dog food should last your Pitbull about a month. If you have the budget for Orijen you shouldn't need to look anywhere else.
2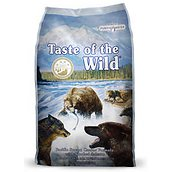 By far the fan favorite of online dog foods, Taste of the Wild hits the sweet spot where quality and price come together.
Taste of the Wild's Wetland dry dog food is Made in the USA and, like Orijen, is also grain-free. This is great for Pitbulls with skin allergies or sensitive stomachs as it removes a lot of the typical ingredients that cause itching and bloat.
Their 30lb bag retails (on sale) for $43.54 at Chewy right now which is the best online price we could find.
Given that you're not sacrificing that much quality for this brand we think this is a very affordable dog food for your Pitbull that is a suitable competitor to Orijen for close to half the price.
3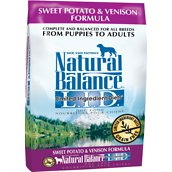 Dog food consumers rave about Dick Van Patten's Natural Balance dog foods. Most of the options are for all life-stages meaning puppies and adult dogs and have limited ingredients which help stop skin allergies in Pitbulls.
Natural Balance is Made in the USA and is available commercially as well as online.
We found it at Chewy.com on sale for $53.86 for a 26 lb bag. That puts it at $2.07/lb which comes in right between Orijen and Taste of the Wild. Give this one a try if your dog has especially sensitive stomach issues or itches and scratches a lot.
Best Dog Foods for Pitbull Puppies – Same Great Brands
Pitbull puppies sure are so cuddly and cute. It's hard to believe they grow up into such powerful and energetic dogs.
To get them to that point it's best to start off with a puppy food that is rich in quality protein sources with essential nutrients to promote good health. Each of the options below has that and more.
Best Dog Foods for Senior Pitbulls – The Top Dog
Eventually that pit of yours gets older and with it may come changes in dietary needs. Depending on your dogs activity levels you may need to find a food that reduces fat content. If they're still active and energetic then you shouldn't be concerned with their fat intake.
It's also important to introduce a food containing omega-3 fatty acids from fish sources, antioxidants and probiotics as well as chondroitin and glucosamine for joint maintenance with your aging Pitbull. If the food you're feeding your senior pitbull doesn't contain these elements then you can always add supplements to their daily routines to make sure they're getting a proper intake.
With our recommendation for Orijen Senior Dry Dog Food you're getting a healthy mix of all of the above plus quality meat proteins and fresh fruit mixed in. Although pricey it's best to support your Pitbull with quality food throughout their later years or you may see an increase in vet bills and declining health.
Best Dog Foods for Pitbulls with Skin Allergies – The Top Dog
Pitbulls are prone to skin irritation so for a lot of dog owners a low-ingredient diet free of soy, corn and wheat is a good option. Beef and Chicken are also common irritants that cause scratching and nibbling at the skin. That's why we like Solid Gold Holistique for pitbulls with skin allergies. It's made with quality fish meal and is highly recommended amongst owners who have seen success in leaving their Pitbull itch-free.
Best Dog Foods for Pitbulls with Sensitive Stomachs – The Top Dog
Many breeds of dog are susceptible to food sensitivities that affect their digestion and excretion. Pitbulls are no different.
For the most part dogs with sensitive stomachs can be easily cured by finding the right dog food. Sticking to a low or limited ingredient diet food with as few menu items as possible reduces the chances of your dog having a bad reaction.
We like Wellness Simple for that reason and more. It's grain-free, gluten-free, GMO-free and contains no soy, corn or wheat. Customer reviews are great on this product and it's pretty affordable in comparison to some other brands.
Best Dog Foods for Overweight Pitbulls – The Top Dog
Weight management is important when we're talking Pitbulls. It's also referred to as low-fat or weight control dog food, but in general foods containing less fat content and fillers is what you're looking for.
Our recommendation for Wellness Core Reduced Fat is designed to help heavy pitbulls keep the weight off in just that way. Being low-fat, gluten-free and grain-free also means this food works great for pits with food allergies and sensitive stomachs. Not to mention this formula checks the box for no corn, no wheat and no soy fillers which a lot of pet owners like to see. The quality of the protein is never an issue with Wellness so you're good there too.
Fortunately, the Bully breeds usually enjoy their food so you won't have to work too hard to get your dog to eat. You might have to try to keep your dog from overeating at times. We suggest that you measure the amount of food you feed and only leave the food sitting out for about half an hour. Then put it away. This should give your dog time to eat. If you free feed and leave the food sitting out all the time dogs usually nibble which puts on pounds. Most adult dogs do well eating two meals per day. Puppies can usually eat three meals per day until they are old enough to start eating on an adult schedule.
---
If you liked this article then it makes sense that you'd want to read our take on top-rated large-breed puppy foods. If not then take a peak at our breakdown of types of dog food and how they're manufactured.
What do you feed your pet Pitbull? We'd love to hear which brand(s) have or haven't been working for you in the comments below!
Updated September 23, 2015