Merrick Dog Food
Brief Overview
Marketed as "premium natural dog & cat food worthy of a fork", Merrick is a top-notch pet food brand that contains human-grade ingredients. Based in Amarillo, Texas, Merrick Pet Care, Inc. was founded by Garth Merrick in 1988. Today, it remains a family-owned business that offers a simplistic, yet innovative selection of all-natural dog food recipes.
Who manufactures Merrick?
Merrick Pet Care, Inc. owns and manufactures Merrick dog food. All of their recipes are produced in their test kitchen and plants in Hereford, Texas. They use locally-sourced ingredients, and their kitchens and manufacturing facilities are upheld by strict FDA standards.
Merrick Recalls 2017
Please Read First: If this statement is still here we are actively watching for new recalls. Below you will find a history of recalls. If you would like to know as SOON as we find out about a recalls visit:https://dogfood.guru/recalls and fill out our Recall Alert form. We will ONLY email this list in the event of an actual recall. Once we stop watching for Recalls I will remove this statement.
We also encourage everyone to bookmark the site for future reference.
Despite the fact that Merrick dog food is produced in as few steps as possible to retain the most nutritional value, this brand has been involved in several pet food recalls.
August of 2012, when Merrick withdrew their All-Natural Beef Chew dog treats.
In August 2011, Merrick got involved in another recall. This time, it was for the Doggie Wishbone pet treats, also due to the possibility of contamination of Salmonella.
The next one was in January 2011, when Merrick pulled their Junior Texas Taffy dog treats off of the shelves due to another possible Salmonella contamination.
January 2010, when Merrick issued a voluntary recall for their Beef Filet Squares because of a possible Salmonella contamination (this product was recalled again in July of 2010 for the same reason.)
Learn how we Monitor for Recalls: https://dogfood.guru/monitor-dog-food-recalls/
Merrick Dog Food Coupons 2017

---
20% Off First Order + Free Shipping
on Merrick Dog Food
Merrick Reviews
It's clear that Merrick really values the quality of their ingredients. Here's why:
All of their ingredients are locally sourced from farmers and ranchers. They don't use anything from overseas.
Merrick produces all of their dog food in-house. Not only that, but they also have strict standards well-defined by the FDA. They take pride in the fact that they have their own five-star kitchen and manufacturing facilities.
Merrick dog food contains absolutely no artificial flavors, colors, or preservatives. Everything is 100% real, including the meat.
Merrick dog food has no by-products or fillers.
The #1 ingredient in every recipe is always USDA-inspected deboned meat or fresh produce.
They spent years conducting nutrition research and taste tests to develop a collection of top-notch recipes that contain as few ingredients as possible. Their ultimate goal is to provide dog food chock full of uncompromised nutritional benefits, and the way to achieve that is to manufacture it with as few ingredients and steps as possible.
We're impressed with the quality of Merrick dog food. After analyzing the ingredients and reading up on their good manufacturing practices, we can safely deduct that they walk the walk and talk the talk.
How would you rate Merrick?:

Our review on Merrick's Grain-Free Real Duck & Sweet Potato recipe:
Merrick's Grain-Free Real Duck & Sweet Potato recipe was created for dogs of all breeds and life stages. Of course, Merrick rates it 5 stars. Let's find out if this rating is justified.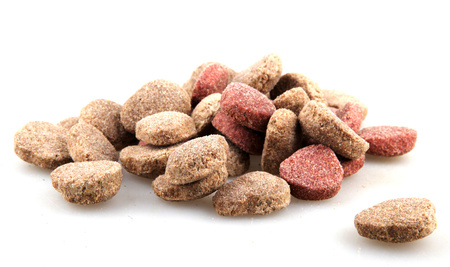 Merrick's website describes this grain-free formula to be "ideal for all life stages and all breeds of dogs with a focus on naturally nutrient rich ingredients to support overall health."
The first ingredient is deboned duck, which can raise some concerns because it's mostly water that contributes no nutritional value. However, the next two ingredients are turkey meal and salmon meal. Turkey meal provides a concentrated amount of protein, and salmon meal is a great source of Omega 3 fatty acids. Sweet potatoes and peas come next, and then there's lamb meal, another source of protein. According to Merrick's website, the fresh produce, which includes sweet potatoes, peas, blueberries, and apples, in this recipe offers the vitamins, minerals, and antioxidants your dog needs.
By the looks of the ingredients list, we concluded that there's truth behind Merrick's claims of keeping their ingredients list as short and wholesome as possible.
So, yes, we think that the 5 star rating is justified.
Where can you buy Merrick?

---
20% Off First Order + Free Shipping
on Merrick Dog Food
You can snatch up a bag of Merrick dog food either online or at a brick-and-mortar pet store. Some websites that carry Merrick dog food include Wag.com, Pet360, PetFoodDirect, and even Amazon. You can also head over to Petco or an independent pet store to pick up some Merrick dog food. This store locator will help you find the nearest store that carries this premium dog food brand.
Merrick Dog Food

,