Homemade Dog Food
While many concerned dog owners have opted for the highest quality commercial pet foods, and other owners have chosen to feed their dogs a raw food diet, some pet owners prefer to feed their dogs a homemade cooked diet. There are pros and cons to feeding a homemade cooked diet.
Pros
You choose all of the ingredients yourself so you can select good quality ingredients. You know how the food is made and what you are feeding your dog.
Food is cooked so there is less likelihood of bacterial problems with Salmonella or other bacteria that can sometimes occur with a raw food diet.
Homemade diets can be better for dogs with food allergies or certain other health problems since you can tailor the diet to your dog's specific needs.
Many people who feed homemade cooked meals to their dogs believe that their dogs are healthier. They will tell you that their dogs have good skin and coat, bright eyes, white teeth, and don't have to deal with ear infections and some of the other problems that sometimes plaque dogs that eat commercial kibble. Their dogs usually produce less waste, too.
Cons
Many people find cooking at home for their dog to be an arduous chore, especially for large dogs. It takes planning and you often have to buy food in bulk which can lead to storage problems.
Dogs who eat homemade meals require a lot of variety in their diet so they will have all of their nutritional needs met. You can't simply make the same meal all the time.
Dogs who eat homemade meals usually need supplements added to their diet or at least a good multivitamin so they will be assured of getting all of their vitamins and minerals. Some dogs who eat homemade meals can have nutritional deficiencies.
It's often a good idea to consult a canine or veterinary nutritionist if you are thinking of cooking at home for your dog. These experts can help you put together some recipes for your dog based on his age, physical condition, health, and other factors so his meals will contain all the nutrition he needs.
Recommended Reading
Feed Your Best Friend Better: Easy, Nutritious Meals and Treats for Dogs
By:
Rick Woodford
Synopsis:
An essential nutrition book for dogs with guidelines, charts, tips, and more than 85 easy recipes for healthy dishes to help your best friend live a long and happy life.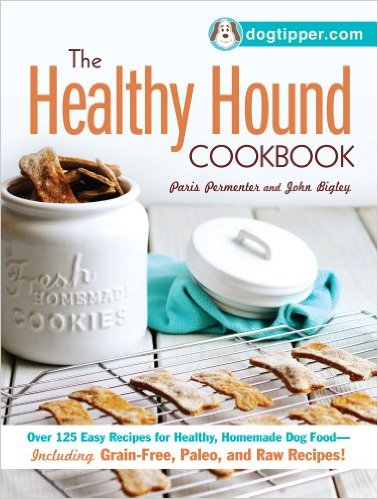 Recommended Reading
The Healthy Hound Cookbook
By:
Paris Permenter & John Bigley
Synopsis:
125 simple, all-natural recipes to create healthy treats and meals for your favorite canine.
None of these points is meant to discourage you from cooking at home for your dog. Many people cook at home for their dogs and they have dogs who live long, healthy lives. But it does take some practice and some effort to prepare meals for your dog, just as it takes some work to cook healthy meals for a family every day.
Now that all the scary warnings are out of the way, you should know that cooking for your dog is not nearly as terrifying as some people assume. Yes, your dog needs to eat a complete and nutritionally balanced diet. So do humans. But, humans don't get all of their dietary needs met in every single meal. For instance, you probably eat several meals per day with different kinds of food at each meal. You might have pizza for dinner one night and a steak for dinner the next night. You might have a salad, drink some milk, eat some cereal or eggs for breakfast. Over the course of 2-3 days, you will eat a variety of foods that will help you meet all of your nutritional needs.
In the same way, your dog doesn't have to have all of his nutritional needs met in every meal he eats. Instead, it's important for your dog to eat a variety of foods in his diet so he can have his nutritional needs met over a few days. If you feed your dog meals that include a variety of meat proteins and other foods, your dog will get all of the amino acids, fat, and vitamins and minerals he needs in his diet spread out over time. This is true for adult dogs eating a maintenance diet. If you have a puppy (especially a large breed puppy) or a dog with a health problem, then these dogs require much more specific diets. They aren't able to cope with variation in daily nutrition the way a healthy adult dog does. You will need to follow different diets for these dogs.
Basic Ground Rules for Homemade Diets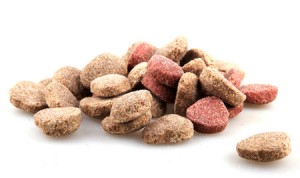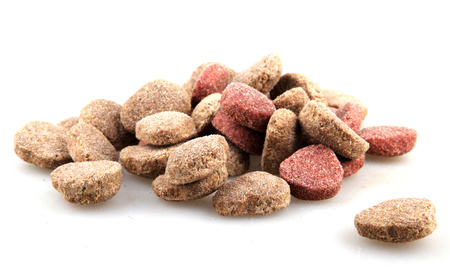 The first rule for feeding your dog a homemade diet is to have him checked out by your veterinarian. Any time you plan to make a major change in your dog's diet, whether it's changing from kibble to home cooking, or changing to a raw food diet, or if your dog needs to lose a noticeable amount of weight, for example, you should make sure he's in good health before you begin. Big changes in your dog's diet can affect your dog's health so make sure that your dog doesn't have any lurking health problems that might be worsened by a sudden change in diet.
Many veterinarians are opposed to feeding dogs anything other than a commercial dog food so don't be surprised if your veterinarian dislikes the idea of preparing your own food for your dog. They have some justification for this view. Many of the dogs they see in their exam rooms who have been fed a homemade diet either end up overweight or malnourished. This is often because owners feed their dogs table scraps or whatever they are cooking for themselves and think that this is good nutrition. Your dog won't be healthy or fit if you simply give him half your steak and some vegetables from your plate. You can't just cook a chicken for a dog and expect him to be healthy. There's more to cooking at home for your dog in order for him to have his nutritional needs met.
If you have a vet who is supportive, that's great. But if your vet is not supportive, make sure your dog is healthy and then agree to disagree. Good vets are hard to find so if you like your vet, try to stay on good terms with him or her. They can monitor your dog's health the next time you visit.
The second rule for cooking at home for your dog is to have some kitchen space and cookware. You'll need the same kind of pots, pans, mixing bowls, and other things that you need when you cook for yourself (assuming you cook for yourself and you don't just throw something into the microwave). Most people need a little freezer space. This helps when you buy a few pounds of meat and don't want to cook it all at once; or when you cook a lot of food and you want to freeze small portions for later meals. You can often save money if you buy meats in larger packages (especially if they're on sale) and freeze them to use later.
Many people wonder if they can use the same pots, pans, bowls, and so on that they use for their own food to make their dog's food. Absolutely yes! You will be cooking with food you buy at the grocery store and other places where you buy your own food. In most cases you could eat the food you will be making for your dog. The whole idea of cooking at home for your dog is to feed him a healthier diet that uses ingredients that are as good as the foods you eat.
The third rule for cooking for your dog is to follow good kitchen practices. Most home kitchens would fail a sanitation test but if you're going to be preparing food for your dog, you need to be mindful of bacteria and other germs. You'll be handling raw meat and other raw foods. Some dogs can become sick from these bacteria. People are even more susceptible than their dogs to bacteria like Salmonella, E. coli, Campylobacter, and Listeria.
You should familiarize yourself with the food safety information on a site such as this one provided by the USDA. There are other sites with similar information for how to keep your kitchen clean and your food safer. The basic things you need to remember are:
Wash your hands often with warm soapy water;
Wash surfaces (such as counters and cutting boards) often;
Keep foods separated to avoid spreading bacteria from one food to another, and do not place raw foods next to cooked foods;
Cook foods to their proper temperatures;
Refrigerate foods promptly.
Read the entire food safety site for more tips to help you keep food safe.
These are the basic things you need to do and consider before you begin cooking for your dog: make sure your dog is in good health by having your veterinarian check him out; get your kitchen ready; and remind yourself of the good kitchen safety practices you need to follow.
Next up – what to feed your dog.
The Homemade Diet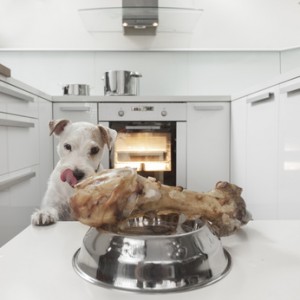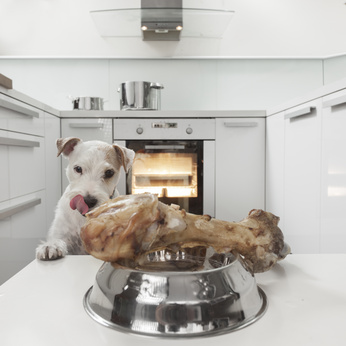 Your dog's homemade cooked diet needs to include a number of different kinds of foods in order for him to get the nutrition he needs to be healthy. Technically speaking, dogs really only need protein and fat in their diet. Obviously, your dog eats more than meat and fat. For one thing, if you feed your dog only protein and fat in his diet, you'll find that he won't get enough calories each day unless you feed him so much fat that it would be unhealthy. While dogs are carnivores, and many people like to feed a carnivore or prey model diet (more on this in the raw food section), they have many of the habits of scavengers and omnivores. They are able to eat more than just meat. They have lived with humans since before we developed agriculture – at least 12,000 years ago. Dogs have perfectly adapted while living with us to be able to digest starches that wolves can't digest as well. Even wolves eat some vegetable matter but dogs are able to eat some vegetables, fruits, and, yes, even some cereals and grains and get nourishment from them. The homemade cooked diet includes these foods.
Foods to include in your dogs homemade cooked meals:
Sources of Protein
These sources of protein should make up about half of your dog's daily diet.
Meat (without bones). Meat refers to poultry, red meat such as beef and lamb, and pork. You can feed other meats such as rabbit and venison, for example, if you have a source for them, but it's not necessary to feed exotic proteins unless your dog has allergy issues or health problems that require them. Remember that heart is a meat (muscle), and you can often find it for sale at the grocery store, though people often consider it an organ meat.
Fish can be a good alternative to meat. Use it in some of your dog's meals for variety. Canned fish such as pink salmon, jack mackerel, and sardines, packed in water, not oil, are easy to find in stores, and they're great for your dog. Most dogs love fish. It's perfectly fine to give your dog these fish right from the can. The small bones will not  hurt your dog because they have already been sterilized and heated under high pressure to the point where the bones have practically disintegrated. However, if you are cooking fish yourself, you should remove the bones. Do not feed your dog raw Pacific salmon, trout, or related species since they can contain harmful parasites. Be sure to cook these fish well.
Any dog eating a homecooked diet needs to have organ meats included in his meals. Organ meats are packed with vitamins and minerals. They are very rich so you don't have to give your dog a lot of organ meat but it is important that your dog get small amounts daily or every couple of days. Beef liver is an excellent choice but you can also feed chicken or pork liver for variety. Don't forget about kidneys and other organs. Dogs usually love organ meats.
Eggs and Dairy. Eggs are a terrific source of protein and they are considered to be high in bioavailability so your dog can make use of nearly all of their nutrients. Some people like to give dogs an egg each day or you can add an egg as needed to round out a meal if you want to add a little more protein. Don't worry about avidin in eggs. If you give your dog whole eggs there is enough biotin in the eggs to counteract the avidin. Dairy products are also a good source of nutrition for dogs. Plain yogurt is a good probiotic and a good source of calcium. You can also add some cottage cheese to your dog's meals. Some dogs have problems with lactose intolerance but most dogs can eat yogurt, cottage cheese, and Cheddar or Swiss cheese without a problem. It's usually best to steer clear of milk since it will provoke a reaction if your dog is lactose intolerant.
Fruits and Veggies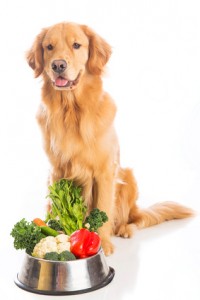 While strictly speaking your dog probably doesn't need fruits and vegetables, they are a good source of fiber as well as many of the nutrients your dog needs in his diet. They can also provide some carbohydrates that help stretch your meal budget. Plus, many dogs love fruits and vegetables and have their favorites.
Starchy Vegetables. Starchy vegetables include foods like potatoes and sweet potatoes, winter squash, and other, often very colorful veggies.
These vegetables are often calorie-dense but they're very nutritious, and they tend to be high in fiber. Some of them also contain lots of beta-carotene (especially the orange and red vegetables) and other antioxidants. Your dog doesn't need to eat a lot of these starchy vegetables each day, especially if his weight is a concern, but adding some to his meals on a regular basis is a good way to add nutrients and healthy calories.
Non-Starchy Vegetables and Leafy Greens. Other vegetables are also good for your dog. Green beans, broccoli, cauliflower, peppers, cucumbers, carrots, mushrooms, and celery all make good additions to your dog's meals when cooked. Leafy greens like spinach are also good in small amounts. (Too much spinach, too often, can lead to calcium oxalates that produce kidney or bladder stones. Other problem foods include peanuts, chocolate, dairy products, calcium supplements, vitamin C supplements, and tea, though most dogs are unlikely to drink tea and they shouldn't eat chocolate.) These non-starchy vegetables and leafy greens tend to be low in calories and you can usually feed your dog as much as he likes in his food. Fed raw, some of them will cause gas, but this isn't usually a problem when the food is cooked. Cruciferous vegetables such as broccoli and cauliflower are known to suppress thyroid function in humans if they are eaten in great quantities but it's not known if this is true for dogs. If you are using some of these tougher veggies in your dog's meals, such as broccoli or carrots, you will need to make sure the vegetables are softened before you give them to your dog. Otherwise, dogs don't get much nutrition from the food because of the tough cell structure of the vegetables. They will pass through your dog's gastrointestinal system and be pooped out largely undigested. Puree these vegetables or cook them long enough to make them tender.
One vegetable to avoid is onions. They can be harmful to dogs due to their possible connection to hemolytic anemia. Garlic is a member of the same family as onion but, given in small amounts, it's not harmful to dogs. Many people give garlic for various herbal and home remedies. It's a good idea not to give your large doses of garlic, just to be safe.
Many people are surprised to discover that dogs enjoy fruits. If your dog has never had fruit before he may be hesitant at first but most dogs quickly start eating foods like strawberries, blueberries, bananas, apples, and many other fruits. You do need to avoid pitted or stone fruit such as peaches, avocado, and the like. However, it's fine for your dog to eat the flesh of the fruit as long as you remove the stone in the center. You should avoid feeding your dog grapes and raisins. These foods can be toxic to dogs though no one has yet determined exactly why.
You don't have to add a lot of fruit to your dog's food but fruits have lots of good vitamins and they can be high in antioxidants that are beneficial for your dog. If you look at the label of a good dog food you'll often find that it includes blueberries and cranberries for their antioxidant properties.
Cereals and Grains
While many dog owners are choosing grain free dog foods these days, if you want to cook at home for your dog, you will probably want to give serious consideration to including cereals and grains to your dog's diet. Unless your dog has an allergy to a particular family of grains or a health problem that would preclude him from eating cereals and grains, they can be a good way to add calories to your dog's diet without overloading him on fats. Obviously, you don't have to use low quality grain leftovers or the ubiquitous corn and wheat that are often found in lower quality dog foods. You can use some of the same cereals and grains that you use in your own meals such as quinoa, couscous, oatmeal, barley, brown rice, and whole grain pastas. Naturally, cereals and grains need to be cooked well which helps dogs digest them.
The carbs in your dog's diet come from starchy vegetables and from the cereals and grains. These foods shouldn't make up more than half of your dog's meal.
Supplements
When you start cooking for your dog you begin to appreciate how difficult it can be to feed a "complete and balanced" diet. You start to understand why dog food companies include some of the ingredients they use in their foods. Even if you feed a variety of meats, organ meats, eggs and dairy, and give your dog some fruit and veggies, along with some healthy grains, it can be hard to get everything balanced. Some vitamins and minerals are harder to supply through foods than others. And dogs need a regular amount of some vitamins and minerals regardless of what they eat. That's why supplements are often recommended for dogs who eat a homemade diet.
Here are some supplements you will want to add to your dog's diet:
A good multivitamin. If you are cooking for your dog at home a good multivitamin is essential. Add it to your dog's meal once a day. There are lots of good brands. It's fine to give your dog a multivitamin for humans. Centrum or One-A-Day are good brands.
Since you are feeding your dog meat without bones, your dog will be getting a lot of phosphorus in his diet. The calcium to phosphorus ratio is very important for your dog's health so you'll need to add calcium to his diet. Don't count on him getting enough calcium from dairy products. You will need to add between 900 and 1100 mg of calcium per pound of food fed for an adult dog. This is based on the weight of the food after it is cooked. Some people like to dry and grind eggshell to get calcium (½ teaspoon of ground eggshell per pound of food). You can also use one of several forms of calcium that you can buy at the drugstore such as calcium carbonate, calcium lactate, or calcium citrate. It's best to avoid calcium supplements that contain vitamin D since it will encourage calcium absorption and your dog would potentially be getting too much calcium.
These are the two supplements that everyone who cooks for their dog needs to use. However, there are other supplements that some people like to use. It's up to you if you want to use these supplements in your dog's diet. You might want to experiment with them and see if they benefit your dog.
Green Blend. Many people who feed a homecooked diet like to add a green blend to their dog's food. A green blend is basically a mixture of kelp and alfalfa, though they sometimes have some other ingredients depending on which brand you purchase. Green blends are good for supplying trace elements and the kelp supplies iodine. If you feed your dog a wide variety of vegetables, especially leafy green vegetables, you may not need a green blend. You can add some iodine to your dog's diet by adding a little iodized salt to his food.
Nutritional or Brewers' Yeast. You will often see these ingredients included in some dog foods. Nutritional or brewers' yeast are good sources of B vitamins. They also contain choline which has recently (1998) been recognized as an essential nutrient.
Vitamin E. Many people supplement their dog's diet with vitamin E. It's another good antioxidant and it may have neurological benefits among other things.
Fish Oil. Fish oil such as salmon oil or in the form of gel tabs is often a good addition to a dog's diet. Fish oil is a good source of omega-3 fatty acid, especially fish oil from cold water fish such as salmon.
These supplements can be considered optional but, as mentioned, it's a good idea to try them out and see if they benefit your dog. There are other supplements you can try but these are more or less basic supplements that are easy to obtain and most people agree about their usefulness.
Proportions and How Much To Feed
Now that you're familiar with the kinds of foods you will need to feed your dog in order to cook for him at home, the next questions people usually have are how much they need to feed of each item; and how much they need to feed their dog in his meals.
About half of the food in your dog's meals needs to be made up of protein sources. This includes not just meats but also organ meats, eggs, and dairy. It's fine to substitute fish for meat a couple of times per week.
This protein should include about 5 percent liver or kidneys. This doesn't sound like much but these organs are very rich and nutrient-dense. Don't give your dog lots of liver or kidneys at one time. They will almost certainly give him diarrhea.
Be sure to feed your dog a variety of meats – chicken, beef, pork, turkey, lamb, canned mackerel/salmon/sardines. Different meats (and fish) have different amino acids as well as vitamins and minerals so feeding a variety will help your dog get all the nutrients he needs. Don't forget that eggs and dairy are also sources of protein and include them in your dog's meals.
The remainder of the diet (half or less) will be vegetables, cereals and grains. Remember that these foods need to be cooked. Some vegetables can be steamed or pureed, but they need to be softened so your dog can digest them and get the nutrients from them. If you don't like the idea of feeding your dog cereals or grains, you can increase the vegetable content of the meals. However, keep in mind that carbs serve some good purposes in the diet. Complex carbs, such as those found in oats, barley, rice, and pastas, digest slowly and help your dog feel full between meals. You can achieve the same thing with some vegetables high in carbs such as potatoes and sweet potatoes, but if your dog can eat grains without a problem, there's no particular reason to avoid them. Barley, oats, and other whole grains are also excellent sources of dietary fiber.
Then add the calcium (900-1100 mg per pound of cooked food) to the meal. Add a multivitamin per day. And add any other supplements you plan to use after cooking. That's basically all you need to do to cook for your dog.
How Much To Feed?
This is always a big question for anyone who is starting to cook for their dog. Basically, you can figure that a dog will eat about 2-3 percent of his body weight per day, but this is just an estimate. You may need to adjust the amount you feed once you see how your dog is doing on the diet, so be flexible.
Let's say that your dog weighs 100 pounds. Then he would eat 2-3 pounds of cooked food per day. If you feed your dog twice a day, you would divide these 3 pounds of cooked food into two feedings, so you would give your dog 1.5 pounds of food at each meal. In order to prepare his meal, you would need to work backwards from this projected amount and figure out that you would need to have 1.5 pounds of protein and 1.5 pounds of vegetables/grain/fruit (you don't need to add a lot of fruit).
It helps if you have a kitchen scale for measuring food amounts. Some recipes will call for grams and others will use ounces/pounds.
There are a number of good books about cooking for your dog with a variety of recipes. Do be careful about using recipes you find on the Internet unless you know the source since many of them are not carefully balanced for a dog's nutrition.
Sample Homecooked Meals
Here are some recipes for homecooked meals from some excellent writers about dog nutrition. This should give you an idea about how to make some good meals for your dog.
Sample Meal from FoodPolitics.com
Homemade Dog Food
From "Feed Your Pet Right," by Marion Nestle and Malden C. Nesheim (Simon and Schuster; $16.99). This recipe, adapted from guidelines in "Small Animal Clinical Nutrition" (2000), feeds one 40-pound dog. Amounts should be adjusted to the size, age and condition of the animal.
8 ounces cooked grains (rice, cornmeal, oatmeal, pasta and other grains and cereals)
4 ounces cooked meat (beef, lamb, pork, chicken, turkey, fish)
2 teaspoons fat (beef fat, chicken fat, vegetable oil, olive oil, fish oil)
1 ounce raw or cooked vegetables
1 teaspoon bone meal (or dicalcium phosphate supplement)
1/4 teaspoon potassium chloride supplement (salt substitute)
1 human adult daily multi-vitamin, multi-mineral tablet
Instructions: Combine the ingredients in a bowl. Mix well and serve.
Sample daily cooked diet: (From Mary Straus)
8 to 12 ounces lean muscle meat/heart/fish/leftovers
1 to 2 ounces liver or kidney (daily or every other day)
1 to 2 eggs (daily or every other day)
1 to 4 ounces yogurt, kefir or cottage cheese
2 to 8 ounces cooked grains, pasta, or starchy veggies (no more than half the diet, max)
Any amount of green or other non-starchy vegetables
1000 mg calcium (for example, 1/2 tsp ground eggshell, or 1 tsp Animal Essentials Natural Calcium, or 1 tsp bone meal that has 1000 mg calcium per teaspoon)
Cooked Diet Dog Food Recipe, From Monica Segal*
Cooked diet for a 58-62 pound dog to be fed over a 1-week period – unless noted otherwise
Provides approx. 1170 kilocalories that break down as 35% from protein, 18% from carbohydrates and 47% from fat, or stated another way, 100 grams of protein, 52 grams of carbohydrates and 60 grams of fat.
80 oz ground beef, 15% fat, broiled (discard drippings)
3 1/4 oz beef liver, braised
7 large eggs, hard boiled, peeled
7 oz green beans, boiled and mashed
21 oz sweet potato, baked (discard skins)
1 1/2 cups long grain brown rice (dry amount)
6 tsp. NOW calcium carbonate powder
5 tsp bone meal
5 mg zinc
1 capsule Multi Mineral Complex
2 tsp kelp
1 capsule vitamin E 200 IU
1/4 tablet vitamin B compoundper day
3 capsules (500 mg each) wild salmon oil per day
500 mg taurine per day
*Be sure to read this entire entry as it contains important information about this recipe and how to feed it to your dog.