What Can I Feed My Dog Instead of Dog Food?
You're looking in your cupboard and you start to panic, there's no more dog food. The first question that comes to your mind is What can I feed my dog instead of dog food? There's a short and a long answer to this question. You can feed your dog almost anything you eat that is healthy. This post investigates the long answer to this question and it shares information you should know in case of a flood emergency.
Quick post summary
You can feed your pet with other foods apart from dog food
All of the ingredients you need should already be in your home
You can feed the dog with home food for a few days
These alternative foods are not long term solutions
You should know basic macronutrients and micronutrients before feeding your dog
Some foods that are detrimental to your health are also bad for your dog (eg. sugar)
How to feed your canine when there's no more dog food
You need to know that dog food is complete in its nutritional profile. It contains protein, carbohydrates, fibers, vitamins, and minerals. Some of these foods have good content of fat as well. The main mistake you can make by feeding something else to your dog is by solely concentrating on one of these nutrients. The main nutrients (also known as macronutrients) include protein and carbohydrates. Dogs also need secondary nutrients (called micronutrients) such as minerals and fiber found in fruits and vegetables.
Here are a few general dog food cooking tips
You can serve diverse food to your dog as plainly or you can cook it. Regardless of your choice, you still need to ensure you take a cautious approach. While you might think extra salt is going to make a meal more delicious for your beloved pooch, things are a bit different as it can hurt its health in the long term. You should also refrain from adding sugar and spices to the food.
Avoid extra salt and sugar
Dogs don't need seasoned food. While the special dog food tastes delicious for your dog, this is mainly due to its natural ingredients such as the meat or the fish in it. Multiple dog care organizations advise against the use of salt in dog food.,
Exclude processed meats and processed foods
Your aim should be to offer the best food you can afford for your dog. The meat you choose should be at least 80% lean. To avoid upsetting the digestive system, it's best to cook the meat first. For example, you can boil or grill chicken to offer your dog one of the healthiest sources of white meat.
Take potential dog allergies and health problems into account
Kidney problems are normally associated with low-fat diets. You will need to adapt the food if this is the case of your dog. Most health problems that can be aggravated by food are caused by meats. If you know your dog has certain health issues, you need to ask your vet about the best foods not to aggravate it or to interfere with possible allergies.
Proteins
Vegetables
Carbohydrates
Chicken

Beef

Turkey

Lamb

Fish

Beans

Eggs

Peas

Celery

Pumpkin

Corn

Potatoes

Rice

Pasta

Oatmeal

Lentils

Bread
Cooked foods your mutt can eat instead of dog food
With these ingredients in mind, you can prepare tasty foods for your dear pet. Not all of them are going to be well-received and you can juggle ingredients or add tasty sauces to make the food more flavorsome.
Keeping in mind that you need to combine all of the 3 categories of nutrients listed above, you can add various types of foods to your dog's bowl.
Recipe 1
This recipe is centered on beef as a protein source. You can boil or grill chopped beef thoroughly before adding it to a mixing pot. You then boil 2 cups of healthy brown rice which you drain and add to the mixing pot. You can add a bit of the leftover water from the beef's boiling pot to the mixing pot and a few tablespoons of healthy oil and mix it well before giving it to your dog. You can also add peanut butter if your dog is really hungry.
Recipe 2
This recipe is centered on grilled chicken breast. You need to grill 2 small pieces of chicken breast and cut it up in eatable pieces. You can also boil 2 eggs which you cut into smaller pieces as well. For the source of carbohydrates, you can use 2 slices of bread which can be dipped in water for a second to give it a bit of moisture. All of these ingredients are mixed and served at room temperature (avoid giving your dog hot food off the stove).
Refrigerated foods your dog can eat
You might not have any cooking time on your hand. In such cases, you can check your fridge to see what your dog could enjoy the most. Play Greek yogurt is always a healthy option. You can add sugar-free cereals to the yogurt for a bit of fiber. Any cooked eggs or leftover cooked potatoes work as well. Canned food is another great option you might store in your fridge. Tuna is among the canned foods your dog is going to love.
Most Popular
Taste of the Wild Wetlands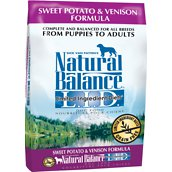 Natural Balance
All of the ingredients to avoid
There are thousands of foods and spices you shouldn't feed your dog. We're going to look at a few of them. Any drinks that boost energy levels such as coffee or tea are not a good idea. Fatty foods such as avocados are not the best for your dog either. You certainly want to avoid all nuts even if you cook the food in advance.
Most importantly, you should stay clear of spices. Paprika and pepper are certainly going to make your dog walk away from the feeding bowl. Curry, salt, sugar, oregano, dried parsley, and other similar spices are also not an option.
Final considerations
The American Kennel Club also tells us more about the importance of water in dog food. Your pet should have plenty of water alongside the food you prepare for healthy digestion.
Most importantly, you need to have patience when transitioning back to regular dog food. Once your stock of dog food is replenished, you need to gradually add it to your pet's diet to avoid gastrointestinal problems. You can start by adding ¼ dog food to the cooked food on the first day. You then proceed to ½ dog food on the second day. By the third day, your dog can already consume ¾ dog food mixed with cooked food. A full transition should last between 4 and 7 days.
We tend to overlook our dog's nutrition as we're worried about the problems in our own lives. But we could avoid these issues by simply stocking one more bag of dog food as a backup. When the first bag is empty, you should know to go out and purchase another one.
This is where you avoid asking questions such as What can I feed my dog instead of dog food?. Regardless of how you measure your ingredients, you won't have the time to prepare balanced meals every day as your pet could enjoy from dedicated dog food.