What Are Some Dog Food Allergy Symptoms?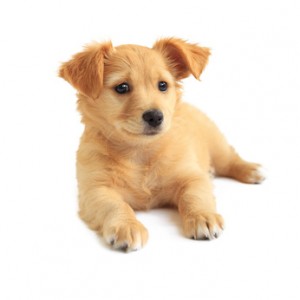 Dogs can be allergic to many things – flea bites, things they inhale, and things that they come in physical contact with on their skin. Dogs can also be allergic to dog food, of course. Dog food allergies account for only 10 percent of all of the allergies found in dogs; though dog food allergies together with inhalant allergies make up another 20 percent of allergies in dogs.
Food allergies can affect any dog of any breed, whether they are male or female, spayed/neutered or intact. They can also show up as early as five months of age and as late as 12 years old. A dog can eat a food all his life and one day be allergic to it. Many dogs who have food allergies also have other kinds of allergies.
How food allergies work
Food allergies in dogs are a complex topic but it's probably easiest to understand if you remember that dogs become allergic to proteins. However, many things besides meat contain protein. For example, grains have proteins. Dairy foods have proteins. But it's the protein in the food that the body reacts to. The body identifies the protein as something foreign and mounts a defense against it by producing antibodies. When this occurs, the body has an allergic reaction. Of course allergies are more complicated than this, but this gives you a basic idea of how allergies work.
Common allergens
The most common food allergens for dogs are beef, dairy products, chicken, lamb, fish, chicken eggs, corn, wheat, and soy. These are also some of the most common ingredients in dog food. This is no coincidence. The more an animal is exposed to an ingredient, the more common it is for allergies to result. For example, at one time lamb was considered to be a novel ingredient for dogs who had allergies and it was often recommended by veterinarians so dogs could avoid eating food with beef and chicken. But today lamb is so common in dog foods that some dogs are allergic to it.
Food allergy symptoms
The symptoms of a food allergy are itching and skin problems. Your dog may have redness, bite at his skin, lick or chew on his paws, and even scratch and chew bald patches in his hair where he can reach it because of the intense itching.
What is a food intolerance?
However, dogs can also have what is called a food intolerance. Food intolerances are different from food allergies. Instead of being allergic to a food, a dog's gastrointestinal tract can be irritated by something he eats. A food intolerance is more like eating something hot and spicy when you know it disagrees with you. You may not be allergic to the food, but you'll pay for it later. The symptoms of a food intolerance can be problems such as diarrhea, vomiting, flatulence, bloating, and other stomach issues. Different dogs can have different food intolerances. You might buy a highly rated dog food and discover there's some little ingredient in the food that gives your dog diarrhea though every other dog on the planet can eat it without trouble. Food intolerances can be very individual from one dog to the next.
Fortunately, most dogs don't have food allergies or food intolerances. If you notice any of these symptoms in your dog you should take him to see your vet so you can identify the ingredient(s) that are causing your dog problems. Once you know which ingredients are difficult for your dog, you can buy food to avoid them.