The Ultimate Finnish Spitz Food Buyer's Guide
The Finnish Spitz, also known as the "Finkie," bears a striking resemblance to a fox, sporting a copper red coat and maintaining an alert, active mind. While the medium-sized dog was originally bred for hunting, Finkies are now commonly found as family pets known for their friendly, child-loving attitudes.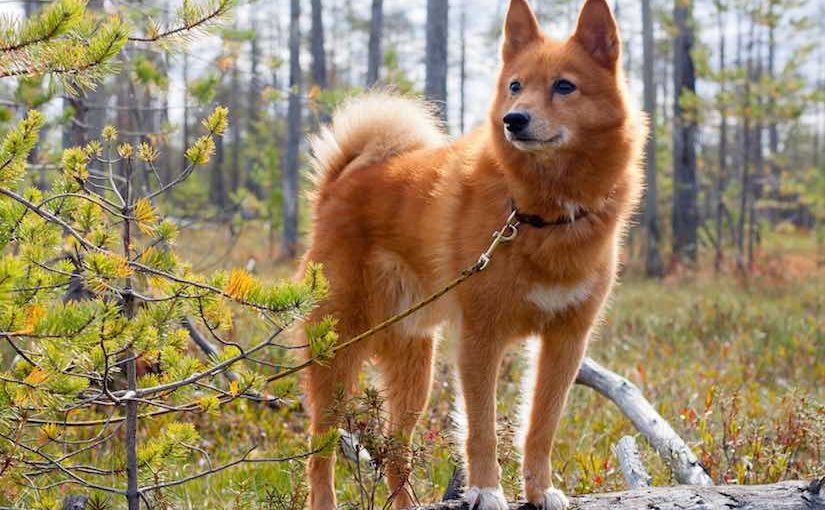 What to Feed a Finnish Spitz 
Generally, your dog's food should contain the following:
High amounts of animal protein
Real meat as one of the first ingredients
Animal-based fat (to promote a healthy coat and skin, as well as brain and eye development in puppies)
A healthy form of carbs
To ensure your dog is digesting food properly, you may need to avoid:
High amounts of plant-based protein
Formulas with higher amounts of meal than meat
Grains and common allergens (soy, corn, wheat)
As your Finkie tries new foods, you will learn quickly what types of ingredients the dog enjoys, as well as if he or she has any allergies or sensitivities to certain formulas.
Diet and Nutrition 
Even today, there are a number of Finkies who hunt alongside their owners, but as regular household pets, they are still very active. Your dog's level of activity impacts how many calories he or she needs to eat daily to sustain energy.
Typically, a full-grown Finnish Spitz should eat 1.75 to 2.5 cups of food a day, split between two meals. However, this may vary depending on how active they are, and a proper meal plan can be determined with the help of a veterinarian.
Dog Food Recommendations
When determining which dog food is best for your Finnish Spitz, it's important to look at the dog's level of activity, age, sensitivities, and overall health. Our favorite premium dog food choices for the Finnish Spitz are outlined below.
---
Finnish Spitz Puppy Food
Nourishing your Finnish Spitz puppy with a high-quality dog food ensures he or she will develop into a healthy, well-adjusted, and active dog. They can usually begin eating puppy food, or all-life stage food, right after they are weaned. Keep in mind, the right puppy food must be nutritionally balanced, not containing an excess of one nutrient over another.
Our top picks for Finnish Spitz puppy food are formulated to be nutritionally adequate for growing puppies and may be approved for growth and reproduction by the AAFCO.
This is one of our favorite foods for Finnish Spitz puppies and is great for sensitive stomachs. While Canidae Grain-Free Pure Foundations Puppy Formula is a limited ingredient food, it is packed with nutrients puppies need to grow. It's easy for puppies to digest because it's grain-free and contains probiotics, as well as antioxidants to promote a healthy immune system. This mix also contains omega-3 and omega-6 fatty acids to support healthy skin and a beautiful coat. Though the food is high in calories, an active, growing Finnish Spitz can usually burn them off.
Main Ingredients: Chicken, Menhaden Fish Meal, Lentils, Peas, Potatoes
Protein: 30 percent
Fat: 12 percent
Fiber: 4 percent
Calories: 520 kcal/cup
This puppy formula contains no corn, wheat, or soy and is also recommended for pregnant or nursing mothers.  With added DHA-rich salmon oil, this recipe will support your puppy's brain and eye development and is a great choice for a growing Finnish Spitz.
Main Ingredients: duck, chicken meal, chicken
Protein: 27 percent
Fat: 18 percent
Fiber: 3.5 percent
Calories: 417 kcal/cup
---
 Finnish Spitz Adult Dog Food
As your Finnish Spitz ages into a full-grown dog, it may develop sensitivities or allergies to certain dog food ingredients and will undoubtedly enjoy certain foods more than others. When choosing new dog food, allow several days to slowly transition to the new food by mixing small amounts of the old food into the new formula each day. If your dog shows signs of disliking the food or not tolerating it, make adjustments as needed.
These top-notch adult dog food options work to sustain your pet's health, and we'd advise Finnish Spitz owners to consider them.
Canidae has a solid reputation for consistently providing high-quality, nutritious pet food. While this all life stages formula is beneficial to dogs of all ages, we recommend it for adult Finkies because of its balanced, hearty ingredients. Naturally preserved, the food contains pre- and probiotics for healthy digestion, as well as antioxidants, omega-3, and omega-6 fatty acids for good skin and coat.
Main Ingredients: Chicken Meal, Turkey Meal, Lamb Meal, Brown Rice, White Rice, Oatmeal, Barley
Protein: 24 percent
Fat: 14.5 percent
Fiber: 4 percent
Calories: 468 kcal/cup
Containing high-quality ingredients from local growers, Merrick Grain-Free food has a higher protein percentage than most dog foods. Made with premium protein and farm-fresh fruits and vegetables, this dog food is made with ideal ingredients for a very active Finnish Spitz. Including added benefits, the dog food has glucosamine and chondroitin for joint health, and omega fatty acids for healthy skin and coat.
Main Ingredients: Deboned Chicken, Chicken Meal, Turkey Meal, Sweet Potatoes, Potatoes
Protein: 38 percent
Fat: 17 percent
Fiber: 3.5 percent
Calories: 460 kcal/cup
If your Finnish Spitz is extremely active, we recommend Acana foods, produced regionally in Kentucky. While this mix is slightly lower in meat protein (60 percent), it is grain free, low in carbohydrates, and is loaded with fresh vegetables, fruits, and botanicals. We believe it's a great option for the Finnish Spitz breed.
Main Ingredients: goat meal, catfish meal, lamb, duck
Crude Protein: 33 percent
Crude Fat: 17 percent
Crude Fiber: 6 percent
Moisture: 12 percent
Calories: 388 kcal/cup
This nutritional dog food is backed by a stellar, long-standing reputation and meets the requirements established by the AAFCO for growth and maintenance of dogs up to 70 pounds. Loaded with health benefits like salmon oil, omega-3 fatty acids for healthy skin and coat, probiotics, and prebiotics, this recipe is made at the Fromm family's facility in Wisconsin.
Main Ingredients: duck, chicken meal, chicken, barley, brown rice, oatmeal, potatoes
Crude Protein: 26 percent
Crude Fat: 17 percent
Crude Fiber: 3.5 percent
Calories: 416 kcal/cup
---
Finnish Spitz Senior Dog Food
When your Finnish Spitz gets older, you may need to consider adjusting his or her diet. Aging dogs tend to lose muscle strength, struggle with blood sugar, and become less active, so we recommend checking out these top-rated dog foods for your senior Finnish Spitz.
Featuring excellent quality protein, such as free-run chicken and turkey, wild-caught fish, and nest-laid eggs, Orijen Senior Dog food helps maintain muscle strength as dogs become less active in their older years. The low-glycemic, low-carb ingredients help to keep blood sugar steady, while natural sources of glucosamine and chondroitin work to promote joint health. Orijen is more expensive than the average dog food, but we're confident these benefits make it worth the cost.
Main Ingredients: free-run chicken and turkey, wild-caught fish, nest-laid eggs, 15 percent fruits and vegetables
Crude Protein: 38 percent
Crude Fat: 15 percent
Calories: 445 kcal/cup
This food is not specifically made for senior dogs, but it's loaded with health benefits for an aging Finnish Spitz. The formula is easy to digest and low-glycemic. Plus, the pumpkin and oatmeal promote healthy gut motility.
For older Finkies, this tasty, filling food is a great option.
Ingredients: pumpkin, oatmeal, venison, venison meal, salmon meal, herring meal, oatmeal
Crude Protein: 34 percent
Crude Fat: 13 percent
Crude Fiber: 3.5 percent
Calories: 348 kcal/cup
Additional Dietary and Health Considerations
The Finnish Spitz is generally a very healthy breed. However, like every dog breed, there are common health issues among Finkies that owners should consider when developing a healthy diet for their pet. These health considerations include obesity, skeletal problems, diabetes, and autoimmune thyroiditis, which may predispose dogs to food allergies.
Dogs with any of these health issues can live a long, happy life by enjoying a regulated diet that targets their specific needs.
Below is a list of Products reviewed in this article
Updated December 04, 2019