Hypoallergenic Dog Treats
If your pup has food allergies, you know the struggle of testing a new dog food, only to watch him get sick after gobbling it down. So, when you finally find a formula for your beloved pup that doesn't make him feel sick, all is finally right with the world – until you realize you don't have any treats for him. Before you head out the door to the nearest market, stop a minute, take a deep breath, and whip up a batch of these tasty hypoallergenic dog treats.
You're probably wondering: why opt for homemade treats over the convenience of a store-bought batch?
Unfortunately, store-bought dog treats are often made with cheap ingredients and may contain additives that aren't healthy for your canine companion. And finding a safe dog treat is particularly challenging if you have a dog with allergies.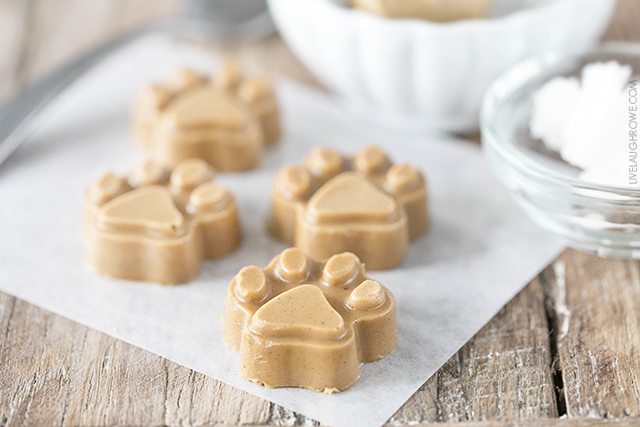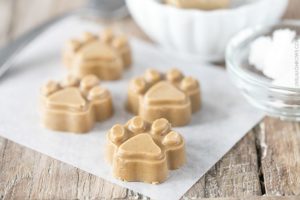 Note: If your dog has symptoms that suggest food allergy  (vomiting, diarrhea, scratching, and fur loss), see your vet. Some of the most common culprits are chicken, beef, fish, rabbit, pork lamb, dairy, egg, soy, and wheat. That covers a lot of territory!
To steer clear of common allergens, follow this simple and quick recipe to make your own hypoallergenic dog treats at home. Best of all, it only contains two ingredients.
Disclosure: Please note that this post contains affiliate links, which will direct you to our partner sites. If you purchase the pet foods we recommend through those links, we may earn a small commission – at no extra cost to you.
How To Make Hypoallergenic Dog Treats
What You'll Need:
• Double boiler
• Large metal spoon
• Silicone dog treat molds
• 1 cup of coconut oil (available at grocery stores and on Amazon)
• 1 cup of peanut butter (brand low in sugar and that doesn't contain xylitol as it's toxic to dogs)
Instructions:
• Place the peanut butter and coconut oil in the double boiler on top of the stove at medium heat.
• Heat while stirring until the coconut oil and peanut butter are completely melted.
• Immediately pour the mixture into the silicone dog treat molds.
• Place the silicone molds into the freezer for a few hours to allow them to set.
• Remove the molds from the freezer and pop them out by twisting the sides of the mold.
• Place the treats into a glass dish with a lid and store them in the fridge until ready to use.
What are the Health Benefits of Hypoallergenic Dog Treats?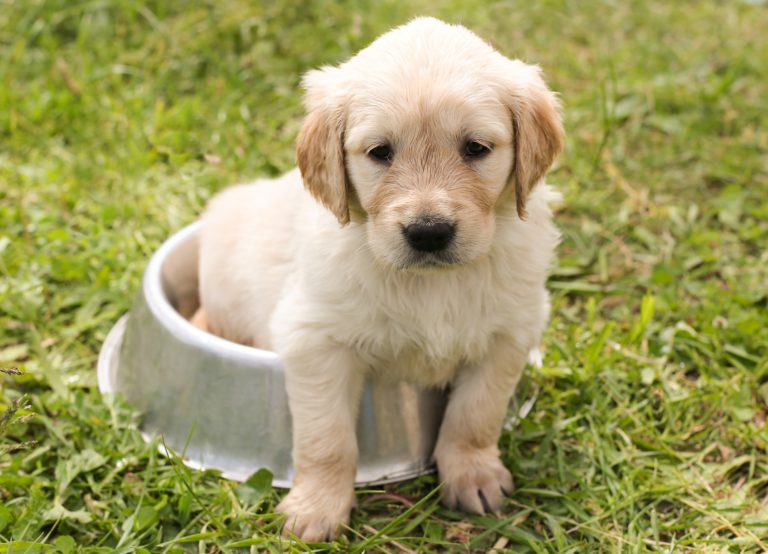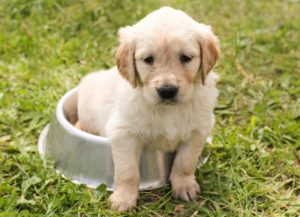 When preparing dog treats for your canine friends, always use ingredients that are dog-friendly. There's a substantial number of foods that are safe for humans but toxic to dogs. If you suspect your dog has food allergies, avoid the ingredient. If you don't know, try to avoid the most common allergens as mentioned above.
This dog treat recipe simplifies things because it only contains two ingredients: peanut butter and coconut oil, both of which do not commonly cause allergic reactions.
What makes peanut butter a suitable ingredient? Peanut butter is relatively high in protein and contains healthy fats that help your dog feel full and satisfied. Although peanut butter is veterinarian approved, vets recommend it in moderation. Of course, you shouldn't overdo any type of dog treat! Make sure the brand of peanut butter you select is free of the sweetener xylitol, as it's toxic to dogs.
Coconut oil is a healthy source of fat (medium-chain triglycerides). In combination with the fat in peanut butter, it supplies your dog with energy, and one of the medium-chain triglycerides, lauric acid, has anti-inflammatory properties. Coconut oil has anti-bacterial and anti-viral activity, as well.
Since these cookies are relatively high in fat, avoid giving them to dogs who have or have had pancreatitis.
Additional Tips & Considerations
Remember not to give your dog the whole batch at once! Moderation and lots of love are the keys to keeping your pet healthy and happy. For more pup-approved homemade dog treats, check out our other recipes: