Sweet Potato & Apple Dog Treat Recipe
Your pup might not love fruits and veggies, but these homemade sweet potato and apple treats will have them begging for more. Made with just a few nutritious ingredients, this recipe offers a healthier, fresher option than store-bought, processed dog cookies. Fortunately, it doesn't have to be difficult or time-consuming to whip up a batch. Here's a recipe that's sure to please your favorite canines. Plus, it's one you can prepare quickly right in your own kitchen. Healthy treats like these are ideal as a treat or as a reward when training your dog. Either way, they're tail-wagging good!
Disclosure: Please note that this post contains affiliate links, which will direct you to our partner sites. If you purchase the pet foods we recommend through those links, we may earn a small commission – at no extra cost to you.
How To Make Sweet Potato and Apple Dog Treats
What You'll Need:
Measuring cup
Mixing bowl
Baking sheet
Rolling pin
Flat board for rolling the dough out
Parchment paper
Dog themed cookie cutters (available on Amazon)
1.5 cups of whole wheat flour
.5 cups of wheat germ
.5 cups of grated carrots
Two 4 oz. jars of pureed sweet potato baby food (make sure the baby food contains no onions or garlic). You can also puree sweet potatoes at home in a blender as a substitute.
Instructions: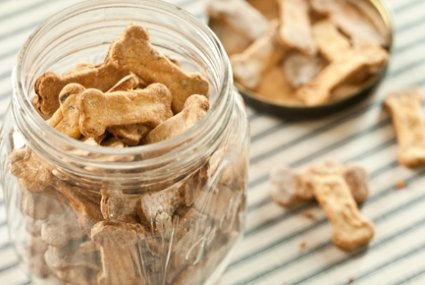 1. Preheat the oven to 350 degrees Fahrenheit.
2. Place the whole wheat flour & wheat germ in the mixing bowl.
3. Add the baby food or pureed sweet potato and stir to mix.
4. Slowly add the grated carrots and stir to distribute them evenly.
5. You may need to add water or extra whole wheat flour if the dough is too thick or thin. As an alternative, you can use chicken or vegetable broth instead of water for added flavor.
6. Keep mixing until the dough is stiff enough to roll out.
7. Lightly flour the surface of the rolling board and place the dough on top.
8. Roll the dough out to a thickness of around ¼ inch.
9. Use the doggie cookie cutters to cut out shapes.
10. Line a baking sheet with parchment paper.
11. Place the cut-out shapes on top of the parchment paper. Make sure they don't touch.
12. Place the baking sheet in the oven.
13. Bake for 25 minutes.
14. Remove the treats from the oven and allow them to cool on the counter.
15. Once cool, place them in a paper bag and store in the refrigerator.
What Are the Health Benefits of These Homemade Dog Treats?
These treats are loaded with health benefits. Whole wheat flour is a good source of fiber and B-vitamins, while wheat germ is an abundant source of minerals, including magnesium, zinc, iron, and potassium. Plus, the healthy fats in wheat called omega-3's are beneficial for a dog's skin and coat.
Sweet potatoes and carrots are both rich in an antioxidant and anti-inflammatory called beta-carotene, which plays a key role in immune and eye health. Although it won't necessarily improve your dog's vision, some studies show that it may lower the risk of cataracts in dogs and humans.
If your dog is allergic to wheat, substitute a wheat-free flour for the whole wheat in this recipe. Also, replace the wheat germ with an equivalent amount of wheat-free flour if your dog suffers from a wheat allergy. Alternatives include oat flour, sorghum, coconut, or chickpea flour. You may have to add additional water or flour to get the consistency right for rolling out.
Additional Tips and Considerations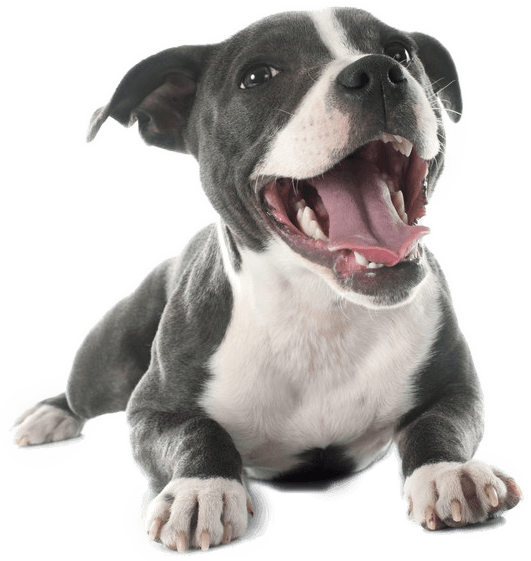 You can even add a spicy touch to these cookies by adding a tablespoon of turmeric or Ceylon cinnamon. Turmeric is an anti-inflammatory spice that's safe for dogs. In fact, some studies show it may have cancer preventative properties. Cinnamon is also a healthy spice with anti-inflammatory properties. Most of the cinnamon you buy at the supermarket, called Ceylon cinnamon, contains higher levels of a compound called coumarin that's linked with liver toxicity. Organic Ceylon cinnamon contains far less and is a safer option. You can buy it on Amazon.
We hope your dog enjoys these healthy and tasty treats, and you'll feel good knowing every ingredient that went into them.
For additional homemade dog treats, try these recipes:
Updated December 02, 2018