Protein-Packed Chicken Dog Chews
Dogs love to chew, and chewing is good for their teeth! You may have bought commercial rawhide treats for your dog in the past, but did you know they present a choking hazard? Rawhide can irritate a dog's digestive tract and even cause an obstruction. Plus, commercial rawhide treats are expensive, especially if you give your pup lots of them. Why not make your own healthier chicken dog chews for your favorite canine companion?
When you make your own, you know exactly what goes into them, and you avoid the added preservatives and fillers. Here's an easy recipe for a high-protein chicken dog chews made with all-natural ingredients.
Disclosure: Please note that this post contains affiliate links, which will direct you to our partner sites. If you purchase the pet foods we recommend through those links, we may earn a small commission – at no extra cost to you.
How to Make Homemade Chicken Dog Chews
What You'll Need
Instructions:
Remove the chicken breasts from the freezer and allow them to thaw.
Do not wash the chicken breasts before slicing as doing so increases the risk of spreading bacteria from the chicken around the kitchen.
Place a chicken breast on the cutting board.
Use the sharp knife to slice the chicken breasts into strips in the direction of the grain. The slices should be around ¼ inches in thickness.
Spray both sides of the chicken slices with olive oil cooking spray.
Sprinkle them lightly with your chosen spices (optional).
Cover the dehydrator trays with parchment paper.
Place the prepared chicken slices on the parchment paper-covered tray so that they're evenly spaced.
Set the dehydrator temperature to 160 degrees Fahrenheit and turn it on.
Check the slices every 30 minutes for five hours total. Remove one strip and cut it open. If it's dry on the inside, it's done!
Remove the chicken dog chews from the dehydrator and place them into Zip-lock storage bags.
Place the bags in the refrigerator for storage.
Don't forget to give your favorite canine companion one right away!
What Are the Health Benefits of Chicken Dog Chews?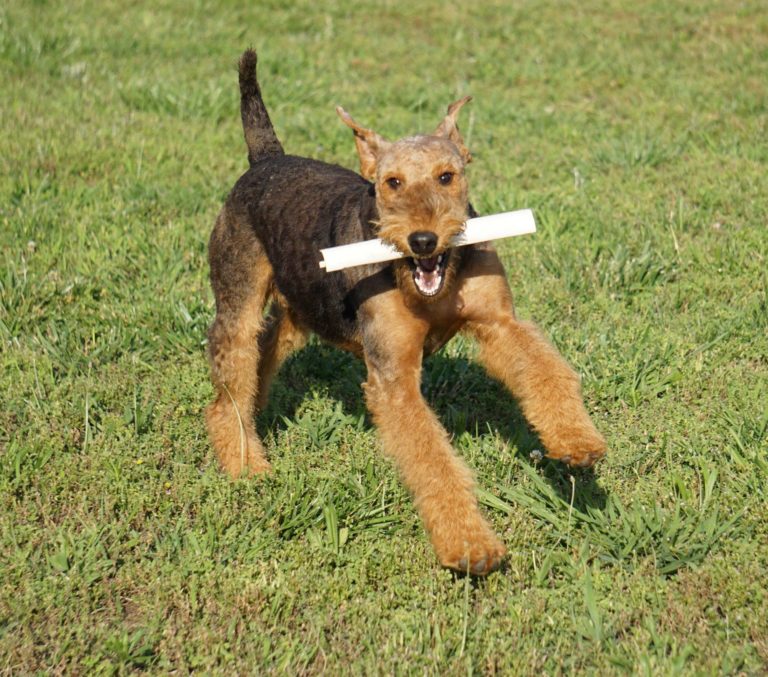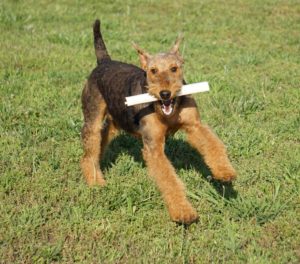 Chicken dog treats are packed with protein. In fact, chicken is 80% protein and only 20% fat. Dogs need protein to build strong muscles and for repairing tissues throughout their body. Plus, protein is an important component of enzymes and hormones that maintain normal bodily functions. Chicken is a complete protein source for dogs. Unlike some plant-based proteins, chicken contains all the essential amino acids your dog needs for optimal health and vitality. Plus, chicken is a good source of B-vitamins. Plus, dogs love it!
Additional Tips & Considerations
According to the American Kennel Club, chicken is one of the top ten foods that dogs are allergic to. So, be aware of any allergy-related symptoms your dogs might experience related to eating chicken. Also, never feed a dog chicken that contains bones due to the risk of choking. Always supervise your dogs when they're chewing anything as there's a potential choking hazard. Most importantly, give them lots of love!
After you try the recipe for chicken dog chews, try something a bit different: