Is it Safe for Cats to Eat Dog Food?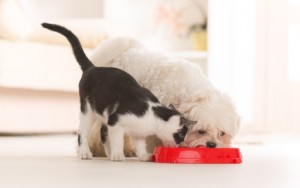 The type of food you feed your pet plays an important role in its health and overall well-being. Though dogs and cats may both be considered carnivorous animals, they have very different nutritional needs. In this article you will learn the basics about those differences and why you can't feed your cat dog food.
Dog vs. Cat Nutrition
While both dogs and cats are typically considered carnivores, dogs tend to be more omnivorous – commercial dog foods often include a higher level of vegetables and grains than do cat foods. In the wild, cats are strictly carnivores and the only fiber they receive in their diet comes from the stomach contents of their prey. This being the case, commercial cat foods are formulated with a higher protein content than dog foods – the AAFCO recommended minimum protein content for adult dogs is 18% while the recommendation for cats is 26%. Furthermore, dogs are able to digest proteins that come from plant-based sources, while cats are not.
Protein is made up of 23 different types of amino acids, some of which a cat's body can synthesize on its own. A cat's body can synthesize all but 11 amino acids – these 11 are referred to as essential amino acids because your cat must get them from his diet. Dogs have essential amino acids as well, but they are different than a cat's. For example, taurine is an amino acid that dogs can synthesize but cats cannot – thus, taurine is not a common ingredient in dog food, but it is included in cat food.
In regard to vitamins and minerals, dogs and cats have very different needs. Dogs require linoleic acid but cats require these acids in addition to arachindonic acids – both of these can be acquired from animal-based fats. Arachindonic acids are essential for the maintenance of a cat's kidneys and coat. Cats also have higher needs than dogs for folic acid and certain B vitamins including thiamin and niacin. Dog foods do not require the levels of these nutrients that a cat needs to stay healthy.
Hazards of Dog Food for Cats
The main risk of feeding a cat dog food is the risk of nutritional deficiency. Because dog foods are formulated to meet the nutritional needs of dogs, they are not an adequate source of nutrition for cats. You also need to consider the size difference and energy requirements of dogs vs. cats. Cat foods tends to be higher in protein and calories in order to support the high-energy needs of the feline body – feeding your cat dog food will not provide for those needs. In addition to nutritional deficiency, there is also the risk that feeding your cat dog food will make him sick.
If you want what is best for your pet, you should feed him a high-quality pet food that is formulated for his species. Cats and dogs are very different in terms of their nutritional needs, so don't be tempted to overlap their diets.