Homemade Grain-Free Dog Treats
When you buy dog treats at the grocery store, you have so many options! Unfortunately, not all of them are healthy for your dog. Many commercial dog treats and snacks are made from cheap ingredients and often contain more filler than actual nutrition. But dogs still love it when you tempt them with a tasty treat, and who doesn't enjoy seeing their tail wag and their ears perk up as they gobble it down? One way to satisfy your desire to keep them healthy and still see their tail wag is to make homemade, grain-free dog treats.
Disclosure: Please note that this post contains affiliate links, which will direct you to our partner sites. If you purchase the pet foods we recommend through those links, we may earn a small commission – at no extra cost to you.
How to Make Fruit and Veggie Grain-Free Dog Treats
What You'll Need:
1 cup of chickpea flour
½ cup of grated zucchini
½ cup of grated carrots
1 egg (preferably organic and free-range)
½ cup sugar-free applesauce (make sure the applesauce doesn't contain the sweetener xylitol)
Parchment paper (unbleached is best)
Zip-lock bags for storage
Instructions:
Preheat the oven to 350 degrees F.
Spoon the chickpea flour into the mixing bowl.
Slowly add the egg and applesauce. Mix the ingredients together to form a paste.
Add the grated zucchini and carrots as you continue to stir.
If the paste becomes too firm, add a small amount of water. If too sticky, add a few more teaspoons of flour.
The finished paste should be firm but still moldable.
Pick up small pieces of the dough and use your hands to roll it into balls.
Place the balls of dough on the parchment paper on the baking tray.
Press down slightly on each dough ball to flatten it. The treats should be around ¼ inch in thickness.
Bake the grain-free dog treats until they're firm.
Remove from the oven and lay the dog treats out on the counter to cool.
Once cool, place the grain-free dog treats in Zip-lock bags and store them in the refrigerator.
You can keep them up to a week in the fridge.
What Are the Health Benefits of These Grain-Free Dog Treats?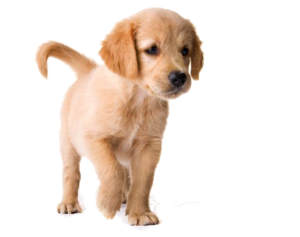 The base of these grain-free dog treats is chickpea flour, a type of flour that's easy for a dog to digest. Plus, chickpeas are an abundant source of protein and fiber. In addition, chickpea flour is rich in B vitamins and minerals, including iron, calcium, and magnesium. Chickpeas, also known as garbanzo beans, make a good alternative flour when you're avoiding grains as it behaves similarly to wheat flour when you mold it.
These canine-pleasing cookies also contain veggies – zucchini and carrots. According to the American Kennel Club and veterinarians, zucchini is safe for dogs and they usually have no problems digesting it. Plus, this summer squash is a good source of B vitamins and vitamin C. Carrots are another dog-friendly veggie and are an exceptional source of beta-carotene, a precursor to vitamin A. Beta-carotene is an antioxidant with anti-inflammatory activity. Both zucchini and carrots are low in calories but high in fiber to help keep your dog lean.
This grain-free dog treat recipe also contains applesauce, another nutrient-dense fruit. Like carrots, apples are rich in vitamin C and a variety of natural chemicals with antioxidant and anti-inflammatory benefits. Apples also contain pectin, a type of fiber, that helps suppress appetite and keep your puppy full. If you give your dog whole apples, remove the seeds as they contain chemicals the body converts to cyanide. It's unlikely a few apple seeds will harm your dog, but a small dog could become ill if they eat a lot of apple seeds.
Additional Recipes
These grain-free dog treats are sure to make tails wag! For additional homemade dog treats, try these recipes: