Holistic Dog Food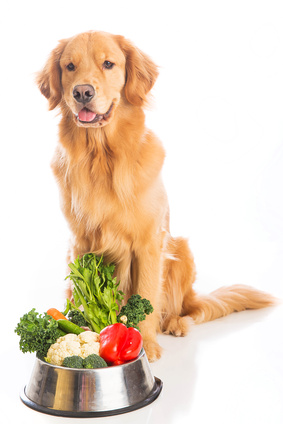 When it comes to choosing a food for your dog, you have many options to choose from – so many, in fact, that you may have a hard time sorting through all of them. If you want your dog to receive high-quality nutrition, select a food based on the ingredients from which it is made – look for a holistic dog food.
About Holistic Dog Food
The term "holistic" can be used in a variety of different ways. When it comes to pet food, however, it generally refers to food made from natural ingredients without artificial additives. Unfortunately, many commercial dog food companies focus more on their bottom line than they do on the quality of the products they make. In order to bulk up their products, these companies may load their products with fillers made from corn or wheat – ingredients that will help your pet to feel full but won't actually provide any additional nutrition. Holistic dog food, on the other hand, is made from all-natural, wholesome ingredients that are good for your pet. This type of food excludes artificial and processed ingredients in favor of whole proteins, fresh fruits and vegetables and natural methods of preservation to keep the food fresh.
How Other Brands Compare
You may not fully understand the benefits of a holistic dog food until you realize the shocking truth about "traditional" dog food. While many commercial dog food products are labeled with flavor names including chicken, beef and lamb, these labels may only be half true. In many cases, the protein in commercial dog food comes from animal by-products gleaned from the parts that are left-over after processing. In addition to these questionable ingredients, many dog foods are also treated with chemicals, flavors and dyes to make the food look, taste or smell more appealing to dogs. Think about it – if a dog food company has to trick a dog into eating its food, should your dog really be eating it anyway? Holistic dog food takes real ingredients and combines them in a way that naturally appeals to your dog. Best of all, it provides your dog with high-quality, well-balanced nutrition!
Recommended Brands
If you have decided that a holistic pet food is the right choice for your dog, you have come to the right place. Below you will find a list of some of the top-rated holistic dog food brands:
Castor & Pollux Pet Works
Eagle Pack Holistic Select
Natura Innova Pet Food
Choosing a dog food for your pet can be an overwhelming experience if you don't know what you are looking for. To make sure that your dog gets the high-quality nutrition he deserves, skip past all of the low-quality commercial formulas out there and go for something that is good for your dog – a holistic dog food made from only the freshest, most wholesome ingredients.