Dog Food – A Year In Review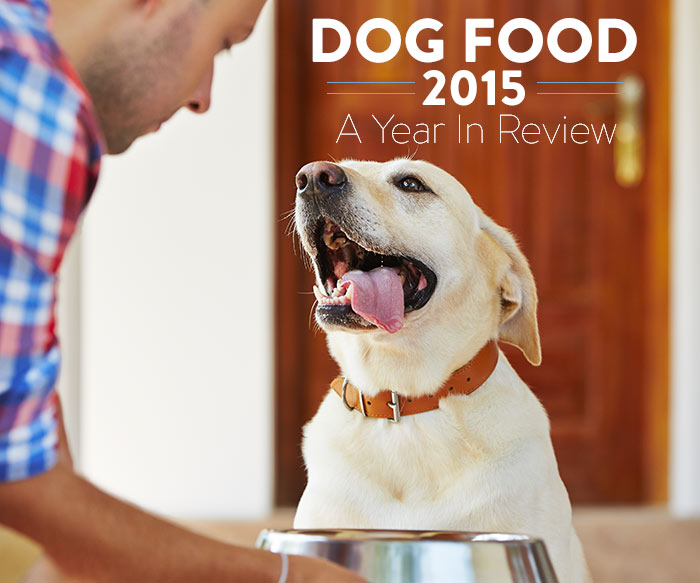 As always, there have been lots of changes in the dog food world this year. The year 2015 has seen some brands fall from grace while others have gained in reputation and popularity. Companies and brands have been bought and sold, leaving pet lovers to wonder how foods will be affected. As 2015 winds down, here's a look at what happened this year and where we are headed in 2015.
Disclosure: Please note that this post contains affiliate links, which will direct you to our partner sites. If you purchase the pet foods we recommend through those links, we may earn a small commission – at no extra cost to you.
What's Hot, What's Not
Hot
In 2015 dog lovers wanted grain free dog foods and more meat. Even people who fed foods with grains wanted more meat in their dog's food. At the same time, some super premium dog foods known for their high protein levels began to ease back on the meat protein and substitute more peas, lentils, and other plant-based sources of protein. It seemed like as soon as dog lovers identified a great food with good meat protein, the company would start making changes and substituting plant protein. Not only do consumers notice, but dogs notice these changes, too. You can find stories all over the Internet from owners writing about their dogs suddenly having a bad reaction to a food due to a change in ingredients.
Victor Dog Food – Very hot right now. We are hearing about it all over Facebook and other social media from dog lovers. Victor is made by Mid America Pet Food – a company that co-packs for some other well-known brands. The company is located in Texas and it's been in business for a long time. They were purchased by an investor last year and Victor dog food is becoming more widely available now. They currently have six highly active and sporting dog formulas; five formulas for normally active dogs; and four grain free formulas. All of their foods are free of corn, wheat, soy, gluten, and grain by-products. They use no artificial colors, flavors, or preservatives. Lots of people have been raving about Victor for a while and it's now available on Chewy.com.
Fromm Gold – Hot. While many people love grain free dog foods, there are plenty of people who prefer to feed foods with healthy grains. Fromm Gold is one of the bestselling dog foods among all foods with grains and its reputation has taken off in the last few years. Made by Fromm Family Foods in Wisconsin at their own facilities, Fromm Gold features meat proteins like duck, chicken meal, and chicken as the first three ingredients. Protein and fat are moderate, with moderate calories. No corn, wheat, or soy. The Fromm family has been making dog food and dog products for over 100 years and they have a great reputation. From also makes grain free kibbles and canned foods.
Purina ProPlan Bright Mind – Hot. Yes, it's made by Purina but hold your fire. We have heard wonderful things about this food from people with older dogs. This food is made specifically for older dogs who have begun to slow down and show signs of canine cognitive dysfunction – similar to Alzheimer's in humans. It uses medium chain triglycerides and other ingredients to help improve your older dog's memory and attention span. Owners report that their dogs start becoming more active again, act more playful, and interact with the family as they used to when younger. We know that some people don't like Purina but we have heard lots of first-hand reports from people who have tried this food with excellent results. It really seems to work for many older dogs who are starting to withdraw. Even if you hate Purina you may want to consider buying this food if you have an older dog who is showing signs of doggy dementia.
Where To Save On Dog Food In 2015
Not Hot
Blue Buffalo – Pet lovers don't like to be lied to and this company seemingly lied for a long time about their ingredients. At the very least, they sold pet food with ingredients that were inferior to what was reported on the label, whether they knew it or not. As far as we know, Blue Buffalo has never apologized to their customers for this problem. They get a lump of coal from Santa.
Beneful – Class action lawsuit aside, Beneful has had its critics for years. Purina has been promoting Beneful this year while they fight the lawsuit but most dog lovers will probably not be won over to buy this food. Not everyone can afford to buy the most expensive dog foods and most of us have to work with a budget no matter how much we love our dogs. But you can find better dog foods than Beneful for the same cost. That is not to say that we don't like Purina. Many of Purina's ProPlan formulas are very good. But Beneful? Not hot. Another lump of coal.
Small bags and high prices – How much smaller are "large" bags of dog food going to get? We're paying large bag prices for very small amounts of dog food. Remember when the price of dog food shot up a few years ago and we were told that it was because the cost of oil/gas was so high; and the poor pet food companies had to pay sooo much in transportation costs? Wah. The price of oil/gas is now the lowest it's been in the last decade. How about lowering those pet food prices? Some dog food prices are flat out ridiculous. We know that some dog lovers seem to take pride in buying the most expensive food possible, but there's no reason to gouge pet lovers. On the naughty list.
Less Hot
Raw pet food – U.S. Food and Drug Administration (FDA) inspectors visited raw pet food manufacturers in the summer of 2015, collecting hundreds of samples of their products. The results were not good. Lots of highly favored raw pet food companies had to issue recalls because Salmonella and/or other bacteria was found in the products. These FDA inspections have, perhaps, been followed by more scrutiny by state inspectors, which have resulted in more recalls of raw pet food.
Honestly, Salmonella is probably present in your kitchen. Your dog has very strong stomach acid that, in most cases, can easily dispatch the bacteria found on food (unless he has a compromised immune system, is elderly, or has some other health problems). However, humans cannot handle Salmonella as well as dogs can. Pet food inspections and recalls are often done for human safety as much as for animal safety.
At any rate, all of these recalls of raw pet food don't mean that you shouldn't feed your dog raw food purchased from a pet food maker, or make your own raw pet food. However, they do mean that raw pet food makers need to raise their game so they meet the standards required by the government (which are stricter than they are for human food). Some pet lovers may have had their confidence shaken in raw pet food this year. It appears that there was a widespread belief that raw pet food was healthier for dogs than kibble and canned food; and that raw pet food was never recalled. Neither of these beliefs is necessarily true. Raw food diets have to be balanced to be healthy. And raw pet foods do have recalls.
You can read more about this recall on the Truthaboutpetfood.com site. However, we note that the FDA has also singled out kibble for testing in the past (summer of 2013), which resulted in finding bacteria and led to recalls. The FDA does offer warnings about feeding raw pet food on its site but this investigation was probably a routine part of their work following their kibble investigation. It might also be linked to the animal food rule regulations they have been developing.
Perennial Favorites
Some brands seem to stand the test of time, at least considering that the super premium dog food market is only 15-20 years old. Here are some brands that continued to thrive this year.
Taste of the Wild  – With Blue Buffalo faltering a little in sales, Taste of the Wild – a close competitor – appears to be picking up some of the slack. Despite the fact that TOTW is made by Diamond (a repeat recall offender in the past), this food remains highly popular with owners and dogs. It is grain free with good meat content – for now. There are rumors that the company is thinking of cutting the meat protein percentage by adding more plant protein. This would probably send many long-time customers looking for another dog food. But for now the food continues to deliver good nutrition for a moderate price. Always one of our favorites.
Orijen and Acana – Both of these foods are made by Champion Pet Foods in Canada. People rave about them. They have a high meat protein percentage and good quality ingredients. Orijen has a little more meat than Acana, but both far exceed the average. To be honest, the recipes have changed over the years. If you compare current recipes with their older formulas, there is more plant protein in the foods now, but most people still like them. They are very expensive foods, so out of the price range for many dog lovers. If you have large dogs or multiple dogs, it can be hard to feed dog food this expensive. Don't feel bad if you can't buy them. There are other great foods that are more affordable.
Merrick – Merrick has been a favorite food for many dog lovers for years. Purchased by Purina this year, a lot of people have been wondering if there would be changes or if the quality of the foods would dip. So far we haven't heard any complaints or seen any changes. The sale was in July so food that has been made by Merrick after the sale should be out on the shelves by now. Merrick (and now Purina) also owns Castor & Pollux, one of the few genuine (or mostly) organic dog foods.
Natural Balance L.I.D. – Dick Van Patten's Natural Balance L.I.D. Limited Ingredient Diets remain as popular as ever for dogs with allergies. With 16 dry formulas, 8 canned formulas, and 22 L.I.T. (Limited Ingredient Treat) formulas, there is a huge selection. Be sure to read the labels and check the dry matter basis for the foods. They are not all the same.
2015 Recalls
There were quite a few dog food recalls in 2015. Many people tend to believe that small companies make better pet food, use better ingredients, and are better for their dogs. They avoid feeding pet food from large companies. However, many times large companies have their own facilities and can perform their own ingredient tests and quality control. Large companies often have fewer recalls than small companies that do not have as much control over their ingredients and products. Should you avoid smaller companies? No, not necessarily. But you should try to find out as much as you can about a company: Do they make their own food? Do they use a co-packer? Have they had recalls in the past? What kind of testing and quality control do they have? A company can use terrific ingredients but if they have constant recalls, you have to wonder about the quality of the food.
Note that some very good brands use co-packers so that's not automatically a reason to avoid a dog food. Some co-packers have been in business for decades and work with some very good dog food companies. For instance, Simmons co-packs for lots of pet food companies and bought out Menu Foods after the melamine recalls. Like everything else, co-packers vary in quality. Small companies often have no choice but to use co-packers, especially for canned foods. Canned foods require special machinery that is completely different from the machinery used to make kibble. Fewer companies have canning facilities so it's not unusual for a co-packer to make canned foods for many companies.
One recent trend is for some super premium foods to use canneries in Asian countries, such as Thailand. Some sources have criticized this practice because of the conditions under which people work in some of these countries, referring to them as "slaves." However, from a pet food perspective, Thailand and some other Asian countries have strict regulations for canning and canned food. If your pet food is canned in one of these countries, the quality should be as good or better than pet food canned in the U.S.
As already mentioned, many of the recalls this year involved raw pet food because of the FDA's focus on it in their inspections in the summer of 2015.
The following companies had recalls in 2015:
Nutro Dog Treats 12/13/15
Stella and Chewy's Dog and Cat Food 12/12/15
Centinela Withdraws Duck Jerky Treats from Stores 12/11/15
Bravo Dog Food Recall 12/10/15
Dave's Dog Food Recall 12/3/15
Hill's Science Diet Dog Food Market Withdrawal 11/29/15
Good 'n' Fun Beefhide Chicken Sticks Recall 10/26/15
K-9 Kraving Raw Dog Food Recall 10/5/15
Good 'n' Fun Chicken Sticks Recall 10/1/15
Dingo Dog Chew Treats Recall 9/30/15
Bravo Dog Food Recall 7/23/15
Tremenda Sticks Dog Chews Recall 7/21/15
I and Love and You Dog Treats Recall 7/13/15
Vital Essentials Dog Food Recall 7/7/15
Boulder Dog Food Company Recall 7/2/15
Boulder Dog Food Company Recall 6/19/15
Himalayan Dog Chews Recall 5/28/15
Pet International Beef Trachea Treat Recall 2/11/15
J. Fuds Pet Food Recall Expands Again 2/6/15
Big Bark Dog Treats Recall 2/1/15
J. Fuds Raw Pet Food Recall Expands 1/28/15
For more information on these recalls you can visit the FDA web site or the individual company web sites.
The Stats
We don't have completed statistics for 2015 yet but American Pet Products Association reported that Americans spent $58.04 billion in the pet industry in 2014. The estimated figure for 2015 is $60.59 billion. This figure has been rising every year since APPA began doing research in 1994. Americans spent $22.26 billion on pet food in 2014. APPA estimates that we will spend $23.04 billion in 2015. Although there are more pet cats in the country, people spend more on dog food and treats than on cat food and treats. APPA estimates that these figures will continue to rise in 2015.
Petfoodindustry.com, an information source for the pet food industry, reports that you can expect to see more "smart label" technology in the future, providing more information for pet lovers. They also report on the trend for more healthy products, 'clean' label claims, transparency, and authenticity from companies. These trends are entwined with trends in human foods.
Interest in pet foods perceived to be healthy, organic foods, and foods without fillers, by-products and other ingredients that have been questioned also continues to grow.
Bought and Sold
According to Petfoodindustry.com, the top pet food companies in the world today are (annual revenue listed)
| | | |
| --- | --- | --- |
| Mars Petcare Inc. | United States | $17,215,800,000 |
| Nestlé Purina PetCare | United States | $11,722,000,000 |
| P&G Pet Care | United States | $3,100,000,000 |
| Hill's Pet Nutrition | United States | $2,211,000,000 |
| Big Heart Pet Brands | United States | $1,989,000,000 |
| Diamond Pet Foods | United States | $1,150,000,000 |
| Blue Buffalo | United States | $750,000,000 |
WellPet is several rows lower, with an annual revenue of $564,000,000.
This list represents a slight shake-up from a few years ago. Procter & Gamble sold their pet food holdings in North America and Latin America in 2014 to Mars for $2.9 billion. This included brands such as Iams, Eukanuba, and Natura, among others. P&G kept their European pet food concerns, as well as some pet food lines in other parts of the world, but Mars now owns the bulk of their pet food products. Mars discontinued Natura but they still make Iams, Eukanuba, California Natural, and Evo. The Evo formulas have been revamped but they still appear to have good quality ingredients. While this sale took place in 2014, the changes are still trickling through pet foods.
Another sale that affects pet lovers was the sale of Merrick to Purina. For years Purina's top-of-the-line dog food had been ProPlan. This food does come in various formulas, including a recipe for sensitive skin and stomach, grain free, natural formulas without corn, wheat or soy, and so on. However, some people unalterably dislike Purina for whatever reason. Perhaps to reach more of the super premium pet food market, Purina bought Merrick. Merrick is a Texas company that has been making dry and canned foods at its own facilities for quite a few years. They use food grown locally and their natural foods have a lot of meat and fish protein. It's a popular brand so the purchase was a smart move for Purina in July 2015. There have been no changes announced to the management or operations. Although some pet lovers were nervous that the food might change, we have not heard of any changes to the food or any complaints from people that feed the food so far.
If you formerly fed pet foods made by Del Monte then you have probably already noticed a change in labeling. Del Monte no longer makes pet foods. Del Monte split off their pet food division in 2014 and it is now known as Big Heart Pet Brands. Products include Milk-Bone, Natural Balance, Nature's Recipe, and others. The company is using the same offices and plants that it formerly used. We have not heard of any changes in the products.
Another major purchase that may affect pet lovers in the future is the sale of Petco for $4.6 billion. Petco also changed hands last year. Changes at the top may or may not affect company policies and the products they carry.
PetSmart was sold at the end of 2014 for $8.7 billion, resulting in a change of senior leadership. It has also brought changes to PetSmart Charities.
Lawsuits
The pet food industry seems to be prone to lawsuits. If it's not consumers suing companies, then it's companies suing each other.
One lawsuit that caught national attention this year involved charges that Beneful (made by Purina) was killing dogs. The lawsuit expanded into a class action suit. There were no recalls associated with Beneful. Purina responded by launching a national campaign in support of the brand. The lawsuit is currently making its way through the courts.
Another high profile lawsuit this year is the fight between Purina and Blue Buffalo. It looks like Purina has definitely won this battle, though the court proceedings continue. Purina sued Blue Buffalo in 2014 for false advertising, among other things. They claimed that Blue was using poultry by-product meal, corn, and artificial preservatives in their foods, contrary to their product labeling and advertising. At the same time, Blue was blasting other pet food companies, including Purina, for using some of these same ingredients. Analysis of Blue Buffalo products showed that Purina was correct. Blue's foods did contain these ingredients. They had apparently contained them for a long time. And, despite trying to plead ignorance and blame their suppliers, internal e-mails showed that Blue knew the contents of their foods. As a result, Blue has been hit by lots of lawsuits (combined into a class action suit) from consumers alleging false advertising. They recently settled these suits for $32 million. To be honest, we're not sure where Blue Buffalo stands now with regard to their foods and ingredients. We have been hesitant to recommend Blue this year, at least until they can rebuild consumer trust. Confidence in the brand has definitely been shaken.
New Developments in 2015
The Food Safety Modernization Act (FSMA) was signed into law in 2011. It has taken several years for the FDA to work with farmers, feed companies, pet food manufacturers, and other companies affected by animal food regulations, as well as agencies and consumer groups, to come up with revised rules for manufacturing. The FSMA Final Rule for Preventive Controls for Animal Food is the result. Otherwise known as the regulations to Establish Current Good Manufacturing Practice and Hazard Analysis and Risk-Based Preventive Controls for Food for Animals, the new rule is supposed to make animal food (food made from animals) safer. Many animal feed companies and pet food manufacturers already had good manufacturing practices of their own while other companies were lacking. The new rule tries to bring everyone into compliance to a level prescribed in the rule. It is set to go into effect starting in September 2015. It will take that long for some companies to begin to make changes to their way of doing things.
In pet food trends, many better quality foods continue to add probiotics, prebiotics, fermentation products/enzymes to their formulas. You can find ingredients such as dried Lactobacillus acidophilus fermentation product, dried Bifidobacterium animalis fermentation product, dried Lactobacillus reuteri fermentation product and others. Farmers have been adding fermentation products to their animals' feed for years with good results. Studies show that fermentation products can help animals digest their plant-based feed better and gain more weight – an important goal for most livestock. However, whether similar fermentation products are really helpful for dogs is debatable. Some people are not convinced. When pet food manufacturers first started adding them to dog foods they tended to use strains that worked for humans for livestock. There are some strains now designed for dogs (Taste of the Wild uses K9 Strain probiotics – registered trademark – for example) but there are other issues. Many people raise concerns about adding dried fermentation products to pet food – since these products are believed to only be useful when they contain living organisms. Pet food manufacturers maintain that they add lots of extra probiotics to their formulas to be sure that some of the organisms are still alive when the pet food reaches your dog's bowl, but testing has shown this doesn't always work. You may be spending money for nothing when you pay for these ingredients.
There is one dog food that uses a live probiotic in their foods – VeRUS. The company uses a freeze-dried live probiotic that seems to be unique among pet food manufacturers. Whether these freeze-dried live probiotics really survive freeze-drying and the pet food manufacturing process very well, we can't say. It would be nice to see test results to back up these claims.
New ingredients you may see in pet foods in the future include a few things that may cause you to balk. If you thought hydrolyzed feathers were bad (for dogs with extreme allergies), then consider insects. Jonker Pet Food in the Netherlands is already making food from insects, though they have not said which ones. Insects are considered a good source of protein in some parts of the world. Insects may also be cheaper to raise and have other benefits that animals like cows and chickens don't have. Presumably dog food made from insects could be fed to dogs with severe allergies. Pet food researchers have made presentations about pet food made from insects at various trade meetings in Europe and Asia. You could see dog food made from insects on pet store shelves sooner than you think.
As peas and pea protein continue to replace grains in pet food, expect to see more pulses in dog food. Pulses include peas, beans, lentils, and chickpeas. Researchers are working on more dog foods with more of these ingredients. It will be up to dog lovers to keep checking labels to make sure there dogs are eating balanced foods with enough meat protein. Some dogs have problems digesting these ingredients so you may want to look for dog foods that use other carb sources.
Wrap Up
Overall this was a good year for dog food, with interesting foods and the truth coming out about some other brands. We expect consumers to continue to wrestle with companies for more information. It's hard to know why companies keep some basic information so secret – such as who makes their food or where it's made.
Looking Forward to 2015
Dog lovers are much more knowledgeable about dog food today than they used to be and better at reading ingredients and judging analyses of food. The more information we have, the better.
We hope you and your dogs have benefited from this site in 2015 and we look forward to providing you with more information in 2015.
Where To Save On Dog Food In 2015
Updated December 18, 2015