What Is The Best Dog Food For a Cane Corso?
The Ultimate Cane Corso Food Buyer's Guide
The Cane Corso is a large, molosser (mastiff) type of dog that originated in Italy. It is sometimes referred to as the Italian Mastiff.
The Cane Corso is a near relative of the Neapolitan Mastiff which is also a native Italian mastiff breed. While both breeds are very large, the Neapolitan Mastiff is much larger. Both breeds are descended from Roman war dogs. While the Neapolitan Mastiff is an imposing guard dog, the Cane Corso is a lighter version, useful for hunting game or working on the farm. They are powerful, athletic dogs and make good companions.
They are not usually recommended for first time owners because they do require firm leadership and plenty of good socialization. The popularity of the breed is growing in the United States. They are currently ranked 47th in popularity by the American Kennel Club – up from 60th place in 2012.
Quick Look : Top 3 Best Dog Foods for Cane Corso
Food
Price
Nutrition
Rating
Fromm Gold Large Breed Adult Dry Dog Food

$1.36/lb
Canidae All Life Stages Formula Dry Dog Food
Read Reviews Where To Buy
$1.25/lb
Holistic Select Large & Giant Breed Adult Health Dry Dog Food
Read Reviews Where To Buy
$1.55/lb

---
20% Off + Free Shipping
on dog food for Cane Corso
Cane Corso Diet & Nutrition
According to the standard for the breed, the Cane Corso typically weighs between 88 pounds (small female) and 110 pounds (large male). They usually stand between 23 and 28 inches tall, with females being at the smaller end of the scale.
Many people associate mastiff-type dogs with aggression because of their size and because they can look very frightening. The truth is that the Cane Corso is usually a sweet, docile dog at home. Like most mastiff-type dogs, they should remain calm and undisturbed when approached and only react when there is a genuine threat. Many mastiff-type dogs will simply knock someone down and sit on them until human help arrives. The Cane Corso is intelligent and tends to be more watchful than aggressive.
However, the breed is energetic, especially as growing puppies and as young adults. They require a diet that features good quality protein. According to the National Research Council of the National Academies, an active adult Cane Corso dog weighing 90 pounds requires an average daily caloric intake of 2100 calories. Dogs that have been spayed/neutered, or that are older, may need fewer calories. Some dogs may need more calories depending on their level of activity and their individual metabolism. Growing puppies, for example, consume more calories than adult dogs and so do young adult dogs. A young adult Cane Corso dog weighing 90 pounds needs an estimated 2164 calories per day.
Protein is very important for your dog's diet. The Association of American Feed Control Officials (AAFCO) recommends a minimum of 22 percent protein for growth (puppies) and 18 percent protein for maintenance in adult dogs. Most good quality dog foods will far exceed these percentages. Fat is an important source of energy for dogs and should comprise at least 8 percent of the diet for Cane Corso puppies and 5 percent of the diet for adults.
The Cane Corso can be prone to several health problems that can be affected by diet such as hip dysplasia and gastric torsion or bloat. Canine hip dysplasia occurs in many large breeds. Genetics play a role in hip dysplasia but environmental factors are also important. Dogs that are obese or that don't get good nutrition are more likely to develop the disease. Likewise, dogs that get improper exercise or injure themselves can also be more likely to develop hip dysplasia. Hip dysplasia is considered relatively common in the Cane Corso, with 38.3 percent of all dogs tested having some degree of dysplasia.
Bloat – a life-threatening problem that can occur very rapidly – is also a problem in the breed, as it is for many large, deep-chested dogs. The exact causes of bloat are not known but most people recommend that you feed your dog more than once per day and try to discourage your dog from eating too fast. (Dogs that eat too fast can gulp air while they eat.) Many people also recommend that you do not allow your dog to engage in vigorous exercise for two hours after a meal.
Because of the breed's large size as adults, it's very important to feed Cane Corso puppies a large breed puppy food*. In large breeds like the Cane Corso, the growth plates for some bones can continue to grow for nearly two years. Feeding a food for slow growth is much better for these bones and helps prevent joint and skeletal diseases. These puppy foods pay special attention to the calcium to phosphorus ratio in the food and keep the protein and calories slightly lower to encourage slow growth. Research has shown that this is better for breeds that are inclined toward arthritis and joint problems, such as hip dysplasia, later in life. Unfortunately, some popular dog foods that are grain free or very high in protein are not advisable for puppies because their calcium to phosphorus ratio is inappropriate. You can start making the switch to feeding your puppy an adult dog food once he has reached about 90 percent of his adult size.
*All life stage formula dog foods can also be appropriate but you should check the nutritional analysis to make sure the food is suitable for your puppy.
Feeding Your Cane Corso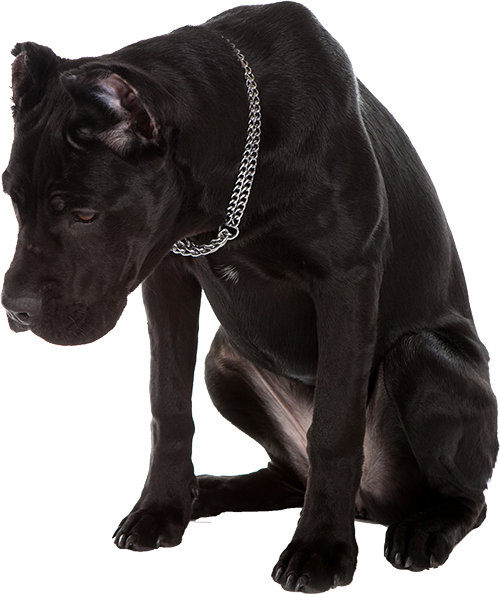 While some people like to feed their Cane Corso a raw or homemade diet, you should be able to choose a good commercial dog food for your puppy or dog. The breed can usually eat most good quality dog foods. However, they do require good quality nutrition. This is really not a breed that can get by on cheaper dog foods.
We suggest that you measure the amount of food you feed and only leave the food sitting out for about half an hour. Then put it away. This should give your dog time to eat. If you free feed and leave the food sitting out all the time dogs usually nibble which puts on pounds. Most adult dogs do well eating two meals per day. Puppies can usually eat three meals per day until they are old enough to start eating on an adult schedule.
Cane Corso Health Problems
We have already discussed some of the health issues for the Cane Corso. The breed can also experience demodectic mange which is thought to be due to a weakened immune system. The mites that cause demodectic mange are always present on dogs and other animals (including humans in many cases), but they only become a problem when the immune system fails to keep them under control. Demodectic mange usually appears on young dogs and older dogs for this reason. There are treatments for demodectic mange but some people also try to keep their dog's immune system as strong as possible. Many people recommend feeding a food that is free of some of the most common food irritants such as corn, soy, and wheat. These are not the most common dog food allergens – beef, dairy products, and chicken, for example, lead to more food allergies for dogs than corn, soy, and wheat. But many people like to avoid soy and grains in dog foods. There are many good grain free dog foods today if you want to feed one to your dog.
Avoiding artificial colors, sweeteners, and preservatives is also suggested as a way to help keep the immune system stronger.
Ingredients to Look for and Some to Avoid
Protein and fat are the main ingredients in the diet for a Cane Corso, as they are for most dogs. However, not all protein and fat are the same. It's important that the protein and fat in the dog food comes from good sources if you want your dog to be healthy. For example, both shoe leather and steak contain protein but there's a big difference in the nutrition they provide.
Ideally you will select a dog food that features two or three meat proteins in the first several ingredients listed. Both whole meats and meat meals are good sources of protein. Whole meats refer to foods such as whole chicken, beef, fish, and lamb. However, whole meats contain normal water moisture. Animals are about 70 percent water, just as humans are. If the water from these meats were removed, they would normally be placed lower on the ingredient list since the dog food label is required to list food by weight before cooking. Some people don't like meat meals as much as whole meats but they are a concentrated form of the meat in which the moisture has been removed. They contain several times as much protein as a whole meat. Meat meals are usually quite acceptable as one of the first ingredients in a good quality dog food. They are used by many good dog food brands.
Dogs also need good sources of fat. Some vitamins are only fat-soluble and your dog needs them in his diet. But fat, like protein, varies in quality depending on the source. You should look for named fat sources such as chicken fat. Other named fats also provide needed nutrients such as fish oil which can provide omega-3 fatty acid to help keep the skin and coat healthy. Puppies can benefit from DHA which is Docosahexaenoic acid. This is a specific form of omega-3 fatty acid that helps with brain development. Older dogs seem to benefit from medium chain triglycerides which feature medium chain fatty acids (MCFAs). These have been found to help older dogs feel and act younger. They are often made from a combination of coconut oil and other oils.
If you want to avoid corn, soy, and wheat in your dog food, your Cane Corso may still be able to eat rice, barley, oats, or some other grain or cereal. Or you can choose a dog food that uses an alternate source of carbs such as sweet potatoes. You don't have to feed a dog food with an excessively high percentage of protein but it's a good idea to keep the carb percentage low to moderate.
An active, muscular dog like the Cane Corso do well with moderate levels of protein, and moderate fat. And remember that Cane Corso puppies need slightly lower levels of protein so they won't grow too fast.
Recommended Dog Food For Adult Cane Corso
Every dog is an individual. Even dogs in the same breed can have different food needs. Some dogs need more calories than others. Some dogs will do better with more protein or fat than other dogs. We are providing several suggested foods for your Cane Corso which meet our standards but you may have to use a trial and error method to see which food your dog does best on.
When you are trying a new food, be sure to allow several days to slowly transition to the food, mixing in a little of your dog's old food each day. Of course, if your dog shows signs that he doesn't like the food or doesn't tolerate it, you will have to make adjustments. If your dog eats the food but you don't like his condition after a few weeks, you can change him back – slowly – to his previous food. It's best not to go directly to another new food. You can upset your dog's gastrointestinal system if you keep changing to too many new foods in a short period of time. Once your dog has settled back with his old food, you can once again try a new food. You should allow at least a couple of weeks between foods before trying another new food so you can give your dog's system a chance to rest and recover. This also gives the new food a fair chance.
If you try a new food and your dog doesn't seem enthusiastic about it, you might also try another food from the same product line that uses a different kind of meat or other ingredients. As long as the guaranteed analysis and nutrient percentages are similar, the food should be similar to the original food you selected.
When you are feeding a new food and your dog is eating it without problems, it's important for you to assess his physical condition. Is he gaining or losing weight on the new food? Does his coat look shiny and healthy? Are his eyes bright? Does he seem to have good energy or is he more lethargic than usual? And, the big question for any dog lover – what does his poop look like? As most dog lovers know, you can tell a lot about a dog's health by checking his poop. Does it look normal and firm? If he having regular bowel movements. Those are good signs. If your dog is having runny poop or diarrhea; or if he is having trouble with his bowel movements, it could be because of the new food. These are all things you should note during the first few weeks of feeding a new food. Even if your dog LOVES the food, if he's not thriving, you may have to rethink his diet or how much you are feeding him.
Top Rated Dog Foods for Cane Corso Adults
Food
Price
Nutrition
Rating
Fromm Gold Large Breed Adult Dry Dog Food

$1.36/lb
Canidae All Life Stages Formula Dry Dog Food
Read Reviews Where To Buy
$1.25/lb
Holistic Select Large & Giant Breed Adult Health Dry Dog Food
Read Reviews Where To Buy
$1.55/lb
1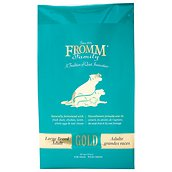 Designed specifically for large dogs over 50 pounds, Fromm Large Breed Adult Gold is one of our favorite dog foods for large dogs. It contains duck, chicken meal, and chicken as the first three ingredients. Chicken cartilage is added for a natural form of glucosamine to keep joints supple which is important for large dogs like the Cane Corso. No wheat, corn, or soy that might irritate the digestive system. Fromm Large Breed Adult Gold features moderate protein and fat which is better for large dogs like the Cane Corso, and moderate calories to help your large dog stay slim.
We also like the fact that Fromm is a family-owned company in Wisconsin and they make their food in small batches fresh every morning. Your Cane Corso should stay healthy and fit with this large breed food from Fromm.
2
Canidae is another brand recommended by Cane Corso breeders. They have several good dog foods including both grain free and food with grains. Their All Life Stages formula features four meat protein meals – chicken, turkey, lamb, and fish. It includes guaranteed levels of probiotic cultures to help with digestion. This could be helpful for any breed that has problems with bloat. The food also has guaranteed levels of antioxidants which help the immune system. Again, this can be helpful for the Cane Corso.
This food has no wheat, corn, soy, fillers, antibiotics, hormones, artificial flavors, colors or preservatives, which we like. The protein is also moderate which most people recommend for the Cane Corso.
This is definitely a food to consider for your Cane Corso.
3
Holistic Select is considered one of the best dog foods made today. This particular formula is made with the large and giant breeds in mind. It features chicken meal and oatmeal. The formula has a Digestive Health Support System that includes active probiotics, healthy fiber, and digestive enzymes. Once again, these ingredients may be helpful for a breed such as the Cane Corso which is prone to bloating. The food's protein blend supports the musculature which is helpful for any large breed dog. And the food has added glucosamine which is helpful for healthy hips and joints, especially in a breed such as the Cane Corso that is prone to hip dysplasia.
Holistic Select makes many good foods including grain free foods. If you don't like this particular food, you may find another food made by the company that would be more suitable for your dog.
Best Dog Foods for Cane Corso Puppies
As large breed puppies, Cane Corso puppies do have some special requirements. They often do well on good quality large breed puppy foods. These foods have slightly less protein than regular brands of puppy food. They also have less calcium and phosphorus than other puppy foods which is important for large breed puppies. It's also important to make sure that the calcium to phosphorus ratio is accurate for large breed puppies like the Cane Corso. This ratio should be very close to the following for large breed dogs: 1.2:1. That is 1.2 parts calcium to 1 part phosphorus. (There is some slight room for variation, such as 1.5:1, but the ratio should be close to this.) You can usually find this information in the nutritional analysis for a dog food. It may or may not be included on the label but you can usually find it on the company web site.
Top Rated Cane Corso Puppy Food
Food
Price
Nutrition
Rating
Fromm Gold Large Breed Dry Puppy Food

$1.48/lb
Canidae Life Stages Large Breed Dry Puppy Food
Read Reviews Where To Buy
$1.55/lb
Holistic Select Large & Giant Breed Dry Puppy Food
Read Reviews Where To Buy
$1.42/lb
Fromm – Large Breed Puppy Gold Formula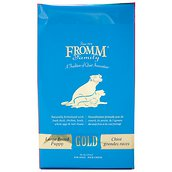 Similar to Fromm's Large Breed Gold Adult formula, this large breed puppy formula contains no corn, wheat, or soy. The first three ingredients are duck, chicken meal, and chicken. The food is formulated for puppies who will grow to be over 50 pounds as adult dogs. Protein and fat in the food are moderate, and so are the calories, to help large breed puppies grow slowly. The technical analysis for the food shows the correct calcium to phosphorus ratio for large breed puppies. Fromm Large Breed Puppy Gold formula also has added DHA-rich salmon oil for good brain and eye development in puppies. The USDA-inspected ingredients for the food are delivered fresh each morning.
Canidae – Life Stages Large Breed Puppy Duck Meal, Brown Rice & Lentils Formula Dry Dog Food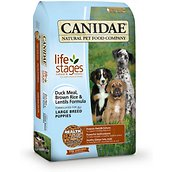 Cane Corso breeders often recommend Canidae for their dogs and puppies. You can feed an all life stages food or you can feed Canidae's Life Stages Large Breed Puppy formula which features duck meal, brown rice, and lentils. It's specially designed for puppies that will grow to be over 50 pounds as adults. Duck meal is high in omega-3 fatty acid which is good for reducing joint inflammation. Lentils are a non-grain, gluten free source of carbs. The food is also lower in protein and fat so it helps keep large breed puppies like the Cane Corso slim – which can help prevent hip dysplasia later in life.
As a puppy food, Canidae Life Stages Large Breed formula also contains high levels of DHA to help with cognitive development. And the food has no corn, wheat, soy, fillers, antibiotics, hormones, artificial flavors, colors, or preservatives. These are all things we look for in a good food for Cane Corso puppies.
Holistic Select – Large & Giant Breed Puppy Health

This large breed puppy formula features lamb meal and oatmeal. It includes probiotics, healthy fiber, and digestive enzymes to help your Cane Corso puppy digest the food better and absorb more nutrition. Other natural ingredients include chicken and fish meals. The formula supports muscle and bone development to help your Cane Corso puppy enjoy good health now and as an adult. The food also features DHA to help your puppy with brain and eye development. Protein and fat are at lower levels desirable for growing large breed puppies. And the calcium to phosphorus ratio is appropriate.
Best Dog Foods for the Senior Cane Corso
All dogs get older and that's true of your Cane Corso, too. You can expect dogs of this breed to live to be 10 to 12 years of age which is quite a long time for a breed this large. By the time your Cane Corso is about 7 years old he may begin to slow down and enter his early senior years. At this time some dogs may start to gain weight for age-related reasons. It's a good idea to have your Cane Corso checked by a veterinarian at this time. Many vets recommend an annual senior check up once your dog starts to age. By getting an early start your vet will have a good baseline for your dog's health and she can compare any later changes to results when your dog was younger and healthier.
There are actually two kinds of dog foods for senior dogs. Some dog foods for senior dogs are formulated with the idea that older dogs are slowing down and gaining weight. This is true for many dogs just past their prime years. However, as dogs become more elderly, they can have the opposite problem. They can start to lose too much weight and it can be hard for them to keep enough weight on their body. They are not metabolizing and digesting food as well as they did when they were younger.
If your Cane Corso is 7-10 years old and a little plumper than he used to be, he might benefit from eating a senior dog food for mature dogs. These foods typically have fewer calories – and more filler ingredients – than foods for adult dogs. Their purpose is to make your dog feel full while giving him fewer calories so he will lose a few pounds. The best foods for older dogs will have more protein and fewer carbs. Good quality protein is essential for older dogs.
If you have an aging Cane Corso who is having trouble keeping his weight, you may need to avoid most senior dog foods. Your dog needs more calories, not fewer. He needs good quality protein and fat that is easy to digest. There are a few senior foods that might work for your dog. Or you might have to go back to feeding an adult dog food. Or, your Cane Corso might do better with a homemade diet at this age. Again, more good quality protein that your aging dog can digest is essential. At this age, give your dog what he wants to eat. Often just getting a very old dog to eat anything is an accomplishment.
As your dog gets older, it's often a good idea to use a food that includes glucosamine and chondroitin, too. Or, you can add these supplements to your dog's diet. They are easy to buy at your local drugstore. Antioxidants and probiotics can also be helpful for senior dogs. It's usually easy to find good dog foods that contain these ingredients.
Orijen Senior Dog – For All Adult Dogs (7 Years & Older)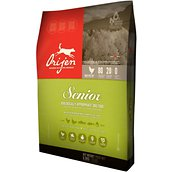 We like Orijen Senior, especially for a large breed like the Cane Corso. It has higher protein and lower carbs than many dog foods, especially many senior dog foods. It provides protein from excellent meat sources. It does provide some grain from steel-cut oats but its low-glycemic. We think this food should keep most older dogs feeling full so they don't get hungry. It also adds glucosamine and chondroitin to the formula to help with your older dog's joints. Orijen is made by Champion Pets, the same company that makes Acana. We like the protein percentage and ingredients in this food better than the higher protein, supplemented with so much plant protein, found in some of Acana's foods.
Best Dog Foods for Cane Corso with Skin Allergies
While Cane Corso are not especially prone to food allergies, their problem with demodectic mange can lead to some secondary skin infections. If your Cane Corso is having skin problems or problems with food allergies, you will probably want to avoid foods that contain known food allergens such as beef, dairy products, chicken, lamb, fish, chicken eggs, corn, wheat, and soy. If your dog is having hypoallergenic reactions – which usually manifest as itching, redness, chewing, and hair loss – you will need to identify the trigger for his allergy. You can try to guess the trigger or work with your veterinarian on a food trial and elimination diet for your dog. You may need to find a novel protein for your dog – a protein that he has not eaten previously. Natural Balance has a selection of limited ingredient diets that can be helpful for dogs with food allergies. You might try giving your dog the rabbit formula, kangaroo formula, venison formula, or bison formula. He should be able to eat a meat protein that he has not eaten previously without having an allergic reaction.
Natural Balance L.I.D. Limited Ingredient Diets® Potato & Rabbit Dry Dog Formula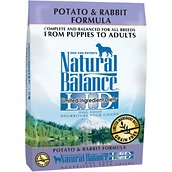 This limited ingredient diet food has limited sources of protein and carbs. It's also grain free and complete and balanced for puppies, adults, and senior dogs. The food is easy for your Cane Corso to digest and it contains no artificial flavors, colors, or preservatives.
Best Dog Foods for Cane Corso with Sensitive Stomachs
Many breeds of dog are susceptible to food sensitivities that affect their digestion and excretion. The Cane Corso is no exception.
If your dog does have a sensitive stomach it can be an indication of a food sensitivity, which is different form a food allergy. A dog with a food sensitivity will have gastrointestinal issues such as vomiting or diarrhea. Or it could be something more serious.
A dog with a sensitive stomach can often be helped by feeding the right dog food. Sticking to a limited ingredient diet food with as few ingredients as possible can reduce the chance of your dog having a bad reaction to something in the food.
Many people recommend Wellness Simple for dogs with food sensitivities. The formulas feature only five main ingredients to keep things very simple for your Cane Corso. Wellness makes formulas that are both grain free and some that have grains such as oatmeal. The food is easy to digest and contains probiotics and prebiotics to help the gastrointestinal system. It also contains omega fatty acids for good skin and coat. Formulas feature duck, salmon, turkey, and lamb. Wellness Simple comes in dry and canned formulas.
Best Dog Foods for Overweight Cane Corso
Weight management is important for all dogs. It's particularly important for a large breed dog like the Cane Corso since being overweight or obese increases a dog's risks of developing hip dysplasia.
If your large breed dog is five to 10 pounds overweight, you can probably help him lose a few pounds by managing his regular dog food and portions. Help him get some additional exercise. However, if your Cane Corso is more than a few pounds overweight, you probably need to consider changing his food to a weight control dog food. These foods are sometimes called "low fat" or "low calorie" foods but weight control is really more accurate.
We do not recommend a weight control dog food for a puppy or a very old dog. These foods generally have fewer calories and may have some other differences that make them inappropriate for growing puppies or older dogs who need special nutrition.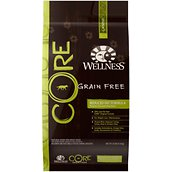 If you have a Cane Corso who needs to lose weight, we recommend Wellness CORE Grain Free Reduced Fat Formula. This food is high in protein and low in fat. It's also gluten-free and grain free. It has 25 percent less protein than the original Wellness CORE formula.
The food contains deboned turkey, turkey meal, and chicken meal. The food also includes antioxidants, omega fatty acids, glucosamine and probiotics. In fact, the ingredients look very similar to the original CORE formula. It has no corn, wheat, or soy.
Whether you are getting a new puppy or looking for a new food for your companion, we hope these recommendations help you choose the best food for your Cane Corso. This is a magnificent, ancient breed and we want you and your dog to thrive.
Updated September 22, 2015