What is the Best Dog Food for a German Shepherd?
The Ultimate German Shepherd Food Buyer's Guide
Skip To Recommendations 
The German Shepherd Dog, lovingly referred to as the GSD, is a large breed of dog known for its black and tan coat and wolf-like features. Their fierce devotion to their owners make them a favorite of law enforcement along with their size and trainability.
These dogs have solidly muscular bodies that require high-quality nutrition to maintain. In this article you will learn the basics about providing a quality diet for your GSD and get the scoop on the best brands of dog food to be feeding your loyal pet.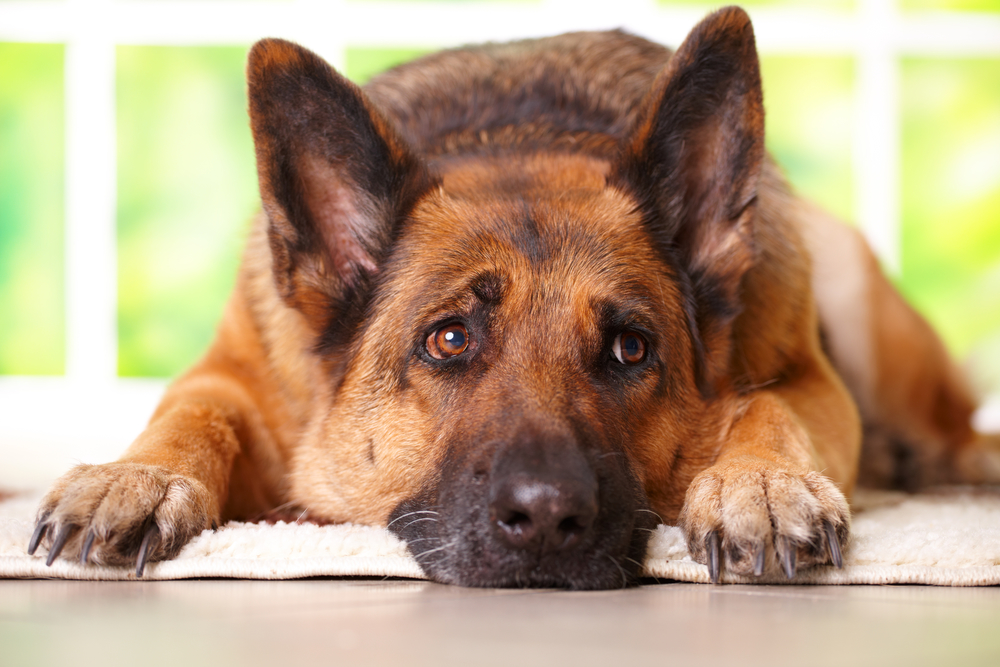 German Shepherd Diet & Nutrition
The average German Shepherd weighs between 60 and 80 lbs. and most of that weight comes from solid bone and muscle. In addition to their strength and intelligence, German Shepherds are also known for being active, athletic dogs. This being the case, a GSD requires a high-quality diet that provides enough protein to support muscle health and fat for energy. According to the National Research Council of the National Academies, active German Shepherds require an average caloric intake between 1,740 and 2,100 calories. Older and less active dogs may require a lower calorie count.
Protein is the top requirement in a German Shepherd's diet and the Association of American Feed Control Officials (AAFCO) recommends a minimum of 22% protein for growth and 18% for maintenance in adult dogs. Fat is an important source of energy and should comprise at least 8% of the diet for German Shepherd puppies and 5% for adults. One thing to be wary of with German Shepherds in particular is that they tend to grow quickly so you shouldn't have a puppy on puppy-specific diet for more than 6 months. Switching to an adult formula after 6 months of age will help to prevent bone and joint issues related to rapid growth.
Ingredients to Look For
Protein and fat are the two most important components of a German Shepherd's diet but these nutrients shouldn't come from just any ingredients – they should come from high-quality sources. Ideally, your dog's protein should come from whole meat sources like poultry, fish and beef as well as organ meats. Animal by-products such as chicken meal do not provide as much protein or as many other nutrients as whole protein sources. In regard to healthy fat sources, look for a dog food that includes vegetable and fish oils to provide omega-3 fatty acids – these are necessary to keep your dog's skin and coat healthy. Additional ingredients you might look for in a German Shepherd food include vegetables like carrots and sweet potatoes and small amounts of digestible carbohydrates like barley, rice and oats.
Recommended Brands of Food
Every dog is different so you need to purchase a food that will provide for your dog's individual needs. Some of the brands that are most highly recommended for German Shepherds in particular include:
<!—->
1

---
20% Off + Free Shipping
on dog food for German Shepherds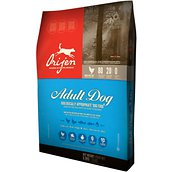 Orijen is hands down the most respected and high quality dog food on the market.
Sure there are a lot of other good dog foods on the market, but you'll be hard-pressed to find another that contains the amount of care and preparation that goes into every bag.
We recommend Adult Dog for a lot of breeds, but it checks a lot of the specific boxes for German Shepherds. High protein content from quality sources, grain-free for allergy prevention, and lots of essential vitamins and minerals for optimum health are a few of the pros you get with Orijen.
The only real reason you shouldn't buy this food is price. Unfortunately it's one of the more expensive dog foods on the market and comes close to matching the cost per pound ratio of most wet foods. We found it for $78.99 for a 28.6lb bag at Chewy.com which comes out to $2.76/lb. German Shepherds eat about 2 cups of food per day (depending on weight) which equates to about a pound of food. That means that one bag of Orijen dog food should last your GSD about a month. If you have the budget for Orijen you shouldn't need to look anywhere else.
2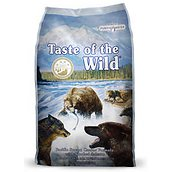 By far the fan favorite of online dog foods, Taste of the Wild hits the sweet spot where quality and price come together.
Taste of the Wild's Wetland dry dog food is Made in the USA and, like Orijen, is also grain-free. This is great for Sheps with skin allergies or sensitive stomachs as it removes a lot of the typical ingredients that cause itching and bloat.
Given that you're not sacrificing that much quality for this brand we think this is a very affordable dog food for your German Shepherd that is a suitable competitor to Orijen for close to half the price.
3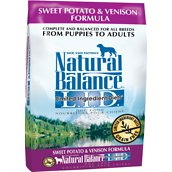 Dog food consumers rave about Dick Van Patten's Natural Balance dog foods. Most of the options are for all life-stages meaning puppies and adult dogs and have limited ingredients which help stop skin allergies in GSD's.
Natural Balance is Made in the USA and is available commercially as well as online.
We found it at Chewy.com on sale for $53.86 for a 26 lb bag. That puts it at $2.07/lb which comes in right between Orijen and Taste of the Wild. Give this one a try if your dog has especially sensitive stomach issues or itches and scratches a lot.<!–
4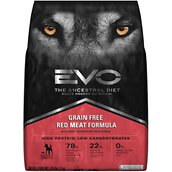 Lesser known, but still quite good is EVO red meat formula grain-free dry dog food.
You'll find a lot of farmers and ranchers feeding their German Shepherd EVO. For some reason we tend to trust their opinion more so we've given it a close look.
Containing high quality protein at levels needed for a German Shepherds along with no soy, wheat or corn fillers makes this food ideal for active GSD's from puppy to adult.
It's currently running at $62.68 for a 28.6 lb bag which means you'll enjoy free shipping if you order from Chewy.com.
–>
What About German Shepherd Puppies?
Young shep pups require nearly the exact same consideration as their muscular moms and dads. Go grain-free whenever possible to avoid common allergens and irritants and of course look out for foods listing named meats such as beef, bison and chicken as the first ingredients. Stay away from puppy foods that use "by-products" in their initial offerings.
Also, don't forget to pick brands that have a solid history of recall-free pet food production and consumer advocacy. Here are the ones we like most:

---
20% Off + Free Shipping
on dog food for German Shepherds
Conclusion
German Shepherds are large, active dogs so they require high-quality nutrition. After learning the basics about your dog's nutritional needs, you should be well equipped to choose a dog food that will fulfill your German Shepherd's needs.
Updated September 06, 2017