The Best and Worst Dog Foods – A Year in Review
The year 2016 was exciting if you love following dog food and finding good foods for your dog. There were new foods, new ingredients, fewer recalls, more lawsuits, and some exciting pet food trends. Here's a look at some of the best and worst dog foods stories that caught our attention in the past year.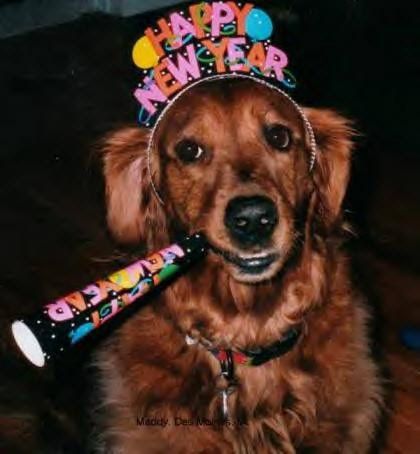 Protein is HOT!
If you like the idea of feeding your dog lots of good quality protein, then 2016 was a very good year for you. More protein, often from novel sources, was THE big trend of the year. According to information provided at Petfood Forum 2016 in Kansas City last April, 28 percent of U.S. dog owners look for "high protein" as one of the claims in the pet foods they purchase. Some 20 percent of U.S. dog owners also look for "red meat as first ingredient;" and 19 percent of U.S. dog owners look for "poultry as first ingredient."
Chicken is the top protein bought by pet owners but beef is also favored. Novel proteins such as boar, rabbit, venison, and bison are beginning to move up in the percentages and have experienced large sales gains among the small number of consumers who buy these foods. Other exotic proteins such as kangaroo, goat, duck, pheasant, and quail are also showing gains.
Transparency
Another hot trend in dog foods in 2016 was the issue of transparency. More than ever before, dog lovers and other pet owners want to know about the food they are buying. Dog lovers want to know where ingredients come from, who makes food, where it's made, how it's made, and other details about the food they give their dogs. This trends parallels a similar trend in human foods with consumers wanting to know more about their own food.
More freeze-dried foods
We also saw more freeze-dried foods introduced in 2016. Freeze-dried meats cost more to produce so these foods tend to be more expensive. Consumers are readily purchasing freeze-dried treats where the higher cost is not so noticeable. Some companies are using freeze-dried pieces as part of their kibbles to help off-set the cost. Merrick Backcountry and a few other brands are all freeze-dried food. Expect this trend to continue as consumers get used to the idea. If the costs are extremely high, these foods might be targeted at small breeds, too.
Human food trends in pet food
Again in 2016, many popular human food trends were transferred to dog foods. Dog lovers showed an interest in non-GMO foods, paleo foods, local, organic, and low-carb foods. Many of these trends are expected to continue in 2017.
Changes in packaging
One other trend that has not gone unnoticed are the changes in packaging. For years we've seen bags of dog food getting smaller. Pet food manufacturers say that they are catering to the increased presence of small dogs in the population – and small dog owners prefer to buy smaller bags of food. Wet/canned foods are also growing in popularity at least partly due to the popularity of small dogs. Now you can also add small meals in trays aimed at small dogs. With the issues reported due to BPA, we may also expect pet food manufacturers to start moving away from using cans at some point in the future and begin using more pouches for wet food. Pouches have other benefits such as being resealable and not cutting people the way metal cans are prone to doing.
Where To Save On Dog Food In 2017
Ingredients
While there were several new ingredients in dog foods this year – "new," meaning we have not seen them in dog foods previously – here are some ingredients (all featuring protein) that were in the news this year.
Grass-fed meats: Dog lovers are looking for grass-fed, ranch-raised, cage-free, and similar foods. To be sure, these meats cost more. But consumers are interested in them, whether they end up buying these foods or not.
Bone broth: Bone broth is popular in human cooking; perhaps more importantly, people who cook for their dogs know that it's healthy. And people who feed their dogs a raw diet can attest to the health benefits of bones. Bone broth provides dogs with minerals and collagen for joint health.
Plant superfoods: So-called "plant superfoods" have been popular with people concerned about their health for some time so it's not surprising that this trend would crossover to dogs. Quinoa and chia seeds are high in plant protein. They are also non-GMO, non-soy, gluten-free, and sustainable foods. Advocates say that including these ingredients in food is a good way to provide well-rounded sources of protein in a dog's diet along with animal protein. However, it's important to remember that dogs are not vegetarians or herbivores. They do require animal protein.
Pulses: Pulses, which include peas and beans, are one of the new trends in dog foods. They typically contain 23-26 percent protein, complex carbs, and fiber. Beans are sometimes used as an ingredient in weight loss dog foods per the Journal of Applied Animal Nutrition. Pulses are often considered to be a desirable crop because they need less fertilizer than some grains. They are considered to be environmentally sustainable and economical.
Insects: You read that right. There are already dog foods in Europe based on insects. Some insects are considered a healthy, nutritious food in some parts of the world. Some pet nutritionists believe insects are a good source of protein for pets. They are easy to raise compared to livestock. And they are a source of macro and micro nutrients, vitamins and minerals. Many dogs and cats already eat them when they can catch them. So, you may find dog food online or in your local pet food store with insects as an ingredient sooner than you think. This is certainly a topic of discussion at pet food expositions and forums where manufacturers gather to discuss global trends.
Top dog foods in 2016
There are lots of sites and online articles that purport to tell you which dog foods are best and even which dog foods were best in 2016. These articles often include a lot of bias and opinion. We can provide you with some data based on the dog foods that people actually purchased for their dogs in 2016. These may not be the "best" foods, but these were the bestselling foods in 2016.
Top grocery store dry dog foods in 2016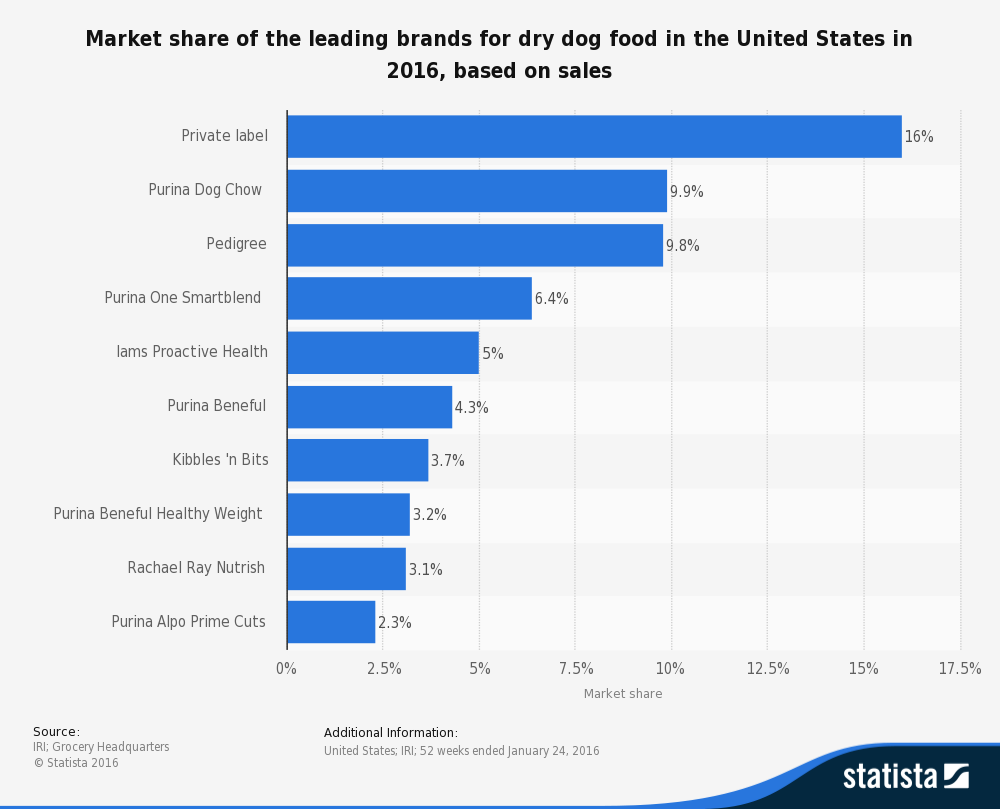 We did not find similar statistics for premium dog foods so we had to be more creative to find the top sellers in the U.S. According to Chewy.com, which carries literally thousands of premium dog foods, the bestselling foods (all categories) on their site are:
1. Taste of the Wild dry dog food (multiple formulas)
2. Blue Buffalo dry dog food (multiple formulas)
3. Orijen Original grain free dry dog food
4. Natural Balance L.I.D. Limited Ingredient Diets (several formulas)
5. Fromm Gold Holistic Adult dry dog food (several formulas)
6. Purina ProPlan dry dog food (several formulas)
7. Royal Canin Veterinary Diets (canned and dry, several formulas)
8. Iams ProActive Health Adult Large Breed dry dog food
9. Wellness CORE Grain Free Original Formula dry dog food
10. Canidae Life Stages All Life Stages Formula dry dog food
Amazon.com shows the following top selling brands:
1. Taste of the Wild Pacific Stream dry dog food
2. Purina ProPlan Savor dry dog food
3. Taste of the Wild Wetlands dry dog food
4. Hill's Science Diet Adult Large Breed dry dog food
5. Purina ONE Smartblend dry dog food
6. Blue Buffalo BLUE Adult Lamb & Brown Rice dog food
7. Taste of the Wild High Prairie dry dog food
8. Diamond Naturals Dry Dog Food for Adult Dogs
9. Purina Focus dry dog food
10. Wellness CORE Natural Grain Free dry dog food
When comparing sites and top selling brands, it's important to keep in mind that not all sites carry all brands. So, a brand that is very popular on one site may be absent from another site simply because the site doesn't carry it. Different pricing can also affect a brand's popularity on different sites. Chewy.com and Amazon.com account for about 80 percent of online pet food sales, with Chewy making up more than 50 percent of these sales.
As you might guess from these lists, dry dog foods continue to out-sell wet foods, but more people are buying wet/canned foods than they once did, possibly due to the increase in ownership of small dogs.
New dog foods in 2016
There were some new dog foods in 2016, or at least new recipes and formulas. Purina introduced natural versions of their popular ProPlan foods with ProPlan Natural – no corn, no soy, no wheat, no artificial flavors, colors, or preservatives. Some of the foods are grain free. Merrick introduced Backcountry, with freeze-dried, raw meat infusions. Victor now has canned dog food. Blue Buffalo now has gourmet sausage rolls for dogs. Zoic dog food, made by the same people that make Wild Calling, also made it's debut in 2016. Their foods include some interesting novel proteins.
We also need to mention that Champion Pet Foods opened their Kentucky kitchen/pet food plant in 2016. Acana and Orijen foods are being made at this facility. Some of these foods have been reformulated to take advantage of local ingredients. If you check the Acana web site you can still compare the old and new ingredients for their Regional formulas. Even though some Orijen foods are made in Kentucky, we do not see any changes in these foods per the Orijen web site. Orijen did bring out new freeze-dried treats for dogs in 2016 and a new Fit & Trim dog food formula.
Top U.S.-based pet food companies
1. Mars Petcare
2. Nestle Purina Petcare
3. Big Heart Pet Brands
4. Hill's Pet Nutrition
5. Diamond Pet Foods
6. Blue Buffalo
7. Spectrum Brands/United Pet Group
8. WellPet
9. Sunshine Mills
10. American Nutrition
2016 Dog/Pet food sales
According to information reported on Petfoodindustry.com, U.S. pet food sales were expected to increase to $31.26 billion in 2016 (Packaged Facts). The American Pet Products Association (APPA) estimates that $24.01 billion was spent on pet food in 2016. Final figures for 2016 have not been reported yet but you can see some global figures here.
2016 dog food recalls
The year 2016 was a relatively light year in terms of dog food recalls. We only tracked nine dog food recall notices, though they did include some big names.
Blue Ridge Beef of Eatonton, GA Recalls Product Because of Possible Health Risk
Mars Petcare US Announces Voluntary Recall of Limited Number of CESAR® Classics Filet Mignon Flavor Wet Dog Food Because of Potential Presence of Plastic
RECALL ALERT: Addiction Dog Food Recalled Due to Possible Health Risk
Blue Buffalo recalls batch of dog food
Smallbatch Pets Inc. Voluntarily Recalls Frozen Dog Duckbatch Sliders Due to Possible Salmonella and Listeria Monocytogenes Health Risk
Fromm Gold Pate 12 oz Can Recall Notice
Purina recalls some Beneful, Pro Plan wet dog food
Wisconsin Firm Voluntarily Recalls Limited Lot of Frozen Pet Food
Big Dog Natural Recalls Chicken and Fish Supreme Dog Food Due to Possible Salmonella and Listeria monocytogenes Health Risk
None of these recalls was very large in scope. Since this was the last year of the Obama administration and the USDA-FDA was working on phasing out the use of some antibiotics in livestock animals, we can speculate that they didn't apply the same scrutiny to pet food manufacturers that they have in some recent years. Or, maybe pet food manufacturers were just that much better at following regulations and making pet food than they have been in the past.
The inevitable pet food lawsuits of 2016
If there were fewer dog food recalls than usual in 2016, there were lots of lawsuits – most of them class action suits. As one observer noted, pet food lawsuits today are often about label claims and ingredients and not about pet deaths, unlike previous pet food cases. Consumers are hawk-eyed when it comes to pet food advertising and claims. They expect companies to live up to their promises and they will take them to court if they believe a company has been lying about quality, ingredients, or other aspects of their food.
J.M. Smucker/Big Heart Pet Brands and Tyson Pet Products were sued in a class action suit over "Made in the USA" claims on their pet treats. Diamond and Costco paid a settlement to Canadian pet owners whose pets required screening, treatment, or which died from Salmonella in 2011-12. A 2015 class action suit against Nestle Purina Petcare over their Beneful food was dropped in November 2016. The plaintiff originally claimed that his dogs became sick after eating the food but he subsequently dropped those allegations and changed the lawsuit to false advertising before it was dismissed.
In December 2016 plaintiffs filed a class action lawsuit against Mars Petcare, Nestle Purina, Hill's Pet Nutrition, Petsmart, Banfield, and Blue Pearl veterinary providers alleging that pet food companies engaged in price fixing of prescription dog and cat food formulations in the U.S., in violation of anti-trust and consumer protection laws. The plaintiffs claim that prescriptions foods do not contain any drugs or ingredients that aren't found in conventional pet foods. The foods named in the suit include: Hill's Prescription Diet, Purina Pro Plan Veterinary Diets, Royal Canin Veterinary Diet, and Iams Veterinary Formula. The plaintiffs also noted that Mars and PetSmart own co-defendant Banfield Pet Hospital, and that Mars owns co-defendant Blue Pearl Vet Hospital.
And, finally, pet food companies frequently sue each other. Purina and Blue Buffalo finally settled their two-year-old case. The two companies had pending lawsuits against each other which dated back to false advertising claims in 2014. It was during these legal battles that Blue Buffalo was forced to admit that their foods contained poultry by-product meal, despite their advertising claims. Blue Buffalo had to pay a $32 million settlement in a class action suit brought by customers. Since then, the company has filed lawsuits against their ingredient broker and supplier, blaming them for the presence of the poultry by-product meal.
Wysong pet foods is also suing a number of competitors, accusing them of misrepresenting the quality of their ingredients. You can see copies of the case documents here.
What to expect in 2017
The coming year is expected to see steady growth in dog food sales. Expect to see pet food companies continue to look at human food trends as a way to appeal to dog lovers. Protein should continue to be a leading trend in one form or another. Dog owners like meat in their dog food while pet food companies are investigating plant proteins such as pulses – and really novel protein ideas such as insects. Considering the fact that dog owners are now carefully reading – and understanding – pet food labels, as witnessed by class action suits alleging false advertising, it seems unlikely that pet food companies will be able to substitute insects for meat and sell the idea to the public very easily.
Whatever happens in 2017, we hope it will be a good year for you and your dog.
Where To Save On Dog Food In 2017