What is the Best Dog Food for Siberian Huskies?
The Ultimate Siberian Husky Food Buyer's Guide
Siberian Huskies are active, energetic dogs best known for their role as sled dogs. Originally from the cold Arctic lands of Siberia, the dogs were used to pull heavy loads over long distances. This made them ideal for Alaska during the Nome Gold Rush that started in 1898.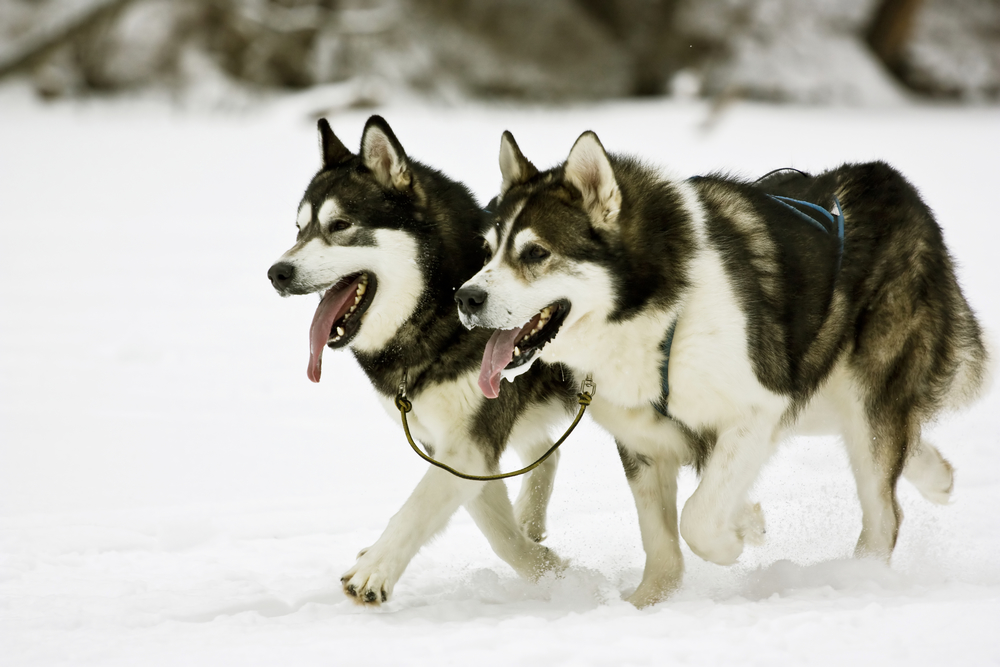 Huskies are most famous for making the 1925 serum run to Nome to bring diphtheria serum from 600 miles away. The Iditarod Trail Sled Dog Race is run every year to commemorate this life-saving run. Today Huskies make excellent family pets for active families and they are very good with children. Huskies do require plenty ofev regular exercise.
Quick Look : Top 3 Best Dog Foods for Huskies

---
20% Off + Free Shipping
on dog food for Huskies
Siberian Husky Diet & Nutrition
Huskies weigh between 35 pounds (small females) and 60 pounds (large males). According to breeders and owners, Siberian Huskies tend to eat a little less food than other dogs of similar size. Perhaps due to their metabolism, the breed seems to be very efficient with food. Breeders and owners also report that it is not unusual for Siberian Huskies to skip a meal or two and that this should not cause too much concern. Huskies will eat when they are hungry.
Huskies are very active, athletic dogs, even when kept as family pets. They require a diet that features good quality protein. According to the National Research Council of the National Academies, an active Siberian Husky weighing about 50 pounds requires an average caloric intake of about 1358 calories. Dogs that have been spayed/neutered, or that are older, may need fewer calories. A dog that is engaging in hard physical work, such as pulling a sled, would need more calories.
Again, remember that Huskies do tend to eat less food than most other dogs and they can skip meals, so it may not always be easy to get your Husky to eat his calories. For this reason, you may want to consider calorie-dense foods for a Siberian Husky. These would be dog foods that pack a lot of calories in small amounts. This is most often the case with higher quality dog foods. These foods will cost more but they generally provide more nutrition and calories per ounce.
Protein is very important for your Husky's diet. The Association of American Feed Control Officials (AAFCO) recommends a minimum of 22 percent protein for growth (puppies) and 18 percent protein for maintenance in adult dogs. Most good quality dog foods will exceed these percentages. Fat is an important source of energy for dogs and should comprise at least 8 percent of the diet for Siberian Husky puppies and 5 percent of the diet for adults. Huskies are considered to be a medium-sized breed so if you are feeding a Husky puppy you can choose a good quality puppy food without worrying about large breed issues. Hip dysplasia, which can be exacerbated with fast growth, is very rare in the breed. Most owners begin making the switch to an adult dog food when their puppy has achieved about 90 percent of his adult growth.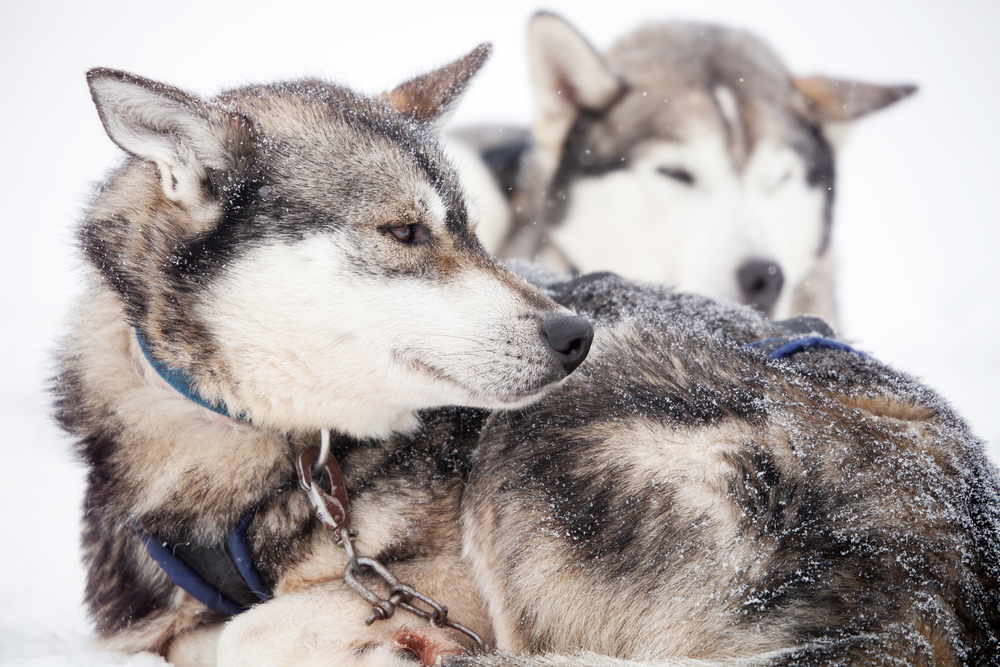 Husky Health Problems
According to breeders and owners, Siberian Huskies are lactose-intolerant and should not be given milk or other milk products. This is something to check on dog food labels since some dog foods add milk, skim milk powder, cheese, or whey to their foods.
Ingredients To Look For and Some To Avoid
As you might guess, protein and fat are the primary ingredients in the diet for a Siberian Husky. However, it's important that these ingredients come from quality sources if you want your dog to thrive. Ideally you should choose a dog food that contains a couple of meat proteins in the first several ingredients. Whole meats and meat meals are good sources of protein. Whole meats such as whole chicken, beef, and fish contain water moisture, however. If the water were removed, these meats would often be placed lower on the ingredient list, which lists foods by weight before cooking. Some people don't like meat meals as much as whole meats but they are a concentrated form of the meat in which the moisture has been removed. They contain several times as much protein as a whole meat. Meat meals are usually quite acceptable as one of the first ingredients in a good quality dog food.
Good sources of fat are also important for dogs. Some vitamins are only fat-soluble and your dog needs them in his diet. But all fat is not the same. You should look for named fat sources such as chicken fat. Other named fats also provide needed nutrients such as fish oil which can provide omega-3 fatty acid to help keep the skin and coat healthy.
Siberian Huskies are not particularly prone to skin problems or allergies from grains so there is no reason to avoid dog foods that have carbs from grains. However, many people like to feed a grain free dog food and this should not be a problem for your Sibe. Either way, your Husky should have no problem with rice, oats, sweet potatoes, or other carbs.
Recommended Brands of Food
All of the foods listed here are good dog foods. We have listed a variety in case your dog has certain issues or you have preferences about what you like to feed. The foods also vary in price.
If you're looking for gluten-free try…

Of course, every dog is an individual so he may or may not like some of these foods. If your dog doesn't like one of these foods, he might like another food in the same line of products made with a different kind of meat or other ingredients. Just make sure that the guaranteed analysis and nutrient percentages are similar.
Feeding a Siberian Husky isn't usually too difficult. Although they can skip meals, as long as you are feeding your dog a good quality dog food, he should do well.