What Is The Best Dog Food for a Pomeranian?
Skip To Recommendations 
With their foxy faces and lively personalities, Pomeranians are one of the most popular dog breeds in the United States and in the entire world. They are also one of the smallest breeds. Their small size has made them especially suitable as a city dog. They can easily live in an apartment and they don't require much exercise. Poms do have a few quirks as far as their dietary needs go, however.
Nutritional Needs
Pomeranians typically weigh between 4 and 7 pounds. You may have a Pom who is a little larger, but most are quite small. They sometimes look bigger because they have a lot of fluffy fur. They usually stand no taller than about 11 inches tall at the top of the withers (the place where the shoulder blades come together). Poms are a spitz breed from Scandinavian countries and they were originally large enough to pull sleds and work as herding dogs on farms. The breed was bred down in size in the 19th century when they became particular favorites of Queen Victoria. Victoria was an avid fan of the breed and bred them herself.

---
20% Off First Order + Free Shipping
on dog food for Pomeranians
For the most part Poms are still a very healthy breed today. Although they are small, they are quite sturdy for their size. As long as they have a good diet and sufficient exercise, they often live into their middle teen years.
By weight, the National Research Council of the National Academies recommends an average daily caloric intake of between 300 and 400 calories for an active adult Pomeranian weighing 10 pounds. Dogs that have been spayed/neutered, or that are older, may need fewer calories. Some dogs may need more calories depending on their level of activity and their individual metabolism. Growing puppies, for example, consume more calories than adult dogs and so do young adult dogs. A young adult Pomeranian weighing about 10 pounds, for example, and getting lots of exercise would need about 436 calories per day. However, if your Pomeranian tends to lie around the house all day with little opportunity to exercise, he would need fewer calories. An inactive Pom, weighing 10 pounds, is estimated to require about 296 calories per day.
Like all dogs, Pomeranians require good quality protein. The Association of American Feed Control Officials (AAFCO) recommends a minimum of 22 percent protein for growth (puppies) and 18 percent protein for maintenance in adult dogs. These percentages are recommended for dogs in general. Most good quality dog foods will exceed these percentages. Fat is an important source of energy for dogs and should comprise at least 8 percent of the diet for Pomeranian puppies and 5 percent of the diet for adults. Most dog foods today have more fat than these percentages. Fat also adds flavor to dog food and makes it very appealing to your dog. Fats are also one of the sources of fatty acids such as omega-3 and omega-6 which are good for your dog's skin, coat, heart, and brain.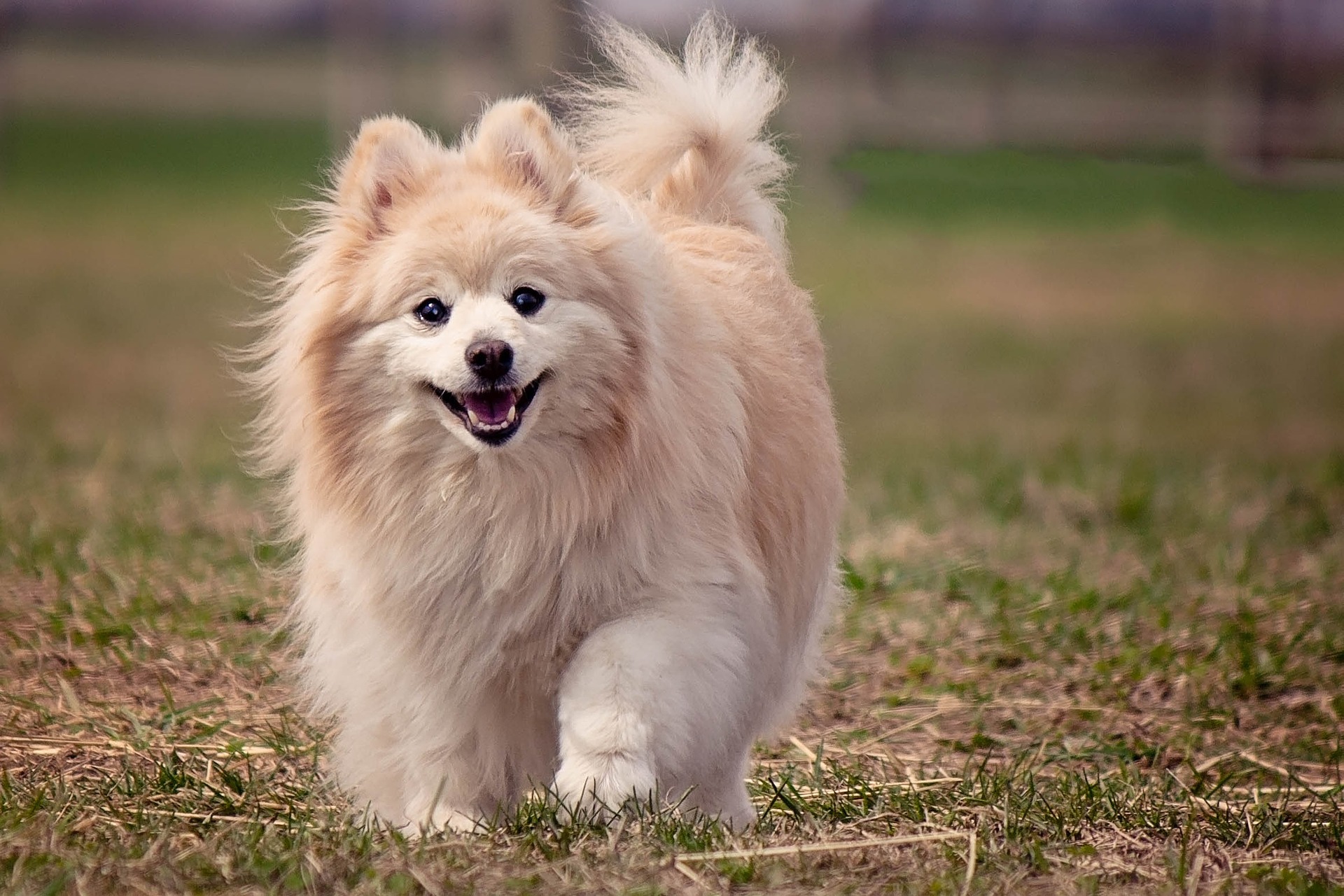 Special Issues
As a breed, the most common health issue found in Pomeranians is a luxating patella. This is similar to a slipped kneecap in humans. The patella (found on the hind leg) will slip and catch out of position when the dog is moving. The dog may give a small yelp or bunny hop when it occurs. Then the patella will slide back into place. In some cases the problem never gets worse but in other cases the problem may become chronic and your dog may need pain management from your veterinarian. In extreme cases your dog may need surgery to fix the problem. The problem is very treatable and, following surgery, the dog should be running around playing again after a few weeks. This is only diet-related because keeping your Pomeranian slim and healthy reduces the long-term risk of joint problems. So, watch your Pom's weight and try to make sure he keeps good muscle tone.
Like some other small breeds, Poms can have problems with hypoglycemia as puppies. Very young puppies can become weak if they go too long between meals. They may experience low blood sugar and need a quick supplement with some Karo syrup or Nutrical (a sugary, high calorie supplement that is easy to obtain from your vet or from a pet store). The puppy may seem listless, uncoordinated, or even cold. He may be going into shock unless you quickly give him some sugar. For this reason it is recommended that small breeds like the Pomeranian have an extra small meal or two that larger breed puppies don't require while they are young puppies. You should plan on feeding a young Pom 3-4 meals per day for the first few months. You may even want to add a few treats between meals. Once your Pom is several months old, this phase will pass and he will be better able to regulate his blood sugar level. By the time he is six months to a year old, you can start changing him to 2-3 meals per day. Most adult Poms will eat two meals per day.
Pomeranians tend to have bad teeth, too many teeth, crowded teeth, or, in some cases, they may lose teeth early. As with some other Toy breeds, this can make caring for their oral hygiene troublesome. For this reason breed experts usually recommend that Poms eat a diet with dry food (kibble) instead of canned food, just to make it a little easier to keep the teeth clean. Poms do need to have their teeth brushed regularly and you should ask your vet to check your dog's teeth often to help avoid problems.
If you are interested in Pomeranians one thing you should beware of is the so-called "teacup" Pomeranian. The breed standard for the Pomeranian allows the breed to weigh as little as four pounds. Anything smaller than this size can be prone to severe health problems and a shorter lifespan.
Ingredients To Look For
Pomeranians require good quality protein in their diet, like every dog. Of course, not all protein and fat is the same. It's important that these nutrients come from good quality ingredients. You can give your dog lots of protein but if it's not from a good quality source, his body won't be able to use it efficiently.
Ideally, a good dog food will feature a couple of meat proteins in the first several ingredients. The first ingredient should not be grain or some other carbohydrate. Both whole meats and meat meals are good sources of protein. Whole meats refer to ingredients such as whole chicken, beef, fish, and lamb. However, whole meats also contain lots of water. If the water from these meats were removed, they would be found lower on the ingredient list. This is because dog food companies are required by law to list ingredients by weight before cooking. The water in whole meats makes them weigh more. Some people don't like meat meals as much as whole meats but they are a concentrated form of the meat in which the water has already been removed. They contain several times as much protein as a whole meat. Meat meals are usually very good as one of the first ingredients in a premium quality dog food. They are found in many good dog foods. Less desirable are meat "digests" or "by-products."
Dogs also need fat from good sources. Some vitamins are only fat-soluble and your dog needs them in his diet. But fat, like protein, varies in quality depending on the source. You should look for named fat sources such as chicken fat. Other named fats also provide needed nutrients such as fish oil which can provide omega-3 fatty acid to help keep the skin and coat healthy.
You should try to avoid artificial preservatives such as BHA, BHT, and ethoxyquin, if possible. Avoid artificial flavors, sweeteners, and colorings. Your dog doesn't need them. It's not always easy to avoid some of the less desirable ingredients, however, since they can be labeled in ways that are harder to recognize.
---
Recommended Brands of Food
Many people are unaware that small breeds like the Pomeranian actually burn more calories than large breed dogs. It makes sense it you think about it. A small dog has to work harder to do the same things that a bigger dog does easily. That's probably why a small dog often gives the impression of being such a dynamo while a big dog may seem easy going. If you compare the calories in dog food for small breeds to a food for large breeds, you'll see that there are usually more calories in the small breed food even if they have similar ingredients.
Small breeds like the Pomeranian usually need food that comes in smaller kibble shapes, too. This may seem like an unimportant feature of dog food, but kibble comes in all different shapes and sizes. Some sizes and/or shapes can be difficult for some dogs to chew, especially if you have a Toy dog. So, pay attention to the size and shape of the kibble when choosing food for your dog. (I have large dogs but they hate eating large bites of kibble. They much prefer mini bites even if the formula is exactly the same.)
There are lots of good foods that you could choose to feed your Pomeranian but we have selected several that you might consider.
Sample Analysis: Fromm Gold Small Breed Adult Dry Dog Food 
No wheat, made in small batches from a family-owned company that has been in business in Wisconsin for over 100 years.
First five ingredients: Duck, Chicken Meal, Chicken, Oatmeal, Pearled Barley
Guaranteed Analysis
Crude Protein (min) 26.00%
Crude Fat (min) 17.00%
Crude Fiber (max) 3.50%
Moisture (max) 10.00%
Dry Matter Basis: Protein 28.9 percent; fat 18.9 percent; fiber 3.9 percent; carbohydrates 39.6 percent.
Metabolizable Energy (calculated) 416 kcal/cup
Metabolizable Energy (calculated) 3,963 kcal/kg
AAFCO-approved for growth and maintenance.
---
You won't have to feed Pomeranian puppies very much per day. We do recommend that you divide the food into meals and feed at regular times instead of free feeding. Feeding regular meals encourages dogs to eat their food when you serve it instead of becoming picky about their food or overeating. If you have more than one dog we recommend that you make sure each dog is eating his or her own food and not stealing food from other dogs. In some cases you may need to feed a dog separately to make sure he or she is getting all of his food since some dogs eat faster/slower than other dogs.
Some good puppy foods you may consider for your Pomeranian puppy include:
Sample Analysis: Wellness Small Breed Complete Health Puppy Turkey, Oatmeal & Salmon Meal Recipe Dry Dog Food 
DHA for brain development, antioxidants, live microorganisms for better digestion.
First five ingredients: Deboned Turkey, Chicken Meal, Oatmeal, Salmon Meal, Ground Barley
Guaranteed Analysis
| | | |
| --- | --- | --- |
| Crude Protein | Not Less Than | 28.00% |
| Crude Fat | Not Less Than | 18.00% |
| Crude Fiber | Not More Than | 4.00% |
| Moisture | Not More Than | 11.00% |
Dry Matter Basis: Protein 31.5 percent; fat 20.2 percent; fiber 4.5 percent; carbohydrates 34.8 percent.
Calorie Content: This food contains 3,790 kcal per kilogram or 480 kcal per cup ME (metabolizable energy) on an as fed basis (calculated).
AAFCO-approved for growth and gestation/lactation.
Best Dog Foods for the Senior Pomeranian
It's not unusual for many Pomeranians to live into their teen years. This means that you will probably need to consider what kind of food to feed your Pomeranian as he gets older. As your dog ages it's a good idea to plan an annual senior check-up with your vet. Many older dogs begin to put on pounds as they become less active. For this reason, most senior dog foods have fewer calories and they can skimp on protein. You should watch your older dog's weight as he gets older to make sure he doesn't become overweight. In some cases you can simply cut back on the portions of his regular dog food to help him stay fit or increase his exercise.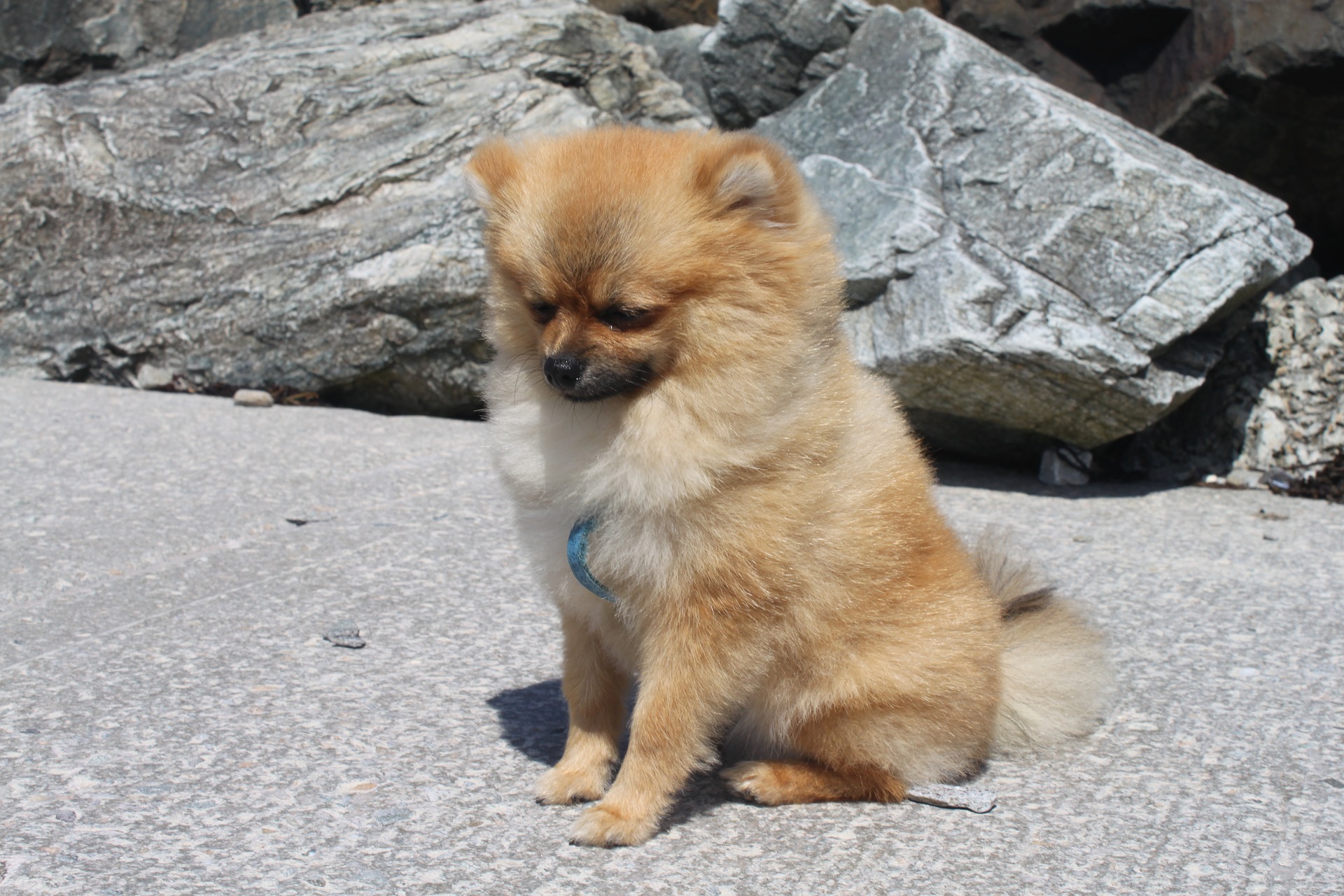 Very old dogs can start to lose muscle as they begin to have problems metabolizing nutrients, including protein. You often see older dogs start to have less muscle tone, especially in their rear legs. They can start to have difficulty walking when this happens. If your Pomeranian falls in this category, you may need to avoid senior foods or look for one that is high in good quality protein. As long as your dog does not have have kidney problems there's no reason to avoid protein as he gets older.
Pomeranians, like some other Toy breeds, can be prone to dental problems, especially as they get older, so this is another issue to consider when choosing a food for senior dogs. If your older Pomeranian does have problems with his teeth you may want to consider canned/wet food which should be much easier for him to eat. Many owners of Toy breeds prefer to feed canned foods anyway. Make sure that your vet checks your older Pom's teeth regularly as he ages. Bad teeth are a frequent cause for older dogs to stop eating. Many times owners assume that their old dog has stopped eating because he's just "getting old." In truth, the dog may just have a dental problem. As soon as the problem is addressed, the old dog may have a hearty appetite once again.
This senior recipe from Go! is one of the senior foods we like, especially for Toy breeds which tend to require more calories per pound than bigger dogs. Go! is part of the Petcurean family of foods. This food features great meat proteins and lower carbohydrates. No beef, wheat, corn, or soy, which are common triggers for allergies. It has no by-product meals, no added growth hormones, and no artificial preservatives. It's also gluten-free. Plus, it contains added l-carnitine to support heart health and to burn fat – something that many senior dogs can use if they are slightly overweight. The food also has pre- and probiotics for good digestive health. The first five ingredients in this kibble are: Chicken meal, turkey meal, salmon meal, de-boned chicken, and de-boned turkey. It has 394 kcal/cup so it's not a weight control food pretending to be a senior dog food like many senior foods. It has 32 percent crude protein and 14 percent crude fat, with 4.5 percent crude fiber. Made in Canada. This food is AAFCO-approved for maintenance. You won't have to feed a Pomeranian very much of this kibble to meet his daily needs but we think this is a good food with good quality ingredients for a senior dog.
If you would like to feed your older Pomeranian a good canned food, we like Nature's Variety Instinct. They have two canned formulas made especially for small breeds – one in chicken and one in salmon. These canned foods are grain free and gluten free. The chicken formula has 143 kcal/5.5 ounce can. The guaranteed analysis shows 8 percent crude protein, 3.5 percent crude fat, and 3 percent crude fiber, with 78 percent moisture. The first five ingredients in the food are: Chicken Broth, Chicken, Chicken Liver, Peas, and Cod.
There are lots of good canned foods for dogs. If your older Pomeranian is starting to be finicky about his food, you can try something like Party Animal Cocolicious Organic Turkey & Chicken. First Mate, Tiki Dog, and Weruva also have very good canned foods. First Mate recommends these canned foods for senior dogs.