Orijen Dog Food
Brief Overview
Orijen dog food is widely considered to be one of, if not the best, dog foods on the market. Orijen foods are biologically appropriate for dogs and made with fresh regional ingredients from western Canada. They make dog food, cat food, dry kibble, treats, and freeze-dried foods with an emphasis on lots of animal protein.
Who manufactures Orijen?
Orijen dog food is manufactured by Champion Pet Food in Alberta, Canada. The company has been in business since 1975 and they have won awards in western Canada and Alberta for their manufacturing and leadership. Champion also makes Acana dog food which is similar to Orijen, though the meat percentage is a little lower. Champion says there are plans at some point in the future to make canned foods.
Orijen Recalls 2017
Please Read First: If this statement is still here we are actively watching for new recalls. Below you will find a history of recalls. If you would like to know as SOON as we find out about a recalls visit:http://dogfood.guru/recalls and fill out our Recall Alert form. We will ONLY email this list in the event of an actual recall. Once we stop watching for Recalls I will remove this statement.
We also encourage everyone to bookmark the site for future reference.
 Orijen Recall List: (From newest to oldest)
In 2011, there was a recall of some Acana pet food. These were all very small incidents and Champion seems to have resolved any problem quickly.
In 2008 there were online reports about loose bone shards in Champion food and food that had been irradiated.
Champion had a small recall in 2003 due to a problem with some of their beef.
Learn how we monitor recalls: http://dogfood.guru/monitor-dog-food-recalls/
Orijen Dog Food Coupons 2017

---
20% Off + Free Shipping
on Orijen Dog Food
Orijen Reviews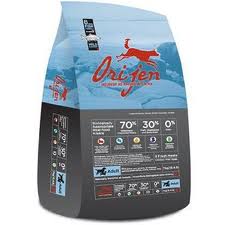 Champion makes six Orijen dry dog foods, eight kinds of freeze-dried treats made with 100 percent natural meats, poultry, or fish (and nothing else), and three kinds of freeze-dried dog food. Orijen's foods are based on the idea of the "whole prey" diet. They make food with the belief that dogs should eat a diet similar to that of their wolf ancestors. Orijen is made with 75-80 percent meat which makes it different from just about every other kibble you can name. It has 38-42 percent protein. They have 15-20 percent fat. They say that their maximum carbohydrate percentage is 25 percent which is very low for commercial dog food.
Ingredients in Orijen foods include local and regional ingredients. According to the company they use cage-free poultry, nest-laid eggs, ranch-raised meats, and wild-caught fish. Ingredients are fresh and passed fit for human consumption. Foods are preservative-free. Orijen gives the impression of using the best possible ingredients and of choosing them carefully for their foods, while manufacturing them with care.
The company says their foods are as free as possible of ethoxyquin, a preservative often used in fish meal. Their foods have ingredients like heritage pork, Alberta lamb, free range wild boar, free range bison, free range Black Angus beef, and fresh whole fruits and vegetables.
Obviously, when a food has fresher, more carefully raised ingredients, you will pay more and Orijen is expensive. It's one of the most expensive dog foods you can buy. They do everything right. They set the standard for how pet foods should be made – with lots of protein, fewer carbs, no preservatives or anything artificial, and everything in the ingredient list named and identified.
We note that Orijen uses chelated or proteinated minerals. This means that the minerals that have been added to the food are organic mineral complexes that bond with the amino acids in proteins so they are easier for dogs to digest. It's more expensive for companies to use proteinated minerals so this is something you generally see in better dog foods.
Is there anything not to like? Well, not everyone agrees that dogs need so much protein in their diet. Or that you have to spend quite this much money to feed your dog. There are many excellent dog foods that cost a little less than Orijen dog foods. Not everyone likes the whole prey model for their dog's nutritional needs. When dogs have more protein than they need, they simply excrete the extra protein in their urine. That's some very expensive urine if you're giving your dog this much protein. And some of the ingredients in Orijen's foods seem a little gimmicky, like the botanical inclusions – such as angelica root, fenugreek, marigold flowers, sweet fennel, peppermint leaf, chamomile, dandelion, etc. It's hard to say how your dog really benefits from these ingredients.
Still, it's hard to knock Orijen and most dog owners would love to be able to afford to feed this food to their dogs.
How would you rate Orijen?:

Our Orijen Regional Red Review:
Orijen Regional Red is a dog food for dogs who really love their meat. The first five ingredients are Boneless Angus beef, boneless wild boar, boneless lamb, beef liver, and boneless pork. There's lots more meat, organ meat, and fish in the remainder of the ingredient list. On a dry matter basis the food has a protein percentage of 42.2 percent (high); a fat percentage of 20 percent (good for the protein percentage); a fiber percentage of 5.6 (within the correct range for the other percentages); and a carb percentage of 22.2 percent (very low). There are 450 calories per 1 U.S. cup of this dog food. That's a lot of calories making this a very rich dog food. If you feed this food to your dog you should follow the suggested feeding guidelines on the label. Also watch your dog's condition and cut back on the amount of food you feed if you notice your dog gaining too much weight.
Beef is easy for most dogs to digest and they get a lot of protein from it. Boneless Angus beef is about 74 percent protein and 26 percent fat. It's also a good source of riboflavin, niacin and zinc, and a very good source of vitamin C, vitamin B12, iron, phosphorus, copper and selenium.
Wild boar is pork but there are some differences from your typical ham. Dogs will appreciate the much stronger flavor. Wild boar also has less fat and more protein than beef.
Unlike many dog foods who import lamb from New Zealand, Orijen's lamb is raised in Alberta, Canada – locally. It's delivered fresh daily like their other meats. Lamb is the meat from a sheep in its first year which makes it very tender. Lamb is 59 percent protein, 36 percent fat, and 5 percent carbohydrates. It's a good source of vitamin B6, pantothenic acid, phosphorus and manganese, and a very good source of vitamin A, riboflavin, niacin, vitamin B12, iron, zinc, copper and selenium.
The fourth ingredient is beef liver. Orijen's biologically appropriate diets include lots of organ meats, such as different kinds of liver, which are rich in vitamins and minerals. People who feed raw diets will be familiar with the importance of including organ meats in the diet.
The fifth ingredient is boneless pork. Pork is an estimated 81 percent protein and 19 percent fat. It's a good source of vitamin C, niacin, phosphorus and zinc, and a very good source of vitamin B12, iron and selenium. Most dogs love pork and it's used much more in dog food than most people realize.
You'll notice that this is a grain free dog food but it does have about 22 percent carbs as mentioned above. The carbs come from different sources in the food but especially from some of the fruits and vegetables: sun-cured alfalfa, pumpkin, butternut squash, spinach greens, carrots, Red Delicious apples, and Bartlett pears. There are several sources of natural preservatives in the food such as the antioxidants cranberries and blueberries.
There are some ingredients in this food that cause concern. Orijen has altered their recipes in the last year and reduced the meat protein in their foods. This particular food now includes a number of different kinds of peas/legumes that weren't in the food before: red lentils, chickpeas, green peas, yellow peas, and green lentils. Dog food companies usually make changes like this so they can save money and use less meat while trying to keep a higher percentage of protein since peas/legumes are plant protein. The food already included pea fiber which is used as a fiber/protein in dog foods so this brand, known for its meat content, is starting to contain lots more plant protein. This is something for people to consider carefully when they are being asked to pay very high prices for this food.
Clearly, if you want to feed your dog that has lots of meat protein and foods from regional sources, Orijen is a great food. They have an outstanding reputation. Many people like the idea of a biologically appropriate food and the whole prey model. We think the food was a little better before the recipe change and the addition of all the peas and lentils but it's still a very good food with good ingredients.
Where can you buy Orijen Dog Food?

---
20% Off + Free Shipping
on Orijen Dog Food
Orijen is manufactured in Canada but it is widely available in the U.S. You can buy it from many online pet food distributors such as Petfooddirect.com, Chewy.com, Petflow.com, Amazon.com, and other sites. You can also go to the Orijen web site and look at their "Where To Buy" page.
How much does Orijen cost?
Orijen is a super-premium dog food so you can expect to pay a super premium price. Their typical packaging size is a 28.6 lb bag. Right now the Adult Grain-Free food is on sale at Chewy.com for $89.99 which breaks down to $3.14/lb.  The 6 Fish offering comes in at $3.39/lb.Yikes!
Compare that to purchasing on the same product on Amazon though and you're saving a lot. Amazon is priced at $3.46/lb and  $4.50/lb respectively. Double Yikes. We suggest sticking with Chewy as they're by far the cheapest place to buy online.
Typical adult, large-breed dogs eat about 3/4 to a 1 pound of food per day so if you buy from Chewy you can expect to be paying about $75-$100/month to feed your buddy Orijen. Now that's love.
Orijen Dog Food

,