Myths associated with raw dog food
If you're thinking of switching your dog to a raw food diet, you will likely come across some raw feeding myths. These myths are reinforced by people who do not feed their dogs raw food and have no reason to be spreading inaccurate information.
Common raw feeding myths
1. Your dog will get sick from raw food.
Let's remember dogs are not furry humans. They are descendants of wolves, and their digestive systems are designed to handle raw meat and bones. For example, their stomachs are more acidic than ours, and they can eat more bacteria without getting sick.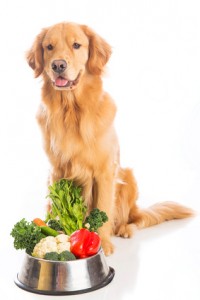 If your dog does get an upset stomach from eating raw meat, it's most likely because of the switch in his diet in general. This can also happen when you switch a dog from one brand of dry dog food to another. Just make sure to give your dog time to adjust to the new type of food, and he will most likely be fine. Older dogs will have a harder time making the switch from dry food to raw food than puppies.
2. The dog will choke on a bone.
This is a very general statement. Raw bones are not a choking hazard if you know which bones are safe for your particular dog.
Raw, edible bones like chicken and turkey bones are safe for most dogs. Dogs have no trouble crunching them up and digesting them.
There are certain bones you do need to be careful about. Never feed cooked bones because they become harder and potentially sharp. You also have to be careful about feeding larger bones such as beef bones. These dense bones are not edible and could also potentially harm a dog's teeth. Some dog owners give these types of bones for "recreational chewing" and have no problems. Others stick to strictly chicken and turkey bones.
3. A bone will puncture the dog's insides.
Yikes. That's a scary thing to imagine. Yes, this is possible, but only if you're feeding inappropriate bones such as cooked bones or non-edible beef bones. Your dog will have no trouble digesting turkey or chicken bones and even most pork bones. If you're still worried about bones, you can always feed raw dog food recipes containing bone meal, where the bones are ground up and can be added to the meat.
4. Raw meat will make your dog aggressive.
Again, not true. Sure, some dogs could act possessive over their food, but that's not because of the raw food itself. It's because the dog has a behavioral problem in general, possessiveness of highly valued objects.
5. Raw food is too expensive.
It can be, but only if you're buying commercial, pre-made raw dog food. If you make the food yourself, the overall cost of raw dog food goes down. There are plenty of ways to save money so the price ends up being similar to a high-quality dry food. Yes, it does take some work to put together your own meals, but it's well worth it if you want to save money while knowing exactly what your dog is eating.
Feeding raw food is not something all dog owners are willing to try, but it's nice to have accurate information about all the different feeding options.