What are Some Good Raw Dog Food Brands?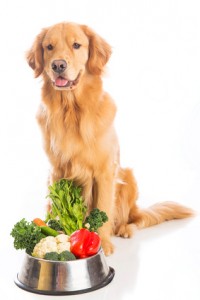 Some people balk at the term "raw dog food" because it makes them picture a bowl full of slimy chicken or bloody red meat. In reality, raw dog food often looks remarkably similar to traditional kibble – the difference is in the ingredients and in the preparation method. Raw dog food comes in a variety of forms and formulas so, if you are considering making the switch, take the time to learn about your options.
Facts About Raw Dog Food
The raw dog food diet is founded on the idea that domestic dogs are descendant from wolves and, thus, are adapted to following a similar raw food diet. A raw food diet for dogs is primarily comprised of muscle meat, organ meat and soft bones but it may also include vegetables, fruit and some grains depending on the recipe. Undereducated dog owners may worry that raw food puts their dog at risk for bacterial contamination from salmonella and e. coli, but the fact of the matter is that dogs have a very low risk for contracting food-borne illness. Raw dog food is typically made with wholesome, natural ingredients without any artificial flavors, dyes or preservatives. This fact means that raw dog food is one of the most natural, healthiest options available for your pet.
Some of the top-rated raw dog food brands include:
Bravo Balance Dog Food
Steve's Real Food (Raw Frozen)
Vital Essentials Dog Food (Raw Frozen)
Fresh vs. Freeze-Dried
When it comes to raw food, the major drawback is the fact that it must be used within a few days of opening the package. For many dog owners, this can be very inconvenient because it means you must buy your dog's food more often. As an alternative to fresh dog food, however, there is another option: freeze-dried raw food. Freeze-dried raw food is simply raw food that has had the moisture removed through a rapid freezing and drying process. The process of freeze-drying is safe and natural, eliminating the need for artificial preservatives to extend the shelf-life of the product. If you want your dog to benefit from the nutrition provided by raw food but don't want to deal with the hassle of buying the food fresh, consider freeze-dried raw food.
Some of the top freeze-dried raw food brands include:
Nature's Variety Instinct (Freeze-Dried)
K9 Natural Freeze-Dried Raw
Nutrisca Freeze-Dried
Stella and Chewy's Freeze-Dried
Vital Essentials Dog Food (Freeze-Dried)
No matter whether you choose to feed your dog fresh, frozen or freeze-dried, the fact remains that raw dog food is one of the healthiest options out there. If you want to provide your dog with the most nutritious diet possible, consider switching to a raw food diet.