What Is The Best Dog Food for a Lhasa Apso?

The Ultimate Lhasa Apso Food Buyer's Guide
Lhasa Apsos are one the breeds that originated in Tibet. Lhasas were kept by monks in Buddhist monasteries as small watchdogs. The dogs were also companions and protectors. Lhasa Apso is loosely translated as "bearded lion dog" and Lhasas are outstanding watchdogs, despite their small size. DNA testing suggests that Lhasas are one of the 14 oldest dog breeds. They appear to have been bred for over 2000 years. Lhasa Apsos were relatively late in coming to the West and did not appear here until a few were brought back by soldiers in the early 1900s. Lhasas did not arrive in the United States until 1933 when the 13th Dalai Lama made a gift of a pair to a Mr. Cutting who had met the Dalai Lama in Tibet. In 1928 Mr. Cutting had been the first Westerner allowed to visit Lhasa, the Forbidden City. He and the Dalai Lama struck up an unlikely friendship over their shared love for dogs. When the dogs were first brought to the West they were known as the Lhasa Terrier but the name was later changed. The AKC recognized the breed in 1935. Today the Lhasa Apso is the 65th most popular breed in the United States.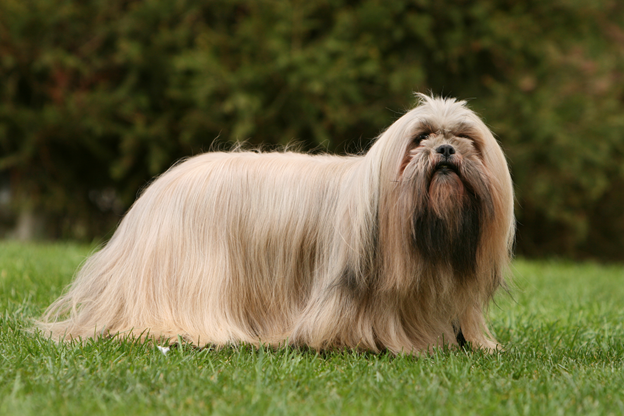 Lhasas have somewhat complex personalities. Despite their small size and adorable appearance, they have been bred to be tough dogs. They are devoted and protective. They continue to take their watchdog role seriously and will evaluate strangers. Lhasas are very intelligent though not always easy to train. They have certain terrier-like traits, which may explain why they were initially called terriers. They tend to be feisty with other dogs, even bigger dogs. They don't know or don't care that they are small dogs. If your Lhasa is defending his yard, his apartment, or you, he will stand his ground against all intruders like he's in Tibet defending the Dalai Lama. On the other hand, Lhasas are affectionate and loving with their families. They get along very well with other family pets, including cats and other family dogs. If they know you and accept you, you are part of their family. Lhasas also enjoy playing the clown for their loved ones. They love to make people laugh. They are also good with children provided the children have been taught to treat dogs gently. (Play between small children and dogs should always be supervised.) This is a wonderful breed for many people. Their long coat does require regular care to keep it looking nice but some owners opt to have their dogs clipped by a pet groomer.
Quick Look : Top 4 Best Dog Foods for Lhasa Apsos

---
20% Off + Free Shipping
on dog food for Lhasa Apsos
Nutritional Needs
Lhasa Apsos stand about 10-11 inches tall at the shoulder, with some slight variation. They generally weigh between 11 and 18 pounds. Females are usually a little smaller than males. Lhasas are compact and muscular with long, flowing hair. Their coat is essentially waterproof, with an outer layer that protects the dog from getting wet and cold at the skin in all but the worst weather. Everything about the breed's appearance shows that it is a small mountain dog.
It may come as a surprise to some, but Lhasa Apsos and their owners often enjoy competing in obedience, agility, and rally – so they can be trained! If you are training or competing with your Lhasa in events like these, be sure to take this into account when you figure how many calories your dog needs in his diet.
According to the National Research Council of the National Academies, an active adult Lhasa Apso weighing 15 pounds requires an average daily caloric intake of 532 kcal. Dogs that have been spayed/neutered, or that are older, may need slightly fewer calories. Some dogs may need more calories depending on their level of activity and their individual metabolism. For example, if you are training and participating in agility with your Lhasa, you might need to feed him somewhere around 591 kcal. Growing puppies consume more calories than adult dogs and so do young adult dogs. A young Lhasa Apso puppy (4-12 months) weighing 10 pounds needs an estimated 436 kcal per day. You always need to adjust your dog's food intake based on his activity level and other factors.
Lhasas are a small breed. Fortunately there are many good quality foods made for small breed dogs today. Small breed dogs can use up more calories per pound of weight than larger dogs. Most dog foods made for small breeds are more calorie-dense than ordinary dog food. They have more calories per ounce than other foods. Small dogs usually prefer foods with small pieces of kibble as well. You also have many good choices for small breed puppies. These puppies typically grow faster and reach maturity sooner than bigger breeds. They can reach their full size by the time they are 8-9 months of age.
Feeding Your Lhasa Apso
Lhasa Apsos can suffer from sebaceous adenitis (SA), which is an inflammatory skin disease most often associated with Standard Poodles. Although this skin disease can cause a dog to itch and lose hair, it does not have a connection to food allergies. Some dog owners may notice some of the symptoms and think their Lhasa has problems with his food so you should be aware that this health problem exists in the breed. You should see your veterinarian for treatment advice.
As always, it's possible for any individual dog to have food allergies or food sensitivities If you think your Lhasa has one of these problems, you will need to identify your dog's triggers and try to avoid those particular ingredients. The most common allergens for dogs are: beef, dairy products, chicken, lamb, fish, chicken eggs, corn, wheat, and soy. Some dogs are also allergic to pork or rabbit. Dogs can also be allergic to multiple foods so if your dog is allergic to chicken and lamb, for example, removing these ingredients may be helpful, but he could still have allergy symptoms because he is also allergic to wheat. It can be frustrating for owners – and take a long time to figure out – if you have a dog that's allergic to several different ingredients.
You may want to feed your Lhasa a grain free dog food just to avoid common allergens such as corn and wheat. You can start off feeding dog foods with common proteins (chicken, lamb, fish) but if your dog shows any sign of food allergies developing, you may need to switch to a food with a novel protein. Fortunately there are many dog foods available today with novel proteins. A limited ingredient diet may also be recommended. As with most dogs, we recommend a good quality food that is relatively high in animal protein.
Adult Lhasa Apsos usually do well eating two meals per day. You can feed Lhasa Apso puppies 3-4 meals when they are very young, then move to three meals per day as they get older. By the time they are about a year old they should be eating two meals per day.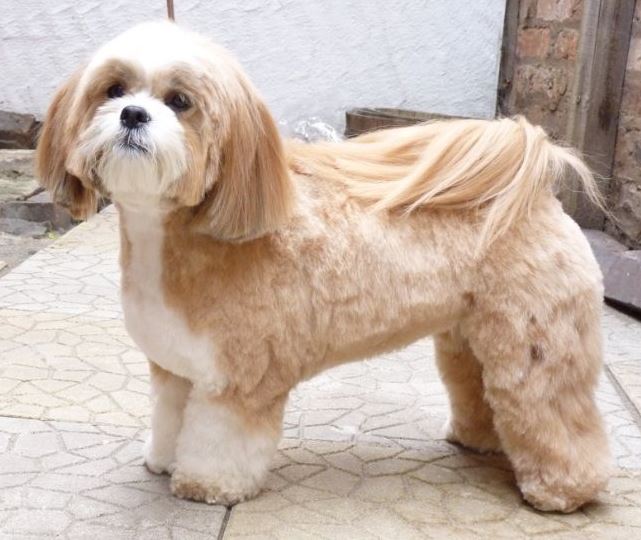 Lhasa Apso Health Problems
Renal dysplasia is considered to be the most serious health issue in Lhasa Apsos but this can be a late-onset health problem. The disease is often not recognized in young dogs because the symptoms are so minor or the dog is only slightly affected. If you notice any symptoms, you should see your veterinarian. If renal dysplasia is diagnosed, you may need to adjust your Lhasa's diet at some later point.
Progressive retinal atrophy (PRA), glaucoma, and a few other eye diseases also exist in the breed. Some elderly dogs can begin to lose their vision as they age. Heart murmurs can become an issue in older dogs.
Despite these possible health issues, Lhasas are considered to be a very healthy breed. The median lifespan is around 14 years and 4 months, with many dogs living past 15 years. Some dogs have been reported to live to 20 years.
Ingredients to Look for and Some to Avoid
As with most dogs, when choosing a food for your Lhasa Apso you should look for a food that has good sources of protein and fat.
Ideally you will select a dog food that features two or three meat proteins in the first several ingredients listed. Both whole meats and meat meals are good sources of protein. Whole meats refer to foods such as whole chicken, beef, fish, and lamb. Some people don't like meat meals as much as whole meats but they are a concentrated form of the meat in which the moisture has been removed. They contain several times as much protein as a whole meat. Meat meals are usually quite acceptable as one of the first ingredients in a good quality dog food. They are used by many good dog food brands.
Many dog foods today, even some of the most expensive and highly touted, use lots of plant proteins such as lentils and peas. These foods often have high protein percentages on the label. When you read the guaranteed analysis it's important to consider how much of the protein in the food comes from meat and how much comes from plants. Your dog is able to digest meat protein more easily than plant protein. Meat protein is a much more natural source of protein for your dog than plant protein.
Dogs also need good sources of fat. You should look for named fat sources such as chicken fat. Other named fats also provide needed nutrients such as fish oil which can provide omega-3 fatty acid to help keep the skin and coat healthy. Puppies can benefit from DHA which is Docosahexaenoic acid. This is a specific form of omega-3 fatty acid that helps with brain and eye development. Older dogs seem to benefit from medium chain triglycerides which feature medium chain fatty acids (MCFAs). These have been found to help older dogs feel and act younger. They are often made from a combination of coconut oil and other oils.
If you want to avoid corn, soy, and wheat in your dog food, your Lhasa Apso may still be able to eat an alternative grain such as barley or oats. Or you can feed a grain free dog food that uses an alternate source of carbs that is low glycemic such as sweet potatoes. You don't have to feed a dog food with an excessively high percentage of protein but it's a good idea to keep the carb percentage low to moderate.
If your Lhasa Apso has a food allergy or food sensitivity, you may need to work with your veterinarian to identify the food triggers unless they are very obvious. There are lots of good foods with alternative meat proteins today as well as limited ingredient diets which we will discuss below.
Recommended Dog Food For An Adult Lhasa Apso
Lhasa Apsos can eat many good quality dog foods. If your dog has a food allergy or food sensitivity you will need to try to avoid foods with ingredients that are triggers for your dog. We have listed some foods we recommend for dogs with food allergies and food sensitivities below.
We have suggested a variety of foods here for Lhasa Apsos. These foods do not contain corn, wheat, or soy. You may have to try a couple of foods to find which one is best for your dog. You should also keep in mind that your dog's dietary needs can change as he grows and ages so you may have to change foods to suit him.
Best Dog Foods for Lhasa Apso Adults
Small breeds have higher energy needs than other dogs. Wellness CORE Grain Free Small Breed formula is high in protein and calories to meet those needs. The first five ingredients are Deboned Turkey, Turkey Meal, Chicken Meal, Potatoes, and Peas. The food is high in protein (36 percent crude protein) and moderate in fat (16 percent crude fat). It checks in at 396 kcal/cup. It has no meat by-products or filler ingredients. It also includes glucosamine and chondroitin for healthy joints; antioxidants and probiotics. We also like the fish and flax omega for good coat and skin. And it has no grain, corn, soy, wheat-gluten or artificial preservatives, colors or flavors. It also has a smaller-sized kibble that makes the food easier for small dogs to eat. We think this is a very good grain free dog food for a Lhasa. Wellness CORE also has other dry and canned formulas if your Lhasa would prefer different recipes. We think this is a good grain free food for many dogs.
The first five ingredients in this food are Deboned Chicken, Chicken Meal, Turkey Meal, Sweet Potatoes, and Potatoes. This recipe is an all life stage food with 460 kcal per cup ME (metabolizable energy) on an as fed basis (calculated). It has 70 percent meat ingredients, 30 percent vegetables, vitamins, and minerals. It is grain free – no corn, soy, or wheat. No gluten. No ingredients from China. It has 38 percent crude protein and 17 percent crude fat, with 3.5 percent crude fiber. It also has glucosamine and chondroitin added, as well as omega-3 and omega-6 fatty acids. Merrick uses local growers from Texas, where the food is made. We think this is good quality protein and other ingredients for Lhasa Apsos that need good nutrition. Not everyone will like a protein percentage this high but if you do, give this food a try.
Fromm Small Breed Adult Gold
Fromm Small Breed Adult Gold makes a good food for small dogs like the Lhasa. It has kibble pieces that are small in size so small dogs can eat them easily. Fromm is a family business that has been making dog food for generations in Wisconsin. The first five ingredients in this food are duck, chicken meal, chicken, oatmeal, and pearled barley. Even dogs that have problems with cereals/grains like corn and wheat can often safely eat oatmeal and barley. These ingredients provide good sources of dietary fiber for your dog's digestion, too. The food is also enhanced with probiotics to aid digestion and salmon oil to keep the skin healthy. The food has 26 percent protein, 17 percent fat, and 3.5 percent fiber according to the guaranteed analysis. (Technical analysis here.) This is a food for growth and maintenance with 416 calories per cup. We hear great things about Fromm from everyone who feeds it.
NutriSource Adult Chicken & Rice Formula is the basic food for this product line but they also have lamb, senior, puppy formulas, as well as weight management, performance, and super performance foods, plus canned foods. The adult chicken & rice formula has chicken, chicken meal, brown rice, barley, and chicken fat (preserved with mixed tocopherols and citric acid) as the first five ingredients. The guaranteed analysis shows 26 percent crude protein, 16 percent crude fat, 4 percent crude fiber, and 10 percent moisture. The food has 429 kcals/cup. Other ingredients include chelated minerals for easier digestion and probiotics. This is an all life stage food. Looking at the dry matter basis for this food, it has moderate protein and fat and about 40 percent carbs with no corn, wheat, or soy and no artificial preservatives. NutriSource is made by a good company with a good manufacturing reputation. They have never had a recall. We think this would be a good food for many Lhasa Apsos as long as they can eat barley, rice, and oatmeal.
Best Dog Foods for Lhasa Apso Puppies
Lhasa Apso puppies can usually begin eating a puppy food after they are weaned or they can eat a good all life stage food. Some people like to feed a puppy food for a few months and then switch over to an all life stage food when their puppy is a few months old. If you have questions about how to feed your puppy, we recommend talking to your puppy's breeder. They usually have the most experience with raising Lhasa Apso puppies and can guide you.
Puppy foods should have a calcium to phosphorus ratio of about 1.2 parts calcium to 1 part phosphorus, though there is some slight room for variation such as 1.5:1.2. It's also important that dog and puppy foods do not have an excess (or deficiency) of calcium since this can affect bone growth. If you are feeding your puppy a food that is properly formulated, you should not add any extra calcium, such as milk, cottage cheese, or other calcium supplements. Doing so can lead to serious health problems such as OCD (osteochondritis dessecans) – painful bone spurs that may require surgery – and other orthopedic problems.
Here are some of the puppy foods we like for Lhasa Apso puppies. Note that an all life stage food can also be fed, as long as the nutrients are appropriate for your puppy.
Canidae Grain Free Pure Foundations Puppy Formula is a limited ingredient food with nine ingredients plus vitamins and minerals and probiotics. It's grain free with probiotics to help digestion; antioxidants for a healthy immune system; and omega 3 and 6 to support healthy skin and a beautiful coat. The first five ingredients are chicken, menhaden fish meal, lentils, peas, potatoes. The recipe is supposed to be especially good for puppies with sensitive digestion. The food has 30 percent crude protein, 12 percent crude fat, 4 percent crude fiber, and 10 percent moisture. This food checks in at 520 kcal/cup, so it's high in calories but active, growing Lhasa Apso puppies can usually burn them off. Just remember that you don't need to feed a lot of food with these very nutrient-dense foods. If your Lhasa Apso puppy does well on this puppy food, Canidae has some good adult foods – both grain free and foods with grains.
Canine Caviar Limited Ingredient Diet Puppy food has no corn, no wheat, no soy. It's grain free, gluten-free, and it's GMO-free. It contains no by-products, tapioca, or potatoes. It has a single protein (dehydrated chicken) and carbohydrate source (split peas – though we aren't sure if sun-cured alfalfa counts as a carbohydrate or not) and the meat is hormone-free, pesticide-free, and antibiotic-free. It also has the proper calcium level for puppies. There's more, but you get the idea. It is specifically formulated for small breed puppies. If you are trying to be very careful with your Lhasa puppy, then this LID holistic puppy food from Canine Caviar is definitely a food you may want to consider. Canine Caviar also has several other formulas so you can rotate the proteins.
Best Dog Foods for the Senior Lhasa Apso
It's not unusual for many Lhasa Apsos to live into their teen years. This means that you will probably need to consider what kind of food to feed your Lhasa Apso as he gets older. As your dog ages it's a good idea to plan an annual senior check-up with your vet. Many older dogs begin to put on pounds as they become less active. For this reason, most senior dog foods have fewer calories and they can skimp on protein. You should watch your older dog's weight as he gets older to make sure he doesn't become overweight. In some cases you can simply cut back on the portions of his regular dog food to help him stay fit or increase his exercise.
On the other hand, some very old dogs often start to have some problems metabolizing nutrients, including protein. It can become hard for them to keep good muscle tone and weight as they age. For this reason, you may wish to avoid many dog foods labeled "senior." These foods are often formulated for older dogs that have gained weight. Instead, look for a senior dog food that we like which has lots of protein. As long as your older dog doesn't have any problems with his kidneys or with phosphorus, there is no reason to avoid higher protein levels.
Orijen Senior Dog
Orijen Senior provides plenty of excellent quality protein for your older Lhasa Apso. This food features deboned chicken, deboned turkey, yellowtail flounder, whole eggs, and whole Atlantic mackerel. It helps keep older dogs in good muscle even as they become less active. Made of 85 percent meats and fish, the food is low-glycemic and has low carbs to help keep your older dog's blood sugar steady. The food also contains natural sources of glucosamine and chondroitin to keep your Lhasa Apso's joints healthy. The food is 38 percent crude protein and 15 percent crude fat. It checks in at 414 kcal per 8 ounce cup. We think this is a very good food for senior dogs who often need extra protein as they get older. (We know Orijen is expensive but this food really stands out for senior dogs.)
Another food you may want to consider for older dogs is Weruva's Caloric Harmony Venison and Salmon Meal Dinner with Pumpkin. This food (and several others in this product line) is potato-free with no corn or wheat, easy to digest, and low-glycemic. It contains pumpkin and oatmeal for healthy gut motility. Meat protein comes from grass-fed venison and the food also features salmon meal and herring meal. The dry matter basis for this food is an estimated 37.8 percent protein; 14.4 percent fat; 3.9 percent fiber; and 35 percent carbs. The calorie count (calculated) is Metabolizable Energy (ME) 3320 kcal/kg; 348 kcal/cup. Those look like good figures for senior dogs that need more protein without extra fat.
Best Dog Foods for Lhasa Apsos with Skin Problems/Allergies
As mentioned earlier, Lhasa Apsos can have some skin problems, whether they are allergy-related or not. If your dog needs to avoid common proteins, you can try this food.
Any dog suffering from skin problems or food allergies may benefit from Wild Calling!'s Xotic Essentials recipes. Formulas like their rabbit meal recipe use exotic meats that are rare in today's pet food market so your dog hasn't eaten them before – less chance of having an allergic reaction. The foods are also highly digestible. Wild Calling! also uses what they call LITe (limited ingredient technology). They don't use any of the ingredients commonly found in most dog foods such as chicken, grain, gluten, egg, yeast, corn, wheat or soy. If your Lhasa Apso has a food allergy, he may benefit from Wild Calling! The foods are formulated for rotational feeding and they offer several Xotic Essentials recipes, such as kangaroo and bison, so your dog doesn't get over-exposed to one kind of meat protein. This is an all life stage food. We think that dogs with skin problems and food allergies can definitely benefit from these recipes.
Another food that is often recommended for dogs with food allergies and skin problems is Zignature. It comes in proteins such as trout & salmon, kangaroo, turkey, duck, venison, and others. It's available in dry and canned versions. Foods are potato- and grain-free, and chicken-free. They do not use common bonding agents in their foods (ingredients to hold the food together) which are high in simple carbs and starches. They only use low glycemic carbs such as chickpeas that add extra protein and fiber to the food. They work with Tuffy's in Minnesota and Performance Pet in South Dakota to make their foods. Many people like Zignature very much. If you have a dog with food allergies, this is a brand that you might consider.
Best Dog Foods for Lhasa Apsos with Sensitive Stomachs
If your dog has a sensitive stomach it can be an indication of a food sensitivity, which is different from a food allergy. A dog with a food sensitivity will have gastrointestinal issues such as vomiting or diarrhea. Or it could be something more serious.
A dog with a sensitive stomach can often be helped by feeding the right dog food. Sticking to a limited ingredient diet food with as few ingredients as possible can reduce the chance of your dog having a bad reaction to something in the food.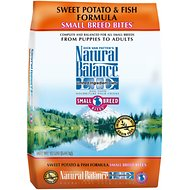 We recommend Natural Balance L.I.D. Limited Ingredient Diets Sweet Potato & Fish Formula Small Breed Bites Dry Dog Food. This food is grain free with limited ingredients. It has good quality, alternative ingredients that are easily digestible for a dog with a sensitive stomach. And it contains no artificial flavors, colors, or preservatives. The first five ingredients are: Sweet Potatoes, Salmon, Salmon Meal, Canola Oil, and Potato Fiber. It has 21 percent crude protein, 10 percent crude fat, 4.5 percent crude fiber, and 10 percent moisture. It has 380 kcal/cup and it's an all life stage formula. If your dog can't eat some of the ingredients in this food, Natural Balance has lots of other LID recipes that you might check.
If your dog can't eat these ingredients, you might try one of the Weruva foods or Acana Singles. Weruva also has lots of foods with pumpkin which can sometimes help a dog with stomach issues.
Best Dog Foods for Overweight Lhasa Apsos
If your Lhasa Apso becomes overweight, it may be due to overfeeding and not enough exercise. You can help your dog lose weight by cutting back on his portions and encouraging him to get more exercise. Lhasa Apsos are very active and playful dogs as puppies and young adults but they can become less active as they get older.
If your Lhasa Apsos needs to lose more than one or two pounds, however, you may need to consider a weight control dog food.
We do not recommend a weight control dog food for a puppy or a very old dog. These foods generally have fewer calories and may have some other differences in nutrients that make them inappropriate for growing puppies or older dogs who need special nutrition.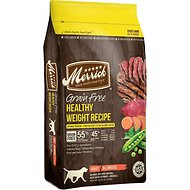 If you have a Lhasa Apso that needs to lose weight we recommend Merrick Grain Free Healthy Weight Recipe. We like the fact that this food has 32 percent crude protein. The crude fat percentage is between 8 and 11 percent with 5 percent crude fiber so your dog should not feel like he's starving. It is AAFCO-approved for a maintenance diet. The food has 3,210 kcal per kilogram or 360 kcal per cup ME (metabolizable energy) on an as fed basis (calculated). It is grain free and made from 55 percent beef and poultry. And it contains no corn, wheat, or soy and no ingredients from China. The first five ingredients in this food are: Deboned Beef, Chicken Meal, Potatoes, Peas, and Sweet Potatoes.
If your dog needs to lose weight, you should proceed slowly. No crash dieting. You should aim for your dog to lose no more than 3 to 5 percent of his body weight per month or about one percent each week.
Conclusion
Lhasa Apsos are beautiful, intelligent little dogs that often have minds of their own. They are loyal, devoted, and affectionate with their families, but aloof and cautious with strangers. Bred to be watchdogs in ancient Buddhist temples, the Lhasa today is happy to stand watch in your home and look after you. If you haven't met a Lhasa – and been accepted as a friend – you should definitely try to get to know one.
Updated December 21, 2016