What Is The Best Dog Food for a French Bulldog?
The Ultimate French Bulldog Food Buyer's Guide
French Bulldogs have rapidly become one of the most popular dog breeds in the U.S. in the last 10 years. They are currently the 6th most popular breed in the country, according to the AKC. In 2006 they were not even in the top 30 breeds in popularity and in 2003 they only ranked 54th in popularity.
Frenchies, as they are often known, were developed in the 1800s. Their ancestors are said to be small toy bulldogs from England and small local dogs in France, where the breed originated. The local dogs may have included ratters, such as terriers, and Pugs. By around 1890 the French Bulldog was well established – and very popular with American visitors to France who took many dogs home to the U.S. French Bulldogs were accepted by the AKC by 1898 and shown at Westminster in 1896.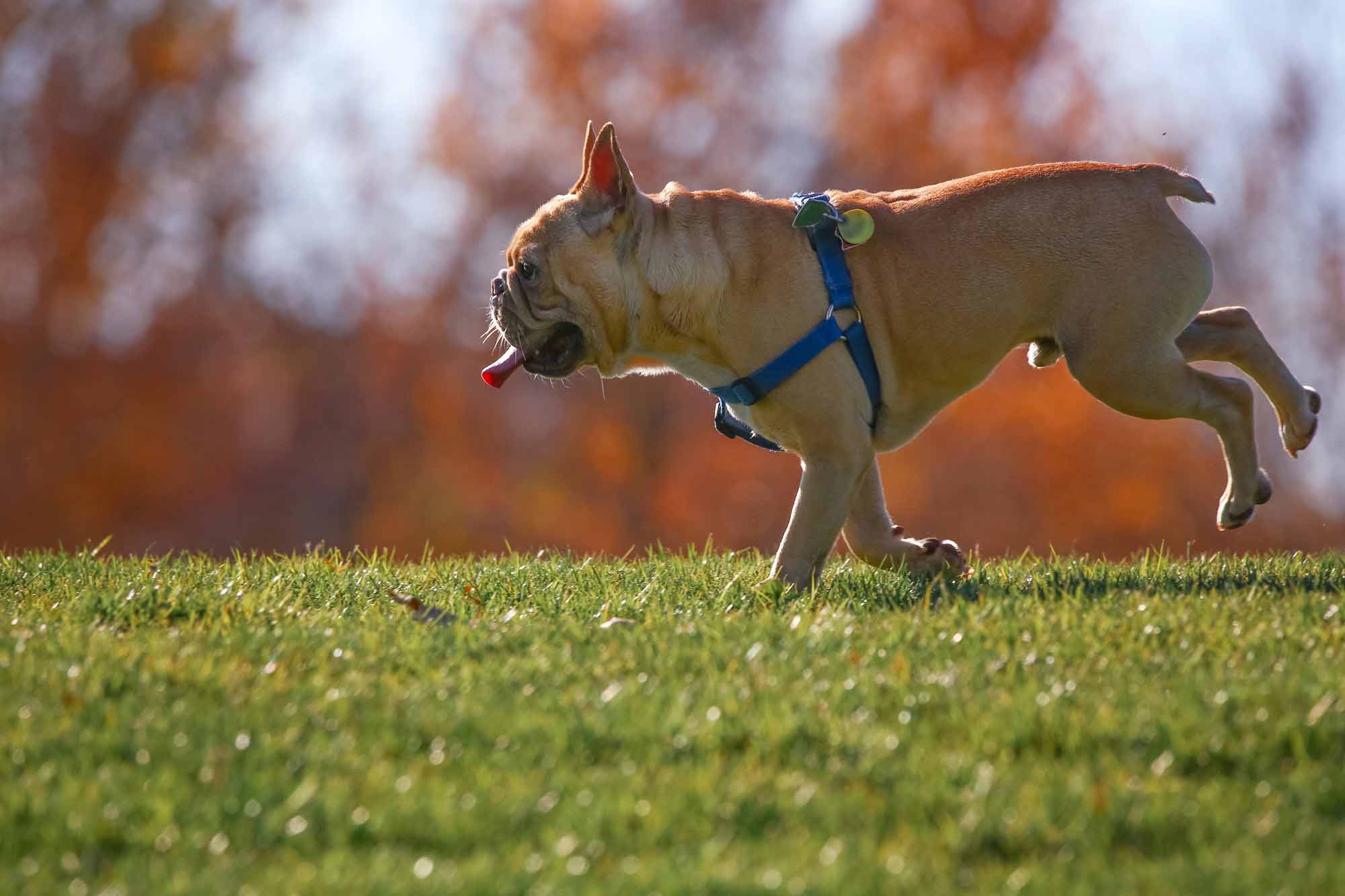 There was a positive craze in America at that time for the little Frenchies and they were one of the most popular dogs in the country for a while. Unfortunately, the public lost interest in the dogs and they were largely forgotten for decades until their recent popularity. French Bulldogs are easy to recognize by their erect bat ears and their flat, slightly rounded head. In temperament they are playful, fun-loving, and intelligent. They are calm at home and love to be with their people. They make excellent family pets. They have minimal exercise and grooming requirements. They rarely bark and they are especially good pets for people who live in apartments.
Quick Look : Top 4 Best Dog Foods for French Bulldogs

---
20% Off + Free Shipping
on dog food for French Bulldogs
Nutrition and Diet
French Bulldogs (males and females) should not weigh over 28 pounds. Females usually weigh less than males. The dog's weight should be proportional to his height. French Bulldogs typically stand about 11-13 inches tall at the withers. They are compact, muscular dogs with heavy bone.
Even though they are small dogs, French Bulldogs tend to be lively. They are sociable and they can be quite active. Although they make good indoor pets, they still require regular daily exercise like other dogs.
According to the National Research Council of the National Academies, an active adult French Bulldog weighing 25 pounds requires an average daily caloric intake of 780 kcal. Dogs that have been spayed/neutered, or that are older, may need slightly fewer calories. Some dogs may need more calories depending on their level of activity and their individual metabolism. Growing puppies, for example, consume more calories than adult dogs and so do young adult dogs. A young French Bulldog puppy (4-12 months) weighing 12 pounds needs an estimated 500 kcal per day.
Depending on the size of your French Bulldog, you can probably opt to feed him a food made for small breeds or medium-sized breeds. Small dogs typically burn more calories per pound than larger dogs so food formulated for small dogs usually contains more calories and nutrients per ounce. Your French Bulldog may not need that many calories. It can be challenging to find foods specifically made for medium-sized dogs, however. Most foods that don't specify a size (small, large, giant) would be suitable for a medium-sized dog.
Smaller dogs such as the French Bulldog generally grow faster than large breeds. You can expect your French Bulldog to reach his full size while a Great Dane will still be growing for another two years. Puppy foods formulated for small breeds are often a good choice for French Bulldogs since they provide the calories, vitamins, and minerals needed for this early growth. You can switch to an adult formula when your dog reaches about 90 percent of his adult size.
Feeding Your French Bulldog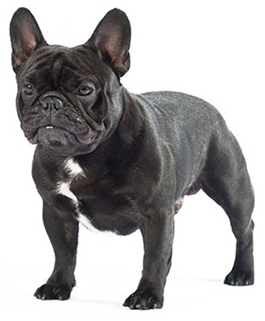 According to the French Bulldog Club of America, you should try to avoid artificial preservatives and excessive protein, as well as fillers when feeding your French Bulldog. (We always recommend avoiding artificial preservatives and watching for fillers in dog food.) The club says that some Frenchies can have allergic reactions to certain commercial dog foods. They advise you to consult your veterinarian if your dog experiences a food allergy and we concur. According to the FBDCA, food allergies are not uncommon in French Bulldogs.
You should do your best to watch your French Bulldog's weight. Being overweight can cause damage to your French Bulldog's physical structure and shorten his life.
The club also notes that wheat products (which are often found in dog foods, treats, and even some dental products) are known to produce flatulence in some Frenchies. Products that contain corn and some other filler ingredients to increase protein in foods can cause hives in French Bulldogs, along with skin rashes and other skin irritations.
As with any dog, you should feed your French Bulldog a good quality dog food. Food that is high in animal protein is a good choice.
Since French Bulldogs can have food allergies and sensitivities so you may have to avoid certain ingredients depending on your dog. The most common dog food allergens, in order, are: beef, dairy products, chicken, lamb, fish, chicken eggs, corn, wheat, and soy. However, every dog is a unique individual. If your dog has a food sensitivity, he might be fine with these ingredients but he could have a reaction to some other item in a food. Or a dog could be sensitive to several of these common ingredients.
French Bulldogs are a brachycephalic breed (short-nosed) which means that becoming overweight or obese pose particular health risks. Carrying extra weight can make it harder for these dogs to breathe comfortably and lead to other health problems. We recommend measuring how much you are feeding your dog and monitoring how much he eats instead of free feeding or leaving food out all the time.
Adult French Bulldogs usually do well eating two meals per day. You can feed French Bulldog puppies 3-4 meals when they are very young, then move to three meals per day as they get older. By they time they are about a year old they should be eating two meals per day.
French Bulldog Health Problems
You can find out more information about French Bulldog health issues by visiting the web site for the French Bulldog Club of America, the AKC parent club for the breed.
As already mentioned, French Bulldogs are a brachycephalic breed so they require some special care during hot/humid weather. They do best in cooler climates. If you live in a warmer climate, it's virtually essential that you have air conditioning for these dogs. Frenchies should also avoid strenuous exercise and stress. Dogs that have noisy breathing or sometimes spit up foam should see a veterinarian to be evaluated for pinched nostrils or an elongated soft palate, which sometimes occurs with this breed.
Anesthesia is also trickier with Frenchies so make sure that your veterinarian has experienced with short-nosed breeds if your dog needs to be anesthesized for any reason.
French Bulldogs are also a dwarf breed which means that their spine can have some issues. Some dogs may have abnormal vertebrae. In some cases a dog may have premature degeneration of the intervertebral discs. Herniation of the degenerated disc can occur and cause problems. However, back problems are more likely to be caused by disc disease instead of abnormal vertebrae. The French Bulldog Club of America recommends that all Frenchies have a thorough musculoskeletal exam by a veterinarian. Most Frenchie can enjoy regular moderate exercise which helps them keep a healthy weight and maintain muscle tone.
As with many small breeds, patellar luxation (slipped kneecap) can be a problem for some Frenchies. French Bulldogs can also have several eye issues such as cherry eye, though it is more common in some other small breeds. Glaucoma, corneal ulcers, and juvenile cataracts can also ocur.
It's important to gently wash your French Bulldog's face, especially along the folds of skin, daily. This will help keep bacteria from growing and prevent tear stains. Be sure to dry the folds after washing them.
Frenchies have an estimated lifespan of around 11-13 years according to the AKC, with some dogs living longer.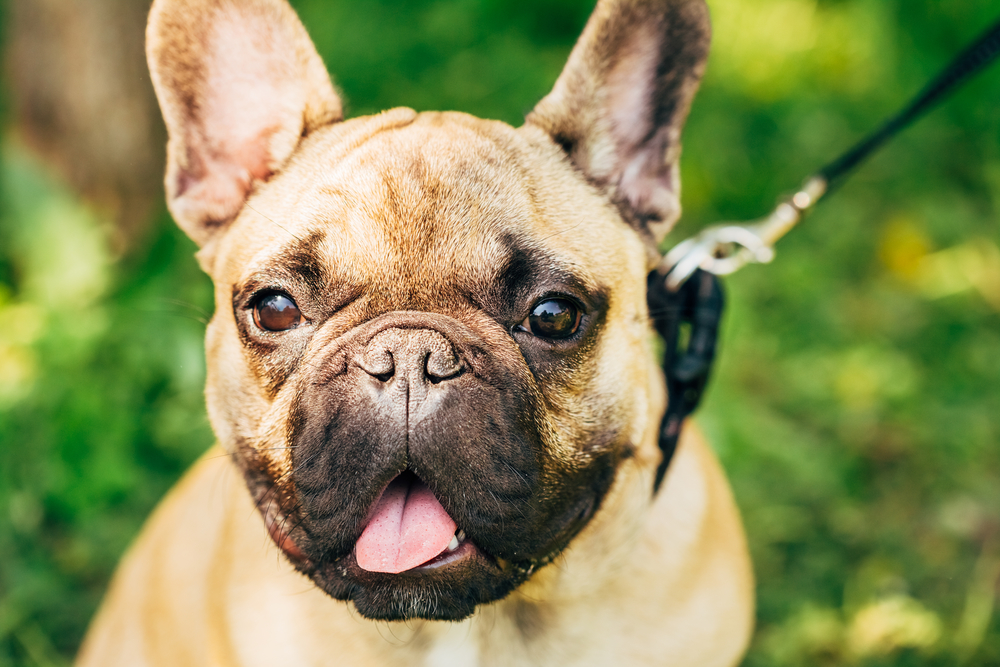 Ingredients to Look for and Some to Avoid
As with most dogs, when choosing a food for your French Bulldog you should look for a food that has good sources of protein and fat.
Ideally you will select a dog food that features two or three meat proteins in the first several ingredients listed. Both whole meats and meat meals are good sources of protein. Whole meats refer to foods such as whole chicken, beef, fish, and lamb. Some people don't like meat meals as much as whole meats but they are a concentrated form of the meat in which the moisture has been removed. They contain several times as much protein as a whole meat. Meat meals are usually quite acceptable as one of the first ingredients in a good quality dog food. They are used by many good dog food brands.
Many dog foods today, even some of the most expensive and highly touted, use lots of plant proteins such as lentils and peas. These foods often have high protein percentages on the label. When you read the guaranteed analysis it's important to consider how much of the protein in the food comes from meat and how much comes from plants. Your dog is able to digest meat protein more easily than plant protein. Meat protein is a much more natural source of protein for your dog than plant protein.
Dogs also need good sources of fat. You should look for named fat sources such as chicken fat. Other named fats also provide needed nutrients such as fish oil which can provide omega-3 fatty acid to help keep the skin and coat healthy. Puppies can benefit from DHA which is Docosahexaenoic acid. This is a specific form of omega-3 fatty acid that helps with brain and eye development. Older dogs seem to benefit from medium chain triglycerides which feature medium chain fatty acids (MCFAs). These have been found to help older dogs feel and act younger. They are often made from a combination of coconut oil and other oils.
If you want to avoid corn, soy, and wheat in your dog food, your French Bulldog may still be able to eat an alternative grain such as barley or oats. Or you can feed a grain free dog food that uses an alternate source of carbs that is low glycemic such as sweet potatoes. You don't have to feed a dog food with an excessively high percentage of protein but it's a good idea to keep the carb percentage low to moderate.
If your French Bulldog has a food allergy or food sensitivity, you may need to work with your veterinarian to identify the food triggers unless they are very obvious. There are lots of good foods with alternative meat proteins today as well as limited ingredient diets which we will discuss below.
Recommended Dog Food For An Adult French Bulldog
As already noted, the French Bulldog Club of America recommends avoiding wheat, corn, fillers, and artificial preservatives in foods for French Bulldogs. Most better quality dog foods do not use these ingredients – though the definition of a "filler" can vary. The club also mentions avoiding "excessive" protein for Frenchies. You should keep this in mind when looking for dog food for your French Bulldog. Not every dog requires or does well on very high levels of protein.
Small breed dog foods will usually have kibble pieces that are smaller and easier for French Bulldogs to bite and chew but remember that they are usually also slightly higher in calories compared to non-small breed foods from the same brand.
We are suggesting a variety of foods here for French Bulldogs. We have selected foods without corn, wheat, and soy. You may have to try a couple of foods to find which one is best for your dog. You should also keep in mind that your dog's diet needs can change as he grows and ages so you may have to change foods to suit him.
Best Dog Foods for French Bulldog Adults
1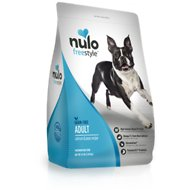 Nulo has only recently become a nationally-known brand and we're happy to include it here. Their foods have 80-84 percent animal-based protein, meaning they have one of, if not the highest, amount of animal-based protein of any dog food. Nulo is also one of the few companies using probiotics that seem to actually survive the manufacturing process. (Check their site to read more.) Their foods are also low carb and low-glycemic. They don't use corn, wheat, soy, no potatoes, tapioca, glutens or GMO's. And no poultry or meat by-products and no artificial colors, flavors, or preservatives. The first five ingredients in this food are: Deboned Salmon, Turkey Meal, Menhaden Fish Meal, Whole Peas, and Sweet Potato. It has 30 percent crude protein, 16 percent crude fat, 4.5 percent crude fiber, and 10 percent moisture. It has 424 kcal/cup. This food is AAFCO-approved for maintenance. We think the ingredients look good and many dogs will love Nulo Freestyle foods. You can also check out their Medal Series of foods – also grain free.
2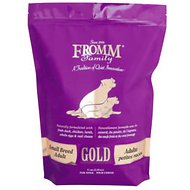 This holistic dog food is designed for normally active adult dogs. Fromm Adult Gold is one of our favorite dog foods for dogs that can eat good quality grains. It contains duck, chicken meal, and chicken as the first three ingredients. Grains include brown rice, pearled barley, and oatmeal, which can provide good dietary fiber and some vitamins and minerals. The food also has probiotics to help with digestion. The food contains no wheat, corn, or soy that might irritate a French Bulldog's digestive system. Fromm Adult Gold features 24 percent crude protein and 16 percent crude fat – so it is not as high in protein as many adult dog foods today which may make it more agreeable to some Frenchies. The food is moderate in terms of calories (408 kcal/cup).
We also like the fact that Fromm is a family-owned company in Wisconsin with a good reputation and they make their food in small batches fresh every morning. These are good ingredients from a respected company.
3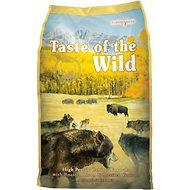 Coming in at over 4.5 stars on Chewy.com from over 1,000 people, Taste of the Wild hits the sweet spot where quality and price come together.
Taste of the Wild's High Prairie dog food is USA Made and, like Castor & Pollux, also sports the grain-free designations. This food is good for Frenchies with skin allergies or sensitive stomachs as it is devoid of a lot of the common ingredients that cause skin irritation.
A 30lb bag of this food retails (on sale) for $43.99 at Chewy right now which is the best online price we could find.
Although a slight downgrade from the top selections you're gaining more in cost savings than you're sacrificing in quality. We think this is a great and very affordable dog food for your French Bulldog if you're on a budget.
4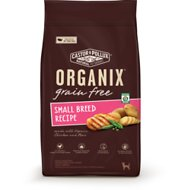 If you are seeking an organic dog food for your French Bulldog then you have probably discovered there are not many truly all-organic foods. Some dog foods may have a few organic ingredients, but it's hard to find one that is entirely organic. Castor & Pollux Organix Small Breed Grain Free Adult Dog Food is made in the U.S. The first ingredient is organic, free-range chicken. Nearly all of the ingredients are organic. It is also grain free with organic peas, organic flaxseed, and other organic ingredients grown without chemical pesticides, synthetic fertilizers, artificial preservatives, added growth hormones, or antibiotics. They use no corn or wheat. This is one of the most natural dog foods you can find. If you are looking for a dog food without added chemicals for your French Bulldog, this food may be perfect for you. The protein percentage is also moderate. If your French Bulldog has food issues, we think this could be a good food.
Best Dog Foods for French Bulldog Puppies
Small breed puppies like the French Bulldog grow quickly. They typically reach adult size early. This means that they usually do best on a small breed puppy food that contains more calories than ordinary puppy foods. However, it's still important that the calcium to phosphorus ratio be correct for small breeds. The recommended ratio should be about 1.2 parts calcium to 1 part phosphorus, though there is some slight room for variation such as 1.5:1.2. (Dry Matter Basis) Most puppy foods should have a calcium to phosphorus ratio in this neighborhood. It's also important that dog and puppy foods do not have an excess (or deficiency) of calcium since this can affect bone growth.
Here are some of the puppy foods we like for French Bulldog puppies. Note that an All Life Stage food can also be fed, as long as the nutrients are appropriate for your puppy.
VeRUS Puppy Advantage Chicken Meal, Oats and Brown Rice Holistic Formula
VeRUS Puppy Advantage is an excellent holistic food for small breed puppies. The first ingredient is chicken meal followed by easy-to-digest ground oats and ground brown rice. The formula contains DHA for proper brain development, omega-3 fatty acid from fish oils, non-Chinese sourced vitamins and chelated minerals. The food also includes a freeze-dried live probiotic that is unique among dog food manufacturers. The chicken used in their food is cage-free, U.S.-grown and guaranteed to be antiobiotic-free. VeRUS has none of the undesirable ingredients that are sometimes found in pet foods. We really like this puppy food for French Bulldog puppies. Any dog lover who may be concerned about chemicals or additives in pet foods should check into VeRUS.
Canidae Grain Free Pure Foundations Puppy Formula
We like this food for puppies. Canidae Grain Free Pure Foundations Puppy Formula is a limited ingredient food with nine ingredients plus vitamins and minerals and probiotics. It's grain free with probiotics to help digestion; antioxidants for a healthy immune system; and omega 3 and 6 to support healthy skin and a beautiful coat. The first five ingredients are chicken, menhaden fish meal, lentils, peas, potatoes. The recipe is supposed to be especially good for puppies with sensitive digestion. The food has 30 percent crude protein, 12 percent crude fat, 4 percent crude fiber, and 10 percent moisture. This food checks in at 520 kcal/cup, so it's high in calories but active, growing puppies can usually burn them off. Just remember that you don't need to feed a lot of food with these very nutrient-dense foods. If your French Bulldog puppy does well on this puppy food, Canidae has some good adult foods – both grain free and foods with grains.
Best Dog Foods for the Senior French Bulldog
French Bulldogs often live to be 13 years or older. This means that you will probably need to consider changing food for your dog as he ages. As your dog gets older it's a good idea to plan an annual senior check-up with your vet. Many older dogs begin to put on pounds as they become less active. For this reason, most senior dog foods have fewer calories and they can cut back on protein. You should watch your older dog's weight as he gets older to make sure he doesn't become overweight. In some cases you can simply cut back on the portions of his regular dog food to help him stay fit or increase his exercise.
On the other hand, elderly dogs often start to have some problems metabolizing nutrients, including protein. It can become hard for them to keep good muscle tone and weight as they age. For this reason, you may wish to avoid many dog foods labeled "senior." These foods are often formulated for older dogs that have gained weight. If your older dog is not overweight we suggest looking for a senior dog food that has plenty of protein. As long as your older dog doesn't have any problems with his kidneys, there is no reason to avoid higher protein levels.
Orijen Senior Dog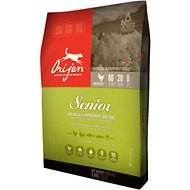 Orijen Senior provides plenty of excellent quality protein for your older French Bulldog. This food features free-run chicken and turkey, wild-caught fish, and nest-laid eggs. It helps keep older dogs in good muscle even as they become less active. Made of 80 percent meats and fish, the food is low-glycemic and has low carbs to help keep your older dog's blood sugar steady. The food also contains natural sources of glucosamine and chondroitin to keep your French Bulldog's joints healthy. The food is 38 percent crude protein and 15 percent crude fat. It checks in at 445 kcal per 250ml/120g cup. We think this is a very good food for senior dogs who often need extra protein as they get older. (We know Orijen is expensive but this food really stands out for senior dogs.)
Best Dog Foods for French Bulldogs with Skin Problems/Allergies
French Bulldogs can have some skin problems. Avoiding dog foods that contain glutens may help some dogs. If your dog needs to avoid common proteins, you can try this food.
Wild Calling! Xotic Essentials Rabbit Meal Recipe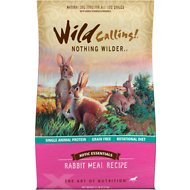 Any dog suffering from skin problems or food allergies may benefit from Wild Calling!'s Xotic Essentials recipes. Formulas like their rabbit meal recipe use exotic meats that are rare in today's pet food market so your dog hasn't eaten them before – less chance of having an allergic reaction. The foods are also highly digestible. Wild Calling! also uses what they call LITe (limited ingredient technology). They don't use any of the ingredients commonly found in most dog foods such as chicken, grain, gluten, egg, yeast, corn, wheat or soy. If your French Bulldog has a food allergy, he may benefit from Wild Calling! The foods are formulated for rotational feeding and they offer several Xotic Essentials recipes, such as kangaroo and bison, so your dog doesn't get over-exposed to one kind of meat protein. This is an All Life Stage food. We think that dogs with skin problems and food allergies can definitely benefit from these recipes.
Best Dog Foods for French Bulldogs with Sensitive Stomachs
We've already mentioned that some French Bulldogs are susceptible to food sensitivities that affect their digestion and excretion. If your dog has a sensitive stomach it can be an indication of a food sensitivity, which is different from a food allergy. A dog with a food sensitivity will have gastrointestinal issues such as vomiting or diarrhea. Or it could be something more serious.
A dog with a sensitive stomach can often be helped by feeding the right dog food. Sticking to a limited ingredient diet food with as few ingredients as possible can reduce the chance of your dog having a bad reaction to something in the food.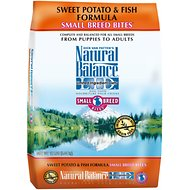 We recommend Natural Balance L.I.D. Limited Ingredient Diets Sweet Potato & Fish Formula Small Breed Bites Dry Dog Food. This food is grain free with limited ingredients. It has good quality, alternative ingredients that are easily digestible for a dog with a sensitive stomach. And it contains no artificial flavors, colors, or preservatives. The first five ingredients are: Sweet Potatoes, Salmon, Salmon Meal, Canola Oil, and Potato Fiber. It has 21 percent crude protein, 10 percent crude fat, 4.5 percent crude fiber, and 10 percent moisture. It has 380 kcal/cup and it's an all life stage formula. If your dog can't eat some of the ingredients in this food, Natural Balance has other recipes that you might check.
Best Dog Foods for Overweight French Bulldogs
If your French Bulldog becomes overweight (which is entirely possible with French Bulldogs), it may be due to overfeeding and not enough exercise. You can help your dog lose weight by cutting back on his portions and encouraging him to get more exercise.
If your French Bulldog needs to lose more than one or two pounds, however, you may need to consider a weight control dog food.
We do not recommend a weight control dog food for a puppy or a very old dog. These foods generally have fewer calories and may have some other differences in nutrients that make them inappropriate for growing puppies or older dogs who need special nutrition.
If you have a French Bulldog who needs to lose weight we recommend Merrick Grain Free Healthy Weight Recipe. We like the fact that this food has 32 percent crude protein. The crude fat percentage is between 8 and 11 percent with 5 percent crude fiber so your dog should not feel like he's starving. It is AAFCO-approved for a maintenance diet. The food has 3,210 kcal per kilogram or 360 kcal per cup ME (metabolizable energy) on an as fed basis (calculated). It is grain free and made from 55 percent beef and poultry. And it contains no corn, wheat, or soy and no ingredients from China. The first five ingredients in this food are: Deboned Beef, Chicken Meal, Potatoes, Peas, and Sweet Potatoes.
If your dog needs to lose weight, you should proceed slowly. No crash dieting. You should aim for your dog to lose no more than 3 to 5 percent of his body weight per month or about one percent each week.
Conclusion
French Bulldogs make wonderful family pets. They are funny, playful, devoted, and intelligent. The breed took the world by storm a hundred years ago and we're delighted that Frenchies are making a comeback.