Best Dog Food For Dogs With Seizures/Epilepsy
If you have a dog that is having seizures due to epilepsy then you already know that it's a condition that's not always easy to manage. Even with medication – the usual way to treat epilepsy – seizures can occur. The very nature of epilepsy means that the cause of the seizures has been hard to diagnose. Of course, dogs can have seizures that are not due to epilepsy, such as kidney problems, liver disorders, hypoglycemia, heart problems, infections, brain tumors, medications, and many other things. Many dog lovers turn to their dog's diet as a way to try to control the seizures.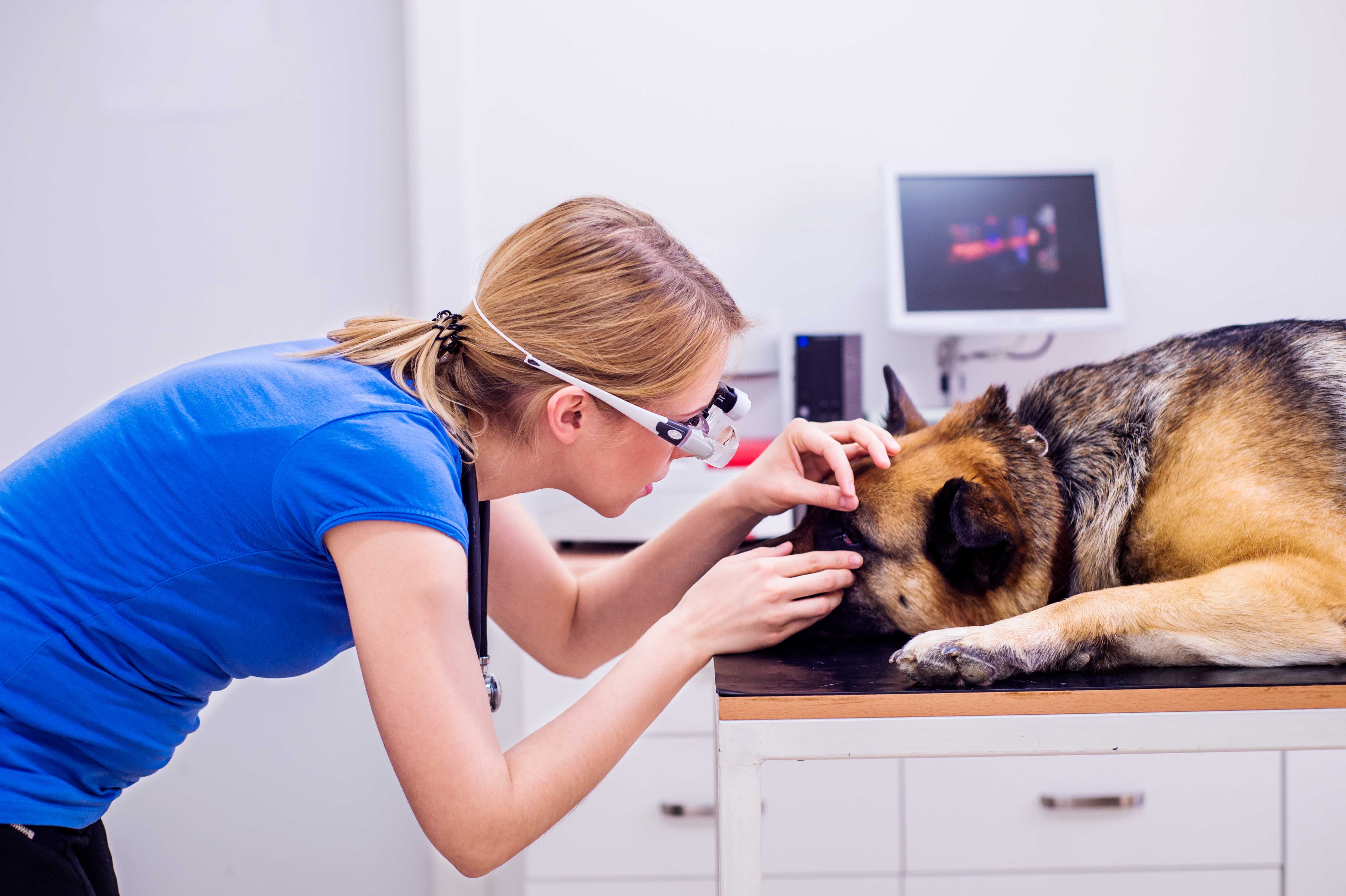 Diets for Epileptic Dogs
There are actually more opinions about how to feed a dog with epilepsy than proven diets or dog foods. Many web sites and dog lovers provide information about how to feed epileptic dogs (or dogs with seizures in general). They may even refer to research – but it is usually anecdotal and not scientific. Bloggers may know of cases (sometimes many cases) where a particular diet has helped but they do not have scientific evidence.
The fact is that there are no specific dog foods made for dogs with seizures or for dogs with epilepsy. Not at this time. Dog food companies do not even make prescription diets for dogs with epilepsy. This is probably because seizures can be due to so many different causes; and because idiopathic epilepsy has unknown causes.
Yes, it's hard to believe that there is a canine condition for which dog food companies have not yet created a dog food, but it's true. With that said, changing a dog's diet does help some dogs who have seizures. There are also some prescription dog foods sometimes prescribed for other conditions that also seem to help dogs with seizures. However, these foods work on a case by case basis. They can help some dogs but not others. Some vets may prescribe a prescription diet for the liver, for example, because some epilepsy medications can be hard on the liver. The food is mainly for the side effects of the medication and not actually for the seizures.
Ketongenic diet
The best current research regarding diet for dogs with epilepsy comes from a 2013 report on the nutritional management of canine epilepsy. This study looked at "ketogenic" diets for treating epilepsy. These are diets that force the body to produce a great many "ketones." This occurs when the body is made to use its own fat as a source of energy. This method has been used as a way to treat epilepsy in humans. These diets are very high in fat, low in carbs, and have a restricted amount of calories. It's not exactly clear why these diets work in people to help seizures, but they do help some people who have epilepsy. In a starved state, ketones provide the primary source of energy for the brain. When there is an increased concentration of ketones on a regular basis, as there would be with this kind of diet, the seizure activity appears to decrease. Higher levels of omega-3 and omega-6 fatty acids may also help subdue seizures by reducing the excitability of nervous tissue and altering levels of chemicals in the brain called neurotransmitters. About two-thirds of people who have epilepsy who use the ketogenic diet have a reduction in their seizures. However, there are drawbacks. Because of the restriction on calories, it's hard for people to comply with the diet. There can also be side effects. So, this kind of diet is usually only suggested to people who have severe epilepsy and don't respond to traditional drug therapy.
Some writers have called this diet the Atkins diet for dogs and you can see why. Whether or not a ketogenic diet would actually help dogs with epilepsy seems doubtful based on the initial study results. Dogs do not go through the ketosis process as readily as humans do. There can be issues caused by a high fat diet such as pancreatitis and other health problems. This kind of diet could produce dietary deficiencies. And it could result in nutritional imbalances. Higher triglycerides are already present in dogs that take phenobarbitol, so increasing the dog's fat percentage in the diet could be harmful. However, more research probably needs to be done. It's possible a modified version of this kind of diet might work for dogs with seizures in some way.
The study also covered the importance of a dog maintaining a steady, ideal weight – something that can be difficult considering that many anti-seizure medications cause dogs to have an increase in appetite.
Other issues to consider in a diet for a dog with seizures include supplements in the diet. Many of these supplements are commonly added to good quality dog foods today. DHA (docosahexaenoic acid), omega-3 fatty acids, and EPA (eicosapentaenoic acid) are ingredients that you will probably want to see in any dog food you choose for a dog with epilepsy. We already know that DHA plays an important role in brain development and it's often included in puppy foods. Studies have also shown that DHA and EPA have a protective effect on neurologic tissues, perhaps because of their anti-inflammatory properties. Omega-3 fatty acids appears to reduce high blood triglycerdide levels, especially with long-term use. These high levels of triglycerides in the blood are often a side effect of giving dogs phenobarbitol for seizures. Taurine, an amino acid that helps build protein, is also mentioned as possibly having anti-seizure properties.
That's the current state of research about feeding dogs with seizures/epilepsy. The ketogenic diet works for many humans with epilepsy who use it but it is not an easy diet and there is little research about how it would work in dogs yet. There are also some drawbacks to using it with dogs. It needs more research. This is certainly not a diet that you would want to try with your dog without fully discussing your dog's health and situation with your veterinarian.
Raw Food Diets For Epileptic Dogs
There are other diets for taking care of your dog with seizures or epilepsy. Many people advocate a raw food or homemade diet. Most canine nutritionists and researchers seem to agree that if your dog is having seizures then lowering carbohydrates in the diet can be helpful and this is often one of the hallmarks of a raw diet.
Canine nutritionist Lew Olson, PhD, provides good information about this approach to feeding a dog with epilepsy. She recommends reducing carbs in the diet or eliminating them completely, along with increasing fat and protein which is similar to a ketogenic diet, though not as extreme. If your dog is taking phenobaritol, which increases triglycerides to the dog's blood, she recommends using a protein with lower fat. If you are feeding your dog a kibble, she recommends changing to a raw or home-cooked diet in order to provide your dog with more nutrients and amino acids from animal protein sources – especially l-taurine and l-carnitine. As she states, you can add these amino acids to kibble (and many dog food companies do), but it doesn't compare to getting them from a fresh source. They are plentiful in beef, lamb, and pork heart, among other meats.
Olson also recommends adding DMG (dimethylglycine) to your dog's diet.
This [DMG] is an amino acid that comes from glycine. It is thought to help the immune system, enhance memory, and may slow down the rate of seizure activity. It is thought to add oxygen to the blood and is used frequently by athletes. Studies are mixed on the effectiveness of DMG, but it is inexpensive and has no side effects. It also seems to help with dogs that have allergies and skin irritations caused by itching and scratching.
Other supplements that Olson suggests may help dogs with epilepsy include fish oil capsules, Vitamin E, Vitamin B Complex, Calcium and Vitamin D3. She also discusses supplements that might be beneficial in some cases. Olson's article is highly recommended if your dog is having seizures, whether you are interested in feeding a raw diet or not.
You will find other discussions about feeding raw diets to dogs with seizures online but they are not usually as well-researched or as knowledgeable.
Liver Support Diets
Another raw diet that is popular with some people who have dogs with seizures is Dr. Jean Dodds' liver cleansing diet. Whether this diet is helpful because of an underlying condition that triggers seizures or because it addresses side effects from seizure medications is unclear, but some people do report good results. Please note that the sweet potatoes, potatoes, and other vegetables used in these recipes are carbohydrates so these recipes run counter to ideas about using a low carb diet for dogs with seizures. If you are interested in using these recipes, you may want to use them occasionally and then return to your dog's regular seizure diet.
Canine nutritionist Monica Segal provides a version of Dr. Dodds' diet that includes some added vitamins and minerals. Again, the diets provided by Dr. Dodds and Monica Segal provide liver support, mostly due to the fact that medications given to dogs with epilepsy or other seizures can be hard on the liver. According to some people, these diets also help control the seizures. Note that these liver diets seem to have been formulated several years ago – before the latest research about ketogenic diets for dogs with epilepsy (low carbs, higher fat).
Prescription Diets for Dogs with Seizures
While feeding a raw or homemade diet may be desirable if your dog is having seizures, it's often not practical for many dog lovers for various reasons. Time commitments, costs, concerns about making a nutritionally healthy diet are reasons often cited. Not everyone is comfortable with trying to make sure their dog is getting the right balance of vitamins, minerals, and other nutrients, especially when there is a serious health condition involved.
Veterinarians are often willing to prescribe prescription diets or veterinary formulations for dogs with seizures. As already mentioned, there are no specific dog foods for dogs with epilepsy or seizures in general. However, if your dog is taking medication for seizures, some of the standard medications such as phenobarbitol and others, can put extra stress on a dog's liver. For this reason vets may prescribe prescription diets for the liver or hypoallergenic diets. Dogs taking potassium bromide for seizures need to avoid added salt in the diet. Salt is often found in salty treats such as jerky treats but it can be found added in some dog foods (including prescription dog foods) and even in chicken broth.
You can find the following dry food prescription diets on Chewy.com. They also have wet food alternatives. These foods are often recommended for dogs with seizures or epilepsy as a way of handling the side effects of the seizure medication. Prescription diets require a prescription from your veterinarian so you will see this message on the page:
"… diets require a veterinary prescription. This product will not be shipped until a copy of a valid prescription authorization is faxed to 1-800-619-7973 or e-mailed to [email protected]"
Once your vet faxes or e-mails your dog's prescription, the order can be filled and shipped to you. Other online sites have the same requirements for prescription diets.
Note: You won't like the ingredients in any prescription diets. And, yes, these foods are expensive. For the most part you are not paying for ingredients, with a few exceptions.
Prescription diets are made to precise specifications with tight quality control so your dog gets exactly what he needs in his diet in terms of nutrients. The foods may also contain some special ingredients that are not found in ordinary commercial dog food. So, don't expect organic ingredients and high meat content. However, the foods consistently get very positive reviews. They seem to work, even if some of the ingredients look bad.
You will also notice that the companies that make prescription diets are the big pet food companies. They do invest some of their money in research and development of these foods. It's not unusual for some of the developments they make with prescription dog foods to eventually end up in their commercial foods.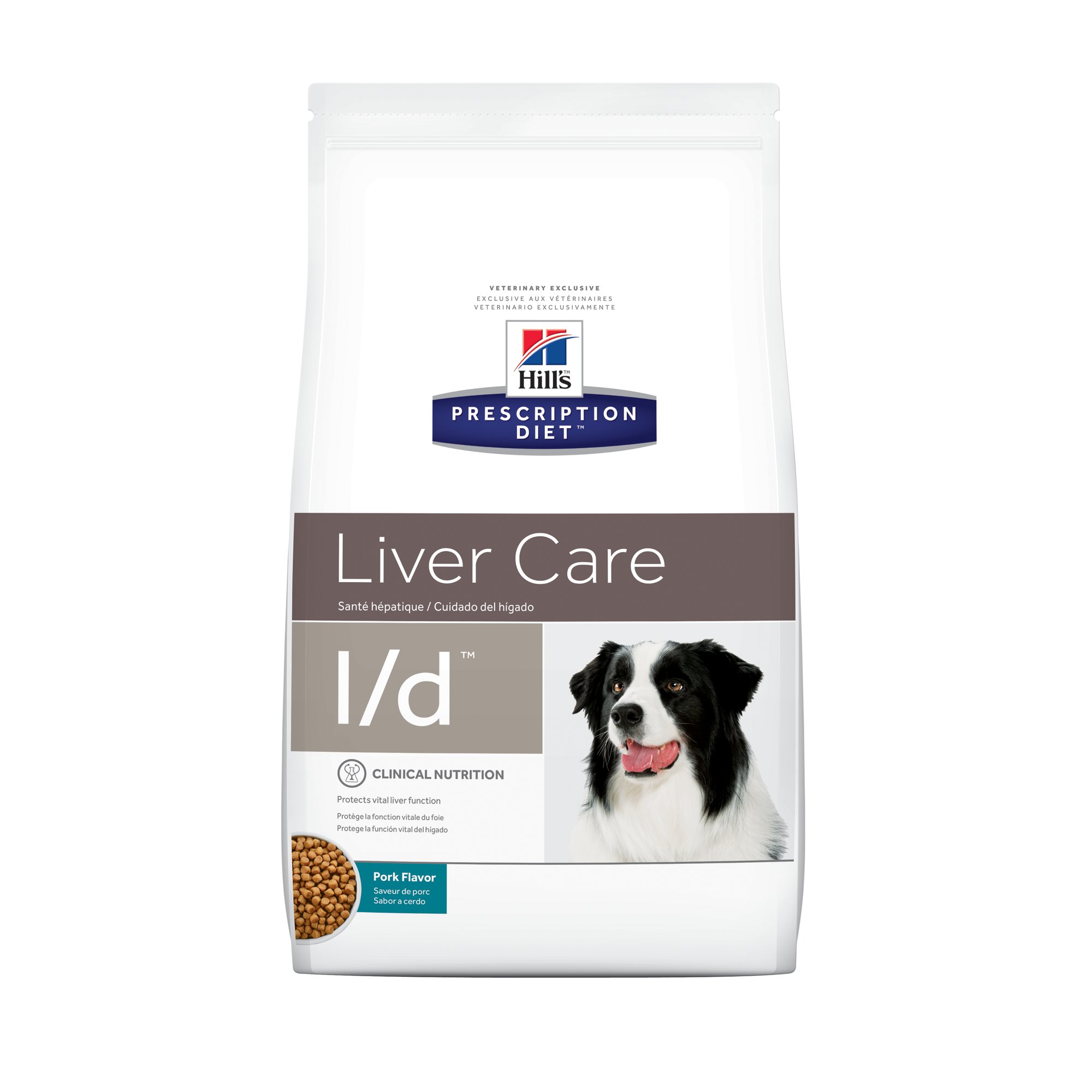 Product Description
The liver is your dog's largest internal organ with many functions, including the digestion and conversion of nutrients, the removal of toxic substances from the blood and the storage of vitamins and minerals. The liver has an amazing ability to repair and regenerate itself, and nutrition plays a vital role in this process.
Key Benefits
Helps reduce liver workload allowing liver tissue to regenerate
Helps maintain normal fat metabolism in the liver
Helps avoid nutrient deficiencies commonly related to liver issues
Supports a healthy immune system
Moderate levels of high quality protein
High L-carnitine & L-arginine levels
Appropriate level of zinc
Low copper
Clinically proven antioxidants
Product Description
You won't find many ingredients in this veterinary-recommended dry food. What you will find is one happy, great-feeling pup! The veterinary-prescribed formula is perfect for any dog with food allergies that can lead to constant sneezing, excessive licking of the paws, gastrointestinal upsets, and skin eruptions. Delicious rabbit and added vitamins and amino acids are great for your dog's skin and muscles, and are guaranteed to make dinner-time the best time of the day.
Key Benefits
Grain and gluten-free recipe
The protein in the diet is provided by potato, rabbit and hydrolyzed soy
Prescribed by veterinarians specifically for dogs with food-related allergies
Optimal amounts of B vitamins and amino acids help maintain the skin's natural barrier effect
Eicosapentaenoic and docosahexaenoic acids are long chain omega-3 fatty acids that promote a healthy skin and coat
Naturally preserved to ensure freshness and quality
Complete and balanced nutrition
Product Description
Food sensitive dogs can benefit from Purina Pro Plan Veterinary Diets HA Hydrolyzed Canine Formula, a unique vegetarian dog food that features simple proteins and low-allergen carbohydrates designed to minimize the risk of food allergic reactions. It offers dietary benefits that provide optimal nutrition while meeting your adult dog's or growing puppy's special needs.
Key Benefits
Vegetarian formula
Single hydrolyzed protein source
Single low-allergen carbohydrate source
Highly digestible
Product Description
Canine Ultamino is a highly palatable, highly digestible, complete and balanced hydrolyzed protein diet for adult dogs.
Key Benefits
Formulated with low molecular weight peptides to support dermatological and gastrointestinal health in dogs with food sensitivities
Formula and production process dedicated to quality and food safety
Highly palatable and highly digestible
Complete and balanced nutrition
Note: Ultamino was formerly Anallergenic. This is the same great formula, just a new package!
Royal Canin Veterinary Diet Hydrolyzed Protein Adult HP Dry Dog Food
Product Description
Royal Canin Veterinary Diet Canine Hydrolyzed Protein Adult HP Dry Dog Food is a highly palatable, highly digestible, complete and balanced hydrolyzed protein diet. The diet is specifically formulated for use as short-term elimination feeding and as long-term nutrition for dogs with food sensitivities. It contains all of the proteins, amino acids, and vitamins needed to boost the immune system and give your pup the energy he needs without upsetting his sensitive tummy. This special prescription dry dog food formula also provides a healthy skin barrier that protects against environmental allergens and bacteria.
Key Benefits
Vitamin B12 supplement boosts gastrointestinal function
Beet pulp maximizes nutrient absorption
Naturally preserved hypo hydrolyzed protein dry dog food formula
Taurine protects the heart
Hydrolyzed soy protein, composed of low molecular weight peptides, is highly digestible and supports gastrointestinal and dermatological health
Eicosapentaenoic and docosahexaenoic acids are long chain omega-3 fatty acids that promote a healthy skin and coat
Specific nutrient blend to help regulate intestinal transit and to help support the digestive flora
Note: Hydrolyzed Protein was formerly Hypoallergenic. This is the same great formula, just a new package!
Product Description
A moderate level of high quality vegetable protein, elevated levels of dietary fiber, increased zinc, and restricted copper go into this therapeutic vet diet. Royal Canin Veterinary Diet Hepatic Formula Dry Dog Food is a highly palatable and digestible dog food, restricted in copper content, and formulated with nutrients essential to support liver function. It is also naturally preserved and supplies powerful antioxidants which help maintain a strong and healthy immune system for your dog.
Key Benefits
Helps adult dogs suffering from hepatic insufficiency, hepatic encephalopathy, portosystemic shunt and disorders of copper metabolism
A precise blend of antioxidants helps support a healthy immune system
Contains highly digestible vegetable protein
Low level of copper to help minimize its accumulation in liver cells
High energy density helps reduce the amount of food given per meal
Supports cellular health
You should note that Royal Canin sometimes uses rosemary extract in their formulas (a common natural preservative) while Purina and Hills do not. Rosemary is often suggested as a possible trigger for seizures though this usually refers to its use as an essential oil and its odor. Whether a small taste of rosemary in a dog food could be a trigger is probably unknown. You probably already know that it can be difficult to find dog foods that don't use rosemary these days. As consumers complained about chemical preservatives, the use of rosemary has become very widespread in dog foods.
Most of these formulas are low in protein percentages and low to moderate in fat, with the exception of Hill's Prescription Diet l/d Liver Care Pork Flavor Dry Dog Food which is very high in fat. They are all high in carbs. They do generally contain added amino acids such as taurine, along with DHA, EPA, and omega-3 fatty acid. Again, these foods can be helpful for dealing with the side effects from seizure medications but they are not specifically designed for dogs with seizures or epilepsy.
If you really dislike the idea of using one of these prescription foods, and you don't want to feed a raw or homemade diet, you can talk to your veterinarian about what to look for in a good commercial dog food for your dog. We've already listed some of the things you can look for in a food if your dog has seizures. We'll list some commercial foods that you may want to consider.
Commercial, Non-Presciption Foods for Dogs with Seizures
The Honest Kitchen has a nice article about managing epilepsy through diet.
Diet may have an effect on the incidence of seizures in some pets. Anecdotal research shows that a diet free of chemical preservatives such as BHA, BHT and Ethoxyquin may help to reduce seizure frequency. Artificial flavors and colorings should also be avoided in seizure-prone pets. A minimally processed, home made or other natural diet is thought to be beneficial; such diets are richer in natural antioxidants, enzymes and other important compounds that are necessary for optimal health.

The goal of nutritional therapy is to nourish the brain and nervous system, while detoxifying the body and the pet's surrounding environment. Limiting consumption of organ meats (especially liver) is also wise during detoxification, since these are the most heavily contaminated with antibiotics and other medications.
These seem like sensible recommendations. Many people feeding good quality dog foods probably already avoid chemical preservatives and seek out natural antioxidants and enzymes. It also makes sense that avoiding liver for your dog could be a good idea if he is having seizures. The article also discusses the subject of avoiding gluten for dogs prone to seizures, along with some homeopathic suggestions.
Some people have had success using foods from the Honest Kitchen such as their Honest Kitchen Love Dehydrated Dog Food (grain free beef formula, Calories Per Cup 514, Protein 31%, Fat 16%, Carbohydrates 35%), or their Honest Kitchen Zeal Dehydrated Dog Food (grain free fish formula, Calories Per Cup 437, Protein 35.5%, Fat 8.5 %, Carbohydrates 36.4%). These foods are also gluten-free, GMO-free, with no corn, soy, or wheat, and they are limited ingredient diets. Some people also like to use Honest Kitchen Preference Dehydrated Dog Base Mix and add their own meat.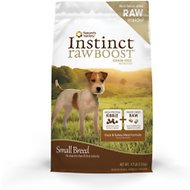 Nature's Variety Instinct Raw is another food that is often recommended for dogs that have seizures. These foods are grain free and gluten-free. Instinct comes in several formulations: freeze-dried raw, kibble with freeze-dried raw pieces included, kibble, limited ingredient, canned, treats, and more. Instinct Lamb & Salmon Raw Boost kibble has Lamb, Salmon Meal, White Fish Meal (Pacific Whiting, Pacific Sole, Pacific Rockfish), Canola Oil (preserved with Mixed Tocopherols and Citric Acid), and Tapioca as the first five ingredients. The guaranteed analysis shows 34.5 percent crude protein, 17.5 percent crude fat, 5 percent crude fiber, and 8 percent moisture. The food has 441 kcal/cup. AAFCO-approved for all life stages.
Another food that is sometimes recommended by people with dogs who have seizures is Vital Essentials. Vital Essentials is a raw pet food brand that makes dehydrated foods. The company uses locally-sourced ingredients that are USDA-certified. Their products for dogs include freeze-dried entrees, frozen entrees, vital treats, snacks, and green tripe. Vital Essentials Beef Entree Nibblets Freeze-Dried Dog Food has simple ingredients: Beef, beef tripe, beef lung, ground beef bone, beef liver, beef heart, beef kidney, beef blood, beef fat, herring oil (natural source of vitamin D), mixed tocopherols (natural antioxidant) d-alpha tocopherol (natural vitamin E). That's all. The guaranteed analysis shows: Protein, min 52.0%, Fat, min 17.0%, Fiber, max. 1.9%, Moisture, max 7.5%. The food has 184 kcal per ounce.
Other dog foods that are often recommended for dogs with seizures include grain free Canidae, Acana, and Orijen. These are good quality foods with good ingredients.
Limited ingredient diets, such as Wellness Simple and Dick Van Patten's Natural Balance L.I.D. are also sometimes considered good for dogs with seizures. With limited ingredient diets the idea is to try to avoid ingredients that might be harmful or trigger a seizure with your dog.
We would be remiss not to mention DogtorJ and his site on dogs and epilepsy. He discusses a number of dog foods, though some of the information is a little out of date. The site is still worth a visit and his theories are interesting.
Supplements
In general, fewer and better quality ingredients are better for dogs, including dogs with seizures. There are some supplements sometimes recommended for dogs with seizures, in addition to the taurine, omega-3 fatty acids, DHA, and EPA already discussed. The Bark magazine discusses holistic treatments for dogs with epilepsy in an article online – "Holistic Treatments for Epilepsy in Dogs," by Jenny Taylor, DVM, including nutraceuticals and Western herbs:
Nutraceuticals: The exact mechanism of action of each supplement is beyond the scope of this discussion, but a variety of vitamins and nutritional supplements have been highly effective in decreasing seizures in dogs. In my practice, we regularly recommend the following for our epileptic patients: DMG (n, n dimethyl-glycine); Choline; taurine; L-tryptophan; magnesium; melatonin; phosphatidylserine; and antioxidants such as vitamins C, A and B complex.

Western Herbs: Many over-the-counter Western herbs, in both capsule and tincture form—including chamomile, milk thistle, skullcap, valerian, oat straw and ginkgo biloba—are used to treat seizures. As with nutraceuticals, always discuss appropriate herbs and dosages with your veterinarian(s) before giving them to your dog.
This is one vet's opinion, online. We suggest that you talk to your own veterinarian and/or holistic practitioner before adding supplements to your dog's diet. Supplements and herbs can be beneficial but please remember that even natural ingredients contain chemicals and they are not always harmless. Even something usually safe may be dangerous if given in the wrong amount.
Conclusion
Epilepsy is never an easy condition for dogs and their owners to handle. However, in many cases it can be managed and dogs can live relatively normal lives. Medication, diet, avoiding stress, and in some cases alternative therapies can often do wonders. We hope that this discussion of food choices for dogs with seizures has been helpful.