Best Dog Food For Dogs With Arthritis and Joint/Mobility Issues
Arthritis is one of the most common health problems veterinarians see in dogs. We usually think of arthritis and joint mobility problems as issues that affect elderly dogs but some dogs can develop joint disease early in their lives. Joint disease can range from being mild and hardly noticeable to debilitating.
Most dogs that have arthritis or some kind of joint disease will have a moderate form and they do begin to experience it as they get older. Larger dogs are usually more susceptible to these issues than smaller dogs. A dog's diet, along with his weight and some supplements, can have an effect on this condition.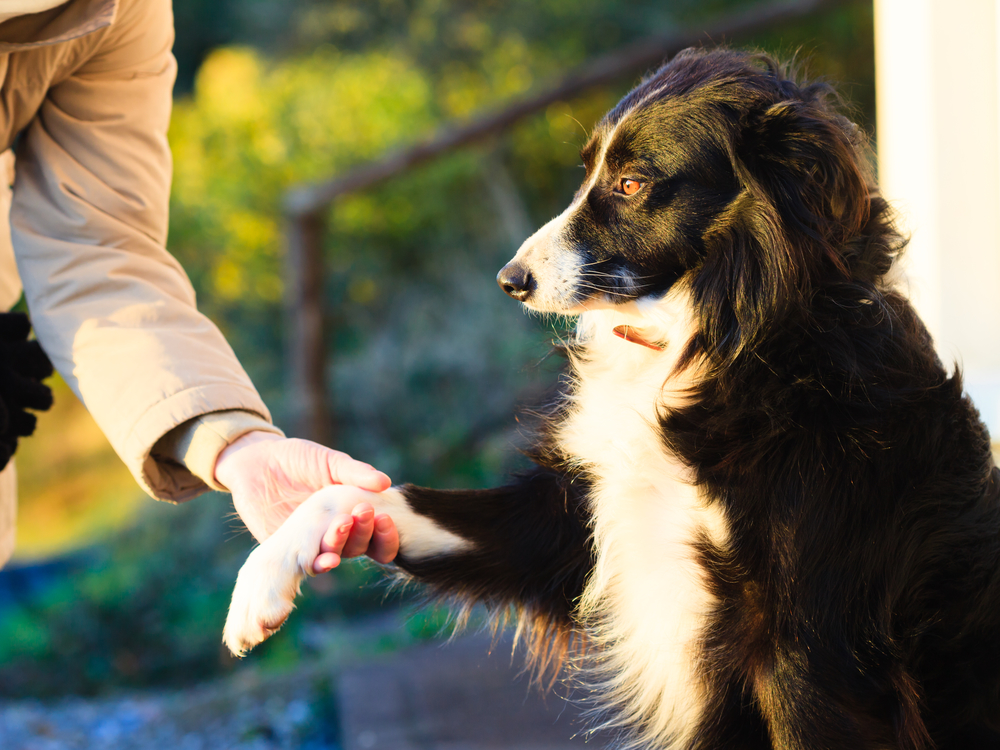 Signs of Arthritis and Joint Disease
Typical signs of joint disease in dogs include stiffness, limping or favoring a leg. Dogs with arthritis or joint disease can also have difficulty getting up and down. This can often occur after your dog has been sleeping or resting. Consider how puppies jump up and run around and then think about how older dogs sometimes have to ease themselves up and rest before moving. Older dogs and dogs with arthritis or joint disease may walk without fully bending their joints until some of the stiffness works itself out. If you have ever had a joint injury, then you probably know how this feels. Your dog may also be reluctant to jump or climb stairs. Or he may show evidence of pain when he tries to climb stairs or jump on furniture that used to be easy for him.
You will probably notice your dog slowing down and starting to have problems with things that he used to do. Sometimes the signs can be easy to miss because a) dogs are good at hiding pain; and b) the small signs come on gradually. But sooner or later you will probably seen some unmistakeable signs.
More than Arthritis
Most people think of arthritis when they think of joint disease in dogs but it includes many other things that can affect your dog's quality of life. Hip dysplasia, elbow dysplasia, OCD (osteochondritis dissecans), congenital disorders, metabolic disorders, cancer, accident and trauma, and many other things can cause mobility problems in dogs. Environmental factors also play a role. Some issues are related to a dog's genetic inheritance but things like diet, exercise, weight, supplements (too many, in some cases), and other things often make a difference in whether a dog experiences joint mobility problems.
Joint Disease and Weight
One of the best things you can do for any dog with arthritis or other kinds of joint disease is watch his weight. No matter what size your dog is, carrying extra weight on his skeletal frame puts added stress on his bones and joints. This added stress on bones and joints can worsen any pre-existing problems, cause cartilage to deteriorate and lead to bone rubbing against bone. In short, it can increase the chances of pain and inflammation for your dog from arthritis and other joint problems. This is true whether you have a Newfoundland or a Pomeranian. However, larger dogs are even more likely to have bone and joint problems. If you have a large or giant breed you need to be particularly careful about watching your dog's weight, along with making sure that he doesn't grow too rapidly as a puppy. This is why there are special dog foods made for large/giant breed dogs and puppies. They have special calorie needs and it's particularly important that these puppies don't grow too fast.
No matter what breed or kind of dog you have, try to identify what his ideal weight should be and help him achieve that weight. With an estimated half of the dogs in the U.S. overweight or obese, there's a good chance that your dog might be overweight. If he is overweight, it's probably worsening any joint or bone problems. You can talk to your veterinarian, look at a body condition chart, check breed standards for your breed, or look at other reliable sources. You can usually keep your dog fit by feeding a good quality dog food and making sure that he is getting adequate exercise.
If you have an older dog that is slowing down he might not be getting as much exercise as he used to get. Try to make sure that he gets some daily exercise. Keeping a dog's muscles toned is usually good for his bones and joints as long as it doesn't cause him any pain or discomfort. Many older dogs have a slowing metabolism. Even though you are feeding your older dog the same food and the same amount of food as usual, your dog is no longer converting it to muscle as well as he once did. He is storing more of it as fat. In these cases you may want to consider changing your older dog's food. Older dog's need good quality protein but their weight needs to be carefully managed.
Best Prescription Foods for Dogs with Joint & Mobility problems
There are several prescription foods for dogs with arthritis and joint/mobility problems. The foods generally contain a blend of ingredients and supplements that keep joints supple and maintain healthy cartilage. You can usually find these foods in cans and in different flavors. Some of the foods are specifically made for large breed dogs but you can find some of them made for small and medium breeds, too. If you have a small breed dog, you should talk to your veterinarian before trying to feed one of these prescription diets for large breed dogs to him. Small dogs have higher caloric needs than larger dogs so this needs to be considered even for a dog with joint or mobility issues.
You can find the following dry food prescription diets on Chewy.com. They also have wet food alternatives. These foods are often recommended for dogs with arthritis or joint and mobility problems. Prescription diets require a prescription from your veterinarian so you will see this message on the page: "… diets require a veterinary prescription. This product will not be shipped until a copy of a valid prescription authorization is faxed to 1-800-619-7973 or e-mailed to [email protected]" Once your vet faxes or e-mails your dog's prescription, the order can be filled and shipped to you. Other online sites have the same requirements for prescription diets.

---
20% Off + Free Shipping
on Dog Food For Arthritis
Note: You won't like the ingredients in any prescription diets. And, yes, these foods are expensive. For the most part you are not paying for ingredients, with a few exceptions. Prescription diets are made to precise specifications with tight quality control so your dog gets exactly what he needs in his diet in terms of nutrients. The foods may also contain some special ingredients that are not found in ordinary commercial dog food. So, don't expect organic ingredients and high meat content. However, the foods consistently get very positive reviews. They seem to work, even if some of the ingredients look bad. You will also notice that the companies that make prescription diets are the big pet food companies. They do invest some of their money in research and development of these foods. It's not unusual for some of the developments they make with prescription dog foods to eventually end up in their commercial foods.
Prescription diets should always be fed according to your veterinarian's instructions. You should consider the dog food the same as any other prescribed medication for your dog. Most diets are mixed with normal food for a few days to help your dog adjust to the new food. Diets formulated for joint mobility contain glucosamine and chondroitin that help re-build cartilage and prevent further deterioration of a dog's joints. Many formulas also contain antioxidants that strengthen the immune system to fight infections.
---
Hill's Prescription Diet Metabolic + Mobility Weight and Joint Care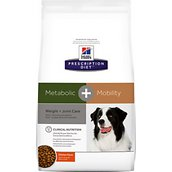 Nutritionists & veterinarians developed Prescription Diet Metabolic + Mobility Canine clinical nutrition specially to help manage your dog's weight and joint health. In fact, Metabolic + Mobility Canine has clinically proven nutrition to improve mobility in as little as 21 days and reduce body weight by 13% in 60 days.
Key Benefits
Naturally works with your pet's unique metabolism
Improves your dog's ability to run, walk and jump
Helps your pet feel full & satisfied between meals
---
Hill's Prescription Diet j/d Joint Care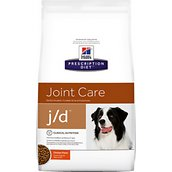 Improving your dogs mobility is as easy as feeding the right nutrition. Being proactive about mobility issues early can avoid the need for more aggressive treatments. Hill's Prescription Diet j/d helps your dog walk, run and jump more easily in just 21 days.
Key Benefits
Help improve your dog's ability to run, walk and jump in as little as 21 days with a clinically proven combination of nutrients
An excellent source of the Omega 3 fatty acid, EPA, to nourish cartilage
Controlled calorie content and added L-carnitine help maintain a healthy weight and avoid extra stress on joints
---
Purina Pro Plan Veterinary Diets JM Joint Mobility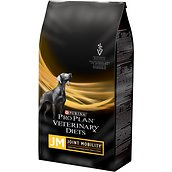 With its natural source of glucosamine and high EPA and omega-3 fatty acid content, Purina Pro Plan Veterinary Diets JM Joint Mobility Canine Formula is designed to help improve mobility in dogs with arthritis. It offers dietary benefits that provide optimal nutrition while meeting your adult dog's or growing puppy's special needs.
Key Benefits
High levels of long-chain omega-3 fatty acids
A natural source of glucosamine
A high level of antioxidants
High protein-to-calorie ratio
---
Iams Veterinary Formula Joint Plus Dry Dog Food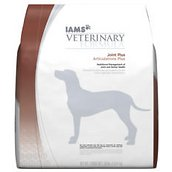 Joint health issues affect millions of dogs in the USA – dogs of every size, age, and breed. The good news is, your veterinarian can recommend measures that can help delay the aging progression of such joint issues. Nutrition is one vital component of that regimen. Iams Veterinary Formula Joint Plus contains a blend of ingredients to help support the nutritional management of joints and senior health.
Key Benefits
Glucosamine & Chondroitin Sulfate – naturally occurring compounds that aid in the nourishment and maintenance of healthy joint cartilage
Antioxidants – nutrients that help stabilize cells
A balance of Omega 6 & 3 Fatty Acids to help nutritionally manage inflammation
Animal proteins & L-Carnitine to help support lean, active muscles and healthy joints (vitamin-like compound that helps with fat metabolism)
Made in the USA
---
Royal Canin Veterinary Diet Canine Mobility Support Large Breed Dry Food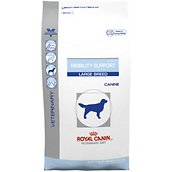 Royal Canin Veterinary Diet Mobility Support JS Large Breed Dry Dog Food is a highly digestible, palatable, complete and balanced dog food formulated with New Zealand green mussel. The diet is antioxidant-enriched to help support the body's natural immune system and has been formulated for the specific needs of large breed dogs. Royal Canin Veterinary Diet Mobility Support JS Large Breed Dry Dog Food addresses adult dogs with, or at risk of developing, degenerative joint disease (osteoarthritis). Some of those risk factors include obesity, advanced age, very active lifestyle (working dogs, hunting dogs); a history of joint injury or trauma; and genetic predisposition. This veterinarian-prescribed diet is a highly digestible, palatable, complete and balanced food for dogs. It also offers enhanced antioxidants to help maintain your pet's healthy immune system. So give your dog a helping paw!
Key Benefits
Treats osteoarthritis
EPA and DHA help support healthy joints
Specifically formulated for large breed dogs
Customized kibble for large jaws and teeth
Balanced and complete nutrition
Specific nutrient blend to help regulate intestinal transit and to help support the digestive flora 
---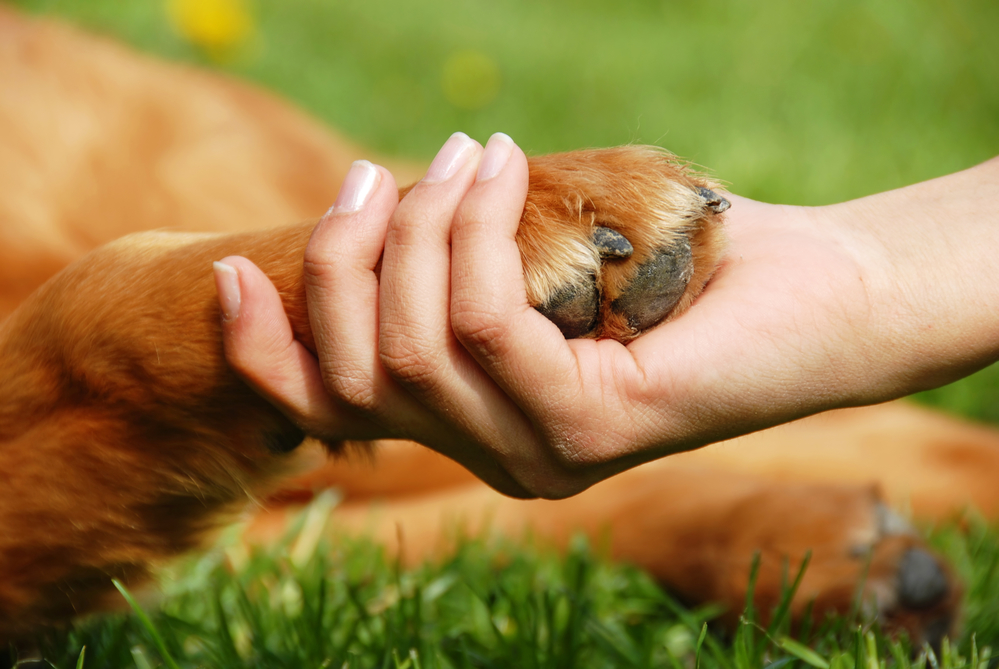 There are also many prescription diets based on a dog's size and weight, for large breed puppies, and for weight control. You can talk to your veterinarian about these foods and if your dog would benefit from eating one of them.
Commercial diets for dogs with arthritis and joint/mobility problems
Vets often recommend weight control dog foods to address arthritis problems with dogs. They may recommend foods from brands they are familiar with. Remember, keeping your dog at a healthy weight is one of the best ways to reduce your dog's risk of having arthritis or other joint and mobility problems. Some of the non-prescription dog foods recommended by vets to help dogs lose weight include the following:
These are not necessarily dog foods we would recommend for your dog. Even if your dog needs a good weight control dog food, there are some other good foods with good quality ingredients.
Commercial Alternatives We Like Better
If you have a large breed dog that needs to lose weight we recommend Merrick Grain Free Healthy Weight Recipe. We like the fact that this food has 32 percent crude protein. The crude fat percentage is between 8 and 11 percent with 5 percent crude fiber so your dog should not feel like he's starving. It is AAFCO-approved for a maintenance diet. The food has 3,210 kcal per kilogram or 360 kcal per cup ME (metabolizable energy) on an as fed basis (calculated). It is grain free and made from 55 percent beef and poultry. And it contains no corn, wheat, or soy and no ingredients from China.
Another weight management food you might consider if your dog can eat grains is Fromm Weight Management Gold. The first three ingredients in the food are turkey liver, chicken meal, and pearled barley. It has 25 percent crude protein and 10 percent crude fat, with 7 percent crude fiber. The food has 341 kcal/cup and it's AAFCO-approved for maintenance.
If your dog needs to lose weight, you should proceed slowly. No crash dieting. You should aim for your dog to lose no more than 3 to 5 percent of his body weight per month or about one percent each week.
If you are more focused on joint support for your dog than weight control, you might consider the following dog foods:
---
Orijen Senior Dog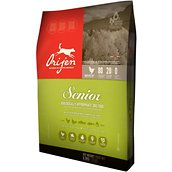 Orijen Senior provides plenty of excellent quality protein for your older large dog. This food features free-run chicken and turkey, wild-caught fish, and nest-laid eggs. It helps keep older dogs in good muscle even as they become less active. Made of 80 percent meats and fish, the food is low-glycemic and has low carbs to help keep your older dog's blood sugar steady. The food also contains natural sources of glucosamine and chondroitin to keep your big dog's joints healthy. The food is 38 percent crude protein and 15 percent crude fat. It checks in at 445 kcal per 250ml/120g cup. We think this is a very good food for senior dogs who often need extra protein as they get older.
---
Dogswell Happy Hips for Hip & Joint Wellness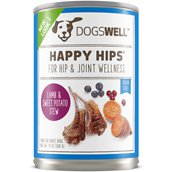 Dogswell knows how much dogs love running laps around the house and chasing friends at the dog park. It's why they created Happy Hips Canned Food, to help them play for years to come. Happy Hips Chicken & Sweet Potato Stew is crafted with high quality protein, wholesome fruits and veggies and supplements that help sustain hip and joint health. Every dash to the dinner bowl means it's working! (Also dry foods and treats.)
Key Benefits
Grain-free recipe
Cage-free chicken is the #1 ingredient
Glucosamine and Chondroitin to maintain hip and joint health
Antioxidant-rich fruits and veggies
Chelated minerals for better nutrient absorbtion
No corn, wheat or soy
No artificial colors, flavors or preservatives
---
Victor Performance/Joint Health with Glucosamine Formula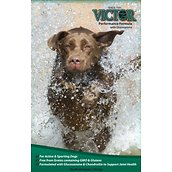 Victor Performance Formula Dry Dog Food features high levels of protein and energy with only 35% total carbohydrates, making it an excellent choice for young, growing and highly active dogs. Multiple protein sources from beef, pork and chicken meals provide excellent amino acid balance, supporting muscle development and maintenance and infusing natural flavor in this nutritious food. Balanced levels of Omega 3 and 6 fatty acids support healthy skin and a glossy coat, and glucosamine and chondroitin promote long term joint health. Like all other Victor foods, Performance Formula is free of corn, wheat, soy and gluten.
Key Benefits
83% of the protein in this recipe comes from meat and poultry
Great for young, growing and highly active dogs
Multiple protein sources provide excellent amino acid balance
Omega 3 and 6 fatty acids support healthy skin and coat
Glucosamine and chondroitin support long term joint health
No corn, wheat, soy or gluten
---
Now Fresh Grain Free Large Breed Adult Recipe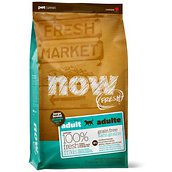 Now Fresh Grain Free Large Breed Adult Recipe is made by Petcurean. You may be more familiar with some of the other product lines from this Canadian company, such as Go!, Spike, or Summit. This food for large dogs is made from 100 percent fresh turkey, salmon, duck and 100 percent fresh omega 3 & 6 oils from coconuts and canola. It has no corn, wheat, or soy, and no other grains, gluten, or beef. It uses no rendered meats, no by-products, and no artificial preservatives.
The food does feature New Zealand green mussels and glucosamine and chondroitin for healthy joints. It has added L-Carnitine for a healthy heart and to help turn fat into lean muscle. It has taurine for good vision and heart function. And it has added pre- and probiotics for better digestion. The first ingredient is deboned turkey. The food contains 363 kcal/cup and has 27 percent crude protein and 13 percent crude fat. These levels should help your large breed dog stay at a prime weight. We think this food has some good features for large breeds in terms of bone and joint health and heart health, as well as quality ingredients.
---
Wellness CORE Grain Free Original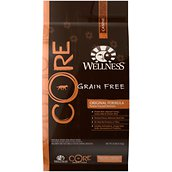 This unique Wellness CORE Grain-Free Large Breed Formula nurtures and supports your dog's inner wellbeing. It is made with a high concentration of quality animal protein, such as deboned chicken, chicken meal and turkey meal, and a proprietary blend of botanicals and nutritional supplements. Made with a larger kibble size and the WellFlex system for joint support, this formula is ideal for large breed adult dogs!
Key Benefits
Grain, gluten and GMO-free formula
High levels of protein
Glucosamine and chondroitin for joint support
Antioxidants, omega fatty acids and probiotics
Optimum fat and calories for healthy body weight
Complete and balanced everyday meal for adult dogs
No meat by-products or fillers
Made in the USA!
---
Supplements for Arthritis and Joint/Mobility Issues
It has become very common today for commercial dog foods to include supplements such as glucosamine and chondroitin among their ingredients. These two supplements are, by far, the most popular supplements given to dogs (and humans) with arthritis and joint problems. Glucosamine is the major sugar found in glycosaminoglycans and hyaluronate – important building blocks in the synthesis and maintenance of cartilage in joints. Chondroitin enhances the synthesis of glycosaminoglycans and inhibits damaging enzymes in joints. These supplements have been used in Europe for at least 20 years and they are very safe for your dog.
A dog that has hip dysplasia or arthritis typically has problems with his joints wearing abnormally. The protective cartilage outside the joint wears away and the bones will end up rubbing directly against each other. This bone-on-bone contact causes pain. Glucosamine and chondroitin allow cartilage to rebuild and make new cartilage to repair these damaged areas. They are not painkillers. Instead they help heal the places that have already been damaged. They can take at least six weeks to start to heal the worn cartilage. Most dogs need to be maintained on these products for the rest of their lives in order to prevent the cartilage form breaking down again. There are lots of glucosamine and chondroitin products sold today but they are not all the same. Some are better than others and some dog foods that contain them are better than others. You might want to look at Cosequin from Nutramaxx.
Glyco Flex is another very popular glucosamine product. Look for good quality dog foods that list the amount of glucosamine and chondroitin they use if you are relying on dog food to supply these supplements.
There is some disagreement about how much glucosamine (and other supplements) dogs need. This is probably because these products are considered to be "nutraceuticals" and are not actually regulated by the FDA. According to one source, dogs need 20 mg of glucosamine per pound of body weight per day, but they don't mention their source. An article in The Whole Dog Journal, quoting a veterinarian, has the following recommendations for glucosamine dosing:
• Dogs 5-20 pounds: 250-500 mg
• Dogs 20-45 pounds: 500 mg
• Dogs 45-90 pounds: 1,000 mg
• Dogs more than 90 pounds: 1,500 mg
The article in The Whole Dog Journal, "Using Glucosamine to Prevent Canine Osteoarthritis," by Lorie Long, is well worth reading if you plan to use glucosamine, chondroitin or other supplements.
There are lots of other supplements associated with arthritis and joint and bone problems with dogs – probably because people are willing to try things that have been recommended for humans. Here are some of the supplements that have been used with some success. You will often find these supplements for sale on dog food web sites or in pet food stores. You can find many of them in you local drugstore.
S-Adenosyl-L-methionine – better known as SAMe, this product is also known as Denosyl or SD4. SAMe has been recommended for managing osteoarthritis in humans. The usefulness of this product for managing arthritis in animals hasn't been fully proven but it is being used to treat liver disease in cats and dogs. SAMe has both pain-relief and anti-inflammatory properties.
Green-lipped mussels or perna mussels (Perna canaliculus) is an edible shellfish from New Zealand. The soft tissue is removed from the shell, washed thoroughly, frozen and then freeze-dried. After it's freeze-dried it can be processed into a fine powder and added to other products. You can find green-lipped mussels in some dog foods. Green-lipped mussels are 61 percent protein, 13 percent carbs, and 12 percent glycosaminoglycans (GAGs), 5 percent lipids (including eicosatetraenoic acids, or ETAs), 5% minerals, and 4% water. The mussels also contain glucosamine. Glucosamine is a GAG precursor and, as already mentioned, a building block for cartilage in the body. All of the compoiunds such as glucosamine, GAGS, and ETAs (a kind of omega-3 fatty acid), are thought to be beneficial. ETAs contribute to anti-inflammatory properties in the mussels and the reduction of joint pain. GAGs are the main substance of cartilage and of the synovial fluid that makes a lubricant for the body's joints.
You can talk to your veterinarian are certain injections for your dog to help with pain and inflammation.
Polysulfated Glycosaminoglycan (Adequan) – With Adequan a series of shots is given over several weeks, often providing good results. However, the injections can be costly and taking your dog to the vet for weekly injections can be inconvenient for some owners. Adequan is used to help prevent the breakdown of cartilage. It's also thought that it might help with the synthesis of new cartilage.
Hyaluronic Acid (Legend) – Hyaluronic acid makes up an important part of joint fluid so it makes sens to use it to manage arthritis. It's believed that using hyaluronic acid may be able to protect the joint by making the joint fluid more viscous, reducing inflammation in the joint, and taking up some free radicals. So far, most of the research relating to hyaluronic acid has been done on horses and humans, but it's thought that it will also be effective in dogs. Legend is an injectable that is administered directly into the dog's joint.
There are also lots of oral supplements used to try to make dogs more comfortable when they have arthritis or other joint and bone issues.
Omega-3 Fatty Acids – Many people are familiar with omega-3 fatty acids and their use with dogs who have allergies. Their anti-inflammatory properties also make them very helpful for dogs experiencing joint inflammation.
Methyl-sulfonyl-methane (MSM) – MSM is a natural compound from kelp. It's believed to enhance the structural integrity of connective tissue and help reduce scar tissue by changing cross-linkages that contribute to the formation of scars. Some people have promoted MSM as a powerful anti-inflammatory and pain-reliever.
Duralactin – Duralactin comes from the milk of grass-fed cows. It's a patented ingredient that has been studied and marketed to manage musculoskeletal disorders in dogs. Duralactin has anti-inflammatory properties and is a non-prescription product. It can be used as a primary nutritional aid to manage inflammation or it can be used with non-steroidal anti-inflammatory drugs (NSAIDs) or corticosteroids.
Creatine – Creatine is an amino acid derivative formed in the liver, kidneys, and pancreas from the amino acids arginine, glycine, and methionine. It is found naturally in red meat and fish. Creatine is not a muscle builder, but it aids the body in the production of adenosine triphosphate (ATP), a fuel, for short, intense bursts of energy. In humans, it builds lean body mass by helping the muscle work longer, allowing people to train harder, lift more weight, and have more repetitions. It is the increase in exercise which results in building muscle, not creatine alone. It's thought that creatine might be helpful in dogs with muscle atrophy associated with osteoarthritis.
Vitamin C – Vitamin C behaves like an antioxidant. It helps the body synthesize collagen and cartilage. Dogs can make their own vitamin C in their bodies, unlike humans who need it in their diet, so it's not clear how useful adding vitamin C to a dog's diet really is for managing arthritis. However, giving vitamin C as a supplement may have some benefit as long as it is given at reasonable levels.
Finally, there are some anti-inflammatory drugs with which you are probably familiar.
Carprofen (Rimadyl), Etodolac (EtoGesic), Deracoxib (Deramaxx), Ketoprofen, Meloxicam – These non-steroidal anti-inflammatory drugs (NSAIDs) are often used for dogs with arthritis. They help with inflammation and they are effective painkillers. These are prescription drugs and they can have serious side effects for your dog so it's important to discuss them with your veterinarian before deciding to use them.
Buffered aspirin – Buffered aspirin is used as a painkiller and anti-inflammatory for dogs. (But NOT for cats.) Buffered aspirin should not be used with NSAIDs or with corticosteroids. It's fine to use buffered aspirin with glucosamine and chondroitin. Any time aspirin products are used with dogs there is a risk of gastrointestinal upset or, in some cases, gastric ulcers. If your dog develops signs of GI upset, you should discontinue using the product and have your dog examined by a veterinarian. There is buffered aspirin made especially for dogs.
Corticosteroids –  Corticosteroids are given by prescription from your vet. They come in pill and injectable form. They are used to treat pain and inflammation associated with arthritis. They can be very potent but they can also have many unpleasant side effects. There are often newer drugs today that can work better so corticosteroids are often only used in older animals when other pain meds have failed.
Conclusion
Arthritis and joint problems in dogs is very common. In fact, arthritis is so common that you may not even notice your dog starting to develop some early symptoms. Try to keep your dog at a healthy weight and watch for any signs that he's developing mobility problems as he gets older. There are lots of foods and supplements you can use as needed.