Acana Dog Food
Brief Overview
At first glance, Acana looks like a wholesome, trustworthy pet food brand… and guess what? It actually is! However, that's not the best part. The best part is that Acana is considered one of the very top dog food brands on the market. This is a brand that offers biologically appropriate pet food "made from Canada's best and freshest [regional] ingredients exclusively in [their] award-winning kitchens in Alberta, Canada". Acana dog food is advertised as a "new class of food" that's solely focused on meeting all dogs' biological requirements. They understand that dogs are carnivores that require a meat-based diet, and they strive to offer dog food that's "worlds away from conventional pet foods". Read on to find out how Acana dog food is different from (and better than some) other dog food brands.
Who manufactures Acana?
Champion Pet Foods owns and manufactures Acana dog food. The ingredients are sourced locally, and the dog food is manufactured in Champion Pet Foods' very own kitchens in Alberta, Canada.
Acana Dog Food Recalls 2014
As expected, Acana dog food has never been recalled.
To sign up for Recall Alerts visit: http://dogfood.guru/recalls. We only email you in the event of an actual recall.
Learn how we Monitor for Recalls: http://dogfood.guru/monitor-dog-food-recalls/
Acana Pet Food Coupons 2017
Looking to save money on Acana Dog Food? Check out our deals here:

---
20% Off First Order + Free Shipping
on Acana Dog Food
Acana Reviews
There's not enough time (and room on this page) to list all the things we love about Acana dog food, so instead we'll say this: we're impressed with Acana dog food because this is one of the very, very few brands that actually put a dog's wellbeing before everything else. They actually went as far as to develop a new class of foods called Biologically Appropriate. The philosophy attached to this is that many "holistic" or "natural" dog foods available in the market are actually not that nutritious (due to low meat protein content, high levels of inappropriate carbohydrates, and little to no actual fresh ingredients), and Champion Pet Foods wanted to up the ante by providing holistic and natural dog food that's actually nutritious. That's how Biologically Appropriate was born. Their Biologically Appropriate philosophy is built on five rules: High concentration of meat: Dogs are carnivores, and their bodies are built to metabolize proteins and fats from meat. All the Acana dog food formulas contain 45% to 65% meat content. Diverse meat ingredients: There's a dramatic variety of meat ingredients in a natural diet:
Eggs
Rabbits
Ducks
Geese
Fish
This variety gives a dog all the proteins, fats, and other nutrients it needs to maintain a healthy lifestyle. Champion Pet Foods wanted to mimic this, so they use diverse meat ingredients in their dog food. Protein rich and carbohydrate limited: Studies show that dogs don't need carbohydrates in their diet. They're built to metabolize animal proteins and fats. In order to make room for protein in their formulas, Champion Pet Foods decided to cut down on the carbohydrates. They use steel-cut oats as a single source of grain (and carbs). Whole fruits & vegetables: There are fresh, locally-sourced fruits and vegetables in Acana dog food formulas. They supply proteins and nutrients in their natural form. Fresh regional ingredients: The ingredients are authentically fresh. That means they arrive at their kitchen doors within a day or two of harvest. They're never frozen and they're preservative-free. If you ask us, we think that Acana dog food is a solid brand. It's fresh, wholesome, and incredible for your dog.
How would you rate Acana?:
Our Acana Sport & Agility formula review: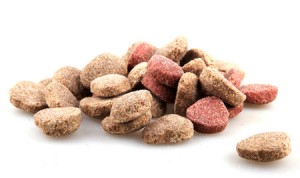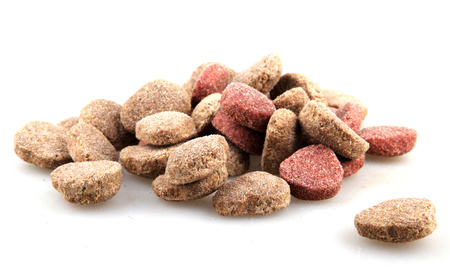 The Acana Sport & Agility formula is designed for high-energy dogs of all breeds. It's loaded with chicken, eggs, flounder, fruits, and vegetables that provide more than enough energy for your dog to play fetch all day! It's advertised as a formula that's as close to Mother Nature as possible. Let's see if that's true! You know what they say: the ingredient list doesn't lie. So let's take a look at the first five ingredients in this formula: Chicken meal, steel-cut oats, chicken fat, deboned chicken, and whole potato. Chicken meal, chicken fat, and deboned chicken are excellent sources of protein. It's no surprise that three great protein sources are among the top 5, because the crude protein content of this formula is at 33%. The crude fat content is at 24%, which is good because active dogs need fat in their diet in order to burn off some energy. Steel-cut oats and whole potatoes are quality sources of carbohydrates. Some other wholesome ingredients further down the list include: peas, whole egg, deboned flounder, carrots, spinach, blueberries, and chicory root. The formula also contains vitamins and minerals, such as vitamin A supplement, vitamin B12 supplement, iron proteinate, and selenium yeast. We don't see any controversial ingredients, useless fillers, or artificial flavorings and colorings in this formula. Because of that, we give Acana Sport & Agility an A-plus!
Where can you buy Acana?

---
20% Off First Order + Free Shipping
on Acana Dog Food
Acana dog food is available in many different independent pet stores. As far as we know, Petco carries it, as well. If you're a web-savvy dog owner, you can snag a bag online as well. Acana's store locator has all the information you need. It will detect your current location and then give you a list of all the nearest retailers. Click on the "online" tab to see all the websites that carry Acana dog food.
Acana Dog Food

,